Matthew Hitchen '16
The History Professors at SUNY Oneonta prepared me in a number of ways for life after Oneonta, but most importantly, they made me a better researcher. Originally, I majored in Political Science, however, I quickly progressed through the major and realized I could pick up a second major during sophomore year. The History department at Oneonta advertised a wide range of courses that caught my attention and I picked up a new major. As a new student of History, I was drawn to courses I knew nothing about. For example, I took two classes involving Russia, the Soviet Union, and Central Asia all taught by Dr. Malikov. These unique courses analyzed events, ideologies, and cultures far removed from the average American. In short, these classes opened up a new world.
As a History major, I excelled in 200 level courses for sophomores and above. Two Professors in particular solidified my interest in History. Dr. Noorlander, who specializes in eighteenth century American and Dutch history made me a better writer and thinker. His course on the American Revolution had the most lasting effect on me, thereafter I found myself intrigued with eighteenth century North America. Another influential Professor, Dr. Hendley, who specializes in nineteenth century British History pushed me to work slower and be meticulous. As a result, he finely tuned my research skills. I took historiographic and senior seminar with Dr. Hendley in senior year. These classes focused on the Industrial Revolution and had numerous assignments that included a primary source analysis, historiographic research project, and a final research essay that for me spanned forty pages. These tough assignments had a profound effect on me. Overall, I matured as a student of History.
After graduation I took a year off and in November of 2017, I began working on a series of proposals for a number of graduate schools. Since I was applying to competitive universities I had to find a truly original topic. Of the many proposals I came up with only one was unique and original. In this three-page proposal I outlined a project tracing Scottish migration in North America in the early eighteenth century. Many of the towns I grew up around in upstate New York have Scottish names. Historians know that Scots began to settle in the 1700s, yet they don't know when exactly. My aim is to find out who these Scottish settlers were and why they came. I also theorize that the openness of Dutch colonial society worked to the Scots advantage. By the end of the eighteenth century Scots outnumbered the older Dutch and native populations.
In mid-April Washington State sent an unconditional offer for a MA in History. Fortunately, I had a competitive GPA and enough research experience for Washington State to offer a tuition waiver and a TA position. In August, 2018 I will begin working on my MA under the supervision of Dr. Lawrence B. A. Hatter. I look forward to studying in Washington and I thank the Professors at SUNY Oneonta for preparing me for this new adventure.
Giovanna DiFilippo '16
I graduated from SUNY Oneonta in December of 2016 with a Bachelor's degree in History.  I began my academic career as a Biology major and quickly realized it was not an area that truly piqued my interests. I knew I always had a passion for reading and decided to experiment with being a History major. History has always been my favorite subject in school; but the question of what you could do with a major like History was always a daunting one. I noticed that whenever I told people about my major, I would be silently judged or outright accosted about what I would do after graduation. With the help and guidance of the faculty of the History department, I am happy to say that I have found the answer to such a daunting question.
Currently I am a law student at the Elizabeth Haub School of Law Pace University. I hope to earn my Juris Doctorate degree by May of 2020. In my first month at law school, I am eternally grateful that I decided to experiment in the History major during my sophomore year. The workload in law school is immense and it feels as though the reading will never end. But I can truly say that I was well prepared. As a History major, you will be expected and required to sift through relevant historical text, learn how to craft an analysis of the text and engage in debates using your own historical knowledge. In addition to these skills, you will also obtain and refine your writing style. In my last semester at SUNY Oneonta, I was invited to complete an internship as a Research Assistant for New York History with Dr. Noorlander. The History department faculty and the New York State Historical Association edit this peer-reviewed journal. By completing this assistantship, I was able to experience what goes on behind the scenes of writing and editing scholarly works. During this last semester I also became Dr. Beal's teaching assistant for his freshman class. Being a teaching assistant was fun, and I enjoyed helping the new students tackle their academic challenges.
I was also a member of Phi Alpha Theta, the national historical honor society at SUNY Oneonta. This honor went beyond good grades and tassels. Receiving this honor proved that I was able to overcome the difficulty of raising a low GPA to one that could receive academic recognition. From this I learned that you should always pursue what you are drawn to. Never force yourself to pursue something because it is the "safest option." Taking Dr. Hendley's historiography course, Imperialism and Popular Culture in Modern Britain, was the most demanding course in my undergraduate experience and required me to use every skill I developed. I was proud of my final paper I wrote in the course titled "The Unsung Heroines of the British Empire." It won honorable mention within the History Department and will be published in SUNY Oneonta's first edition of the SOAR journal. I presented this essay at the Phi Alpha Theta conference in the spring of 2017. SUNY Oneonta's History Department hosted the conference and students from a variety of colleges submitted their work and attended the event to present their unique historical research. This was another character building experience because I was never keen on public speaking. However, presenting something you are passionate and knowledgeable about reduces that fear.
I am eternally grateful that SUNY Oneonta has an outstanding History Department. The faculty was approachable and I never found myself lost or uncomfortable in class. Office hours proved to be a valuable asset in understanding course materials and also in getting to know your professors. If I could go back in time I would never have signed up for something I had minimal interest in, no matter how many eye rolls I could have avoided.
Miles Jahnke '16
My name is Miles Jahnke and I graduated from SUNY Oneonta in 2016 with a degree in Criminal Justice and History. Currently, I am in pursuit of master's degree in Criminal Justice at the University at Albany (SUNY Albany). With passions for history and the social sciences, I decided to switch gears after completing one year in Binghamton University's engineering program, and transfer to SUNY Oneonta in 2013. The History Department at SUNY Oneonta enabled me to indulge these passions, specifically by granting me the opportunity to take fascinating classes in subjects such as the Enlightenment, the American and French Revolutions, medieval medicine, the Central Middle Ages, and the histories of Soviet Russia, Canada, and Latin America before Columbus. Yet, what really prepared me for graduate school and for my life beyond SUNY Oneonta was not necessarily the content of these courses, but rather the skills that I acquired while taking them. 
Of particular importance was the development of my reading and writing skills in the program. If one has any hopes to do well in SUNY Oneonta's History program, one must learn how to read large amounts of information and extrapolate the primary themes, analyses, and theses found within multiple sources. Furthermore, one must learn how to take this information, critically analyze it, and use it in one's own written and oral arguments. For example, I utilized this skill to write several research papers on various topics, including on the history of African American poverty and the racial discrimination that African Americans have faced, the historical role of shamans in Andean culture, and the differing ideologies of the United States and Soviet Union, and their impact on the Cold War. A paper on Canadian gun control made me the winner of the History Department's Maynard Redfield Short Essay contest. I also won the History Department's Maynard Redfield Student Award for my contributions to the History Department and the Academic Achievement Award in Sociology. Not only did my reading and writing skills lead to success during my undergraduate studies – their acquisition has well equipped me for the copious amount of reading and writing needed in graduate school and the increased amount of critical thinking needed for assignments and discussions.  
Some of the helpful skills that I acquired from SUNY Oneonta's History Department involved specific faculty members. For instance, Dr. Mette Harder, especially during her Old Regime and Enlightenment class that I took in my first semester at SUNY Oneonta, significantly improved my communication and oral argumentative skills during our small group discussions. Her warm and friendly demeanor, coupled with her genuine and serious interest in the subject material, created an inviting and intellectual class atmosphere. Despite my initial shyness, her class prompted me to really come out of my shell and have confidence in both myself and my arguments. 
My ability to edit and analyze written works, particularly historical journal articles, heavily derives from my experience with Dr. Thomas Beal. As a research assistant for Dr. Beal and New York History: A Quarterly Journal, I learned much about the journal editorial process, including how to examine a journal article in terms of thesis clarity, the sources used to support the author's argument, and the structure of the article. These skills have proven to be extremely helpful in graduate school. Not only has it become necessary for me to analyze various works, but it is vital that I critique the credibility of their sources.   
I fondly remember my time in SUNY Oneonta's History Department not only because of the phenomenal faculty and staff, but because of the experiences I had with my fellow students. As part of History Club, I had the opportunity to engage in two historical travel trips to Washington, DC and Boston, MA where we went to museums, observed the historical architecture and monuments of the cities, and made some excellent memories. Furthermore, I had some great times on campus as well with the History Club, participating in fun historical activities during meetings and going to movie nights in the Red Dragon Theater to see Selma and Marie Antoinette. I had such a great time that I became the History Club President during my last semester.
My time in SUNY Oneonta's History program was time well spent. Not only did I develop skills that I believe have made my transition to graduate level work easier, but I fostered great friendships throughout my time in the program. While SUNY Oneonta is not a large research university, undergraduates receive individualized attention and education that helps one grow and develop as both a person and an academic. I am proud to have been a History Major at SUNY Oneonta!  
Jerrad Pacatte '16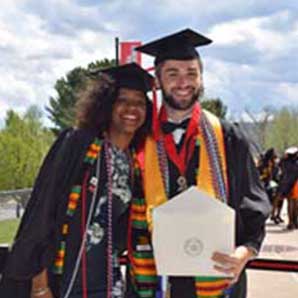 I have always had an inquisitive mind, yearning to know the precise details, facts, and figures associated with any historical phenomena. I can vividly recall visiting innumerable historical landmarks and museums with my paternal grandparents, or the rich oral narratives my maternal grandmother, an ancestor of the Abenaki Native American tribe, would share with my siblings and me about our people's history and how we came to be.
During my senior year of high school, I stumbled upon the realization that I could fuse my twofold passions for history and education, and pursue a fulfilling career as an educator. Before I knew it, the time to apply for college had come… and SUNY Oneonta became one of my top choices for undergraduate study thanks to its impeccable preservice teacher education program.
As an adolescent education major, I found myself enamored with the subject of diversity specifically. I set out to extend my consciousness with the realization that one day, I would have an array of students in my classroom, each belonging to various racial, socioeconomic, political, religious, linguistic, ability, and gender identity groups. Shortly thereafter, I noticed my attraction to the subject of diversity progressively spilling over into my history courses and the assignments I undertook for these courses. By the fall of 2014, the trajectory of my life changed thanks to one history course.
When planning my course schedule for the fall of 2014, a catchy course title caught my eye: "History of American Crime and Prisons", taught by Dr. Leigh-Anne Francis. This course awoke an intellectual hunger within me concerning the field of African American history. By utilizing an intersectional approach, i.e. scrutinizing the historical record by assessing the race, gender identity, sexual orientation, and other intersecting social identities of historical actors, my classmates and I unraveled the institutional and cultural systems of oppression which have worked against - and continue to hinder - marginalized populations of U.S. citizens throughout history and in the present day.
The History Department at SUNY Oneonta permits upper-level students, with the assistance of a history professor, to conduct their own independent research projects tailored to their own individual interests for upper-division credit. The spring 2015 semester saw the completion of my first independent research study with Dr. Leigh-Anne Francis. My initial independent research project examined the racial climate in postbellum New York State by centering racial violence as the focal point in my efforts to unravel the complicated history of black-white relations in the region after the Civil War's end. This project, in addition to a term research paper I crafted in Dr. Mette Harder's "French Revolution and Napoleon" course - a paper which explored the influences of eighteenth-century French gender discourse, patriarchy, and poverty for the prevalence of female prostitution during the French Revolution - illuminated the allure of historical research and the satisfaction gained from answering traditionally unanswered historical queries. By the fall of 2015, the fulfillment gained from conducting original historical research led me to pursue a degree solely in History.
Aside from its vast course offerings, skilled faculty, and extracurricular organizations such as the Phi Alpha Theta Honor Society and CLIO History Club, both of which I assumed an active role in, the department's longstanding commitment to studying the past via an interdisciplinary approach offers a fluidity between various other sub-disciplines of social science and the field of history (i.e. Africana-Latino Studies, women and gender studies, psychology, sociology, etc.)
I also proudly served as a teacher's assistant for Dr. William "Bill" Simons' United States History I course my last semester at Oneonta – an exceptional pedagogical privilege I will infinitely cherish. A few weeks later, I graduated a year early, and summa cum laude, from SUNY Oneonta with a Bachelor's of Science in History.
It seemed like just yesterday I relocated from my rural Alabama home to pursue a career as a high school teacher at SUNY Oneonta. Today, I am a doctoral student in a fully-funded, top-ten history program in the country chasing my dreams of becoming a professor of African American and Women and Gender histories. My tentative dissertation stems from the first independent research task I began at SUNY Oneonta almost two years ago. After attaining my Ph.D., I long to complete a law degree with an emphasis in civil rights and legal history. 
In all, the importance of our field and becoming a student of history looms beyond a chronological understanding of past events. History is so much more than just time – an alluring mystery we as historians crave to unravel and explore… It offers a glimpse at the roots of who we are as people, and more significantly, where we stand today. In an era in which disproportionate numbers of unarmed people of color are slain by police or housed in "prisons for profit", we must not ignore the voices of the past in our quest to craft a brighter and more well-informed future.
Hunter Reed '16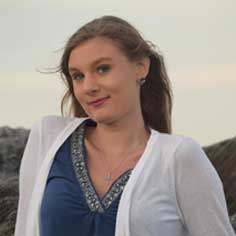 My name is Hunter Reed and I received my Bachelor of Science in History in May 2016, with a minor in Women's and Gender Studies. During my undergraduate career at SUNY Oneonta, I was fortunate to work with many incredible professors who pushed me to excel in ways I never imagined I could. I began my academic experience as a biology major and by taking my general education requirements. One of these requirements was History 100, or Western Civilizations. I had heard through friends that this class was terrible, boring, and otherwise unengaging. They could not have been more wrong. I was privileged enough to take Western Civilizations with Dr. April Harper, and I can honestly say that this class changed my life. It helped me rediscover my love for history and realize I was much more interested in historical research than science labs. Within the first month of my first semester at SUNY Oneonta, I chose to change my major to history and I never looked back.
During my time as a student in the History Department, I also got the chance to take Medieval Sexuality (Spring 2014) and Boys to Men: European Masculinities (Fall 2014). Both of these classes helped me engage in my curiosity about gender and eventually led me to pick up a minor in Women's and Gender studies. Boys to Men was one of my favorite courses and was taught by Dr. Mette Harder, who became one of my strongest mentors. It explored the characteristics of masculinity in the changing European context between the 1500s and the 1900s. It helped me engage in historical debate, as this class had only six students and was taught entirely through discussion. That is definitely one of the perks of studying at SUNY Oneonta: the average class was twenty students or smaller.
Following my experience in Boys to Men, I worked as Dr. Harder's research assistant in the spring of 2016. In the previous fall semester, we worked on an application to the Student Grants Development Office to fund a research project on Jean-Paul Marat (1743-1793), a French Revolutionary. I ended up receiving enough money to cover my books and research materials and go on research trips to Cornell University's Karl A. Kroch Library. Here, I got to work with primary documents from the French Revolution in an archive setting. This was an incredible opportunity for a budding historian like myself. The project culminated in my presentation at Student Research and Creative Activity Day, a school sponsored research showcase. My project received the Honorable Mention Award for student research.
I also worked with Dr. Harper on an independent study in fall 2014 involving the depiction of medieval knights in the Arthurian legends and how this related to expectations of masculinity at the time. I furthered this project my senior year during another course with Dr. Harper, Medieval Medicine, by examining the medicine that would have been common for knights to receive. I also looked at the presentation of medicine in the Arthurian legends. I firmly believe that if I ever choose to pursue my doctorate, I will follow a path involving chivalry and expectations of masculinity.
Outside of these two projects, I joined Phi Alpha Theta. This is the national honors society for history. My second year, I presented my paper, "Arthurian Knights: A Study of Chivalry and Homosocial Bonds in the Arthurian Legends," at the Phi Alpha Theta Undergraduate Research Conference at Marist College. My senior year I was able to work with Dr. Danny Noorlander on the topic of Dutch New York in both my senior seminar class and as an intern for the journal, New York History: A Quarterly Journal. This was a great way to see how journals are put together and edited. I acted as secretary of the history club for a year and helped plan a trip to both Washington D.C. and Boston, Massachusetts. I loved holding this position as I got to interact with students in other disciplines who loved history as much as I did. Where does all of this leave me now? I am pursuing my Master's degree at SUNY Albany in Secondary Education. My concentration area is social studies. After attending Oneonta's history program, I feel completely prepared to start this new journey. I will truly miss all of our incredible faculty and staff who give so much of themselves so that we can continue to learn. I hope someday I can positively impact my students as much as my professors here did me. I am truly grateful for the opportunity to study history here at SUNY Oneonta.
Luke Murphy '15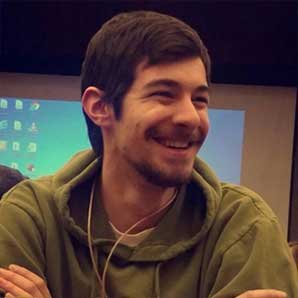 My name is Luke Murphy and I graduated from SUNY Oneonta in spring 2015 with a degree in History. I began my career at SUNY Oneonta in fall 2013 as a transfer student and I will remember my time here fondly. As an undergraduate, I took classes in Russian, Soviet, and Central Asian history with Dr. Yuriy Malikov, Diplomatic and Japanese history courses with Dr. Bill Ashbaugh, courses on the Holocaust with Dr. Julie Freeman, and a course on the Early Middle Ages with Dr. April Harper. I also had the opportunity to serve as a Research Assistant with Dr. Thomas Beal for New York History: A Quarterly Journal and serve as a summer intern at the Iroquois Indian Museum. Every professor I have studied underwent above and beyond to help me understand complex topics and to succeed as a student.
Each History course I took at SUNY Oneonta aided me in honing my critical thinking, reading, and writing skills. All history majors take two capstone courses; Historiographic Seminar and Senior Seminar. Students typically take these two courses back to back with the same professor. For my capstones, I had the great pleasure of working with Dr. Ashbaugh on American foreign relations. During my final semester, I work on a thirty-page paper entitled For the Defense of Britain: An Examination of the Causes of the Economic Restrictions Placed on Japan by the United States between June, 1940 and July, 1941. In this paper, I explored the financial restrictions the United States placed on Japan during the lead up to Pearl Harbor.
There are plenty of extracurricular activities and opportunities at Oneonta for you as a student to exhibit your work and to apply the methods you have learned during your studies. I became a member of the Phi Alpha Theta, the honor society for historians. During both my junior and senior year, I had the opportunity to participate in and present some of my work at the Phi Alpha Theta Regional Conference. Additionally, the History Department hosts the Maynard Redfield History Essay Competition, which I participated in during my senior year. I even received a prize for my work! Our history club also offers student the opportunity for all students interested in history to gather in a fun, inviting atmosphere and go to many historic places. This past year, the club visited Salem, Massachusetts for Halloween, as well as other, historic sites.
I feel that SUNY Oneonta offers the advantages of both a large and small university. As it is a part of the SUNY system, Oneonta students have access to all other SUNY study abroad opportunities as well as Oneonta's own program. Additionally, our library has five floors filled with books, computer labs, study spaces, and periodicals. Oneonta also has a small school feeling as well. I have a great relationship with every one of the history professors I have studied under and I highly recommend the department for anyone interested in pursuing a degree in History.
I plan to continue my education through SUNY Oneonta and have recently been accepted into its prestigious Cooperstown Graduate Program for a master's degree in History Museum Studies. Thanks to the support, instruction, and advice of the History Department, I feel well prepared to enter graduate school. A degree in History provides students with the critical skills they will need in any career field, and I can recommend no place higher than I do SUNY Oneonta's History Department. I will be forever grateful to the History faculty here for both the support they have given me and the skills they taught me as I take my next step in my educational career. I wish you the best of luck in the future and sincerely hope you choose to study history here at SUNY Oneonta!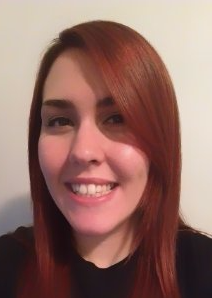 Jodi Oaks '13
After graduating in 2011 with an associate degree in general studies from Mohawk Valley Community College, I transferred to SUNY Oneonta to pursue a degree in History. I have always wanted to go to school to study History, as it has continuously intrigued me throughout my education.
History is an area without boundaries in which you can learn about past events, and how to conduct yourself in the future. Along with this, History examines the development of humans and their relationships through time, which is something I find thoroughly fascinating.
Starting in the spring 2012 semester, I spent two years at SUNY Oneonta as a History major and loved every minute of it. I chose SUNY Oneonta because of its location, affordability, and the welcoming atmosphere I experienced when I visited campus.
At an orientation tailored for transfer students, I met with a faculty member from the History Department who helped me register for classes and better understand the History degree requirements. This eased some of the concerns I had regarding transferring to SUNY Oneonta. I am grateful that I was able to study and work with the excellent faculty in the History Department at SUNY Oneonta. In particular, the late Dr. Dan Larkin, Dr. Yuriy Malikov, and Dr. April Harper. I explored the socioeconomic and political history of the United States in Dr. Larkin's Gilded Age and Progressivism classes, spurring my interest in labor history. I discovered my love of Russian history in Dr. Malikov's classes on the History of Tsarist Russia and History of Soviet Russia.
I also got the opportunity to intern as a Research Assistant for New York History, a peer-reviewed journal edited by SUNY Oneonta History faculty in partnership with the New York State Historical Association. Under the guidance of Dr. Thomas Beal, I debated with fellow interns the historical significance of articles that were under consideration for publication in the journal, getting to see firsthand the scholarly conversation. We examined and discussed arguments made in the articles and the evidence used to support these arguments, keeping in mind topics that would interest readers of the New York History journal. Through this experience, I was able to see some of what is involved in writing and publishing History.
My studies culminated in junior and senior seminars with the medieval historian Dr. April Harper, who created a supportive environment that allowed me to develop further my analytical, critical thinking, and writing skills. During my junior seminar, I learned about historiography, or the writing of History, through critically reading and discussing works of History. This also involved writing a historiographical paper. My paper dealt with the massacres of Jewish populations by Crusaders in Europe during the First Crusade and sought to examine revisionist motives of historians concerning these events. I examined sources with the intentions of the authors in mind, along with their individual biases and backgrounds. Through this, I learned the importance of questioning the motives of the authors of these works. Dr. Harper also gave me the knowledge and confidence I needed to pursue graduate studies and pointed out librarianship as a possible career choice. After exploring the opportunities that exist in the library field, I decided to continue my studies in graduate school for library science.
After graduating from SUNY Oneonta in December 2013, I went on to study library and information science at the University at Buffalo, with the goal of becoming an academic librarian. I graduated with my master's degree in May 2015 and I am now working at Milne Library at SUNY Oneonta as a reference and instruction librarian. In my current position, I use the skills gained through my undergraduate studies on a daily basis. This includes critical thinking, effective communication, both written and orally, and research skills. As a reference and instruction librarian, I teach the basics of library research to undergraduate students. This includes how to locate and evaluate information. When discussing the evaluation of sources, I stress the importance of thinking about authority and purpose. Authority refers to the source of the information and involves examining aspects like the author and publisher. Evaluating purpose requires questioning why the information exists in the first place. What were the intentions of the author, to inform, educate, persuade, entertain, or sell? My work as a History undergraduate trained me to think critically when evaluating information sources and my History degree gave me a solid foundation on which to build on these skills through graduate and professional work.
The following are some words of advice to potential and current History majors. Use your time at SUNY Oneonta to explore and find something for which you are passionate. The wide-ranging expertise of the History faculty at SUNY Oneonta gives you a variety of areas to study that span diverse geographical locations and time periods, from ancient to modern history. Consider an internship. Internships give you a chance to actually apply what you learn in the classroom, possibly find a profession you want to pursue after graduation, and help you make valuable connections. Lastly, talk to your professors! They are incredible sources of knowledge and expertise. As a History major at SUNY Oneonta, you will benefit from a supportive department that truly wants to help you succeed in your academic career and beyond.
Marcela Micucci '06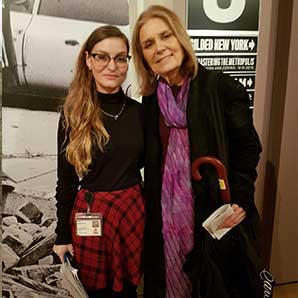 I graduated from SUNY Oneonta in 2006 with a bachelor's in history and a minor in women and gender studies. Following graduation, I attended graduate school at Binghamton University, where I earned my master's degree in history in 2012 and my doctorate in 2016. As a newly minted Ph.D., I applied for and received a highly-competitive postdoctoral fellowship at the Museum of the City of New York in Manhattan. As the Andrew W. Mellon Postdoctoral Curatorial Fellow at the Museum, I work as an assistant curator, currently developing an upcoming exhibition, Beyond Suffrage: 100 Years of Women & Politics in New York, in commemoration of the New York women's suffrage centennial. The exhibition will trace women's political activism in New York City from the suffrage movement through the twenty-first century, focusing on the trailblazing women who joined the political fray in the generations after suffrage.
I began my academic career at Oneonta knowing that I wanted to major in history, but uncertain of what I wanted to or could do with my degree. One of my professors, and later my primary advisor, Dr. Thomas Beal, was instrumental in helping me make that decision; from the very first course I took with him, a class on New York City history, Dr. Beal encouraged me to be more vocal in class discussions and to find and trust my academic voice. He further helped me open my mind to a career in academia post-graduation. The next semester, I took another course with Dr. Beal, Jeffersonian Democracy, where I finally found my voice. It was in this class that I really honed in on my passion for history and began refining my reading, writing, and public-speaking skills.
Every class I took with Dr. Beal from that point forward molded me into the social historian I have become. Our focus in the classroom on matters of race, class, and gender presented a history that was both relatable and stimulating; I was not only eager to learn more, I was also invigorated to contribute to a scholarship of those men and women on the historical periphery. Finding the voices of those who did not necessarily leave records of their own, reconstructing the stories of those who the historical record often left behind, and shedding light on the everyday lives of the historically marginalized challenged me, but also prepared me for graduate school as well as for my current position in public history as the curatorial fellow at a museum predicated on inclusion and the diversity of urban experience.
In the next few years, I registered for as many history courses the registrar would allow, ranging from Love, Sex, and Marriage in the Middle Ages, to a special topics class on Pirates, Rascals, and Scoundrels, to the City in American Culture. Each class and each professor helped mold me into an inquisitive and conscientious scholar. My medievalist professor, Dr. April Harper, for example, trained me to learn—and teach—history not with dates and timelines, but rather, with events and stories; she made history come alive for me and made learning and retaining hundreds of years of history effortless, and even fun. Despite my focus on American history, I found myself registering for Dr. Harper's classes every chance I got. Years later in graduate school, while working as teaching assistant at Binghamton University, I borrowed many of Dr. Harper's pedagogical methods in the classroom, which I believe made me a more engaged and likable professor and facilitated my students' retention of historical chronology, figures, and events.
Most importantly, my professors at SUNY Oneonta encouraged me to question history—the way it was written, who recorded it, the argument that each historian made, and the sources they used. Learning not to tacitly accept textbook excerpts and historians' opinions as facts, and to form my own arguments, was an invaluable skill that proved to be indispensable to my life as a graduate student and as a scholarly writer. While many of my fellow colleagues entered graduate school without any background in historiography, my junior and senior seminars at SUNY Oneonta and my senior thesis project with Dr. Beal prepared me for graduate school and advanced my understanding of the writing process and historical methodology. In fact, my senior thesis, a 70-page study on infanticide in antebellum New York City, served as the groundwork for what has now become my doctoral dissertation, "These Demons Who Thirst For Infanticides": Unwanted Pregnancy, Infant Abandonment, and Infanticide in Mid-Nineteenth Century New York City.
There are so many benefits to majoring in history at SUNY Oneonta. For me, the professors, the unique courses offered, and the small classroom sizes are what motivated me to attend graduate school, to earn my doctorate, and to dedicate my life to public history, teaching, and inspiring the next generation of students and scholars.
Joshua Donohue '01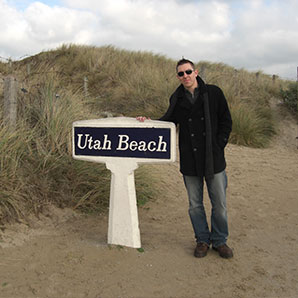 My name is Joshua Donohue and I received my Bachelor of Science in History from SUNY Oneonta in May of 2001. Although initially beginning my undergraduate career in Business/Economics, I quickly realized that my true passion was in the field of History. With that, I became a History major during my second semester of my freshman year. The decision had enabled me to pursue my passion, which would benefit me throughout my academic and professional career. After I had switched my major, Dr. Julie Freeman became my academic advisor and was instrumental in guiding me through the transition process.
I was immediately impressed with the diverse range of History courses that were available to me as an undergraduate at SUNY Oneonta. Each course that I took would not only help me excel as a writer, but they also challenged my critical thinking and analytical skills. My coursework at Oneonta included Dr. Freeman's outstanding courses in German history, which included Germany: Rise of the Empire and Germany: Rise of the Nazis. I also worked closely with Dr. William Simons' in his Athletics, Society, and History, Jazz Age and the New Deal, and American Ethnic History courses. Dr. Thomas Beal's courses in The Age of Jackson and The History of New York City helped to enhance my prowess as a writer while becoming familiar with the use of primary sources.
After I graduated from Oneonta with my degree in History, I took a non-History related position for a Fortune 500 company for the next few years. During this time, I was still actively reading and researching several History-related topics in order to keep my mind engaged in the subject as much as I possibly could. In the Spring/Summer of 2008, I decided to volunteer at the American Airpower Museum in Farmingdale, NY as a docent. My experience there completely re-ignited my love for History. In June of 2009, I decided to pursue a Master's degree in Military History when I enrolled at Norwich University in Vermont. During the application process, I consulted with Dr. Freeman and Dr. Simons who were both extremely helpful and encouraging. The body of work that I had amassed during my time at Oneonta served as a foundation for success by the time I began my Master's program. I was able to refer to my studies at Oneonta, particularly when dealing with primary sources and Historiography. My professors familiarized me with analyzing and synthesizing differing viewpoints and developing arguments based on the works of multiple authors instead of simply "telling the story". The History Department has employed these aspects into their courses in order for their students to evolve as writers at Master's level. By the time a student of History at Oneonta has gained experience in 200-300 level coursework, they will have obtained the interpretive skill set to write and research as professional historians in 500-600 level graduate courses.
In May of 2011, I received a Master's of Arts in Military History. During my graduate studies, I began writing and researching for an article that will be published in World War Two Quarterly in the spring of 2017. The focus of the article is about Major Paul A. Putnam, a Marine aviator who fought in the heroic defense of Wake Island in 1941. My research took me to such places as The National Archives in Washington D.C., The U.S. Marine Corps Archives in and Special Collections Branch in Quantico, Virginia, and the National Museum of the U.S. Navy in Washington D.C.. In 2014, I was hired as an adjunct professor at Suffolk County Community College. I also began teaching a course in American Military History as an adjunct at Farmingdale State College in the fall of 2016. I never envisioned myself teaching History while I was a student at Oneonta, but my experiences there created many opportunities that I never knew existed. I plan to continue writing and teaching History as well as pursuing a Ph.D. at SUNY Stony Brook sometime in the near future.
The professional relationships that I fostered with Dr. Freeman, Dr. Simons, Dr. Beal and other professors from the History Department at Oneonta would last beyond my undergraduate career. Another key relationship I cultivated was with a fellow History major named Michael Wright. We became close friends from my very first day as a freshman until my last day as a senior when we sat together during graduation. He tragically lost his life in October of 2001. I'm proud to have known him and equally proud of the History Department at Oneonta which continues to carry on his legacy with the Michael Wright Memorial Book Award. The award is presented to graduating History majors who have accomplished a high level of work in the field beyond the classroom. I know that Michael would have been honored to have such a prestigious award named after him.
I'm proud of my association with The History Department at SUNY Oneonta. Being a historian is about building relationships, establishing connections, and many hours (and sometimes years) of research. Without the help of the outstanding faculty at SUNY Oneonta, I would not be in the position that I am in today.