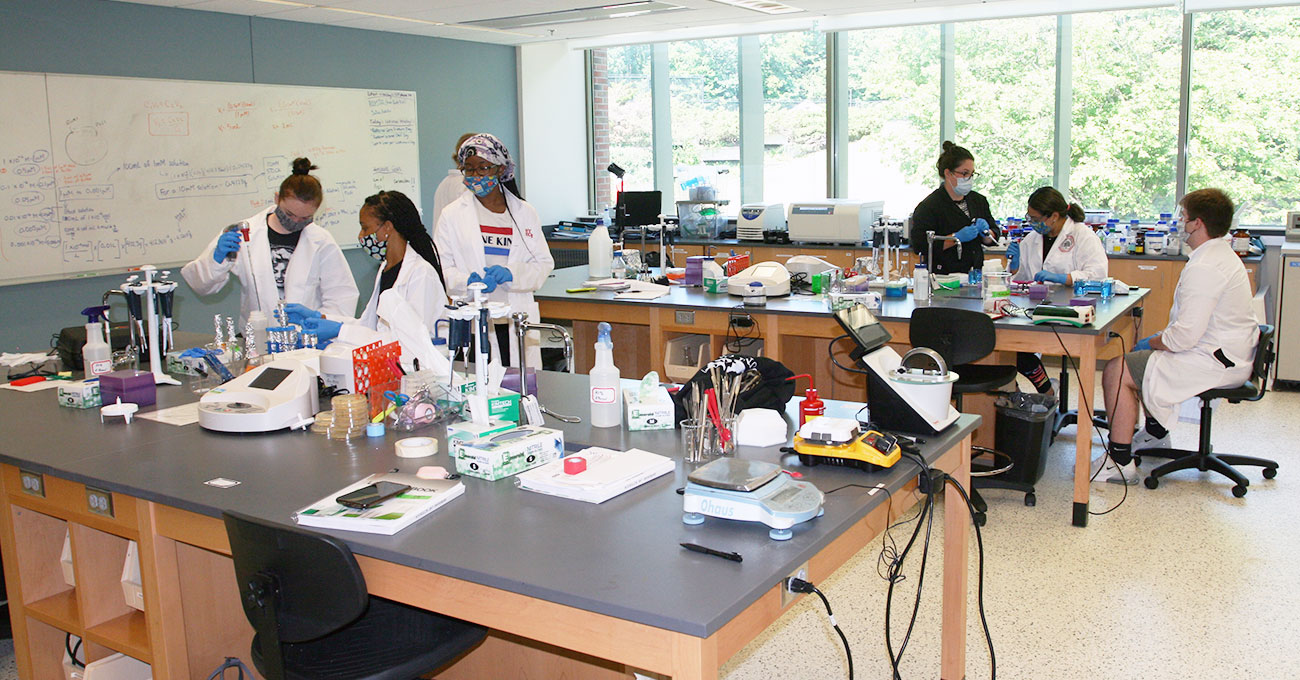 Great news- Team SUNY Oneonta was awarded a Silver Medal for their 2021 project, "Snip Flaps"! We have begun recruitment for our 2022 team. See Team News for more information.
Welcome to the home page of the SUNY Oneonta iGEM team! The International Genetically Engineered Machine (iGEM) competition is a multidisciplinary competition in which team members work together to create a solution to an everyday problem. Teams will design, build, test, and measure a system of their own design using interchangeable biological parts and standard molecular biology techniques. They must also consider the human and environmental aspects of their work. Students of any major can become a member of the SUNY Oneonta team.
There are many benefits that come from participating in iGEM. These include:
Unlike other research projects, students get to investigate and solve a problem of their own choosing.
The development of practical skills, such as wet and dry lab procedures, designing surveys, web design, and many others.
Investigating the relationship between science innovation and societal norms and values.
Gaining experience relevant to courses taken at SUNY Oneonta.
Experience working as part of a multidisciplinary team to complete tasks.
Collaboration with peers and experts from all over the world.
Experience communicating to a diverse audience and receiving feedback from a experts in a variety of fields.
Participation in job and networking opportunities as part of the project, at the competition, and through the After iGEM alumni program.
What team members say about being part of iGEM:
What positive outcomes have you experienced by being part of iGEM?

IGEM has given me the opportunity to discover an interest in science that I didn't know I had. Being part of this team makes you realize that there is so much more in the field!
The hands-on lab experience is excellent; it's great to apply what you learn in the classroom and bring it to the lab while also getting to meet new people along the way.

What would you say to a first-year student thinking about joining iGEM?

IGEM is such a friendly program that will allow you to tone analytical and laboratory skills, while at the same time, allowing for you to make lifelong friends.
Don't be intimidated. It might be one of the best hands-on experience you will have. The people you meet are awesome and supportive and of course so much fun to work with!

Have you learned or experienced anything that will benefit you in the future?

The lab experience I have gotten will help me tremendously in the future. The hands-on approach to iGEM is unlike any lab-based course I've taken, and it really allows you to think for yourself and go through the process of trial and error. I've gotten out of my comfort zone more which will help me later on in life. Reaching out to different people I've never met before, because of iGEM, has definitely helped me develop a life skill that I wouldn't get in a classroom.