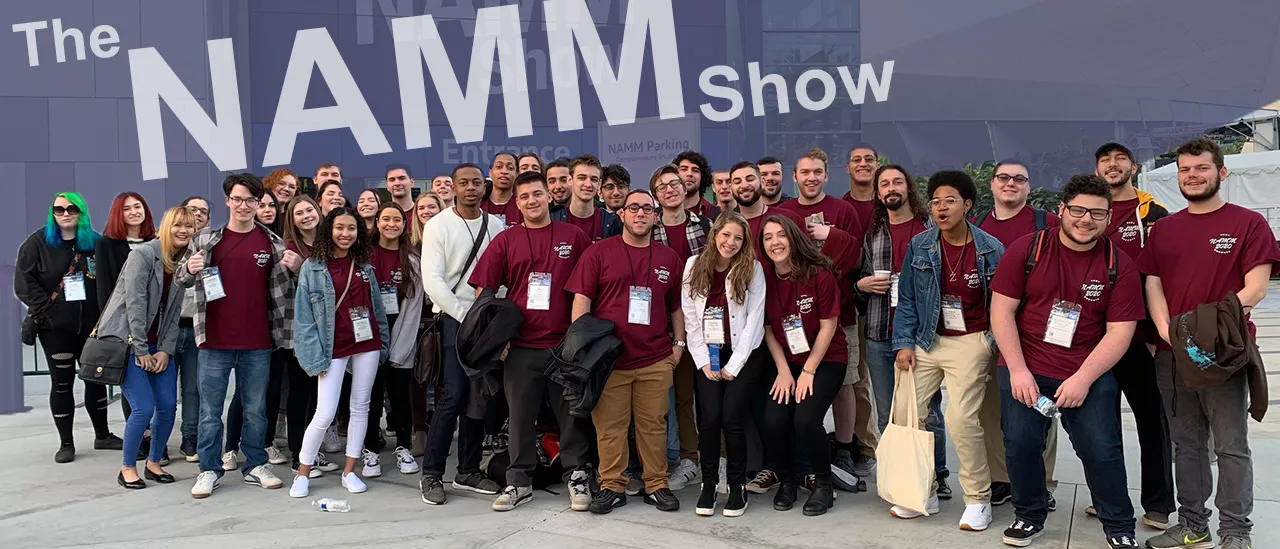 Just one week before he became a five-time Grammy Award winner, musician/producer Finneas O'Connell spoke to SUNY Oneonta music industry students about what it was like recording a hit album with his sister, superstar Billie Eilish.
It was just one of the memorable moments students experienced last week while attending the world's largest music products trade show, The NAMM (National Association of Music Merchants) Show, from Jan. 16-19 in Anaheim, Calif.
The NAMM Show is an annual event that brings together leaders of the music products, pro audio and event technology industries for four days of product introductions, business opportunities, networking and inspiration. The 40 SUNY Oneonta students who attended got to preview and test new products from more than 7,000 brands; enjoyed special events, live music and celebrity appearances; and attended dozens of demonstrations, panel discussions and educational sessions tied to today's trends and marketing techniques.
Students also got to hear interviews with the music world's top innovators, artists and professionals, including O'Connell, who took home Grammys for record of the year, album of the year, song of the year, non-classical engineered album and non-classical producer of the year at the 62nd Grammy Awards in Los Angeles on Sunday, Jan. 26.
"Getting to hear from Finneas O'Connell who just won producer of the year, yet attended NAMM as a student for four years just a few years back, really helped to push me toward my own end goal, which is to become a label executive," said Temima Shames, a senior from Deer Park, NY. "The most memorable parts of this trip for me were being able to meet with producers, artists and executives who were once in my place. It was really inspiring to learn how they went from my spot to where they are now."
Shames and junior Zanida Banks-Rollins, of South Bronx, NY, were two of 103 college students across the country who were selected to receive the NAMM Foundation's President's Innovation Award, which provides students a stipend to attend the event and special networking opportunities.
"Being a winner of the President's Innovation Award was a big accomplishment for me because it meant that not only was the NAMM Foundation recognizing all my hard work, but it also opened up a network of amazing students and professionals that I would have never met otherwise," Shames said. "It enabled me to ask questions to Joe Lamond, the president and CEO of NAMM about how he, too, started from the ground up and worked hard until he got to where he is now."
Banks-Rollins said winning the award and attending The NAMM Show helped reassure her that she is taking the right steps toward her end goal and that she has the potential to reach her aspirations if she keeps working hard. The event also helped her become more comfortable interacting and networking with top music business professionals and with strangers, in general.
"Being on the show floor with all different types of drum machines, turntables, microphones and pedals and getting to play with them has also given me many ideas on how I can spice up my live performances with my band and as a solo act," she added.
The NAMM trip is a long-running SUNY Oneonta tradition. Music Department faculty have been taking students to the event for more than 25 years. Lecturer Nancy Tarr, who has accompanied Oneonta students on the trip for the past five years, said it's a wonderful opportunity for students to meet and learn from people who have been in their shoes.
While in California, the students also visited Paradigm Talent Agency, where SUNY Oneonta senior Natalie Costanza landed an internship last summer through the Well Dunn Foundation. A group of students also got to volunteer at NAMM's She Rocks Awards show, which pays tribute to women in the music industry.
Harold Lichtenstein, a senior from Farmingdale, NY, said his favorite parts of the trip were watching 1970s R&B group Earth, Wind & Fire perform and hearing artist, songwriter and producer Jack Antonoff speak.
"My band is about to head into the studio to record an album," Lichtenstein said, "and the information I got from the dozens of seasoned engineers, mixers and mastering engineers I heard speak has inspired me to really go above and beyond."
This trip was made possible, in part, by support from the Caroline ('67) and David D'Antonio Student Travel for Excellence Fund.