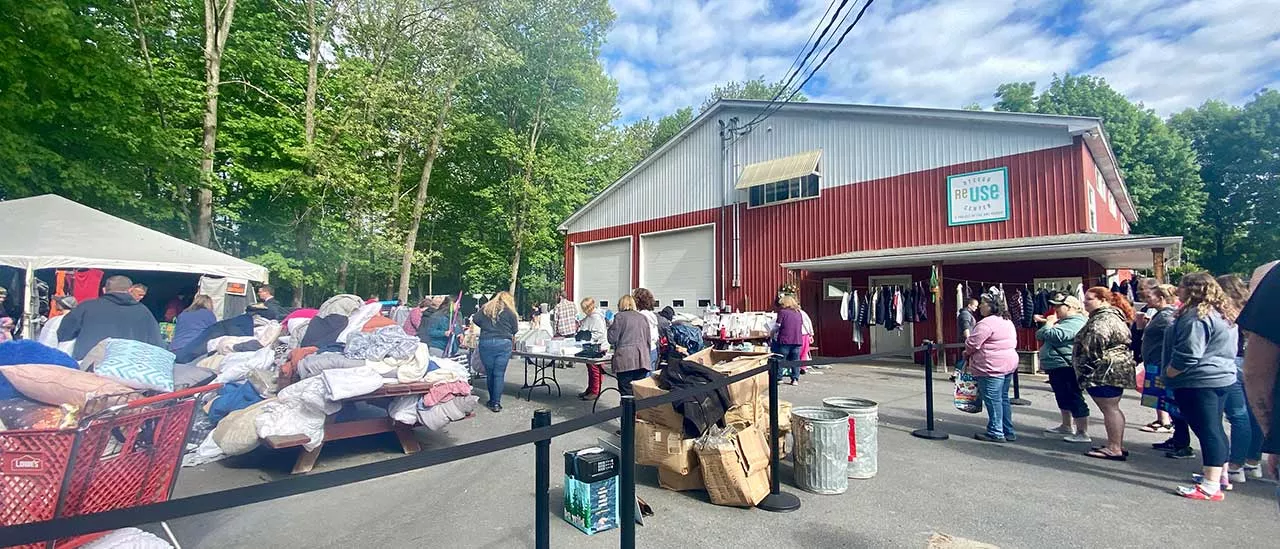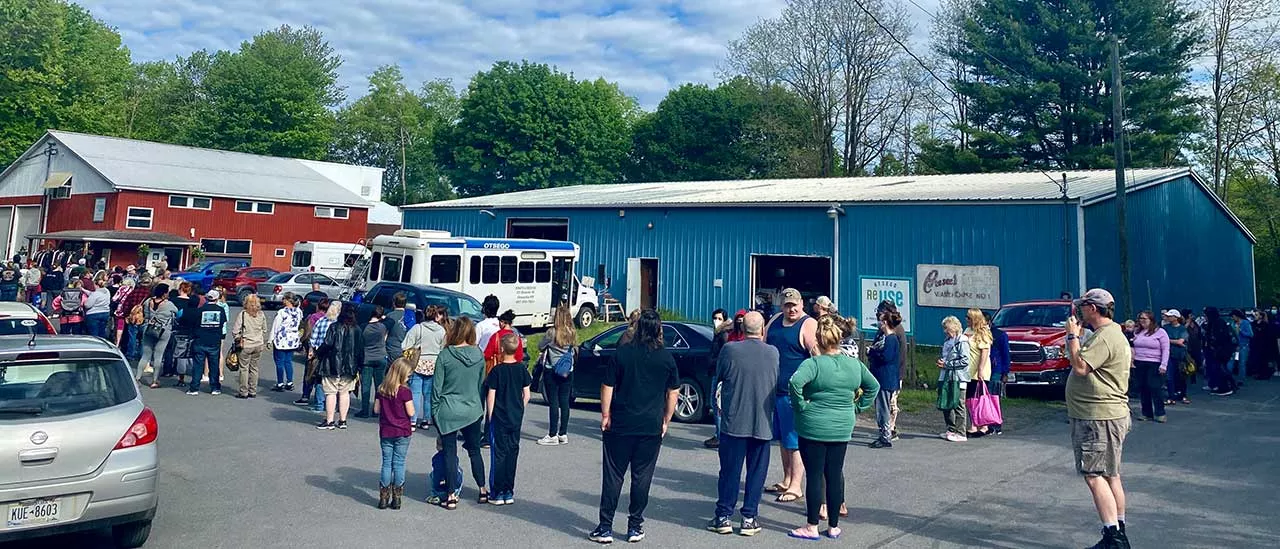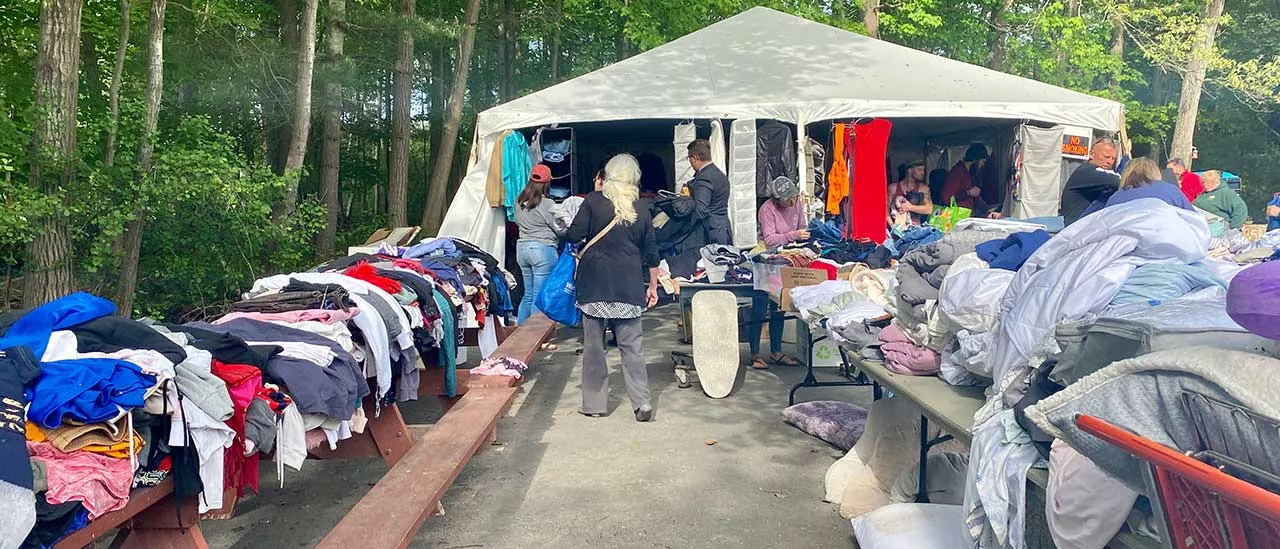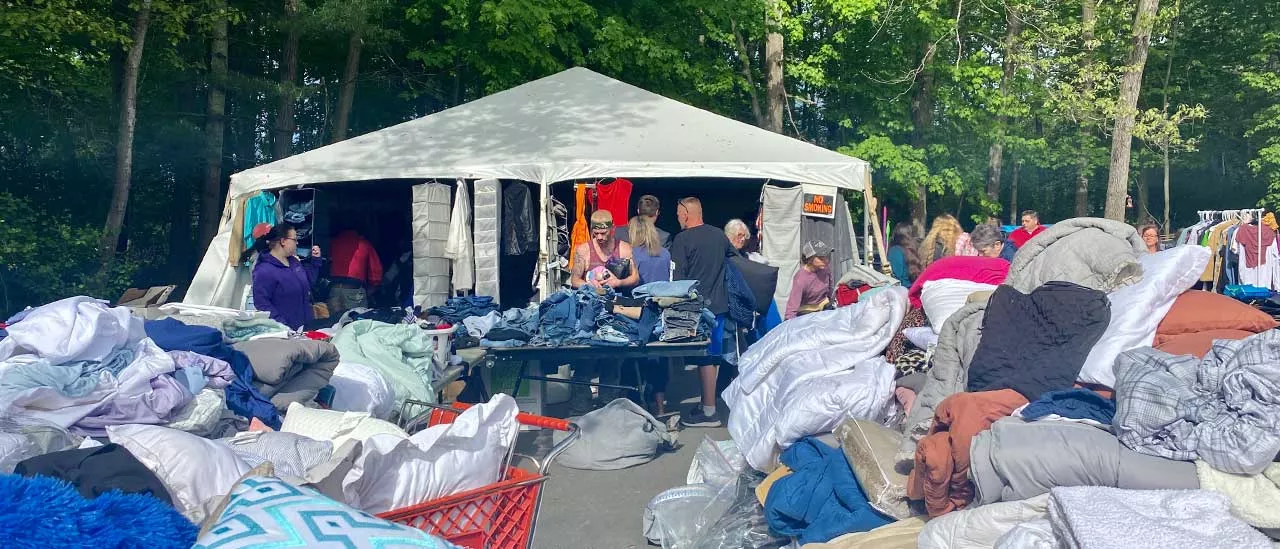 Approximately 34 tons of gently used items donated by SUNY Oneonta students were saved from the waste stream and given new life this week, thanks to the college's annual Move-Out Donation and Reuse Collection program.
On- and off-campus students moving home at the end of the semester donated about 75,000 pounds of items this year. On Tuesday, May 24, community members were invited to "shop" the items during a free sale hosted by the Otsego ReUse Center, located at 23 Duane St.
Mountains of Goods On Their Way to New Homes
Shoppers began to arrive at 6 a.m. and, by 9 a.m., more than 300 people stood in a line that wound through the ReUse Center parking lot and around the corner onto Duane St., where dozens of cars were parked. Mountains of clothing, furniture, bedding, rugs, appliances, books, non-perishable food and other goods were piled high. One small group at a time, shoppers entered a roped off area, rummaged through the items and filled reusable bags to take home. 
SUNY Oneonta Sustainability Coordinator Rachel Kornhauser and about a dozen other college volunteers wearing red shirts milled around the roped off area, directing shoppers, answering questions, folding and hanging clothing, consolidating, and organizing as the piles dwindled. 
By 10:30 a.m., there were only a few items left. 
"It's pretty amazing to watch everything disappear," Kornhauser said. "SUNY Oneonta started this initiative in 2014 and, since then, it has exponentially grown. We are not only keeping items that students can no longer use out of the landfill, but we're also supporting the needs of our local community, and that's a wonderful feeling."
The day before the free sale, 12 local nonprofits were invited to "shop" the donations so that they could have first pick, Kornhauser explained. 
"A Win for Everybody"
The Move-Out Donation and Reuse Program is coordinated by the college's Office of Sustainability, which leads energy- and waste-reduction initiatives on campus and engages the campus community in sustainability programs. The office also works to integrate sustainability into the residential and academic experience.
Event host The Otsego ReUse Center is a project of The Arc Otsego that opened in 2017 to keep items with life left in them out of the waste stream and offer them to the general public at affordable prices.
"We're elated to have this longstanding partnership with the college," said The Arc Otsego Chief Marketing Officer Faith Tiemann. "This project is all about community outreach, and it's incredible to be here and witness the community members getting the goods they want and need at no cost. They are very appreciative."
Louise Klejbuk, who works in SUNY Oneonta's Office of Admissions, volunteered Monday, guiding shoppers, consolidating items and offering a friendly face. She works for The Otsego ReUse Center part time, so it's a cause close to her heart. She said she is grateful to the students for donating their "top-of-the-line" items.
"This is not junk, and it doesn't belong in the garbage – there are easily millions of dollars worth of stuff here," Klejbuk said. "This is a win for everybody. It's a win for The Arc, it's a win for the college, it's a win for the environment, and it's a win for the community."