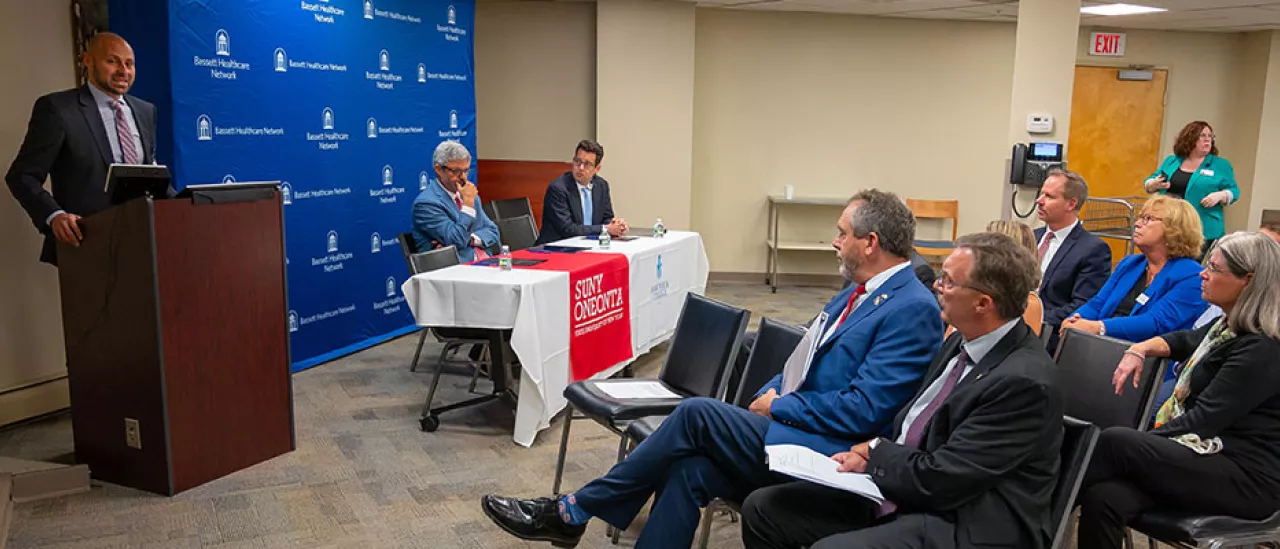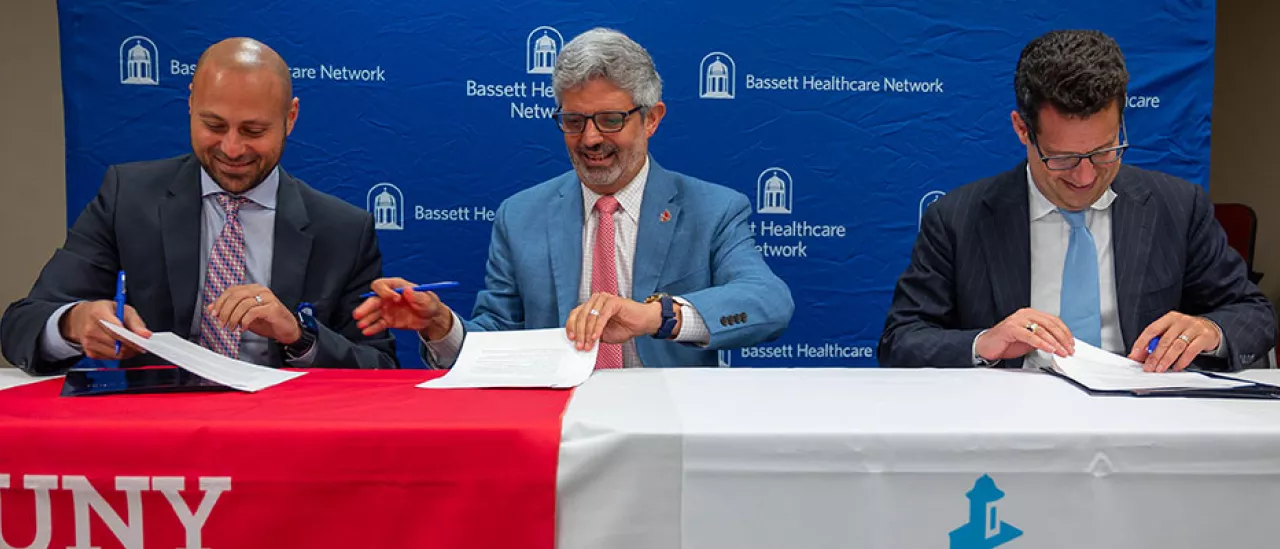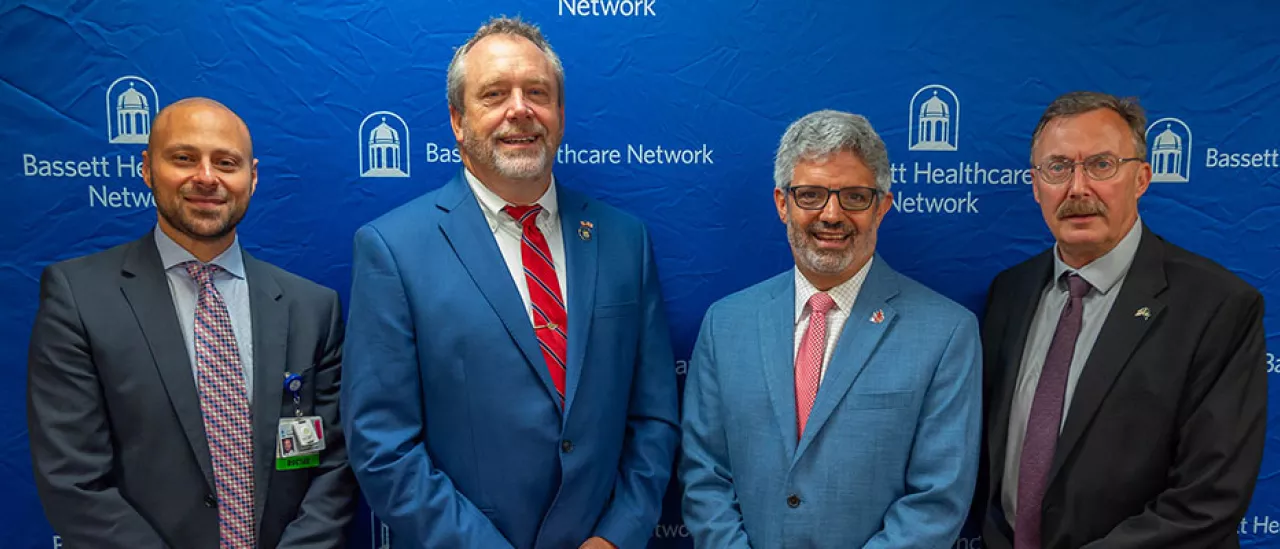 Bassett Healthcare Network, SUNY Oneonta and Hartwick College have launched a groundbreaking workforce development partnership aimed at keeping recent graduates in the region and addressing critical workforce shortages across Bassett's network. Leaders from each organization gathered Sept. 13 for a signing ceremony at A.O. Fox Hospital in Oneonta.
Bassett CARES stands for Bassett Career Advancement and Retention Experience for Students. Annually, up to 50 recent graduates of Hartwick College and SUNY Oneonta who graduate with a bachelor's degree or greater and work in a full-time role in the Bassett Healthcare Network can qualify for a loan repayment stipend while embarking on a career in healthcare. Bassett CARES is open to graduates from all disciplines, not only healthcare programs. 
The program aims to support and retain recent graduates with a loan repayment stipend for service worked. Participants may earn up to $25,000 in loan repayment stipends, with $5,000 awarded for every six months worked in a full-time role.
Working closely with Bassett, the program will expose current SUNY Oneonta and Hartwick students to various career pathways in healthcare through internships, professional development seminars and additional educational opportunities. 
SUNY Oneonta and Hartwick will offer free or subsidized on-campus housing for matriculated students who are working at Bassett during the summer months. SUNY Oneonta also plans to provide bridge housing for recent graduates for the summer directly following their graduation to ease the transition to professional life at Bassett.
"At Bassett, our mission is to improve the health of our patients and the well-being of our communities," said Dr. Tommy Ibrahim, Bassett Healthcare Network president and CEO. "Building this partnership with SUNY Oneonta and Hartwick College to support pathways to careers in healthcare at Bassett is a giant step in our commitment to caring for people who reside in our Central New York region and beyond." 
"Bassett CARES is a testament to the ideal that strong partnerships between anchor institutions are a solution to addressing critical workforce needs," said SUNY Oneonta President Alberto Cardelle. "Partnerships like this not only address workforce shortages but create an educational ecosystem that provides students with valuable educational and career opportunities."
"Bassett CARES embodies the spirit of collaboration, recognizing that together, we can make a transformative impact on our region," said Hartwick College President Darren Reisberg. "Through the partnership, our students will gain exposure to the many different career opportunities in healthcare, from direct patient care to administrative roles, and help them choose a path that is both rewarding and fulfilling."
Also in attendance at the signing ceremony were state Sen. Peter Oberacker (R/C-Schenevus) and Assemblyman Brian Miller (R/C – New Hartford) along with leaders from Bassett Healthcare Network, Hartwick College and SUNY Oneonta.
"As New York continues to lose population to other states, it is critical that we implement inventive strategies to keep our best resource – our people – from moving away," said Senator Oberacker. "Bassett CARES will help restock our healthcare workforce while ensuring that the highly skilled students graduating from Hartwick College and SUNY Oneonta are here to stay with an excellent career path to follow. This is another example of what can be done when local stakeholders work together and will certainly translate to lasting benefits for our region."
Assemblyman Brian Miller

"This innovative partnership between Bassett Healthcare Network, Hartwick College and SUNY Oneonta is forging an example that will reshape healthcare in the Basset network," said Assemblyman Miller. "The community as a whole will benefit from these public and private educational institutions working together with a premier healthcare institution, and also provide a cohesive affordable pathway for students to enter the workforce. I applaud all three institutions for this collaborative agreement that will directly help to address a critical healthcare workforce crisis for the betterment of all."