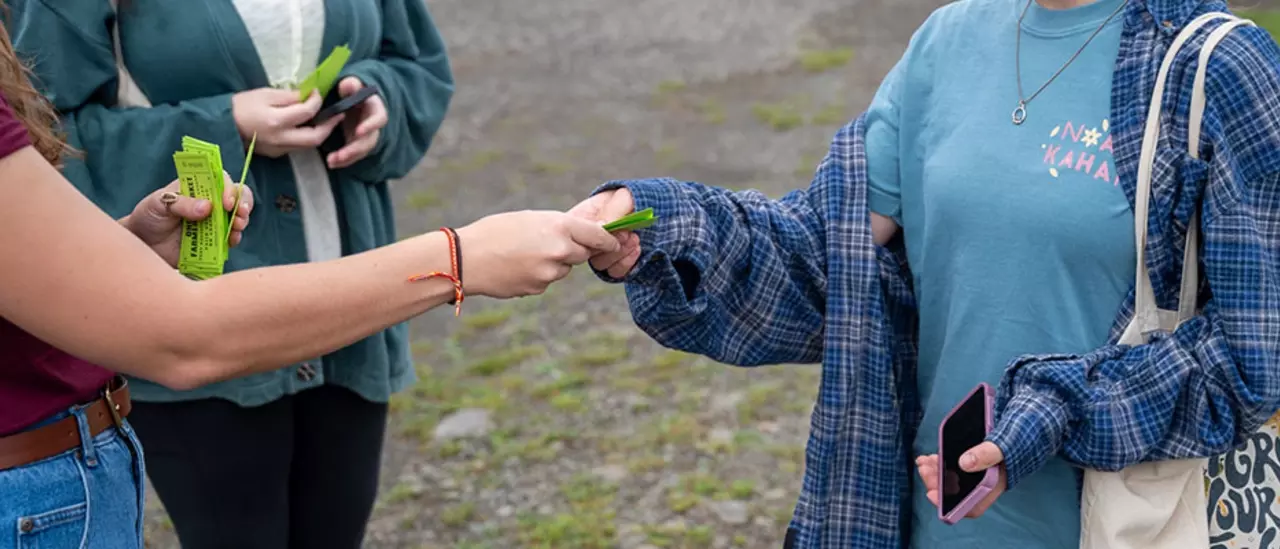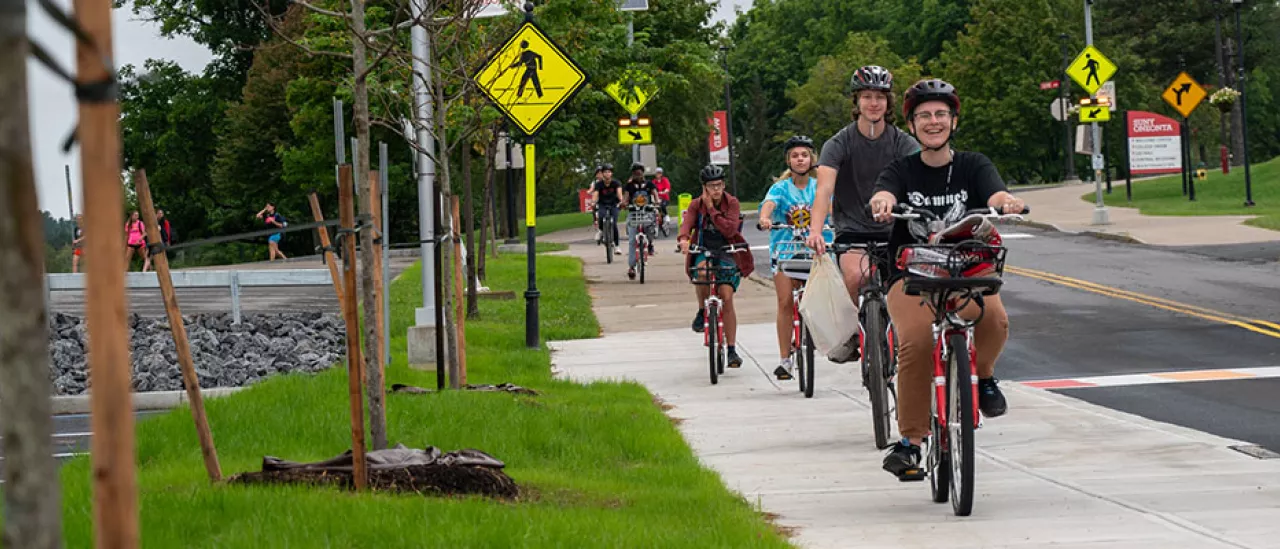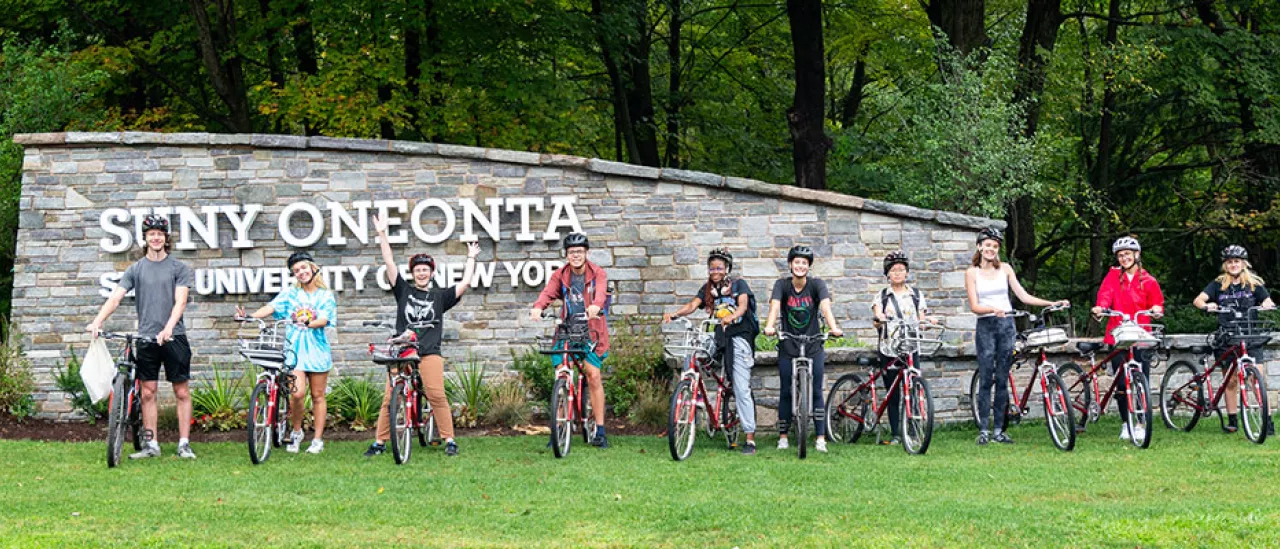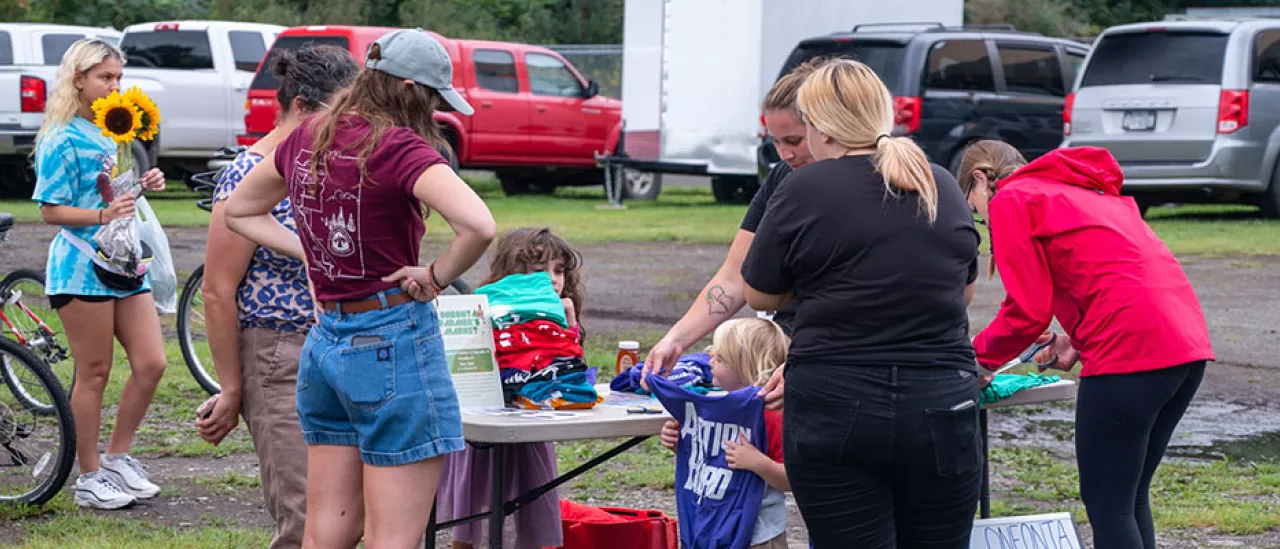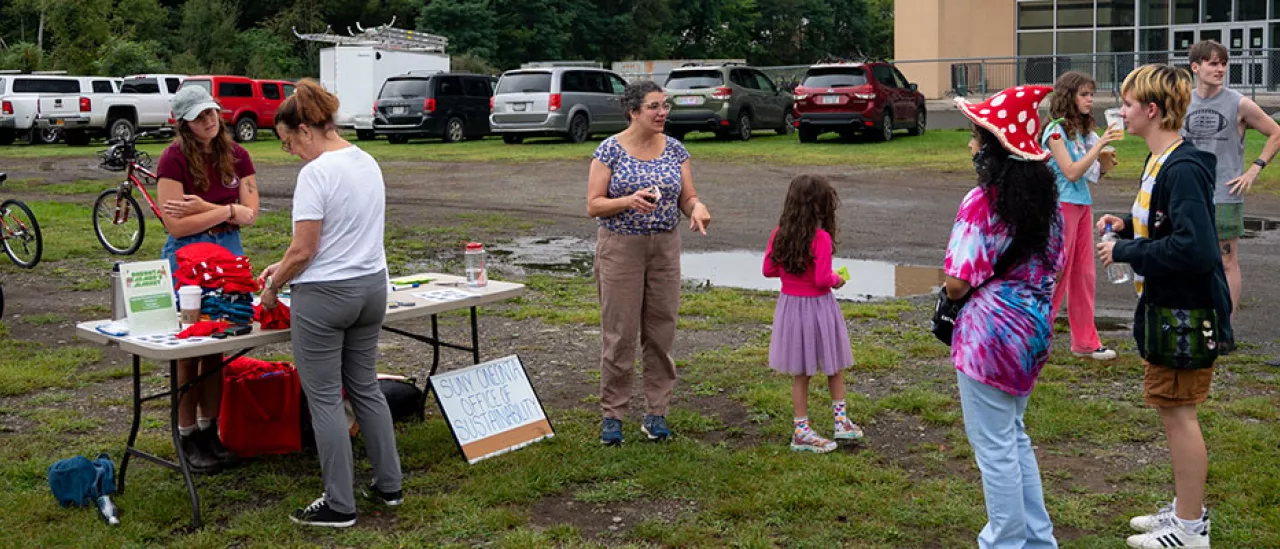 It's a warm, sunny Saturday morning in September, and 10 SUNY Oneonta students are gliding down a hill toward downtown Oneonta on bright red bicycles borrowed from the campus' Department of Outdoor Programs. 
When they arrive at their destination – the Oneonta Farmers Market – they make their way to a special SUNY Oneonta "Community Table," where they're each given $15 in coupons to use at any of the market vendors. One student stays at the table to help greet visitors and teach them how to make tote bags using recycled T-shirts. 
The Community Table effort, sponsored by SUNY Oneonta's Office of Sustainability, aims to increase positive student engagement in the community, provide a stigma-free support for students who may be facing food insecurity, and support local farms and businesses.   
Supporting and Building Community
One Saturday a month from 9 a.m. until noon, SUNY Oneonta's Community Table will be set up at the Farmers Market, located next to Foothills Performing Arts & Civic Center on Market Street. Each month, a different campus department or organization will serve as "host," sharing information on campus programs and initiatives and offering educational lessons, from healthy recipes to money-saving tips. Future fall semester dates will be Oct. 14, Nov. 11 and Dec. 9. 
L to R: Sustainability Coordinator Rachel Kornhauser & Lindsay Wolfanger Sustainability Assistant

"This is about supporting and building community," said Sustainability Coordinator Rachel Kornhauser. "Essentially, we wanted to get students down to the market, expose them to fresh, local sustainable food options, help expand the university's visibility and role downtown, and encourage students to support the community by drumming up business for market vendors."
Seventy five coupons will be given out first come, first served, with no questions asked. This is designed to provide a "stigma-free safety net" for students facing food insecurity, in line with the State University of New York's recent priorities and efforts.    
Thanks to the university's Department of Outdoor Programs, Oneonta students have the option of renting a bike for free to ride to the market, complete with a basket to carry any market finds. Senior Environmental Sustainability and Geography major Carlotta Batchelder, an Outdoor Programs Adventure Guide, helped lead the group ride. 
"The day went very well," Carlotta said. "When we arrived, everybody enjoyed the market with the help of the free coupons. My favorite part was the positivity of everyone who attended. The local farmers market is a great way to get students connected with the community and sustainably sourced food, and we are looking forward to next month's trip."