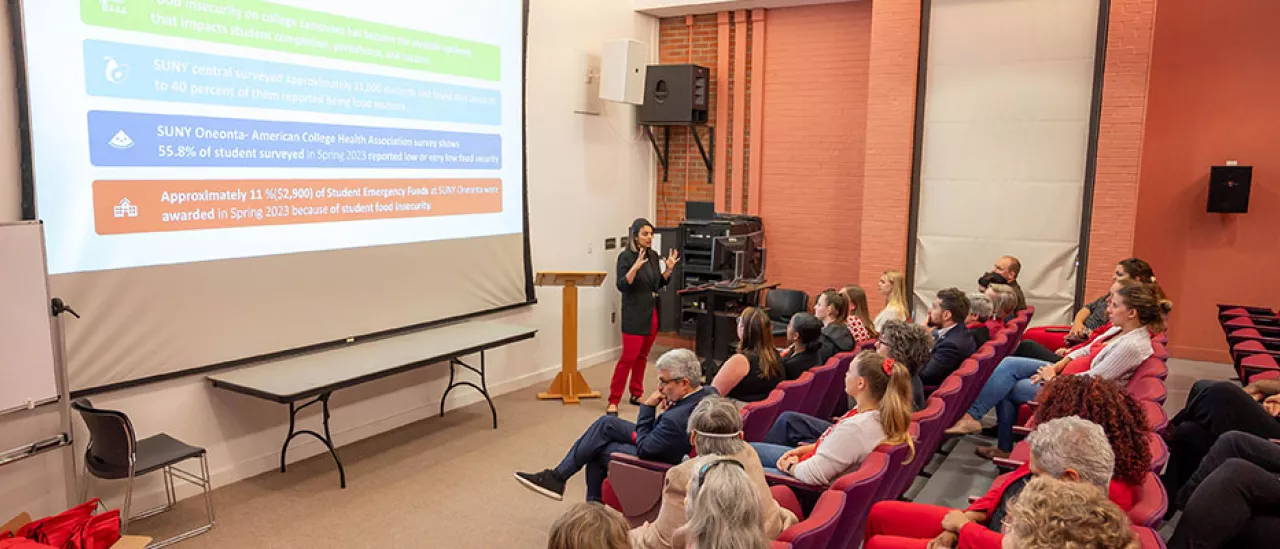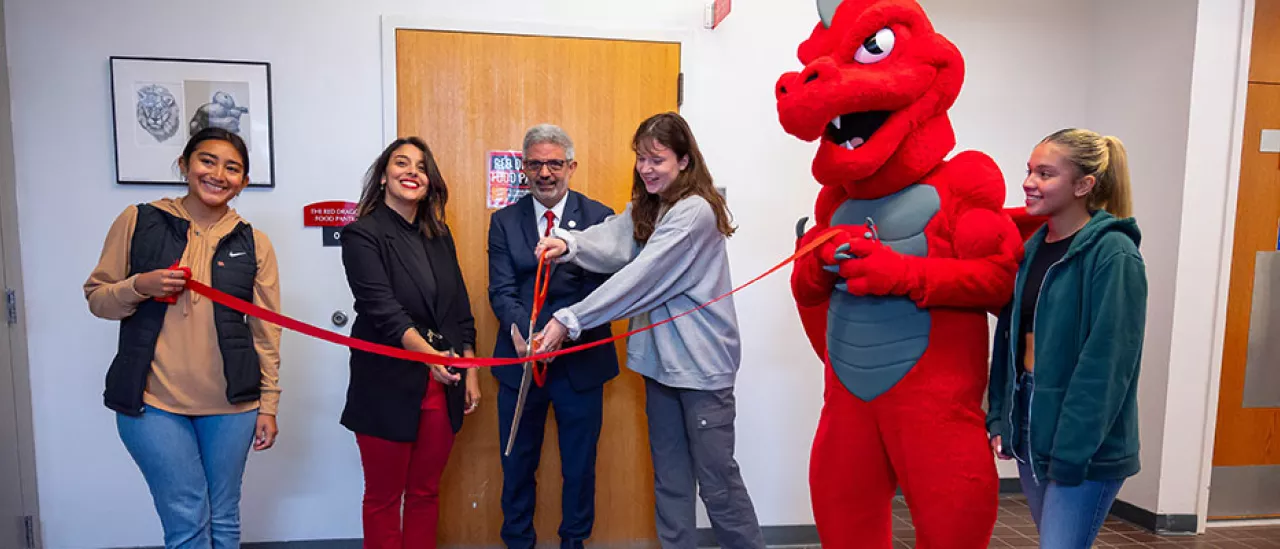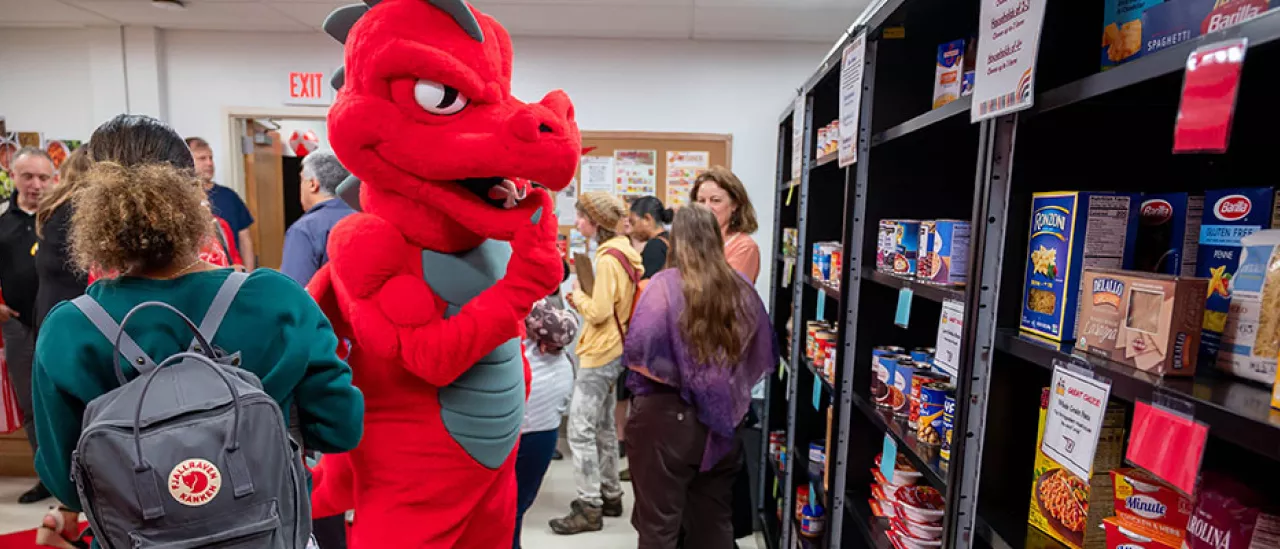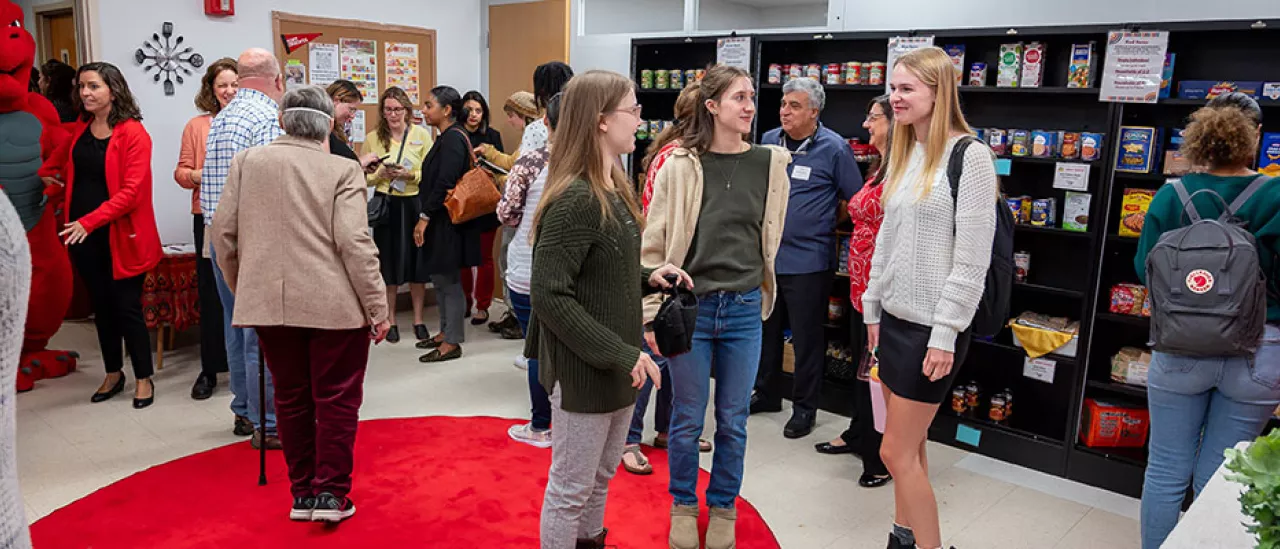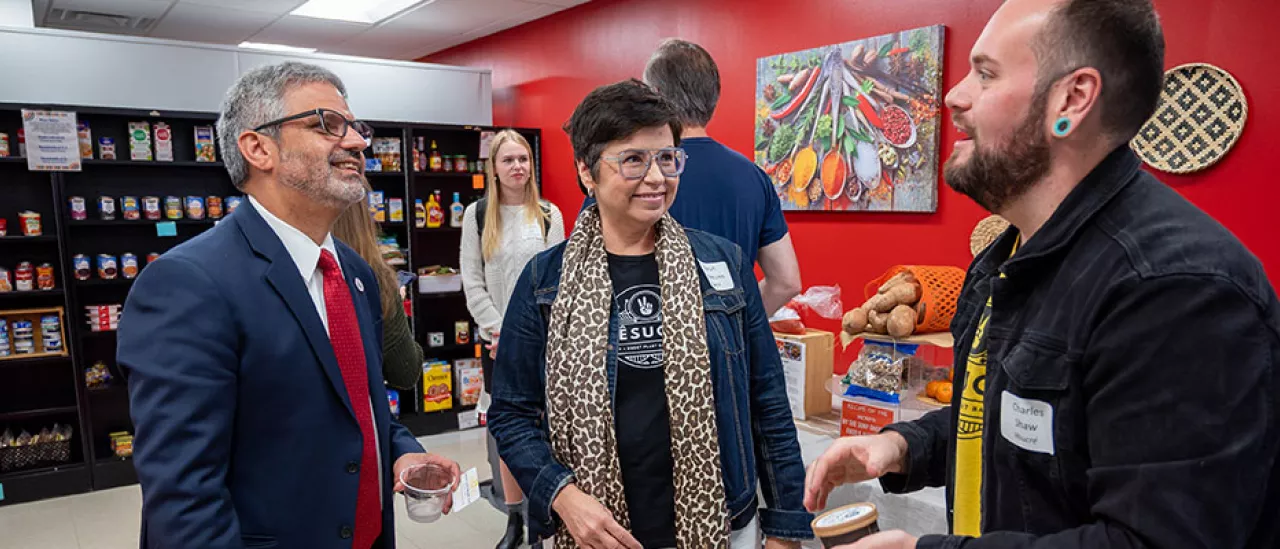 SUNY Oneonta's newly unveiled Red Dragon Food Pantry will help battle food insecurity by giving students and staff free access to nonperishable food, basic needs supplies and fresh produce, thanks to campus and community partners.
The full-service food pantry – operated by the Office of Student Care and located on the bottom floor of the Hunt Union – had its grand opening Friday, Sept. 15, after a presentation and ribbon-cutting ceremony attended by representatives of SUNY and area partners. 
A grant collaboration with the State University of New York and Share Our Strength – a national organization working to end childhood hunger and poverty in the United States – helped fund the grand opening event, which included giveaways for students and a survey on basic needs. Gillian Kiernan, SUNY Anti-Hunger/Nutrition Coordinator, attended Friday's celebratory events. 
"Food insecurity is a growing problem among college students, and more data comes out every year that shows that this problem isn't going away anytime soon," Kiernan said. "Share Our Strength and SUNY are overjoyed to support Oneonta's food pantry opening, help destigmatize food insecurity and be there for students in this very important way."
Homegrown Help
Inside the pantry, bright yellow baskets filled with packages and cans line large shelving units, and a large refrigerator and commercial freezer are stocked with local produce. 
Outreach Counselor and Engagement Specialist Olivia Avanzato, coordinator of the pantry, said its shelves will be replenished on a regular basis with food from The Regional Food Bank of Northeastern New York. A partnership with Unadilla Community Farm – a nonprofit that grows crops solely for food pantry donations – will allow for fresh produce deliveries each week. Oneonta business Vêsucré, which makes plant-based frozen treats, developed a special protein-packed breakfast cup, called "The Dragon Cup" for students to take and eat on the go. The Food and Nutrition Association club will help provide education, offering monthly recipe cards based on items in the pantry, holding food drives and more. 
Since the fall of 2017, SUNY Oneonta has had a small Campus Food Shelf, thanks to Director of Campus Activities & Leadership Bill Harcleroad, Director of Student Life & Leadership/Hunt Union Robb Thibault, and Executive Director of the Center for Social Responsibility and Community Linda Drake. According to Thibault, each semester about 700 pounds of cans were donated to, and then taken from, the Food Shelf, which holds about 75 cans at a time. The shelf will now be used as a pantry donation station.
The Red Dragon Food Pantry will be open Monday through Friday and is open to on- and off-campus students, faculty and staff.  
A Growing Problem
Student hunger and food insecurity are persistent challenges on campuses across the country. Findings from the National Center for Education Statistics reveal that 22 percent of undergraduate students experienced food insecurity—over double the rate of U.S. households.
At SUNY Oneonta, a spring 2023 American College Health Association survey conducted by the Health and Wellness Center showed that 55.8 percent of students reported low or very low food security. Approximately 11 percent of Student Emergency Fund grants were awarded because of food insecurity. 
The creation of SUNY Oneonta's pantry is part of a statewide effort to battle food insecurity. In recognition of September as National Hunger Action Month, SUNY Chancellor John B. King, Jr. announced $1 million in funding to provide sustainable financial assistance for SUNY campus food pantries. The funds will help ensure the pantries remain stocked and accessible to students in need.  
"This is a great day for our campus," President Alberto Cardelle said during Friday's ceremony. "There is a plethora of evidence that if a student is lacking in nutrition and doesn't have enough to eat, it has a direct impact on their mental and physical wellbeing. And we have direct evidence that intervention makes a difference. This food pantry will, without question, positively impact student lives."