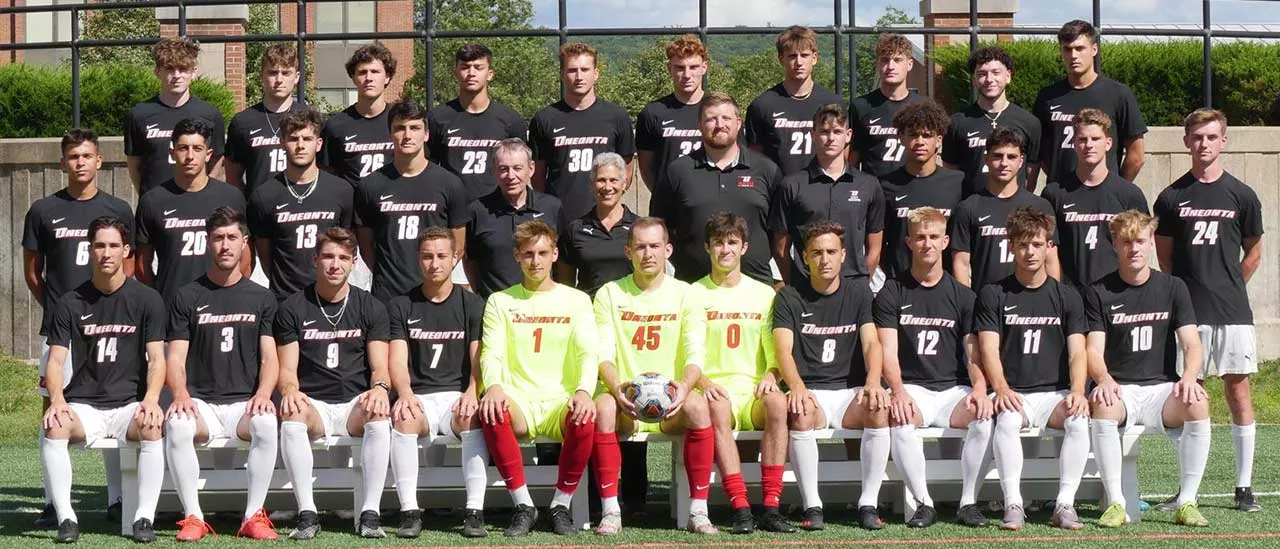 Members of the SUNY Oneonta's men's soccer team coaching staff received a distinct honor recently, being named 2022 Division III Region III Staff of the Year by the United Soccer Coaches, the largest soccer coach organization in the world.
Head Coach Iain Byrne, Assistant Coach Brian Wagstaff and faculty mentor JoAnne Murphy were each recognized for their work with this year's team, which finished ranked first in Region III with a final record of 15-3-3, won the SUNYAC Championship, and made it to the Sweet 16 of the NCAA Tournament.
"What an exciting, well-deserved honor for Coach Byrne and his staff," said SUNY Oneonta President Alberto Cardelle. "I think I can speak for the entire Red Dragon family when I say it was a real pleasure seeing this team in action and cheering them on from the sidelines. We are incredibly proud of our dedicated, talented coaches, staff and student athletes."
Byrne, Wagstaff and Murphy – who were among 49 other honorees – will be recognized during the College Coaches Awards Ceremony at the United Soccer Coaches Convention on Thursday, Jan. 12, 2023, in Philadelphia.
With more than 30,000 members, the United Soccer Coaches organization offers training courses for both beginning and experienced coaches as well as a wide range of award programs, such as this one.
"To be named as the Region III Coaching Staff of the Year is truly incredible because of the quality of soccer that we have within the SUNYAC, and the region," said SUNY Oneonta Director of Athletics Ryan Hooper. "Iain has a proven track record of success because of his knowledge of the game and the talented student athletes he recruits to our institution. I am extremely proud that he represents us here at SUNY Oneonta."=
"It's great to see our coaches get recognized for all the hard work they put in both during season and out of season," said senior forward Lucas Fecci, a psychology major from Somers, NY, and one of the First Team All-Americans. "We wouldn't have been able to succeed both on the field and in the classroom if it wasn't for them. This program reflects how incredible this coaching staff is and how they have built a great culture here."