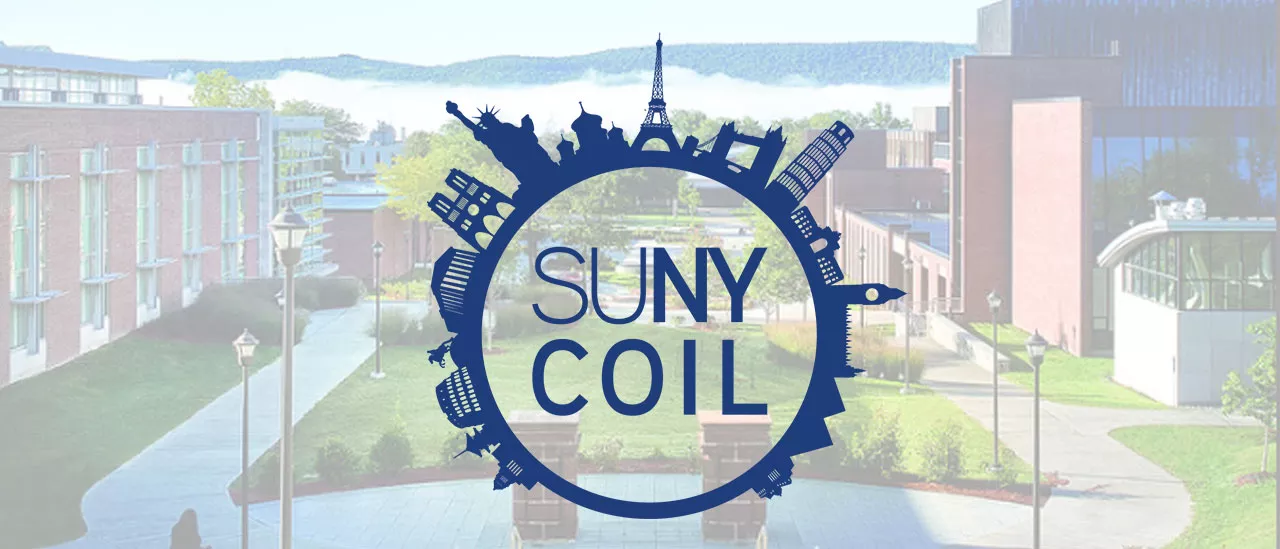 SUNY Oneonta is the new host of the SUNY COIL Center. COIL, which stands for Collaborative Online International Learning, is about connecting across differences. Professors and students work with their peers in an online learning environment to explore subjects, themes, issues and ideas.
The SUNY COIL Center serves the largest and longest-standing community of its kind, currently connecting 147+ institutions throughout the world in a virtual web of cultural and educational exchange. The center provides international partners to faculty throughout the SUNY COIL Global network at colleges and universities around the world to create inclusive, team-centered, teaching and learning opportunities.
"Together with the SUNY COIL Center, we recognize the value of virtual exchange as a high-impact practice, integrating intercultural experiences into the curriculum in a sustainable way for the benefit of all students," said SUNY Oneonta President Alberto J.F. Cardelle.
Originally established in 2004 on the SUNY Purchase campus, the SUNY COIL Center has been located at SUNY System Administration for more than a decade. "By hosting the SUNY COIL Center, Oneonta is taking the lead with virtual exchange for all of SUNY and will become an incubator for innovative methods to engage students and campuses with peers around the world," said Hope Windle, who was hired in December as the new SUNY COIL Center executive director. "Being embedded in a vibrant campus environment with a long history of incorporating COIL programming across academic disciplines will enable the center to more effectively serve its 147 member institutions."
A Leader in COIL Programming
Oneonta's Teaching, Learning, and Technology Center (TLTC) has been a leader among SUNY campus participants in COIL initiatives for the past eight years, establishing Oneonta as a model for the implementation of COIL in the campus environment. "For SUNY Oneonta, SUNY COIL virtual exchange serves not only to connect to institutional global learning objectives, but also institutional priorities in diversity, equity and inclusion, active pedagogy, and applied learning as it supports students' ability to experience an exchange program from their own classrooms," said TLTC Director Chilton Reynolds.
For example, SUNY Oneonta Professor of Educational Psychology, Counseling and Special Education Anu Shastri had students in an educational psychology course collaborate with students from a business communication course at Jindal Global University in Sonipat, India.  The students worked together on oral and written projects to facilitate the development of intercultural understanding and digital literacy skills.  COIL has become an essential part of the curriculum for SUNY Oneonta Associate Professor of Foreign Languages and Literatures Maria Cristina Montoya, who has students in her Advanced Spanish Usage course collaborate with students from Universidad del Valle in Cali, Colombia.  The students create narrative and argumentation discourses and discuss environmental issues and socio-economic realities in each country, with a focus on addressing issues of inequality.
Michelle Lopez, Oneonta's new Office of Global Education director, has been engaged to expand SUNY Oneonta's global education opportunities, and Oneonta's COIL program will be a core element. The Office of Global Education looks forward to offering COIL methodology to support faculty implementing a global literacy competency as part of the new SUNY General Education program. Together, these mutually supportive initiatives will distinguish SUNY Oneonta's curriculum and bring to life President Cardelle's "Regaining Momentum Agenda" vision for a more inclusive, equitable and diverse campus where all students have the chance to thrive and succeed.
Preparing Students for Success
COIL virtual exchange as an innovative pedagogy is now widely recognized as an essential part of the college experience, preparing students for success after college. The National Association of Colleges and Employers notes in its career readiness competencies that COIL is addressing the need to engage with people from different cultures. The American Association of Colleges and Universities, in collaboration with the American Council on Education, recently launched a nationwide COIL initiative to support creating strong connections between countries for virtual exchanges. Additionally, the SUNY COIL Center has developed integrations with the United Nations Sustainable Development Goals and the SUNY Educational Opportunity Program. 
Associate Vice Chancellor Sally Crimmins Villela of SUNY's Office of Global Affairs sees Oneonta as "the ideal environment" to launch the SUNY COIL Center's campus-based effort on Global Learning for All: Educating for a Sustainable Future (GLFA) as part of a larger SUNY GLFA initiative. "We commend the wisdom and leadership of President Cardelle in gathering the synergies of global education, online learning excellence, sustainability, and diversity and inclusion to support all students for success during their college experience and beyond," she said.
Participation in SUNY COIL can be a life-changing experiences that opens new doors. For example, 2022 SUNY Oneonta graduate Nicole Bausenwein is spending two years in Guatemala as a Peace Corps Volunteer – and she credits SUNY COIL with sparking her passion for international development work.
"Studying abroad was something I really wanted to do, but unfortunately I didn't get the chance due to the pandemic," she said. "I did participate in the SUNY COIL Global Commons summer program, which allowed me to collaborate with a Non-Government Organization in Nigeria virtually. Through this program, I learned about the United Nations Sustainable Development Goals and became more interested in international development."
SUNY Oneonta has agreed to host the SUNY COIL Center for two years, with the possibility of renewal.
For more information about the SUNY COIL Center, please contact Executive Director Hope Windle at Hope.Windle@oneonta.edu.