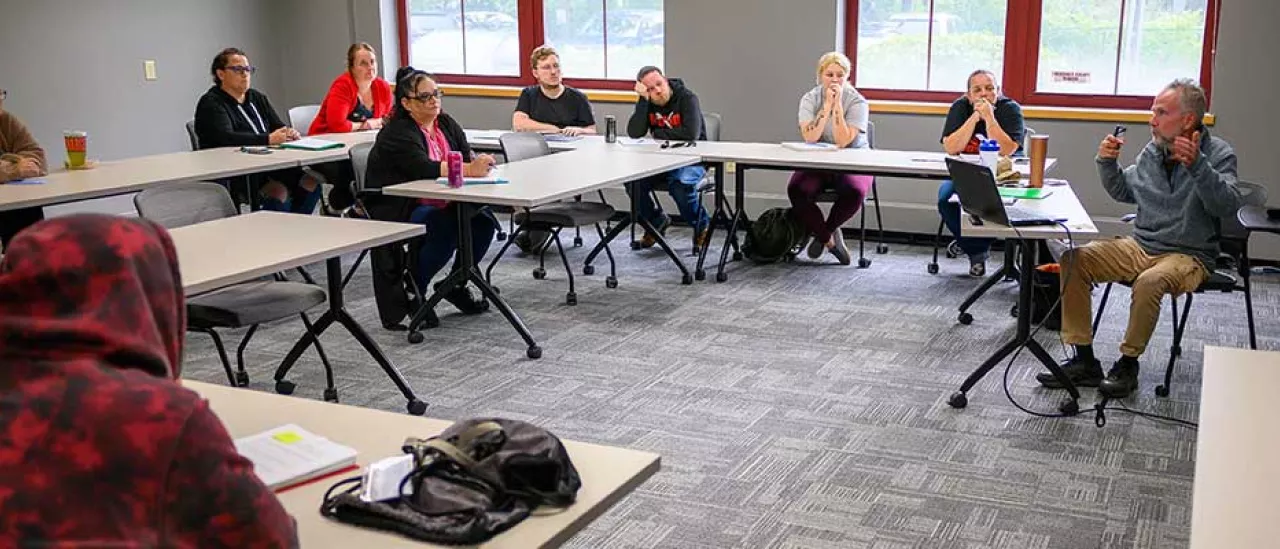 The quad was hopping on Monday, Aug 28, as new and returning Red Dragons found their way to their first classes of the 2023-24 academic year. Meanwhile, a separate group of eager new SUNY Oneonta students gathered off campus for their first day of class, as the first participants in an innovative, new community partnership program. 
The 18 students are employees of Springbrook, an organization that offers services and support to people with developmental disabilities across New York. As the first cohort of scholars in the Springbrook Training & Education Program (STEP), these employees are taking tuition-free courses with a SUNY Oneonta faculty member and can use credits earned toward a certificate or degree program in human services or a related major. The students took one class over the summer and are now in their second semester.
The Springbrook-SUNY Oneonta partnership is designed to provide no-cost educational opportunities to Direct Support Professionals who have faced scheduling and financing obstacles in pursuing their degree. Participants attend an in-person class at a Springbrook location twice a week during work hours for 15 weeks and, upon completion of the program (five classes total), will receive a pay increase.
"Phenomenal all around"
Mandy VanWormer, one of Springbrook's Capstone Day Habilitation coordinators, said STEP is a life-changing opportunity for her and for the people she supports.
"I love what we do at Springbrook, and this opportunity is helping me mature and advance in everything I know which, in turn, helps my students," VanWormer said. "If I can understand them better, that's going to benefit them every single day. I have a child at home and a tight schedule, so the fact that I'm furthering my education without a financial or time burden – I just feel very supported, and it's phenomenal all around." 
Mike Spadaro

"I thought about trying to dive into college and further my education, but I wasn't sure how to do it," said Mike Spadaro, another Springbrook employee and STEP scholar. "When I got the email announcing this program, I was really excited to have an introduction to the college life, and I've already learned so much." 
Community Connections 
STEP was created by SUNY Oneonta's Office of Continuing Education in coordination with University President Alberto Cardelle, Chief of Staff Danielle McMullen and Assistant Professor of Human Development and Family Studies Dr. Brenda Seery, who taught the cohort's first course, Children and Families, over the summer. This semester, the STEP students are taking a Composition class taught by Adjunct Assistant Professor of English Andrew Tully.
Springbrook is Otsego County's third-largest employer, with more than 1,300 employees. Cardelle said bringing together two of Oneonta's anchor institutions in this way "will increase access to higher education and strengthen our local workforce in the community."
"The first step for any new venture is difficult," said Springbrook Chief Executive Officer Patricia Kennedy. "We designed this partnership to help our employees take that first step with confidence and support."