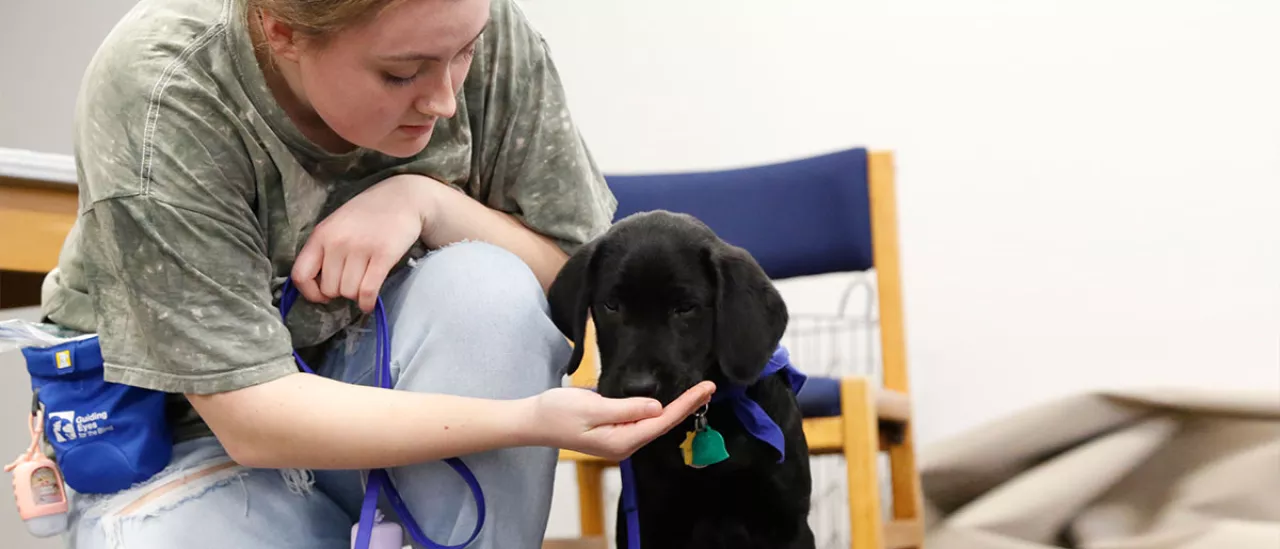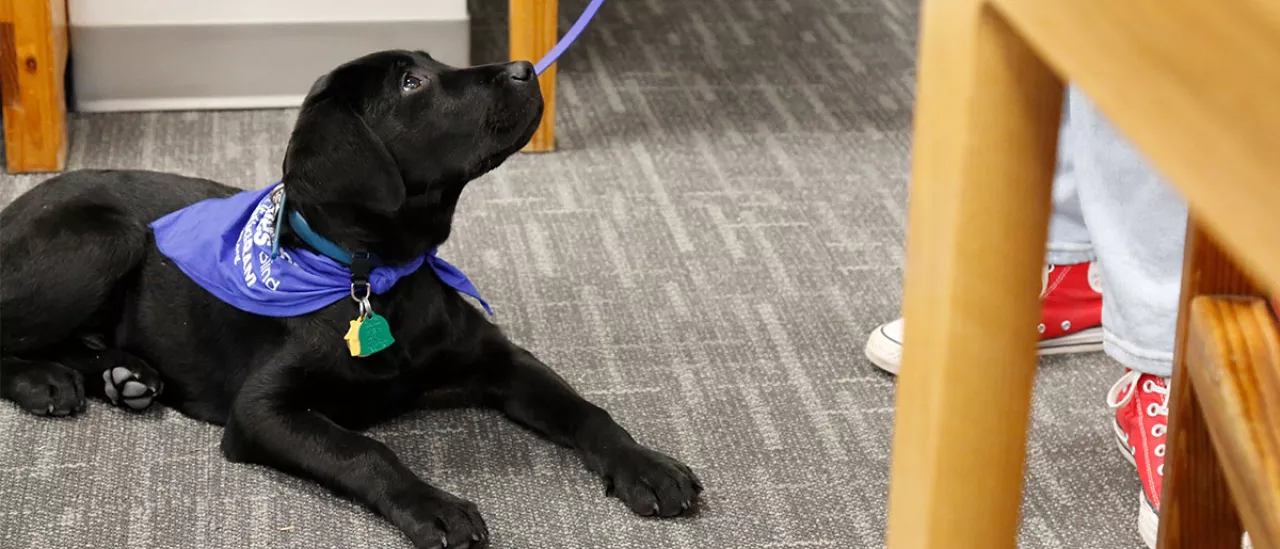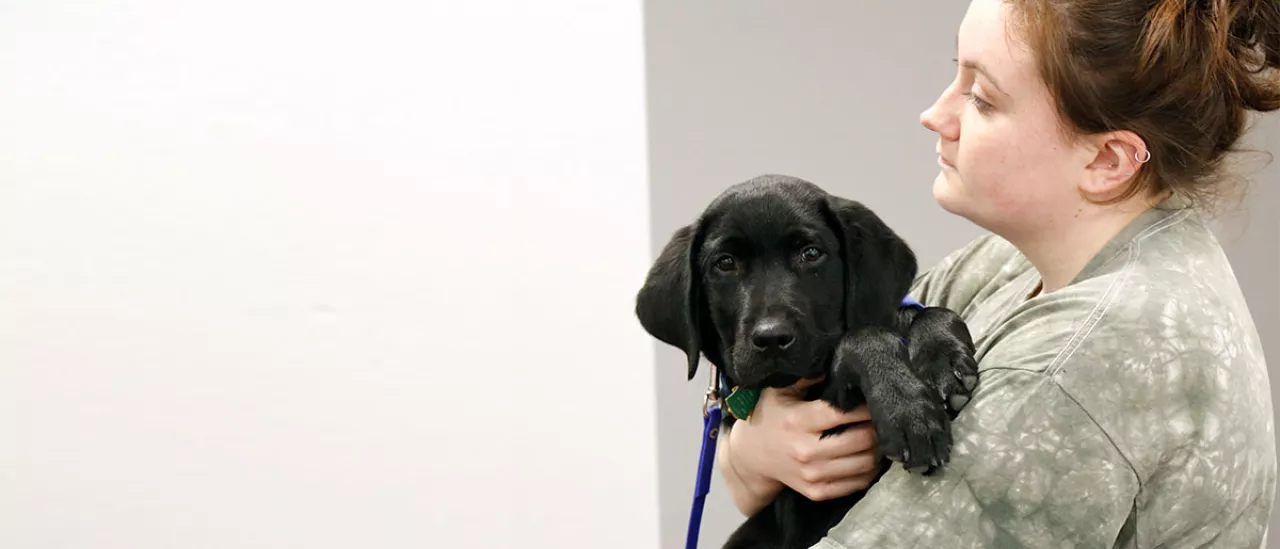 There's a new student living and learning on campus, but he's only 27 pounds … and has paws.
Ink, a 4-month-old black Labrador Retriever puppy, is making history at SUNY Oneonta as the first pup to be raised on campus for Guiding Eyes for the Blind, a nonprofit organization that provides guide dogs to people experiencing vision loss. His puppy raiser, and roommate, is junior Anthropology major Taylor Hendrickson, president of the university's new Guiding Eyes for the Blind club.  
"We were aiming to raise a puppy on campus this semester but didn't realize it would happen this soon," said Hendrickson, who brought Ink home to Oneonta on Jan. 20. "He's still getting used to a college setting, but he's doing really well! He has been with me to meetings in Hunt Union and Starbucks and even tabled with us at Club Expo to find new members."
A Puppy With Purpose 
When they're not exploring campus or resting in Hendrickson's res hall room, the duo works with Guiding Eyes Leatherstocking Volunteer Region Coordinator Amy Blechman, who comes to campus weekly for "puppy foundations class" – "kind of like Kindergarten for puppies" – where the focus is for "Team Ink" to bond as a team and get exposure to a variety of experiences. Right now, they're working on name response, walking politely on a leash, waiting for food, sitting, and staying "off" instead of jumping up. Once Ink successfully completes the foundations class, he will work with Taylor on building his skills in "big dog class," with several one-on-one check-ins along the way with a Guiding Eyes Regional Puppy Instructor.
"It's a whole new language to learn for them both," Blechman explained. "Ink lives right on campus with Taylor, growing and exploring while learning how to be a helpful and conscientious guide dog. It's wonderful for Taylor, too, because she has to balance academics with this huge responsibility – you have a little life to care for and train!" 
Volunteer puppy raisers for Guiding Eyes bring puppies into their home and teach them basic obedience and house manners while socializing them and introducing them to everything the world has to offer. Puppy raisers return the dogs at 16-18 months old to Guiding Eyes, where they are tested to determine what their future career path will be. Puppies like Ink are specifically bred by Guiding Eyes to ensure that they have superior health and the temperament needed for guide work.
By the time Hendrickson walks across the stage for commencement next spring, Ink will also be "graduating," ready to be tested on his skills, reactions to noises and unidentified people, and more at the Guiding Eyes headquarters in Yorktown Heights, NY.
"One of The Best Experiences"
SUNY Oneonta's Guiding Eyes student club was created by Assistant Professor of Food and Nutrition Kelly Martin and inspired by Hartwick College's Guiding Eyes club, which has existed for more than 20 years and is currently raising six dogs on campus. The two student chapters work closely together, meet frequently, and partner with each other for trainings and events.
Martin, the faculty adviser for SUNY Oneonta's Guiding Eyes club, knows first-hand the ins and outs of being a puppy raiser. She raised a Guiding Eyes puppy, Flower, last year for a year-and-a-half and would frequently bring Flower to campus to help socialize her.
"It was one of the best experiences of my adult life," Martin said. "I learned a lot, and it was so rewarding. Of course, at the end, it was hard to give her up, but you go into it knowing they have this greater purpose, they have bigger futures ahead of them. I still get reports from her trainer. She's close to being matched with someone to be their guide dog, which is wonderful."
Martin and Hendrickson said they hope to have more students in the club complete the puppy raiser application process by the end of spring so that they can have the same experience.
"I'm excited this is all finally happening after lots of work behind the scenes," Hendrickson said. "I actually just learned that my great aunt raised 21 dogs for Guiding Eyes, so I guess it's in my bloodline, just like it's in Ink's. From the first time I heard about this from Dr. Martin, something about this program just stuck with me. The good they're doing for others, providing these dogs to people at no cost, I wanted to be part of that, and I'm so honored that I get to be."