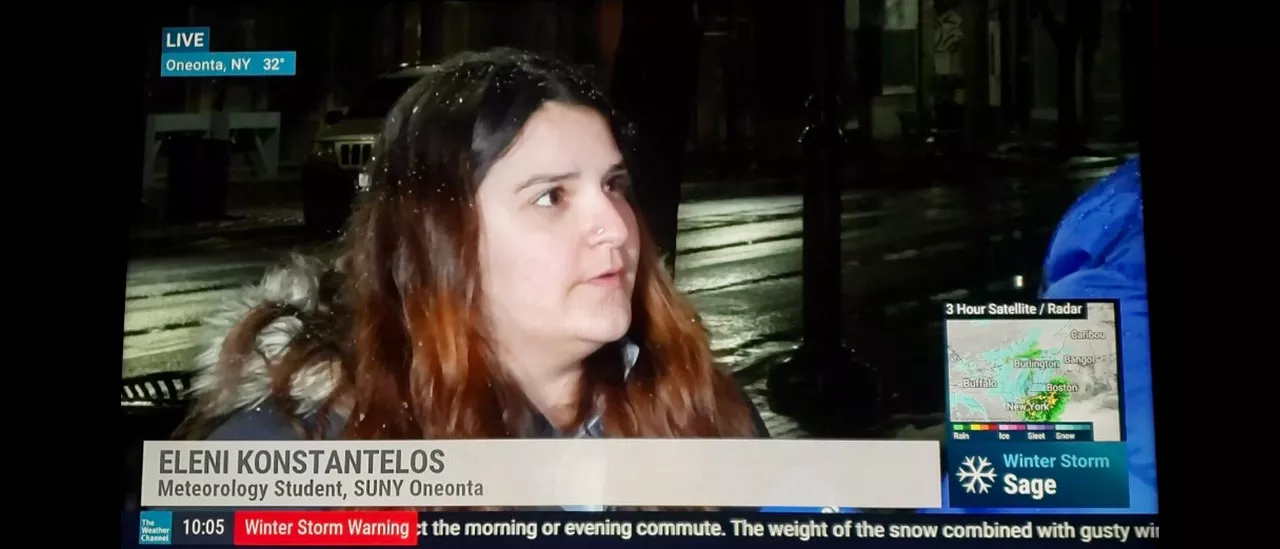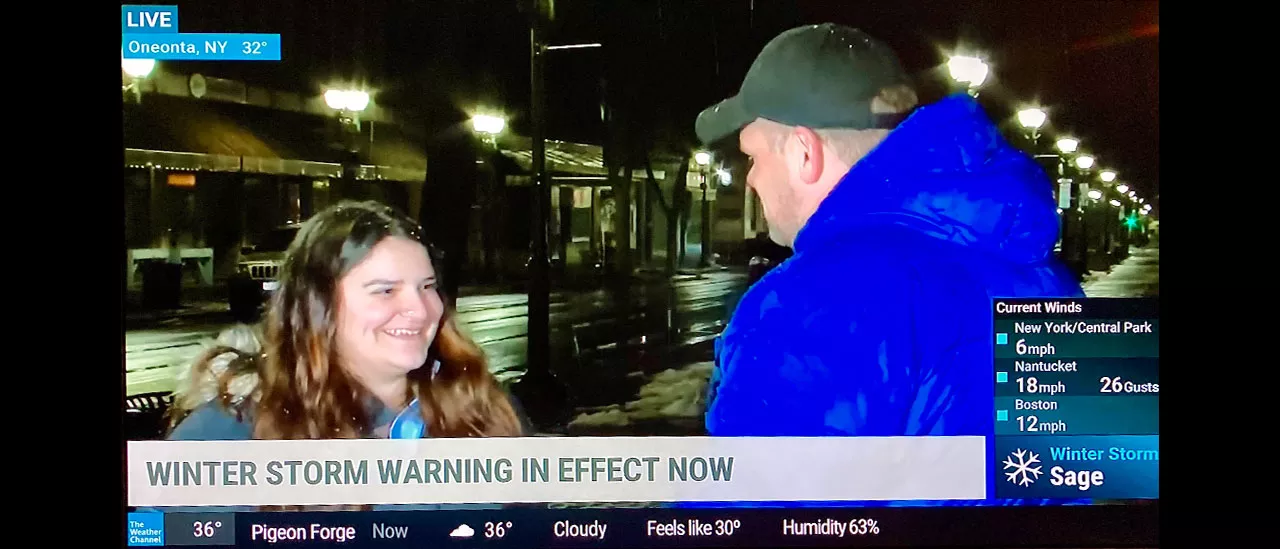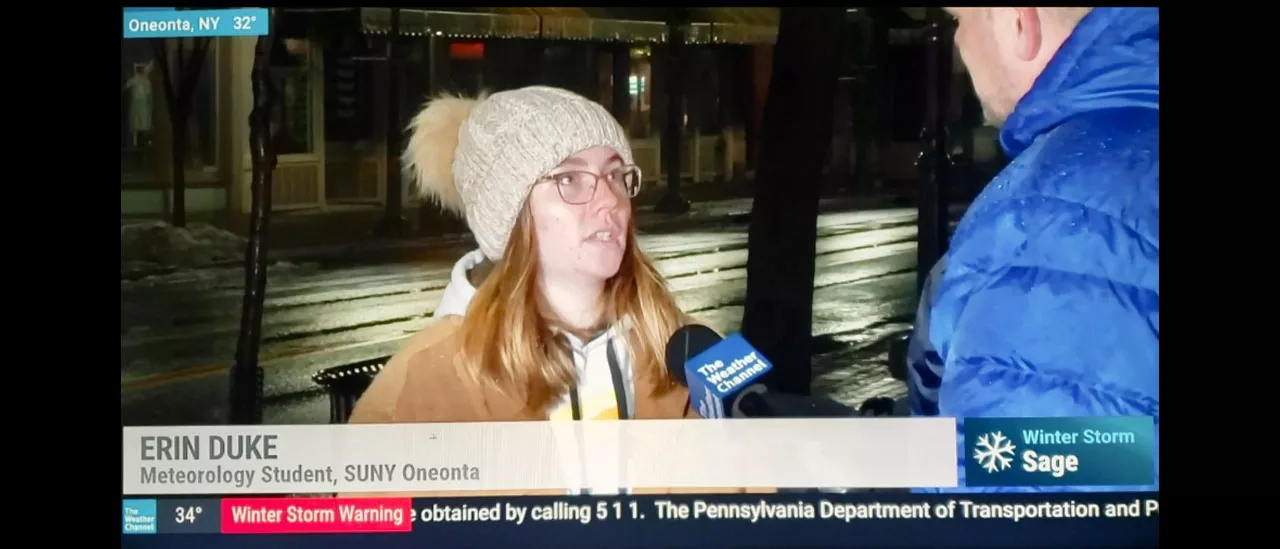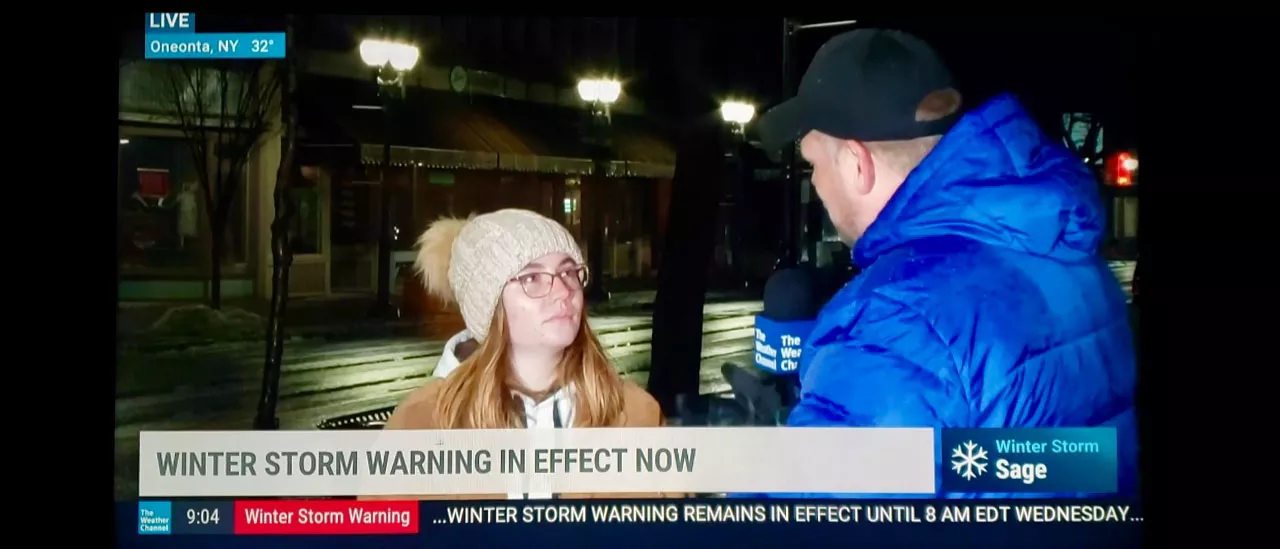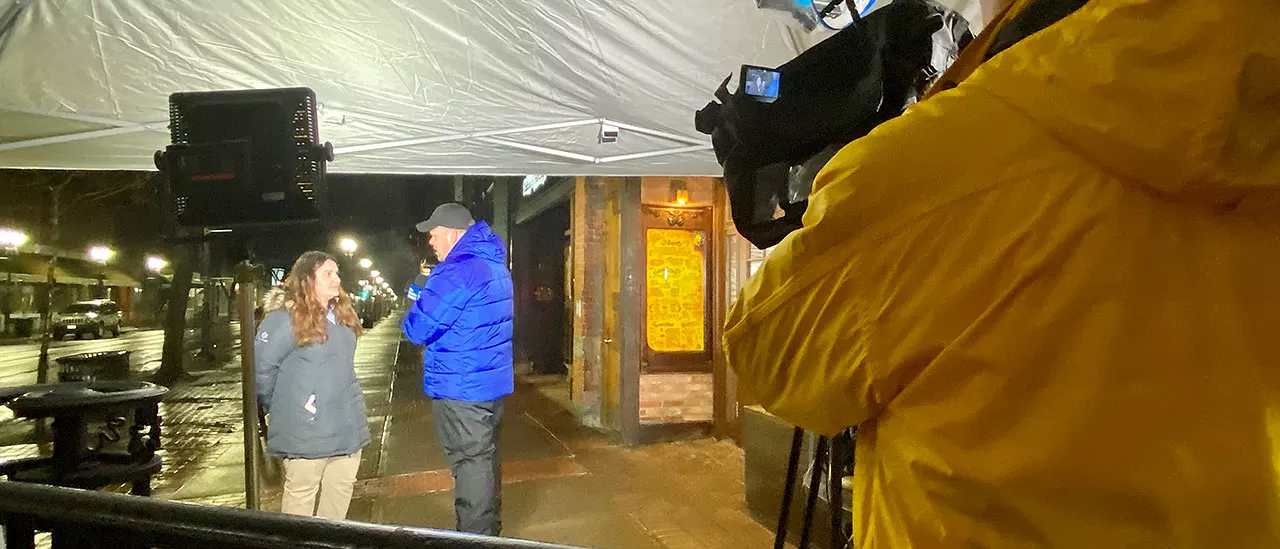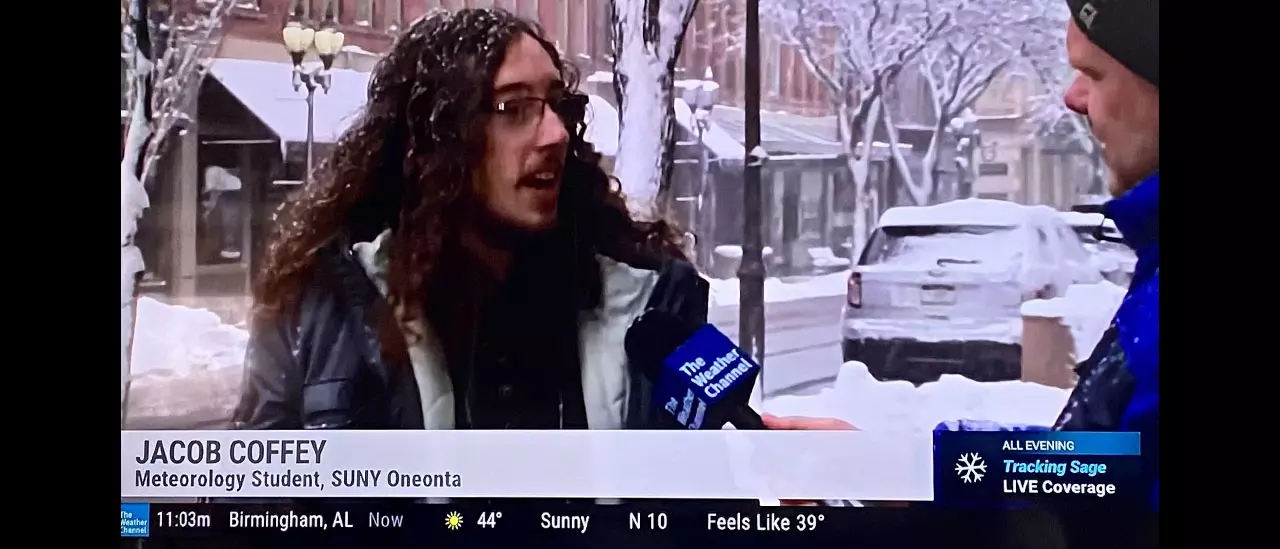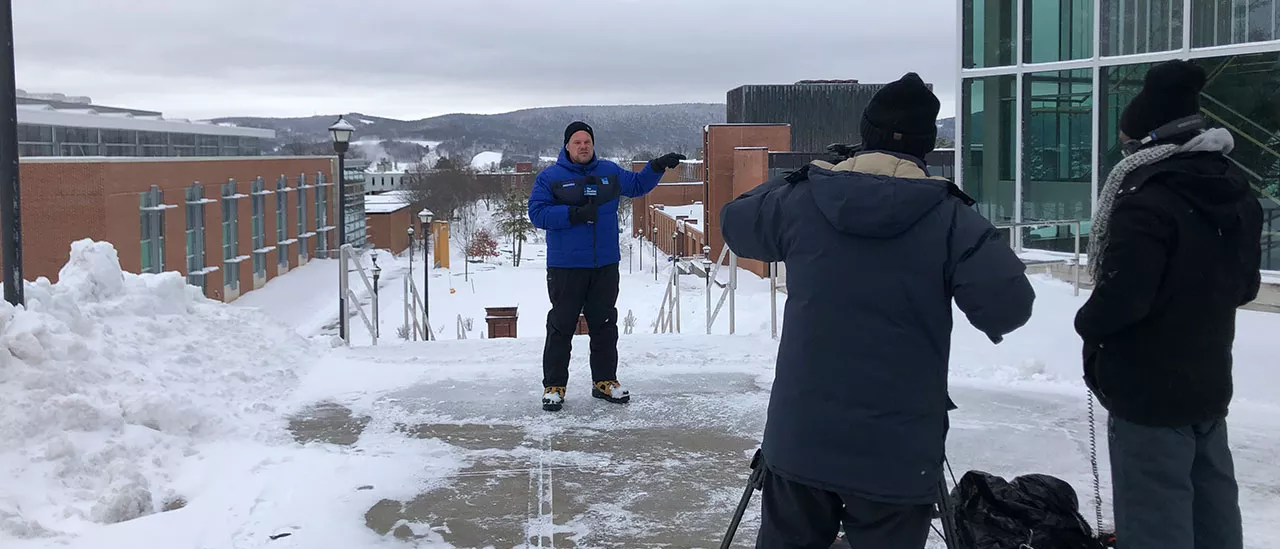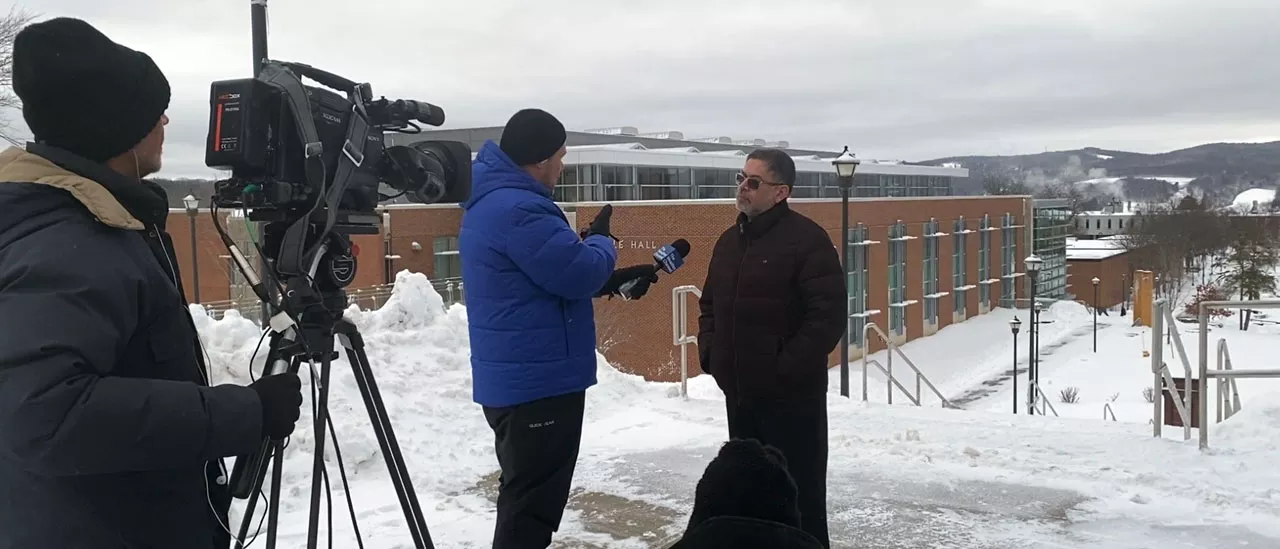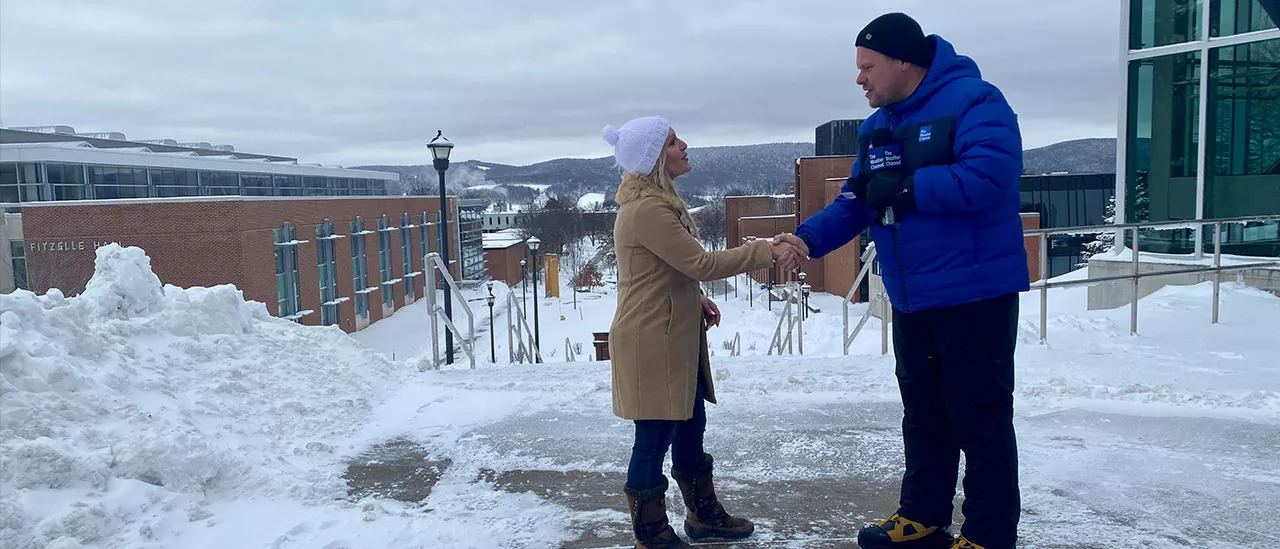 As a powerful Nor'easter pummeled the East Coast early this week, bringing heavy snow and damaging winds and sending service and road crews into overdrive, three SUNY Oneonta Meteorology majors were in their glory, appearing live on The Weather Channel to give their expert opinions on the storm.
Although most students were home for spring break, seniors Erin Duke and Jacob Coffey and junior Eleni Konstantelos happened to be in the right place at the right time Monday, when a field producer with The Weather Channel contacted Dr. Leigh Fall, associate professor and chair of the Earth and Atmospheric Sciences Department.
National correspondent Justin Michaels and his team were being sent to cover Winter Storm Sage live from Oneonta, the producer had explained to Fall. They had seen that SUNY Oneonta had a meteorology program and wondered if any students would like to be interviewed on camera by Michaels. Duke, Coffey and Konstantelos, who had all stayed in town for one reason or another, jumped at the chance.
With coordination and encouragement from Dr. Fall, Duke, of Rhinebeck, NY, appeared live at 9 p.m. Monday, followed by Konstantelos, of Astoria, NY, at 10 p.m. Coffey, of Patchogue, NY, appeared the following day. Stationed at the corner of Main and Chestnut streets, the students calmly and enthusiastically answered Michaels' questions, speaking about the path of the storm as well as the topography of the area and how that affects total snowfall accumulations.
"Not only did I get the chance to share my knowledge of our area on live TV, but I also saw how these types of broadcasts work behind the scenes," Duke said. "I was so nervous, but everyone there was so nice and made me feel comfortable and excited. I'm so thankful I took this opportunity to represent our small school and show my skills as a budding meteorologist."
When the coverage was all said and done, the Oneonta students had appeared four times on national television.
Konstantelos being interviewed by The Weather Channel

"I was nervous at first because I haven't done any sort of broadcasting work, but this was a great chance to step outside of my comfort zone and really be proud of what I can bring to the table," Konstantelos said. "I'm thankful that we got to represent SUNY Oneonta and the meteorology program, as we have so many successful alumni, and this real-world experience will help me become one as well."
Off-camera, Michaels and his team asked the students about their plans for the future and encouraged them to dream big. Konstantelos said she hopes to pursue a career in aviation meteorology, air quality resources or paleoclimatology. Duke wants to earn her master's degree and study mountain meteorology and cloud physics. While she'll "always be grateful for this chance to try live tv," she thinks her dream job would be "doing research on the weather, rather than broadcasting it."
 Fall said she is "extremely proud" of Duke, Coffey and Konstantelos.
"I'm delighted that we could shine a spotlight on these awesome students," she said. "They are proof of the caliber of SUNY Oneonta's meteorology program as a whole, and I'm so happy that they could have this opportunity."  
On Wednesday, Michaels and his team covered the end of the storm live from The Welcome Center on campus. Associate Professor of Meteorology and Climatology Dr. Melissa Godek and Fall were interviewed live, sharing their expertise. Provost and Vice President for Academic Affairs Dr. Enrique Morales-Díaz was interviewed in Spanish about his perceptions of the storm for a segment for TWCE, The Weather Channel en Español.