The City of Oneonta's second annual Juneteenth commemoration event on Saturday, June 19, was a colorful celebration of Black and African culture featuring a handful of talented SUNY Oneonta students and alumni who performed and helped organize the festivities.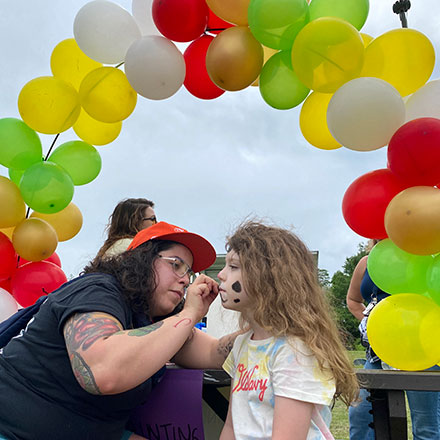 Class of 2018 alumna Sierra Sangetti-Daniels, who grew up in Oneonta, helped fundraise and coordinate the event alongside her sister, Diandra Sangetti-Daniels, who created the event last year in reaction to "the social climate and racial reckoning our country is experiencing." 
 "In Oneonta, we don't have many Black and Brown bodies, so we need to elevate and empower those who are here," said Sierra, who graduated with a Communication Studies degree and now runs People's Perception Project, a project-based think tank using networking to strengthen the cycle of interactions between journalists, educators and communities to disrupt white dominant culture. "The city has an annual July 4 celebration, so it was time we expanded that celebration and acknowledged Juneteenth as a holiday to celebrate."
The focus of the event, she said, was to show Black joy and provide an opportunity for all people to engage with Black art, song and dance. Community members listened to musical performances, speakers, poets and more, enjoyed free food and took in the art on display. There was also face-painting, bubble blowing, raffle baskets and a special T-shirt made to commemorate this year's event. Oneonta Mayor Gary Herzig spoke, followed by keynote speaker Jonathan Brown, a Class of 2019 alumnus.
Beta Beta Pi Members Perform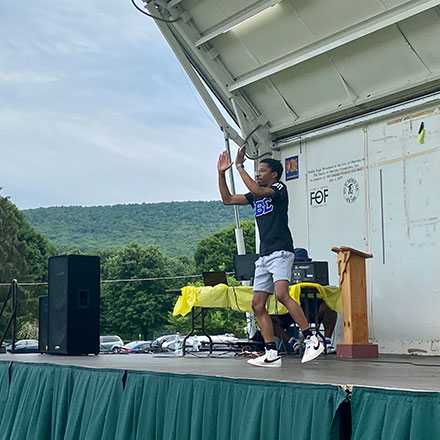 SUNY Oneonta senior Shawn Robinson and junior Luis Paredes, members of the Beta Beta Pi Chapter of Phi Beta Sigma Fraternity, Inc., performed stepping and strolling, forms of percussive dance that originated in African American fraternities and sororities and incorporate clapping, stomping to create a rhythmic beat using the entire body.
"I wanted to be part of this celebration because I believe it is time for America to truly grapple with its legacy of slavery," explained Shawn, who is majoring in Adolescence Education and English. 
"Juneteenth is a day when we take a step back and try to comprehend the Civil War from the perspective of the enslaved. It is a true testament to the strength and resilience of African Americans. While it is a celebration of my ancestors' freedom, it's also a somber reminder that the marathon continues in today's society."
2019 Alumnus is Featured Artist
The event's featured artist was photographer Bertram Knight, who graduated from SUNY Oneonta in 2019 with a degree in Communication Studies. As an artist, Bertram is most interested in creating work that is going to have an impact, spark a conversation and help challenge gender and social norms. Through his photos, he seeks to "highlight the nuances of beauty and struggle within marginalized communities and advocate for improved and inclusive representation of marginalized communities through visual art."
This little city was great while I was here, but there's always room for growth.
-Bertram Knight '19
A lot of beliefs, stereotypes and prejudices that aren't true can begin to be challenged when you have events like this that allow people to find a middle ground, connect with others and get people thinking and talking.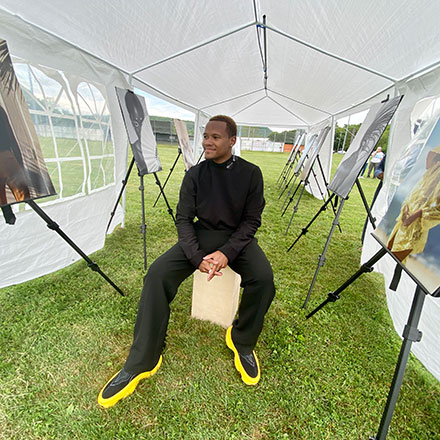 "I definitely wanted to be a part of this event, seeing as Oneonta played a big role in the artist I've grown into," he said. "This little city was great while I was here, but there's always room for growth."
Misconception, Bertram pointed out, is "almost always the result of a lack of information."
"A lot of beliefs, stereotypes and prejudices that aren't true can begin to be challenged when you have events like this that allow people to find a middle ground, connect with others and get people thinking and talking," he said. "This was great or Oneonta, and I'm grateful to Sierra and Diandra for asking me to take part."