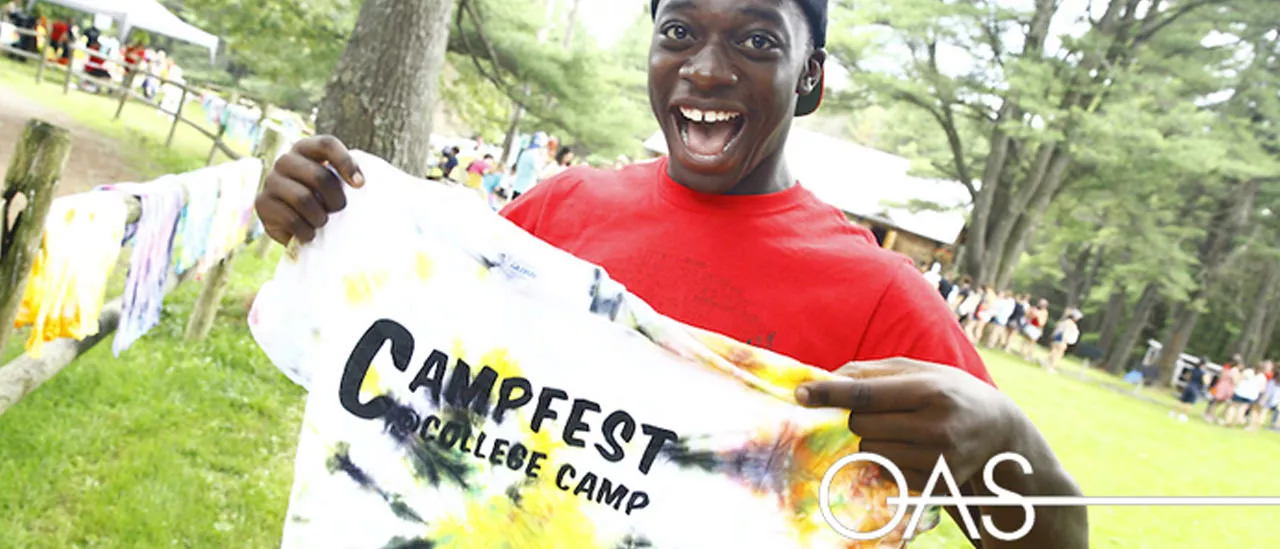 For more information on general camp activities including the Challenge Course please contact the Outdoor Resource Center at (607) 436-3455.
Challenge Course
Fishing
Basketball
Frisbee
Cross Country Skiing
Snowshoeing
Camping
Photography
Retreats
Public Viewings at the Observatory
Picnics & barbecues
Plain ol' relaxing
On hand at camp we have: croquet, footballs, basketballs, volleyballs, soccer balls and cones and various lawn games.
We are pleased to hear that you are interested in using the College Camp for your event, and would like to share some important information before you make your decision. An outdoor setting is a beautiful location for a large event, but a variety of special requirements may need your consideration.
---
Use of Camp Property
Your reservation is for use of the main floor of the lodge and shared use of the grounds and other camp facilities. It does not imply a reservation of the entire property. A variety of groups may be using the grounds and will need access to the bathrooms and showers in the basement of the lodge. For availability and specific usage fees, please contact the OAS office. All usage fees are taxable; exempt organizations must provide a copy of their tax exempt certificate. 
Additional Rentals
Large groups (greater than 68 people) will need to rent a tent and consult the Caretaker on placement options.

There are a total of 12 rectangular tables, 2 round tables, and 100 chairs available for use at the camp. Additional furniture, linens, dance floors, etc. would need to be rented from local merchants.  Each group is responsible for their own setup and breakdown of tables and chairs and cleanup following the event.   
Groups larger than 100 people will also need to rent a port-a-john for their events. (NOTE: Between May 1 and September 30 one may already be available for your use.)

 Below are some local companies that provide rental services for large groups:
Morris Tent   # 263-5359
Munson's True Value & Just Ask Rental   #432-8756
Oneonta Rent–A-John  # 433-2584
Catering & Alcohol Policy
Groups wishing to prepare and bring their own food may do so. 

If a group would like to have their event catered, Sodexo (Campus Dining Services) is the food service contractor for OAS and has exclusive rights for catering at the College Camp. The only exception is Brooks House of Bar-B-Q.   

Consumption of alcohol is not permitted on the College Camp premises except when an event is catered through Sodexo. Sodexo is responsible for obtaining an appropriate permit through the NYS Liquor Authority and must provide all food and beverages for the event.   

Arrangements for catering and alcohol services can be made by calling the Sodexo Catering Department at #436-3934.
Inclement Weather 
Since the weather can be unpredictable, we strongly encourage you to have an alternate back up location.  If you choose not to, we would recommend having a tent with side flaps and interior lighting.
Permit and Liability Insurance
A special permit and liability insurance are required for any activities that are unrelated to OAS or SUNY Oneonta business.
Visit the college camp website or call 436-3157 for more information.
Camp is open 7AM - sunset daily and the main gate is locked at sunset.
Faculty, staff, students, and alumni of SUNY Oneonta are authorized to use College Camp property. Community members are welcome to use camp property only when invited as a guest of an employee or student of SUNY Oneonta.
If you have an emergency, there is a phone mounted on a pole between the lodge and the caretaker cabin. You may call University Police 436-3550 or dial 911.
It is strongly recommended to not undertake activities at camp alone. However, if you do, let someone else know where and for how long you will be at the camp.
Camp property must be respected at all times. Guests must not destroy property in any way. Stone walls and landscaped areas must not be disturbed. Persons causing damage will be responsible for the cost of repairing damage. Violators will be reported to the University Police Department.
All vehicle owners must drive with caution, obey posted speed limits, and stay on designated roadways.
Children under 16 must be accompanied by an adult who assumes responsibility for the supervision of the children.
Fishing is permitted in the pond. No PETS, horses, hunting, swimming, firearms, or snowmobiles are allowed. No motorcycles, ATV's, snowmobiles, or other vehicles are allowed on trails.
Open fires are allowed only in existing fireplaces and grills. Use wood found on the ground for fires or charcoal. (Note: Cut firewood in the storage shed is for use in the lodge only. Firewood may not be removed.)
Personal collecting of wildflowers, geological specimens, or historic relics is prohibited.
Camp users are responsible for their own trash. If you pack it in, please pack it out.
Campers should not disturb the caretaker after 8PM unless he is needed for an emergency situation.
Sodexo is the food service contractor for OAS, and has exclusive rights for catering at the College Camp. The only exception is Brooks House of Bar-B-Q. Groups may prepare and bring in their own food.
Alcohol is not permitted on College Camp premises, except when provided by SUNY Oneonta Dining Services.
Any person who fails to comply with College Camp Regulations, the laws of New York State, and the policies of the State University of New York and SUNY Oneonta may be denied the right to use camp property.
Lodge Reservations can be made at the Oneonta Auxiliary Services Office in the Hunt College Union. To check availability, obtain general information, or inquire about lodge usage rates, please call 436-3157 or visit the college camp website. 
For information on Observatory events, please call the Physics and Astronomy Department at 436-3192.
General Rules & Regulations
These policies pertain to all campers:
All campers need to get their free camping permit from the Director of Outdoor Programs in the Outdoor Resource Center, located in Hulbert Hall, prior to going up to the College Camp. Permits may be available from the Caretaker at the College Camp but there is no guarantee there will be any left when you arrive. All camping permits are available on a first come, first serve basis.
Campers must check in with the College Camp Caretaker and present him with their permit prior to setting up their campsite.
Unless there is an evening program, the College Camp gate is locked daily at dusk and then reopens each morning by 7 AM. Barring emergencies, campers will not be let into or out of the Camp when the gate is closed.
When the gate is locked the entrance road is officially closed to all but College Camp personnel. Campers are not to be driving on the road after dark.
Campers are expected to be in their campsite or lean-to area unless walking to or from the bathroom and water facilities or visiting another campsite after dark.
Campfires need to be kept in the fire pits provided and should be attended at all times. Also, be sure that all campfires are out (cold to the touch) before leaving your campsite for any reason. Please collect only dead and down wood for your fires.
Campers need to clean up their site before leaving the College Camp. Trash should be taken to one of the cans or receptacles found in the picnic area.
From May 1 - Sept. 30 water & outhouse facilities will be available in the picnic area. From Oct. 1 to Apr. 30 all campers will need to use the bathroom facilities in the basement level of the lodge.
Quiet hours are from 10 PM to 8 AM each day. Please respect other campers.
Alcohol is not permitted in the camping areas at any time.
Lean-to Rules & Regulations
These policies pertain to people camping at the lean-tos:
Lean-tos are designed for up to six (6) people. Permits will not be given out for a higher occupancy.
Tents are not to be set up in the lean-to area.
Final Note
Failure to follow these rules & regulations, the laws of New York State, and the policies of SUNY Oneonta could lead to your being asked to leave the College Camp property and a forfeiture of all future camping permits.
Rescuing a College Camp
by Tom Ryder