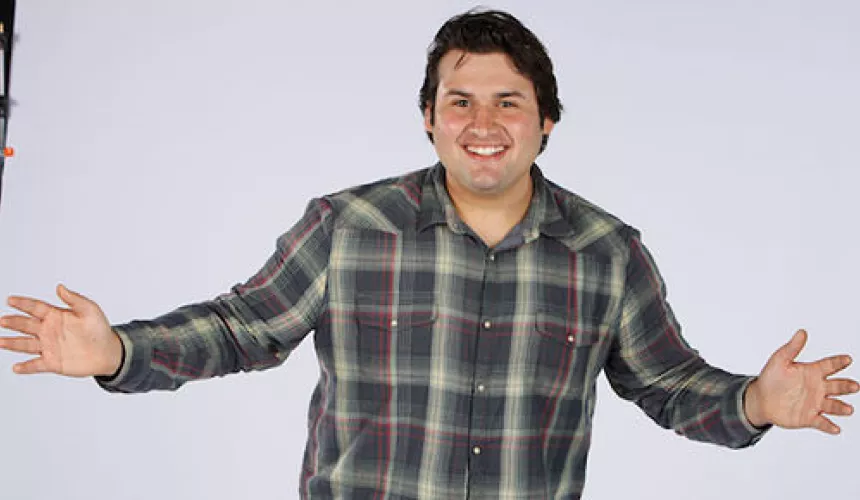 After Oneonta
Austin graduated in May 2019 and landed a six-week gig in a Summer Shakespeare Intensive acting program with Prague Shakespeare Company. He is now working as an assistant to the producers at the Food Network, His dream is still to be on SNL someday.
Why SUNY Oneonta?
When I looked up state schools that have TV stations, Oneonta was the first one that came up. I looked at images, and I applied right away. I saw the opportunity in the school, how many clubs there are and how people seem to be a family. I always heard great things about SUNY Oneonta, and just knowing that I walked in here as a transfer junior and am coming out of here as president of the TV station is a huge, huge thing. I love this school so much because of that.
My Activities
Comedy Chair for Activities Council, president of WIRE TV, L.A.U.G.H Club, Orientation Leader, Mask and Hammer, Film Club
Best Experiences
Everything! Working with people in WIRE TV, meeting my best friends, working with people in the Theatre Department and meeting my best friends there – just working with people that have the same drive as you and the same thinking. I love it so much here. I'm learning in the classroom and then putting it to use in real-life situations with WIRE and Film Club and all these cool opportunities. Love this place.
What I'll Remember in 20 Years
Walking into the TV studio for the first time and meeting the president, the secretary and the man who ran the whole station for WIRE TV. Those three people became my best friends. Being able to shadow them and learning from them was the best thing. I'll never forget this school giving me that opportunity.
I'll also remember the sense of community I found here. This place isn't real, it's so perfect. You can take a bus and go out and have your nightlife and have fun with your friends and then be back on campus, be safe and getting the whole experience, all in one little town. Everybody's a family here and we all look out for each other – from the guy who drives the OPT bus to UPD to the RAs. People just want to have fun, learn and just make this the best four to five years of their lives.
About My Major
My favorite thing about the Media Studies major is just how cool the staff is and how the classes actually do help you. They're not just "sit there and take notes." I'm taking all the stuff I've learned in all my Mass Comm classes and putting it to use and showing everybody what I can do. I did an independent study last year, and I made a 45-minute movie, and we sent it in to the Sundance Film Festival. This semester, I get to make another movie that's going to be a 15-minute short movie. You learn every aspect of every single kind of production to get you ready for the real world.
Plans, Goals, Dreams
I am going to try to get a writing job on a sitcom or sketch show or anything that has to do with comedy. And then hopefully someday be on SNL. That's my big thing. I've always wanted to be on SNL. I took acting and improv classes here. I've made movies, too, so I'm hoping that I get to take what I've learned here and go do it.