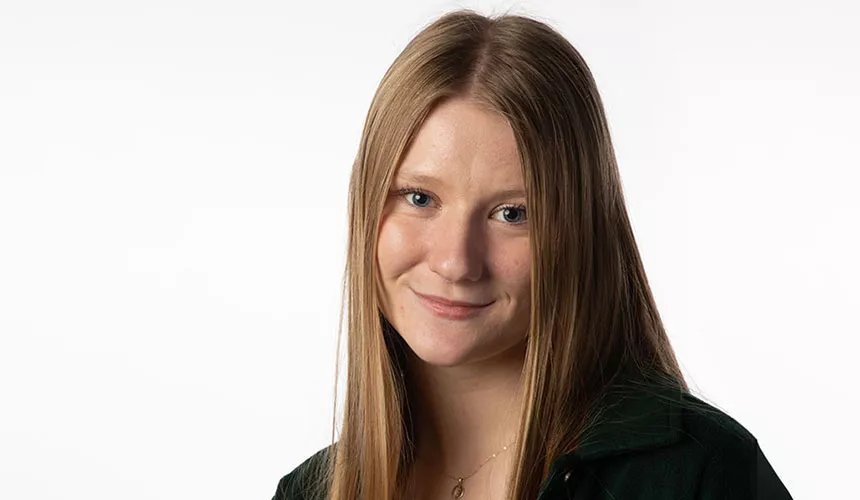 Senior Emily Hoy chose SUNY Oneonta because she knew it had a top-rated Dietetics program. What she didn't realize is how many amazing opportunities she would have outside of the classroom to practice all that she's learning.
With a wealth of nutrition knowledge from classes, club activities and an internship under her belt, she's now ready to earn her master's, take the Registered Dietitian Exam and work toward her dream: to be a certified nutrition support specialist in a Neonatal Intensive Care Unit.
My Activities
As Director of Communications for the Nutrition for Performance club, I've enjoyed the chance to work with athletes from our school's sports teams, giving mini lectures, creating meal plans and putting on cooking classes. It's been nice to be able to use my dietetics knowledge to make a difference right away.
I also love to write and teach, and I've gotten to incorporate both during my time at Oneonta. I'm a statistics tutor, which I really enjoy. Through the Food and Nutrition Association – which I'm president of – I was able to write an article for the school newspaper, The State Times, on food insecurity. I also wrote a blog article on childhood obesity.
Best Experiences
One of my best experiences has been my internship with SUNY Oneonta Dining Services. As a marketing intern, I run the Dining Services social media accounts, but I've learned a lot about food service in general, too. I've gotten to know all of the dining hall employees, and I love being part of the planning and preparation for all the fun events they put on.
About My Major
Every day, I'm genuinely excited to go to my nutrition classes, club activities and internship, because I'm learning things that I'm passionate about, so it never feels boring. In one of my classes, we went into the dining hall and worked, either serving, temping or prepping, and it was great to get that hands-on experience.
Favorite Class
My all-time favorite class has been Medical Nutrition Therapy, which helped me realize my dream: to work as a certified nutrition support specialist in a Neonatal Intensive Care Unit.
Plans, Goals, Dreams
During the summer and on breaks, I work for the Food Bank of Central New York. We go to farmer's markets in high-poverty areas and do workshops and recipe demonstrations. It's really rewarding, and I've gotten to use a lot of what I've learned in my classes.
After I graduate, I'm hoping to get into the combined master's and dietetic internship graduate program here at Oneonta. Because the classes are online, I'll get to do the supervised experiential learning part of the program in Syracuse, close to home. After that, I will be ready to take the Registered Dietitian Exam and begin my career!