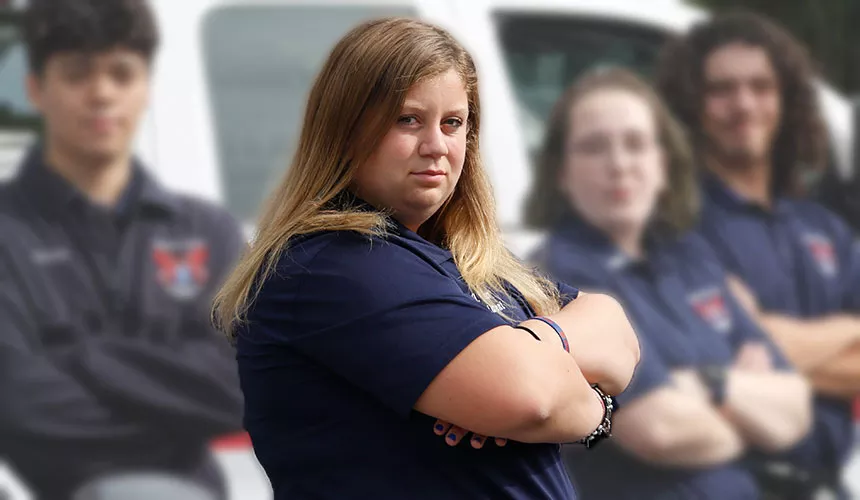 Why did you choose to come to SUNY Oneonta?
I came to SUNY Oneonta because I was recruited by the Oneonta women's tennis coach to play for the team. I loved how welcoming the people were here, and I knew this was going to be my home away from home for the next four years. Sadly, my freshmen year I was home due to COVID -19, but during that time I learned how invested the Oneonta professors are in their students. I definitely think I made the right choice to come here.
What other activities/clubs are you involved in other than OSES and tennis? 
On top of tennis, I am also president of OSES. OSES and tennis keep me busy on top of all my school work.  
Best experiences at Oneonta?
Oneonta has been amazing! I've met so many new friends that I know will last a lifetime. I have made so many memories being both part of an athletic team and OSES. Being on both has really brought me out of my shell and allowed me to try new things I never thought I would. If it weren't for OSES, I wouldn't have become a New York State EMT.   
What do you like about your major?
I've always known I wanted to follow in my father's footsteps and go into psychology. He is a PH.D licensed psychologist with his BCBA-D. I am following in the same path, as I want to go into early intervention and get my BCBA. My major is so interesting, and there is such a need for therapists out there. I have big dreams, and I know with the guidance of the Oneonta professors and staff they will lead me in the right path. 
Favorite class so far?
My favorite class so far has been Child Growth and Development with Suzanne Swantak- Furman. She made the class so enjoyable and treated every student like her own. I've never had a teacher leave such a lasting impact. Whenever I see her, she always asks me how I am and gives me a giant hug. It's nice to know that we have professors who care so much about us. Every class, she always asks every student how they're doing and if there's anything she can do to help. I love her!