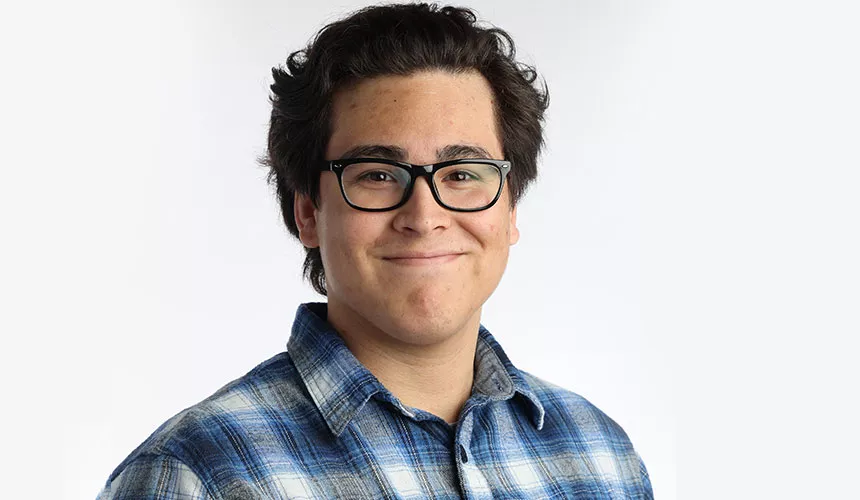 Influenced by his teachers in middle school, Jadyn Trujillo came to SUNY Oneonta to study elementary education and become a teacher and positive role model for children during their formative years.
Why Oneonta?
The campus is beautiful, and so is the area. There are just so many opportunities and things to sink your teeth into. I'm only a freshman and have found a variety of clubs that I like. You can get involved in multiple activities here and be as busy as a person can be, going from one thing to the next. You just find life so fun, and that's the bottom line of it. You're developing multiple skills and enjoying yourself at the end of the day.
One of the biggest reasons I chose Oneonta was the Elementary Education major and the opportunities it holds. I like many things about that major, and I know good people who got their start with that major, too.
I've wanted to be a teacher ever since I was in middle school. One of my teachers inspired me to become one, and a lot of my old teachers went to SUNY Oneonta.
My Activities
I'm part of the Taekwondo and Film Clubs. I've had good experiences with both, and clubs have been the backbone of my time here.
Best Experiences
For one, the clubs. They influence your social life because you're going to meet many people. You don't even have to be best friends with them. It's just about forming connections and almost like networking.
I've made a lot of good friends here. I found a lot of people that I really like, and I found a good community that I can fit into. SUNY Oneonta adds to that by being such a welcoming environment with housing for LGBTQ people and programs to raise awareness for problems of racism in society. There are so many different things to promote inclusivity, and it makes people feel comfortable.
Why Elementary Education
I want to help people. That's the bottom line of why I want to become a teacher. I'm really into social justice and things like that. So, my take on that is rather than being an activist like my dad; I thought to do it in my way, to help form kids in their formative years and teach them right from wrong. Teachers become influential role models for many kids because they spend so much time in school.
I think teachers have a responsibility to be positive role models, and being a positive figure is a good thing for society and pushes society forward if you do it right.
Favorite Class
My favorite class is called Issues, Philosophy, and Foundations of Education. My professor is Julia Baxter, and something about her is just likable. She's a nice person. She reminds me of this teacher that I mentioned earlier that I had in middle school and inspired me to be a teacher. That class feels special to me because it is what I'm trying to do as a teacher. It's less about the lecture, work, homework and assignments and more about getting you to understand the various parts of being a teacher.
She's so sweet and really wants people to understand what she's saying. It never feels like she wants to get it over with or just say things to people and lecture the class. She really wants everyone to know because she cares about it, and I think part of being a good teacher, in general, is that you care about teaching.