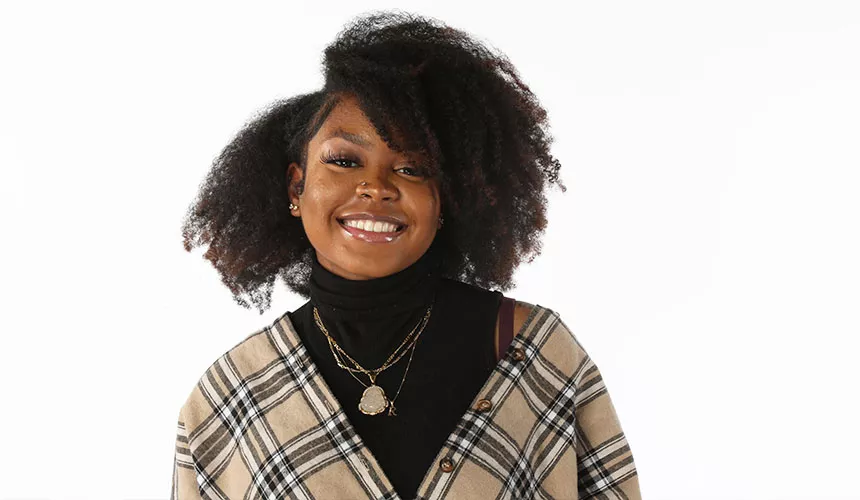 Hometown
Spring Valley, NY
Like many SUNY Oneonta students, Kelsey Etienne is extremely involved, working several on-campus jobs, being inducted into honor societies, and joining clubs. 
What's different about Kelsey? As a Digital and Studio Art major with a passion for graphic design, her involvement goes far beyond simply showing up for class and club meetings. During her time at Oneonta, she has completed rebrands for every club and organization she's a part of, designing new logos and visual identifiers and putting into practice the skills she's learning in the classroom.
Why SUNY Oneonta?
I got accepted to all nine schools that I applied to, and this was the third school that I visited. I came on a nice sunny day, and the rest was just history. I was instantly just drawn in. My tour guide was also a Digital & Studio Art major, so it just felt very welcoming. Honestly, going to school upstate, I've learned to appreciate nature and my surroundings. As a student, I've become more open to taking different classes, learning different things and trying things to better my skills as a designer.
My Activities
Resident Advisor, National Residence Hall Honorary (NRHH), Vice President of Art & Scope literary magazine club
Through my Web Design course, a professor recommended me for a job on campus with the TLTC, the Teaching, Learning & Technology Center, where I work as a graphic and web designer. So I meet with mostly professors and help them enhance their skills in technology and help them with their websites, which will eventually help students. I've also worked with the Sports Information Department on campus as a graphic designer. I created all the team posters, and I designed some merch for some of the teams. 
Best Experiences
I had the opportunity to compete against my classmates to design a new logo for the CRJIE, the Center for Racial Justice and Inclusive Excellence here on campus. My logo was eventually chosen and used on the face of the building, on flyers, etc. It was great to be able to see my work in real life.
I also submitted a design for the O-Fest concert that Oneonta holds annually, and my design was selected for the spring 2022 concert. So the logo was put on t-shirts, pens, cups, etc.
Another thing that I have done, I've rebranded every club organization that I've been on as far as, like, visual identity. I redesigned Art & Scope's brand identity. So I designed the logo, which was produced on hoodies and totes and pens, etc. Another club that I was on E-board for is RSO, the Resident Student Organization. I redesigned their logo, which was used on posters and a lot of marketing materials, as well as sweatshirts and sweatpants. I also did the logo for the new Caribbean Student Association, so that went on t-shirts and mugs and stickers.
About My Major(s)
When I first enrolled, I was strictly a Digital & Studio Art major, and then after my first semester, I took a couple of business classes, and I figured, why not just become a duel major?
On the art side of things, I love that I have free will to create whatever I want. Art is subjective, but you can pour your emotions into it. It's not as stressful as, like, math or science. My favorite art is digital, so logo design and website design – that's really where my heart is.
Favorite Classes & Professors
Three come to mind. Number one is Kathy Spitzhoff. She's a great professor. I took Graphic Design and Advanced Graphic Design with her. Those courses definitely helped me enhance my skills, and you learn a lot about software. You learn how to print materials, how to get everything ready for any type of media, whether it's being printed on clothes, packaging, production, etc.
I would also say Web Design with Thomás Sakoulas. You learn how to prepare images, how to create your own site, and how to accept payments.
Another professor that I think is very helpful in this department is Wesley Bernard. He's always looking for opportunities for students that are like a lot of real-world jobs, looking at what actual designers that work full time do and encouraging students to apply themselves in those same ways. You learn a lot of real-life techniques as far as getting prepared for the real world, like applying for jobs, etc.
Plans, Goals, Dreams
My main goal is to work for a major ad agency or major corporation doing digital design. Mainly I want to work for the NBA or WNBA – anything sports related, and create visuals and marketing visuals for them.
Fun Fact
My love of graphic design started my sophomore year of high school. I sat in on a BOCES digital design course and was just, like, instantly drawn in. I did that for two years, and during my time there, I competed in a New York State contest and took first place in T-shirt design and advertising design. From there, the ball was just rolling, and I knew it was something I could see myself doing for the rest of my life.