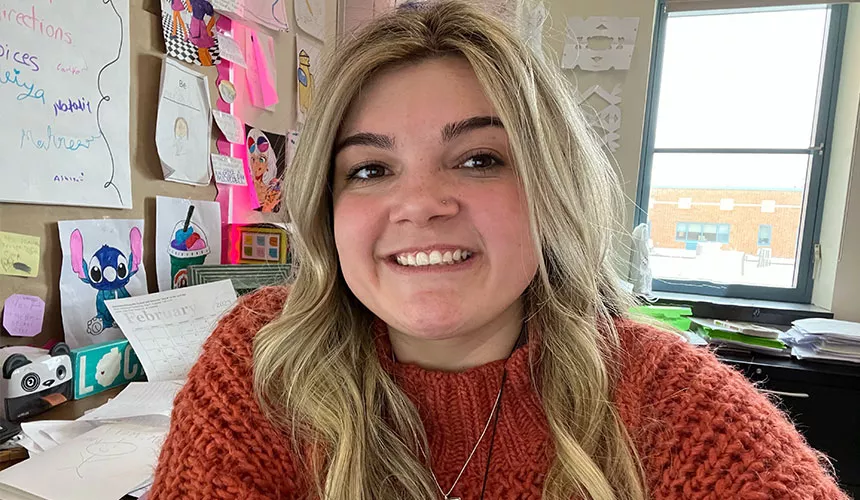 Professional Title
Elementary School Teacher
As both a transfer and a first-generation student, Maddie Nedell faced challenges in transitioning to college and completing her degree. If that wasn't enough to overcome, Nedell also lost a loved one shortly after transferring to SUNY Oneonta.
Today, she credits her supportive professors and classmates with helping her overcome the obstacles she faced to fulfill her goal of earning a college degree and becoming a teacher. 
Empowered by her support group, Nedell became Chair of Academic Affairs for the Student Association and strongly advocated for first-generation and transfer students alike. After graduating from SUNY Oneonta in May 2022, she landed a job as a fourth-grade teacher at Johnson City Elementary School.
Why SUNY Oneonta?
I chose SUNY Oneonta for its Elementary Education program. I have always loved the thought of working in education and working with children. I also fell in love with the campus, and the atmosphere of the area.
Best Experiences at Oneonta?
It's truly hard to say what my best experiences were at SUNY Oneonta because I had so many. One of my favorite experiences was working in Admissions, and the Office of Student Success. I truly enjoyed my time working with everyone in both offices. I was able to learn so much as an admissions assistant, tour guide and orientation leader. The skills I learned from those positions I am constantly applying in my teaching. 
Favorite Part of Your Major?
The Worcester Central School program without a doubt. I owe everything to my fall 2021 semester Block 25 hands-on teaching methods experiences. My professors were out of this world. I was also able to complete both of my student teaching placements at Worcester. It was super cool to watch these kids grow academically throughout a school year.
I loved all the observation hours, and hands-on field experiences I was able to have. It has really helped me during my first year of teaching, having all that experience.
Most Challenging Part of Earning Your Degree?
Being a first-gen college student is extremely difficult. I didn't always have someone to lean on at first. Especially being a transfer student. It was a very difficult adjustment.
My Opa passed away during finals week one semester. One second, he was doing great, and the next he was no longer with us. That was the most draining time period of my life. We were extremely close, and my entire world flipped upside down. I truly don't know if I would have finished college if I did not go to Oneonta. I was fortunate enough to have several professors and an amazing group of friends constantly checking in on me. They are a large part of the reason I was able to finish my degree. They were there not only for me inside the classroom, but outside of it as well.
Most Rewarding Part of Your Job?
Without a doubt the children that I get to work with. Each day I teach Math, Writing, Reading and Social Studies/Science. I also included a social and emotional learning activity or lesson, as well as a whole group read aloud.
My teaching team is amazing. I am so blessed to work with such an amazing group. There are quite a few of us that teach fourth grade, and they constantly check in with me to make sure I have everything I need. I also have an amazing group of instructional coaches I work with. Some of the people I work with are Oneonta alumni as well, which is super cool!
What Advice Would You Give to First-Generation and Transfer Students?
My advice is do not be afraid to say you are a transfer or a first-gen student. Here at Oneonta, you are so much more than a statistic in those categories. We love to celebrate those students. There is a transfer week every year, as well as a first-gen day. I was the Chair of Academic Affairs for the Student Association, and my initiative was transfer and first-gen student advocacy. I was very vocal about the fact that I fell into both of those categories during my time in that position, with every office and committee I worked with.
By speaking out about those things, I had the opportunity to connect with many of my professors on a personal level who fell into those categories, too. So many of them understood everything I was going through. I really looked up to all of them, and still do.