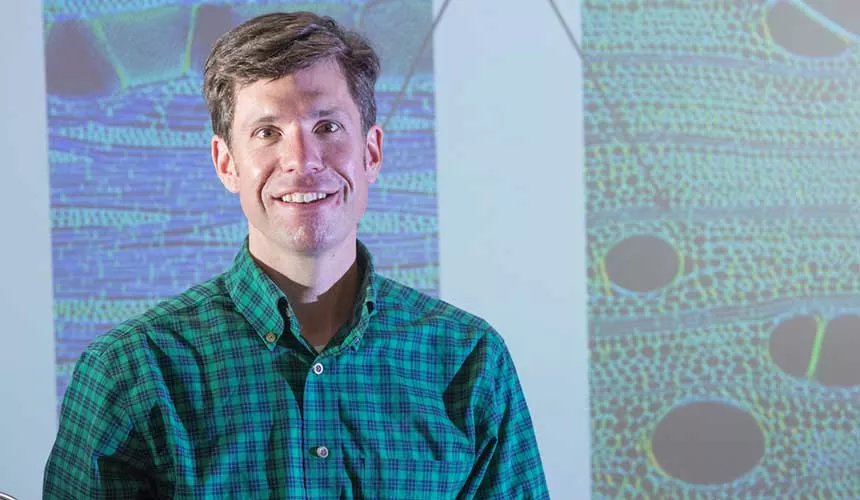 Professional Title
Assistant Professor of Biology
Sean Robinson's favorite part of his job is being able to witness growth – growth of bryophytes and the many other kinds of plants he studies, and the growth of his students.
Since joining the Oneonta faculty in 2010, Robinson has accomplished much. That has included winning a Chancellor's Award for Excellence in Teaching, creating a Botany Club on campus, and earning several grants to create a virtual herbarium by digitizing the university's 14,000 preserved plant specimens, a project he continues to work on.
I wasn't always interested in botany. I started college as an anthropology major, and my dream was to study monkeys. As a result, I went on a trip abroad, and I ended up doing a vegetation study in Tanzania. That's how I got into plants, and that's when I decided to go to graduate school for botany.
But what he's most proud of, he said, are the accomplishments of his students.
"I have one former student looking to enter a Ph.D. program in New Zealand and another working in a lab doing genetic work in Albany," Robinson said. "One just was certified as an arborist, and another works at the New York Botanical Garden. It's great to see what they're doing."
Each semester, Robinson has about five students assisting him with research or conducting independent studies. Over the summer, he and a student collected data in the Adirondacks for research focused on alpine summits and vegetation there.
"Most of the time, I have students approach me," Robinson said. "In other cases, I'll seek out students I know are strong." One project he's finishing up involves genetic lineages of moss off the coast of New Zealand, he explained. This fall, he'll have a couple of students starting growth experiments, looking at patterns and growth rates of mosses on trees.
Aside from his ultimate goal of getting all of the herbarium samples online, Robinson is planning a workshop for the spring, wherein herbarium curators from across New York will visit SUNY Oneonta and talk about possible collaborations. He's also planning another round of Harvest Share Buddies, a program he and another faculty member started last year to get local children excited about growing their own food.
Robinson is proof that you can change your path of study, he said, and that study abroad trips can be beneficial in narrowing that path.
"I wasn't always interested in botany," Robinson said. "I started college as an anthropology major, and my dream was to study monkeys. As a result, I went on a trip abroad, and I ended up doing a vegetation study in Tanzania. That's how I got into plants, and that's when I decided to go to graduate school for botany."