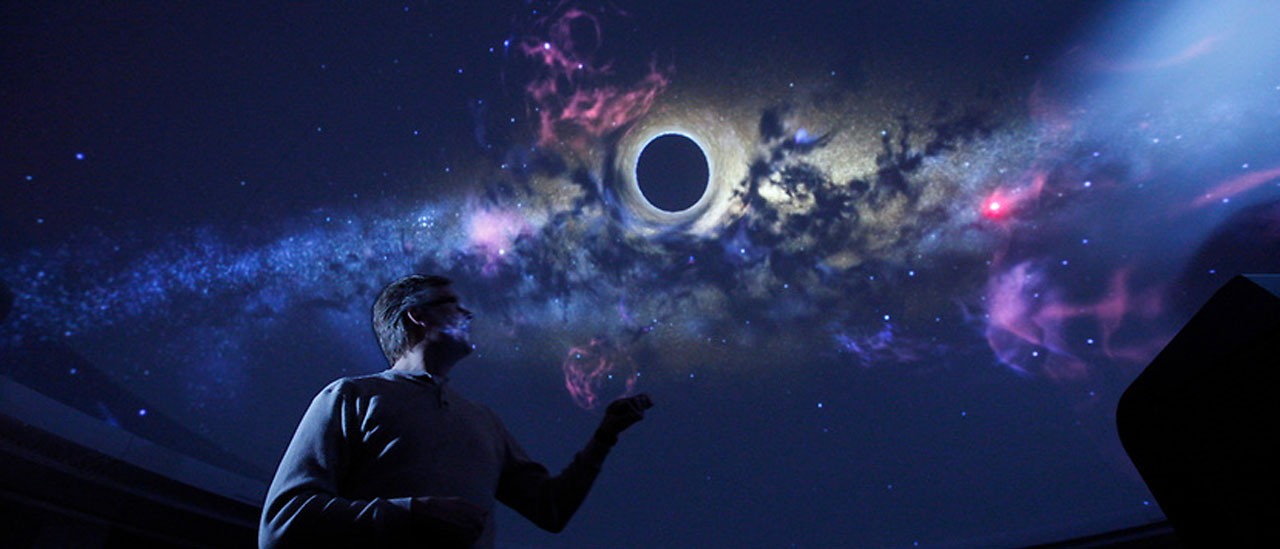 SUNY Oneonta installed the latest Evans & Sutherland Digistar 6 model in late August, 2019. It features a digital projector system capable of bringing you sharp views of the stars, planets, constellations visible in the night sky, and it has new features and capabilities over the old Digistar 5 System. Additionally, the system can also show 3-D, IMAX-style movies and animations, providing you with a complete planetarium show experience. Our system consists of two digital projectors and a full audio soundboard, controlled by the Evans & Sutherland Digistar 5 software package, one of the world's most advanced fulldome digital theater systems.
Public Planetarium Shows- Virtual
Spring 2022 update: The SUNY Oneonta Planetarium is now open! 
Join us April 29 - May 1, 2022 for Voyagers, a musical in the planetarium.
Celebrate the reopening of the SUNY Oneonta Planetarium with Voyagers, a live musical about the Voyager space probes and the people behind the mission! Infused with the sounds of the era, Voyagers shines starlight on the scientists who made major discoveries about the universe, and about what it means to be humans on a pale blue dot. For all ages. Showtimes Friday and Saturday at 6pm and 8pm, Sunday at 2pm and 4pm. 
Tickets are free and can be reserved here: https://www.eventbrite.com/e/voyagers-at-suny-oneonta-planetarium-free-live-musical-performance-tickets-327450512297
Private Groups
Spring 2022 update: If you or your organization would like to make reservations for a private planetarium show, you may do so by using the link below.
https://suny.oneonta.edu/science-discovery-center/visit-our-center
Be aware that our planetarium can only seat 28, so if your group is larger than that you may wish to make arrangements for two shows. There is a $50 suggested donation per show for private group shows. Programs in conjunction with the Science Discovery Center may be arranged.
School Groups
Spring 2022 update:  We regularly host educational groups from preschool through high school for planetarium shows that supplement in-class instructional units. You may request a show for your class by using the link below. Once your request is processed, you will receive additional information via email regarding your visit, bus parking, etc.
https://suny.oneonta.edu/science-discovery-center/visit-our-center
Public Observing at College Camp
Spring 2022 update: No public observing events are scheduled at this time. Please check back for more information.
We will also have an observing session at College Camp Observatory, weather permitting, beginning at 8:30 pm after each public show, unless otherwise noted. No tickets and no attendance at the planetarium are necessary to join the observing session.  We will cancel observing sessions in cases of inclement weather, conditions where the sky is >50% cloudy, and may relocate to SUNY Oneonta's Campus if the road to College Camp is impassible. Check this page at 6pm prior to each show to see whether observing has been canceled.