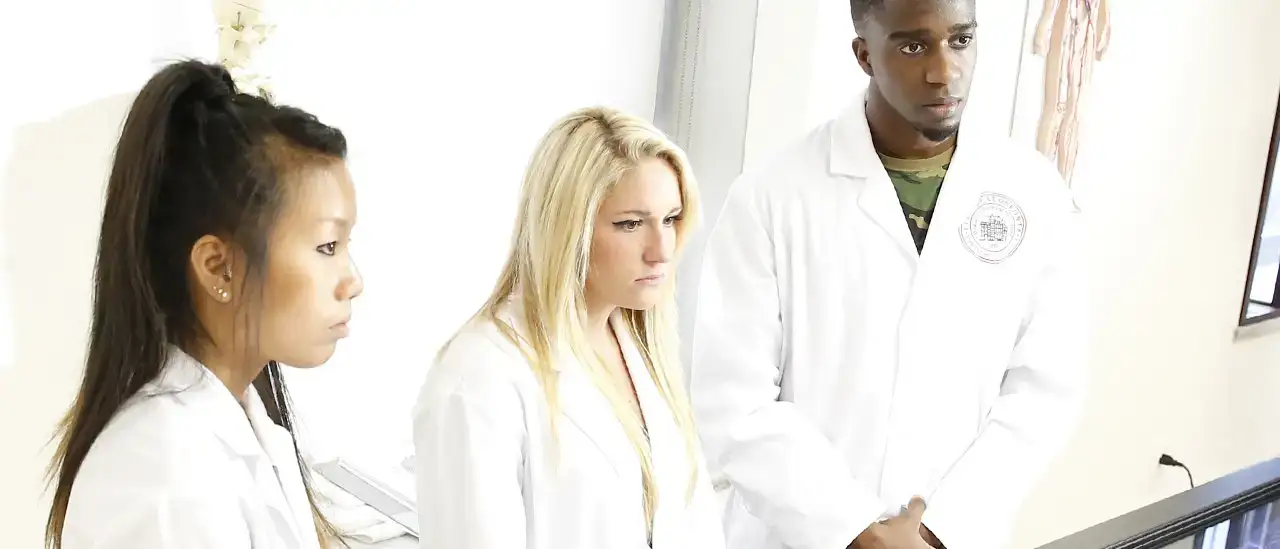 Introducing One-Hart Nursing
SUNY Oneonta's new One-Hart Nursing Collaboration with Hartwick College provides an opportunity for new first-year and transfer students who enroll in our Pre-Nursing Advising Track to transfer seamlessly into Hartwick's Bachelor of Science Nursing Program after they complete their first two years at SUNY Oneonta.
Students who are interested in pursuing One-Hart must meet eligibility requirements, declare the One-Hart Nursing option, and complete specific coursework and indicated benchmarks to remain in One-Hart.
During the Oneonta Phase, One-Hart students major in Biology while completing Hartwick's Nursing Program Prerequisite coursework and Oneonta's Dragon Academy General Education Program. One-Hart students then begin their studies at Hartwick in the summer immediately following year two at SUNY Oneonta. At the completion of the Hartwick Phase, One-Hart students will earn their BS in Nursing from Hartwick College and be eligible to take the NCLEX-RN Licensing exam. One-Hart is open to first-year and transfer pre-nursing students who enroll at SUNY Oneonta beginning in Fall 2023. Eligible transfer students must have fewer than 24 hours of completed college credit.
Perks include:
Seamless Transfer: One-Hart Students will not need to complete a separate application for Hartwick's nursing program.
Private tuition discount: One-Hart students will pay a New York State public university tuition rate while at Hartwick through Hartwick's HartLand Promise program. 
Career opportunities: One-Hart students in their final semester at Hartwick will have the opportunity to interview for an RN position within the Bassett Healthcare Network.
Additional information about One-Hart can be found on our Pre-Health Articulation Webpage.  
Pre-Nursing Advisement Track
SUNY Oneonta does not have a clinical Nursing Program.
To become a Registered Nurse (RN), you must earn a degree in Nursing and pass the NCLEX Licensures exam in your state.
There are several options available for SUNY Oneonta graduates who plan to pursue a career in nursing after completing their Bachelor's degree.
An accelerated program leading to a Bachelor of Science in Nursing (BSN) is the typical path SUNY Oneonta graduates pursue in their quest to become licensed as an RN.
The Pre-Nursing concentration satisfies the course requirements for admission at most accelerated nursing programs.
Additional elective courses are recommended but not required and can vary depending on the nursing program to which students intend to apply.
Students must consult SUNY Oneonta's current undergraduate catalog for descriptions of courses, course prerequisites, and time of year when courses are offered in order to plan properly in advance.
Students have the responsibility to check entrance requirements for schools to which they intend to apply.
---
---
Pre-Nursing Advising Meetings can be scheduled using the Bookings App
---
NOTE: four digit course numbers reflect the new course numbers, effective Fall 2022, as developed via the College-wide Course Renumbering Project.
BIOL 133 / 1001: Investigative Biology Laboratory
BIOL 130 / 1002: Cellular Perspectives in Biology 
BIOL 131 / 1004: Organismal Perspectives in Biology
BIOL 201 / 2000: Cell & Molecular Biology
BIOL 205 / 2200 / 3202: Human Anatomy & Physiology I
BIOL 206 / 2202 / 3204: Human Anatomy & Physiology II
BIOL 362 / 3106: Microbiology
CHEM 111 / 1111: General Chemistry I
CHEM 112 / 1121: General Chemistry II
COMP 100 / 1000: Composition
NUTR 142 / 1050: Nutrition in Everyday Life
PSYC 100 / 1000: Introductory Psychology
PSYC 246 / 2450: Lifespan Development
SOC 101 / 1001: Introduction to Sociology
STAT 101 / 1010: Introduction to Statistics
NOTE: Some nursing programs also require additional courses in Composition or Literature or courses in Pathophysiology, Pharmacology, or Ethics. 
NOTE: Nursing education programs may change course prerequisites at any time and may have additional requirements, preferences, or policies that are not reflected in this advising track course list and vary depending on the type of nursing program to which a student applies. Programs may also allow applicants to substitute courses or choose different prerequisite tracks. Applicants should review the program-specific details and contact programs directly to determine whether a particular course will fulfill a prerequisite.
The timeline for applying to nursing school varies among students and is dependent on a variety of factors, including successful completion of prerequisite coursework and appropriate healthcare experience.
Many Pre-Nursing students are choosing to take at least one year after they graduate SUNY Oneonta to work in healthcare prior to applying to nursing programs.
In fact, across the United States most first-time applicants to nursing school apply after their senior year or later. Having a "Growth Year" between undergraduate studies and beginning nursing school is often beneficial for applicants and does not hurt your chances of admission as long as you continue to strengthen your application. It allows time to gain additional life experiences, continue volunteering or pursue non-academic interests.
If a student wishes to take a "growth year," or takes a different undergraduate path, students will need to adjust the course sequence plan accordingly, based on their personal planning needs. Individual student plans may vary depending on when the student hopes to enter dental school and what major is chosen, therefore each student should work with their Primary Major Advisor and their Pre-Health Concentration Advisor to establish their own personalized schedule
Students should regularly review the Nursing Program Admission Requirements for the type of program they are pursuing. To become a Registered Nurse (RN), you must earn a degree in Nursing and pass the NCLEX Licensures exam in your state. An accelerated program leading to a Bachelor of Science in Nursing is the typical path SUNY Oneonta graduates pursue.
Applicants are evaluated on:
healthcare experience (required direct patient care experience varies for each program)
minimum of three letters of recommendation (Clinician, Professor in your Major, Health Care Job Supervisor)
GPA (overall and prerequisite courses)
leadership skills (on and off campus)
Application to Nursing programs can be made through the centralized application NursingCAS or directly through the individual nursing school.
The Application Cycle varies depends on the individual nursing program and the year and term students to which students apply
Students should consult the individual programs for application cycle planning
Applicants are encouraged to submit their nursing school applications as early in the cycle as possible as it can take 4-6 weeks for your application to be processed.
Please review the NursingCAS Applicant Help Center if you have any additional questions.
Students generally request three letters of recommendation to be submitted on their behalf for nursing program applications.
Appropriate recommenders include science faculty, other course instructors, healthcare professionals, current or former employers, and professional references.
Pre-Nursing questions should be directed to Tami LaPilusa, M.S., Program Coordinator, Pre-Health Professions