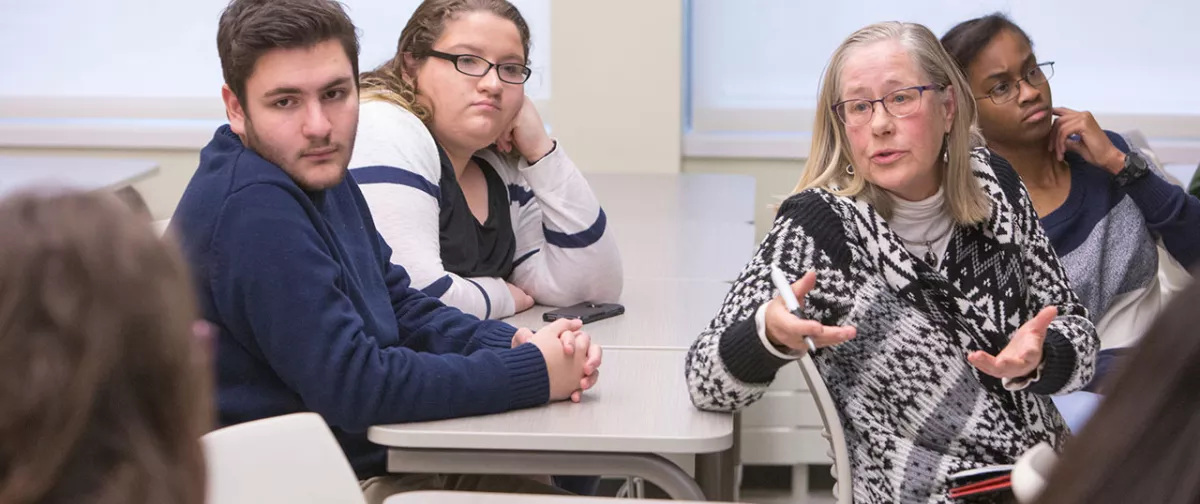 About Us
SUNY Oneonta's long history of teacher education continues through our commitment to preparing students for elementary and secondary teaching and school counseling careers. Our programs are rigorous and result in exceptional professionals whom we are proud to have representing us in schools throughout New York State.
Our faculty and staff work to deliver a program that maintains integrity to the beliefs and principles described in the Educational Professional Committed to Excellence conceptual framework model. Central to this model are three themes that define the knowledge, skills and dispositions necessary to become excellent teachers and school counselors. These themes are interwoven throughout our undergraduate and graduate programs.
Accreditation
All of SUNY Oneonta's teacher preparation programs are accredited by the Association for Advancing Quality in Educator Preparation (AAQEP).
Our Philosophy
We believe that children and youth learn when they have opportunities to explore their environments when they are challenged to think about the world and their place in it, when they are provided rich opportunities to develop skills, and when their teachers make learning an exciting and rewarding activity. We believe that children and youth have many different talents and that they all can learn.

We believe that teachers have tremendous opportunities to shape how their students think and feel about learning. We believe that teachers serve the community: children, youth, families, and institutions. We believe that teachers must take on the role of advocate for all students so that all children and youth can achieve their goals even in the face of adversity.
We believe that school counselors serve both the students and teachers in our schools. School counselors work to assist students to achieve academic and social goals. School counselors provide support to teachers through their work with students and their families.
We welcome to our programs all candidates who share our philosophy and whose goal is to develop their own skills and talents to become educational professionals committed to excellence.
Mission Statement
We, the Professional Education Unit, are a learning community of faculty, staff, students, and practitioners whose mission is to create a climate for the development of teacher-leaders who will inspire and transform their individual communities within the context of a global society.
We seek to inspire all learners to reach their potential. This will be done by creating a positive environment so that future teachers and school personnel develop into reflective, educational leaders committed to excellence and the development of their own caring, transforming, vital, dynamic, learning communities.
We hold these assumptions to be true as we work to facilitate each individual's development and to create a transformational education program for the 21st century:
A quality education is the fundamental right of every child.
Teaching is important and school personnel are central in creating an optimal learning environment which ensures that each student learns.
(Adopted March 1998)