If you have questions about move-in day, call the Office of Residential Community Life at 607-436-3182.
Freshman SCHEDULE Transfer Schedule
Frequently Asked Questions
The following  first year (freshmen) students move in on Tuesday, August 20, 2019:
Living Learning Community Students (Regardless of Building) from 2-5pm
Hulbert rooms 101-114, 301-14, 339-394, 520-595 from 1-3:30pm
Hulbert rooms 201-214, 401-414, 420-495, 635-677 from 4:30-7pm
The following first year (freshman) students move in on Wednesday, August 21, 2019:
Wilber and Littell Halls from 8am-11:30am
Tobey and Golding Hall from 1-4:30pm
All transfer students move in on Friday, August 23, 2019
Returning residents move in on Saturday and Sunday, August 24 & 25, 2019 from 9-4pm both days
If you received a call this summer, you were placed in an LLC, unless you communicated you did not wish to be placed there.  You will get your confirmation via regular mail when you receive your parking hangtag for move in, but if you want confirmation in the short term, please email newstudents@oneonta.edu from your Oneonta email address.  Please include your student A# so New Student Services can confirm you want the information sent to you.
The major difference is square footage per student.  The Dragon Triple is larger and has the same square footage ratio per student as a double room.  The cost to live in a Dragon Triple is the same as a Double Room.

New for 2019-2020, we have Oneonta Triples which have the same square footage as a double, but have all of the same amenities; new furniture has been purchased to maximize the space in these rooms.  Each student will have a desk, dresser, bed, and closet or wardrobe.  Because of the size difference, a significant discount in room rate is given for the academic year.  Please see room rates for more specific information about room rates.
Here are some pictures of the Oneonta Triple room.  These are not the final versions, but a sample of what we anticipate the rooms looking like. As an example, the pictures do not include ladders, which will be arriving prior to move in.  We purchased new furniture to make sure every student living in an Oneonta Triple has the same amenities.  Our furniture is arriving soon, and should be ready to go for move in day!
(Photos and room set up courtesy of New Student Services)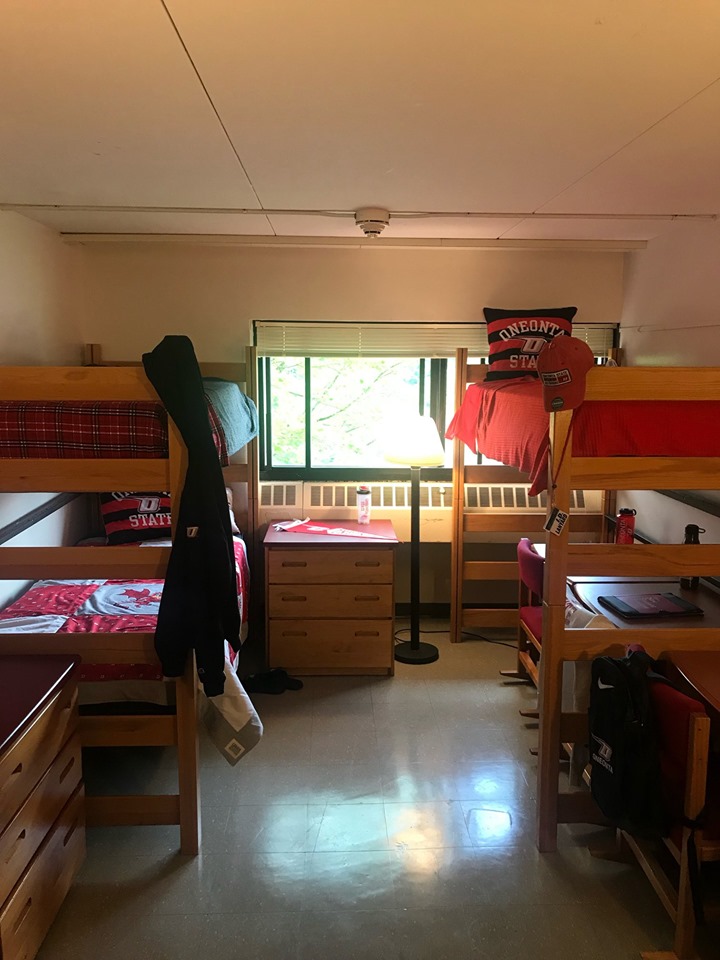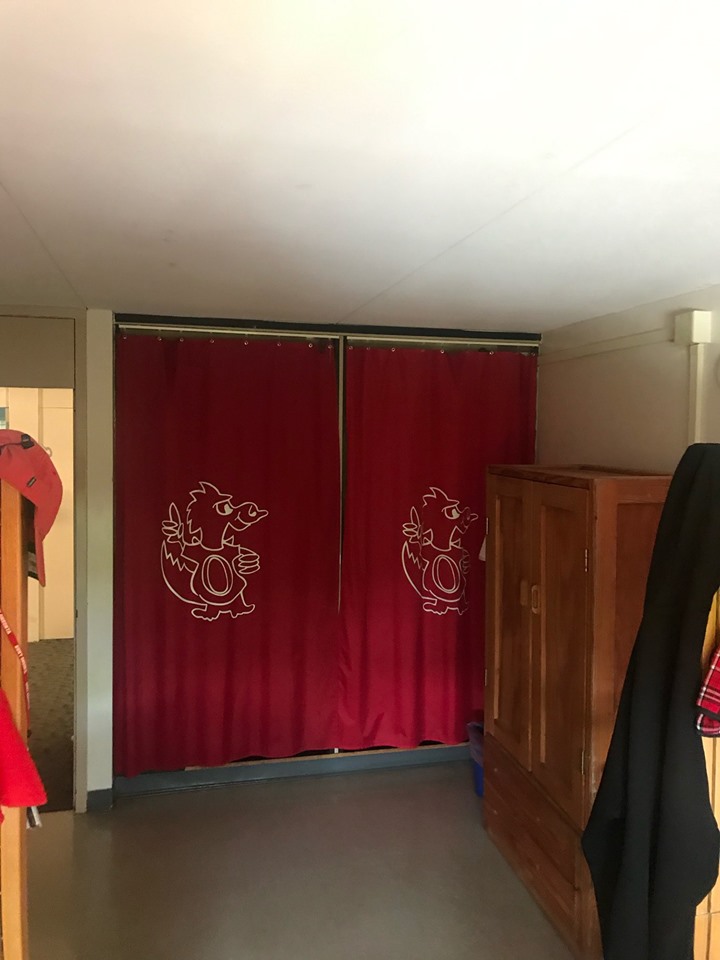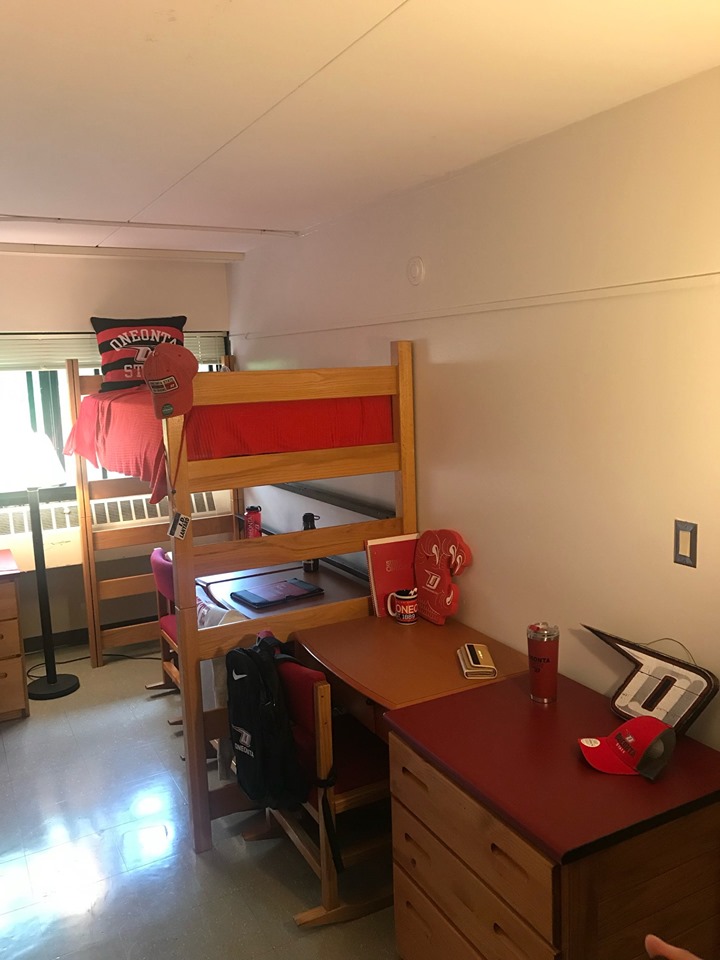 No. There are many area motel and bed and breakfast accommodations if you will be arriving before the residence halls open. If you plan to arrive after the start of classes, please notify the Residential Community Life office (607) 436-3182.
Yes. Trunks, boxes and packages can be sent by UPS or Parcel Post. Each mailed item should be addressed to:
Student Name
SUNY Oneonta (leave this line out if there is not enough address lines available)
Mailbox # and Residence Hall Name
68 Bugbee Road
Oneonta, NY 13820
You will receive a mailbox number upon arrival and check-in to your residence hall. Use your room number until you know your mailbox number.
There are a number of items that are not allowed in the residence halls. These include extension cords, air conditioners, pets, cooking appliances (i.e. toasters, hot pots, hot plates and other appliances that use electricity to cook food), candles, firearms, ammunition, martial arts and archery equipment, and halogen lamps. Please consult the Student Code of Conduct and your Residence Hall License for a complete list and more details.
These are the layouts of our double rooms (our most common)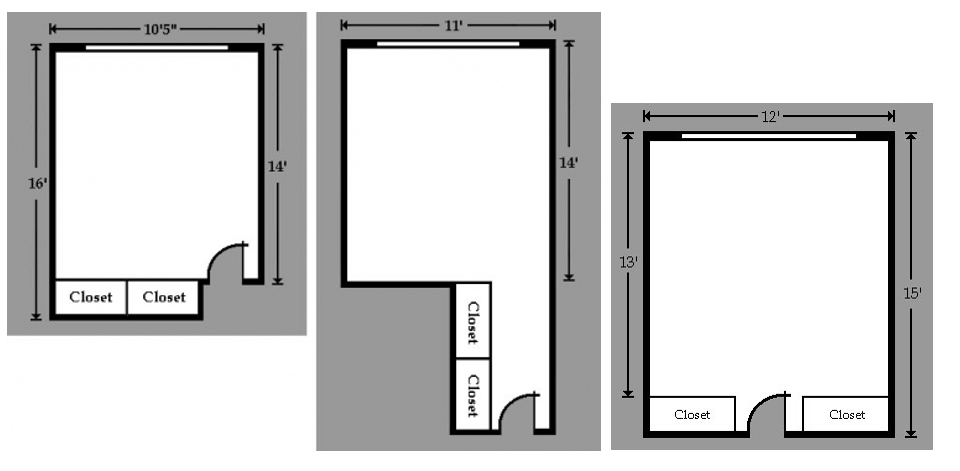 Most mattresses are regular length (80 by 36 inches), however, we do have some extra-long ones in the mix. Since most students like to bring egg crate mattress covers, we suggest twin size extra-long sheets to cover the extra bulk, but regular-size comforters and blankets.
All of our residence halls have modified beds (that have the capacity to be raised and lowered) under which is approximately three (3) feet of space at its highest point.  

In addition, you can purchase "risers"  (risers with USB charging ports are not allowed) to provide additional space under beds.
Yes, you may use your own rug; rugs are not provided in the residence hall rooms. However, it is important to first measure the floor in your assigned room to determine an appropriate rug size.
There are blinds covering all windows, but window sizes vary. It is best to measure first before buying curtains or valances for decoration. Curtains must be fire retardant, and a certificate of compliance must be filed with your Lead Professional Staff member (Community Director, Residence Hall Director, or Resident Manager) at check-in.

In many of our rooms, the closets have curtains.  Students may bring their own rod/curtains to use for the closets.  The important issue is that at the end of the year, the room/curtains be put back in their original places.  We cannot store curtains during the year.
Yes. Refrigerator size is limited to "countertop" height. You can bring your own cube refrigerator or lease one. Microwaves are permitted (standard wattage microwaves are ok), as are coffee makers with an automatic shut off. Be sure to communicate with your roommate before you arrive to coordinate who is bringing what.
Telephone: Basic telephone service, local calls and voice mail are provided upon request in each bedroom at no extra cost. Please submit this form when you arrive on campus if you would like a landline in your room. Phone service includes unlimited long distance service within the continental United States. Each student can apply with the Office of Telecommunications for an authorization code to make long distance calls overseas, resulting in a personal phone bill. Students should provide their own telephone. 2.4 GHz phones are not allowed in the residence halls as they interfere with Wi-Fi signal.
Television: Cable TV is also provided in each bedroom. Students must provide their own digital-ready TV.  The cable TV channel lineup includes HD service, two premium channels (HBO and Showtime), and a selection of music channels.
Data Networks: Wireless network service is available in every residence hall, as are computer labs with computers and printers. Wired network access in residence hall rooms will be provided upon request. Please submit this form when you arrive on campus in the fall. Personal routers and wireless access points are not allowed in the residence halls.
View more information on phone, networking and cable service.
It's free! High-efficiency Maytag front-loading washers and dryers are located in all residence halls. Machine use is unlimited; no quarters needed! For your convenience, you can use our LaundryView service to see if any washers or dryers are available before lugging your laundry to the laundry room – and set up a text alert to let you know when a machine is free.
Snack preparation areas are available in all buildings. These include microwaves and sinks. Double-style buildings (with the exception of Hulbert Hall) and Higgins Hall have kitchens with ovens.
The student activity fee you pay supports a bus service that runs through campus and downtown every half hour. Service begins at 7 a.m. and ends at between 12:30 and 1:30 a.m. on weekdays. The schedule varies on weekends.
Oneonta Bus Lines charters buses to New York City and Long Island during student holiday and vacation time periods. Call (607) 432-4040 for the schedule. Trailways, which can be reached by calling 1-800-858-8555, also provides transportation to and from campus. 
After dark, students may contact University Police for an on-campus escort from one location to another. There are also "Blue Light" phones conveniently located around campus in case of an emergency. The "Blue Light" phones are for emergency use only and are directly linked to the University Police Department.
Yes. NBT and Community Bank automatic teller machines (NYCE, PLUS, CIRRUS, VISA, MYASTERCARD, DISCOVER, American Express, Novus, Quest, Diner's Club Card) are located in the Hunt College Union. There is a Sidney Federal Credit Union ATM in Mills Dining Hall.