SUNY Oneonta has four official graphic identifiers: the university seal, the type logo, the dragon—fire-breathing or not—and the Fast O. No other graphic may identify SUNY Oneonta, and each has a different use.
The university seal is reserved for our most formal communication, which is defined by having as one of its primary goals the presentation or connotation of seriousness, officiousness, solemnity, reverence or scholarship. Programs for institutional events such as commencement or the annual Community of Scholars reception, and diplomas, certificates of recognition, and other official citations are examples of formal communication.
The type logo is designated for most informal communication, which is defined as neither being formal nor being related to any of SUNY Oneonta's intercollegiate athletic programs. Recruitment literature, the institutional website, and display advertising are examples of informal communication.
For most communication related to the SUNY Oneonta Department of Athletics, the dragon and Fast O are appropriate. The Fast O also may be used outside of Athletics.
The official graphic identifiers may not be used in combination with one another, nor may any be incorporated into another logo.
Organizational units within SUNY Oneonta may not create their own logos, word marks or other unique identifiers. The approved identifier for offices, departments and the like consists of the name of the unit set in the Whitney medium font, colored black, under the Type Logo, colored red (see right). University letterhead reflects this design. The Office of Communication and Marketing will adapt this design, upon request, for other placements and uses.
Vendors and Other External Third Parties
To gain access to any of SUNY Oneonta's logos, contact the Office of the President at 607-436-2748.
Members of the SUNY Oneonta Community
University Seal
DOWNLOAD:

Web Ready (.png):
Web Ready (.jpg):
Vector (.eps):
Microsoft Users (Power Point & Publisher .emf)
DO:
Set the seal in red and black
Set the seal in black
Set the seal in white on a color field, and make it's background transparent
Set the red and black seal on a color field or other background
Set the black seal on a color field or other background
Set the seal as a watermark, in which case it may be rotated
DON'T:
Recolor the seal
Set the seal smaller than 1" wide in print or 1.5" on screen (above it is set at .75")
Set the seal in red only 
Gratuitously add effects like a drop shadow to the seal
Change the aspect ratio of the seal (squeeze or stretch it) 
Rotate the seal, unless it's set as a watermark as above
Type Logo
DOWNLOAD: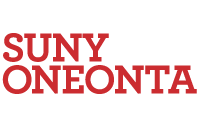 Web Ready (.png):
Web Ready (.jpg):
Vector (.eps):
Microsoft Users (Power Point & Publisher .emf)
DO:
Set the type logo in red
Set the type logo in black
Set the type logo in white on a color field or other background
Set the type logo as outlined letterforms
DON'T:
Set the type logo in another font
Change the type alignment of the type logo
Set the type logo as a watermark
Recolor the type logo
Set the type logo smaller than 1" wide in print or on screen (above it is set at 1")
Rotate the type logo
Gratuitously add effects like a wave to the type logo
Change the aspect ratio of the type logo (squeeze or stretch it)