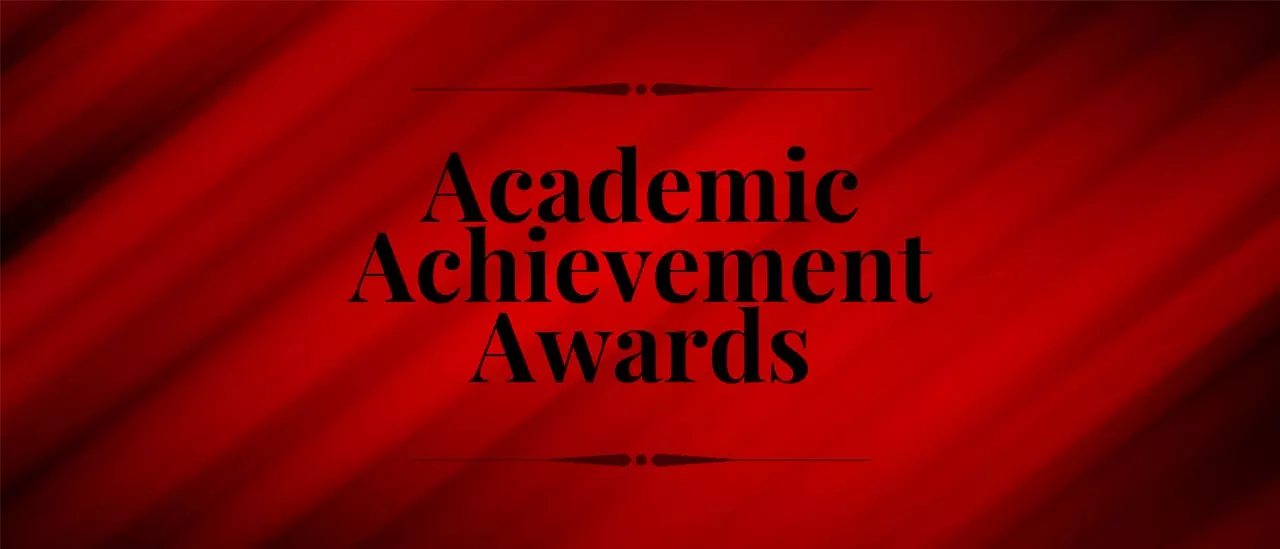 2022 Academic Achievement Awards Recognition
---
Undergraduate Student Awards recognize exceptional senior majors from each department. Reviewing the scholarly accomplishments of seniors with the most outstanding GPAs (minimum of 3.5 in the major is required), departmental faculty choose 1–3 students whose scholarly performance sets them apart. The number of awardees for each department is based on its number of majors: 1–100 = 1 awardee, 101–250 = 2 awardees, 250+ = 3 awardees. Nominations consider not only quantified GPAs but also participation in academic and/or professional pursuits, more intangible demonstration of on- and off-campus leadership, and intellectual acumen and originality.
Graduate Student Awards recognize academic performance, leadership and excellence in scholarship. Awards are made to post-baccalaureate students at SUNY Oneonta, whether they do the majority of their work on campus or through a distance-learning format. Awardees may excel in a variety of areas including exemplary work on a thesis or other capstone project, leadership and involvement in department, campus or community activities, or exceptional academic or professional performance in the classroom and beyond.
Awards are listed by the three schools, and alphabetically by departments/programs within each school.
---
School of Liberal Arts and Business
Jayden worked a Resident Advisor for two years. He has worked with Oneonta Job Corp as part of his field experience and worked for five years as a camp counselor for the Rosendale Youth Center. He is currently student-teaching at Rondout Valley High School. Jayden was awarded the Ida B. Wells-Barnett Award for Intellectualism in his senior seminar course: Black Liberation and was the runner-up for the inaugural Dr. Ralph R. Watkins Scholarship.
During her time at Oneonta Grace has been a recipient of the Susan Sutton Smith Award, the Richard Siegfried Award for Academic Excellence, and the Jean Parish Art Scholarship. Her activities include being an E-board member of Art & Scope Literary Magazine as their layout designer, and being a member of the Digital Art Club. Grace has used her talent and skill on many projects such as a brochure for an art exhibition at the Martin-Mullen Gallery, and a rebranding of the Computer Art Club. Grace is currently applying for jobs that focus on illustration, editorial design, information design and marketing.
Mikhail graduated Summa Cum Laude in December. During his time at Oneonta he was an Academic Team Member in Golding Hall, a president of the Computer Art Club, and an ODK National Honor Society member. Among his honors and awards are: the Susan Sutton Smith Student Award, the Richard Siegfried Student Award, and the Martin-Mullen Creativity Award. He had an internship doing Graphic and Web Design for a media agency during his last two semesters, where he was then promptly hired upon graduation.
Nicole is a member of the Beta Gamma Sigma honor society for accomplished business students and has been presented Magna Cum Laude honors for her academic achievements. She has taken the initiative to lead many group projects during her time at SUNY Oneonta while simultaneously working a supervisory role at the job she worked off-campus.
Tristan is a student athlete serving as the Varsity Men's Soccer Captain. He has achieved many awards for both academics and athletics including the 2021 SUNYAC Men's Soccer Scholar Athlete of the Year and Susan Sutton Smith Award for Academic Excellence. He is a member of the Omicron Delta Kappa National Leadership and the Chi Alpha Sigma National College Athlete honor societies. After graduation he plans to go for his MBA at SUNY New Paltz with a long-term goal of becoming a Vice President to a Fortune 500 company.
Haley is our student President of Beta Gamma Sigma, and a member of both Omicron Delta Kappa and the Tau Sigma National Honor Societies. She is a recipient of the Richard Siegfried Student Award for Excellent GPA and served as the Vice President of the Student Advisory Council. After two completed internships with marketing firm, "National Experiential", she has been offered a position to work with them again after graduation.
With the goal of working in the Journalism field, Rachel has written various articles for The State Times, Oneonta Daily Star and the Anton Media Group, and was Radio DJ and Communications Director for WONY 90.9 FM. She is a recipient of the 2020 & 2021 Susan Sutton Smith Award and the 2019 Richard Siegfried Student Award for Academic Excellence. Her leadership and service includes Student Association and Chair of External Affairs (2019-2021) and Chief of Staff (2021-2022), and completion of 25 hours of community service for multiple semesters.
Luke has held various leadership roles including president of Lambda Pi Eta, president of the Communication Arts Society and vice-president of Alpha Phi Omega. He has completed Silver Lead and will obtain Gold and Platinum status by May 2022, and has taken part in many service events, some which include being a blood donor and participating in community clean-ups. Luke is currently employed as an intern for the national nonprofit SADD, starting as an entry level outreach intern and shortly promoted to the company's sole National Communication Intern assisting with Marketing and social media.
A member of the Lambda Pi Eta Communication Honors Society, Sierra is the recipient of the NYS World Trade Center Memorial Scholarship (2018-2022), Staten Island ACHIEVE Dollars for Scholars Award (2018-2022), and Mu Sigma Upsilon The Founding Seven Scholarship (2019). She volunteers as a delivery driver for Saturday's Bread, and for the Office of Admissions Open Houses. Sierra has achieved LEAD Platinum Level, and works as a Hunt Union Student Building Manager, Orientation Leader and Dragon Guide, Office of Admissions Tour Guide, and Office of Equity and Inclusion Dialogue Leader. She is the TikTok Content Creator for SUNY Oneonta's institutional TikTok account, and Office of Admissions Social Media Intern.
Alexa has been a very active student. She holds various leadership roles as a Residential Advisor, Night Host, Economics Club President, Access and Opportunity Programs graduate coordinator, Career Development Center program coordinator and career peer mentor, Accounting Society treasurer, and Oneonta Fights Cancer Vice President. She is currently a member and Vice President of the Omicron Delta Epsilon Honor Society and member and President of the National Residence Hall Honorary. She was also selected as a presenter and member of the Q&A Team for Fall 2021 College Fed Challenge. Alexa worked with Dr. Mette Harder on a summer research project "Framing the Holocaust: A Discussion of the United States Holocaust Memorial Museum", which she presented at the Student Research and Creative Activity Showcase. She also participates in community service both on and off campus, including the Spring break donation drive, Oneonta fights cancer 2020 fight walk, Fisher House Foundation fundraiser and Superheroes for Ripped Jeans. Alexa plans to continue her education by attending graduate school and hopes to teach in higher education in the future.
As well as serving as president of the campus chapter of National Alliance on Mental Illness (NAMI) and as president of the Meteorology Club, Alice has taken leadership roles in two English organizations, as the Vice-President of Parnassus, the English Club, and a Public Relations lead and team captain for the Poetry Slam Association. She has helped organize the American Foundation of Suicide Prevention (AFSP) walk on campus and has completed over 60 hours of community service through Alpha Phi Omega. In summer 2021, Alice interned at the National Weather Service office in Buffalo.
A transfer student from SUNY Adirondack, Grace is completing a double major in English (writing concentration) and Psychology in just two years. She serves as a teaching assistant for PSYC 276 and was a volunteer faculty assistant at SUNY Adirondack. After six summers interning with the Glens Falls Dragons Baseball team, she was promoted to Director of Internships and Promotions. She also volunteers for her local senior center and works as a camp counselor. Grace is applying to graduate programs in public health and public administration.
Alyssa was part of the student team that created "¿Cómo suena? Fonética y fonología del español", OER companion materials for the Spanish Phonetics class; she interned with the Refugee Representation Team at Human Rights First in summer 2021 and completed a fellowship at Young Invincibles Civic Affairs and Public Policy Leadership program in Fall 2021. In Fall 2021 she also worked as the Luminous Letter Project Student Fellow, and she served as Secretary for Vice Presidential Affairs at the SUNY Student Assembly in Spring 2021. Alyssa graduated in December and will be starting law school this coming fall.
Jacob is a Senior History and Anthropology dual major. In 2022 he presented at the SUNY Binghamton LACAS Conference, SUNY Oneonta History Conference, and SUNY Oneonta SRCA showcase, with topics like South American archaeological looting, Cultural diffusion of the Norman Conquest, and the development of Hominin muscles of mastication. He is anticipating attending both the 2022 Pine Lake Archaeological Field School in West Davenport, NY, and the 2022 Blackfriary Archaeological Field School in Trim, Ireland. He has received the Susan Sutton Smith Award in both 2020 and 2021, as well as the Clark Foundation Scholarship, Frances E. Rowe Scholarship, Werner A. Haus Scholarship, and the New York State Scholarship for Academic Excellence. Jacob is employed at the SUNY Oneonta Call Center and is a Resident Manager for the Morris Conference Center. This year he also had the honor of acting as student representative on the VP of Student Affairs Search Committee. Jacob is the Vice President of the Anthropology Club, Treasurer and Armorer of the Fencing Club, and a member of both the History Club and Outdoor Adventure Club. After graduation he plans on taking a gap year before attending graduate school in Europe for Archaeology.
While studying at SUNY Oneonta, Lucas spent his time learning about the music industry and music production. He participated in multiple credited ensembles such as Rock Combo, Jam Band, and Experimental Music Group. Additionally, Lucas is the lead guitarist in a faculty member's band that just released a debut album. He has received the Presidential Scholarship and the Susan Sutton Smith Student Award, and has also become Pro Tools certified. Furthermore, he completed an internship in music journalism and is currently an audio intern at a local venue. After graduation, he plans to work in the industry as an audio engineer and musician.
Ryan is proud to say that as a student with a severe visual disability he has accomplished a lot during his time at SUNY Oneonta. He completed an 8-month internship at Elton Audio Records where he was the assistant to the East Coast Manager/CEO as well as the acting A&R Intern. Ryan has been on the Dean's List throughout his entire time at Oneonta and has received the Presidential Scholarship for Leadership and Diversity for eight semesters. He has also been a DJ at the campus radio station, WONY, where he took on leadership roles as Music Director and then Vice President/Programming Director during his last 2 years at Oneonta. Post-graduation he is looking forward to earning a position at a record label or management company where he can help artists succeed with their music.
Riley is the General Manager (president) of WONY Radio, and this is his 4th year being involved in the club. He was also VP of Programs for SUNY OnMark in fall 2021 and managed a team of 6 marketing students as they competed in the American Marketing Association International Case Competition. Their entry earned them the highest placement in the club's recent history: semi-finalist. Riley rose through the ranks of New Student Services each year as an Orientation Leader, Dragon Guide, and finally an Orientation Captain. He is a passionate songwriter and played bass in the band Fairpoint throughout his senior year. Post-graduation he will be pursuing a career in marketing, while always making time to keep playing music.
Lucas' career at SUNY Oneonta epitomizes the curious undergraduate liberal arts student. He has explored classes in calculus, physics, "The Chinese Novel," Spanish, statistics, French and all sorts of other fields. At the same time, Lucas has maintained an excellent GPA in his philosophy major. Currently, he is an intern at the New York State Office of Children and Family. He is a courteous, responsible, and caring human being. Lucas Harland is the sort of student one feels privileged to have worked with and proud that he has done so much to avail himself of the educational opportunities that SUNY Oneonta provides.
Molly Bulla is the first student in her major to participate in the joint BA-MPA program with the University of Albany which allows her to work toward her bachelor's degree and her Master's degree at the same time. Faculty describe her work as "bright and insightful" and "outstanding." She received the department's Eric Mathieson Scholarship, which recognizes community service. Molly received the Provost Award for Academic Excellence: Spring 2021, Fall 2020, Spring 2020, Fall 2019, Spring 2019, Fall 2018. She also received the Susan Sutton Smith Award in Fall 2020, 2019 and 2018. Her commitment to public service is clear. She is a peer tutor in political science, criminal justice and history classes and volunteered as a notetaker for the Accessibility Resources office. After graduating, Molly will continue her Master's degree and also do an internship with the Defense Finance and Accounting Service in Rome, NY.
Joslyn's academic abilities and contributions are a consistent example to her peers. She is meticulous, dedicated to the completion of academic tasks, thoughtful, and inquisitive. She stands out for her curiosity, authentic enthusiasm, and steady drive to absorb and process new information. She has assumed positions of responsibility with design credits and Executive Board service on multiple student clubs, demonstrated outstanding work as a performer in both Theatre and Music productions, and successfully balanced the demands of two academic majors and a dance minor. Joslyn plays a positive and meaningful role in the mentorship of younger majors and the inclusion and encouragement of students interested in theatre and music. As we have returned to the classroom over the last year, her positive energy and support for her peers has been a constant asset. She is an outstanding individual, a thoughtful and dedicated student, and an outstanding example of multi-disciplinary Liberal Arts Scholar with a bright future as an entrepreneurial artist and professional.
Cesia is a model student, critical thinker, and passionate leader. She excels in interdisciplinary academic work, particularly around feminist politics in Latin America and transnational reproductive politics. While at SUNY Oneonta, Cesia has worked as a Teaching Assistant, crafted an Independent Study Project on indigenous women in Latin America, presented at conferences, and worked with the Center for Social Responsibility and Community. Hernandez has interned with global non-profit organizations like MADRE and PEN America. Finally, she is the current President of the International Students Organization and a member of the Triota society.
School of Education, Human Ecology, and Sports Studies
Graduate Student Awards, followed by Undergraduate Student Awards
Amy has demonstrated exceptional academic performance, leadership, and scholarship activity throughout the School Counseling program since 2020. She has participated in a variety of projects, such as developing a crisis response plan and an advocacy plan project, and has promoted inclusive learning environments with respect and diversity in our program. Her passions in research were reflected in her excellent presentation, "Counselors Combatting the New Pandemic", at New York School Counselor Association (NYSSCA) 2021 annual conference. Amy plans to begin her career as a school counselor with her initial school counselor certificate after she graduates.
Isabella is a consistent worker. Despite teaching full-time, she manages her studies well; she produces quality pieces of work.
Megan McNamara displayed an exceptional academic performance in EDUC 655. She has also demonstrated leadership in the field of literacy by conducting her excellent thesis proposal on using writing stations to support students' writing skills and attitudes.
Shelby North had an exceptional academic performance in EDUC 655. She demonstrated active participation and collaboration with peers in the online class. She also demonstrated her passion of learning and teaching, as well as her leadership in the field of literacy by conducting a significant capstone project on the impact of technology on students' literacy skills and students' motivation, especially under the context of COVID.
Caroline deserves recognition for their character as well as their high level of academic achievement. Caroline's maturity, attention to detail, and impeccable communication skills have led them to great success in each of the new and challenging environments presented to them in the MS-Nutrition and Dietetics program. Caroline has emerged as a leader among their peers in the program, receiving exceptional feedback from instructors and on-site clinical preceptors. Caroline's community health intervention project highlights a higher-level understanding of research skills and commitment to serving the community. Caroline will be an excellent future Registered Dietitian Nutritionist.
Ashley represents the finest characteristics of the Graduate Student and Inservice Teacher. Despite the varying challenges posed by balancing classwork and rigorous classroom planning, Ashley combines the two seamlessly to enhance the value of her classroom participation, as well as to immediately implement learning experiences into her classroom. Ashley's high standard for her own work contributes to fearless classroom participation, particularly in areas that are foreign to her. She is a model learner and teacher, and greatly deserves this award.
Jayda has demonstrated active class participation, collaboration, and high-quality assignment submission. She has collaborated with peers effectively completing an excellent interdisciplinary unit plan with a focus on plants for elementary students and teaching demonstration. She also demonstrated her professional knowledge about learning to teach through other course projects such as the podcast on teaching bilingual and multilingual learners. Jayda shows great leadership skills and has a great disposition for teaching, and has continued to apply her pedagogical skills outside of the class by attending and performing at a Diversity Conference and serving as invited keynote speaker at the Roc2Change Summit on Race in Rochester, New York this past semester.
Jan has consistently demonstrated her excellence in coursework, research, and as a teaching assistant. Jan brings creativity and innovation to her work that has inspired and motivated other students. Her promotion plan for PUMA resulted in a visit to the PUMA Select showroom in New York City, her independent study was presented at Student Research and Creative Activity Day, and most notably, she delivered a presentation of her design work at the International Textile and Apparel Association's annual conference in 2021, the largest and most competitive in our field.
Since Fall 2021, Meredith has served as the Human Ecology Club President and Vice President of Phi Upsilon Omicron. During her time at Oneonta, she has been a member of the Sociology Club, Alpha Kappa Delta, College Democrats, and the National Alliance of Mental Health. She has been involved in the Leadership Education and Development Program (LEAD) since Fall 2018 and attended the Leadership and Diversity Conference in Spring 2020.
Isabel has consistently exceeded academic expectations in the undergraduate dietetics program, demonstrating strong leadership skills both in and outside of the classroom. She has emerged as a clear role model among her peers, serving as the President of Nutrition for Performance and as the dietetic intern for Sodexo's Dining Services on campus. Isabel is self-directed and takes considerable responsibility for her own learning. Her strong interpersonal skills, maturity, and remarkable grasp of challenging concepts have led her to great success in her undergraduate career and will continue to serve her well in her future career as a Registered Dietitian.
In addition to her outstanding academic achievements, Erika has served as a tutor in the Student Learning Center and a Teachers Assistant in Spanish Conversation courses. She's served as President of Phi Sigma Iota and organized events and served as Coordinator of the Multicultural Community Center. Her volunteer efforts are extraordinary including service on the Oneonta State Emergency Squad, the Boys and Girls club on Oneonta and St. Ann's Church in her home town of Ossining. She is doing a great job student teaching foreign language spring 2022 and will then be off on what is sure to be an impactful and purposeful teaching career.
In addition to outstanding academic achievements as an Earth Science Education major, Carolyn has volunteered as a coach and camp counselor for the Longwood Youth Sports Association. At SUNY Oneonta Carolyn participated as a player on the Women's Lacrosse Team. She has also served the Earth and Atmospheric Department on the Student Advisory Council. Carolyn balanced the heavy demands of her academic and volunteer work at Oneonta while working her way through college in Oneonta retail shops and at summer jobs. She is well prepared for her career as an earth science teacher and is sure to positively influence the lives of the many students she will teach.
Emma is active on both on campus an and within her future profession. She attends professional development for English teachers regularly and is active in Alpha Phi Omega - a community service fraternity. In addition to her accomplishments, she is also a member of Sigma Tau Delta, an English Honor Society. She has served as a teaching assistant in a k-12 and was an active member of the Association of Secondary Educators.
Searra has actively pursued hands-on experiences. She is one of only two students selected to intern with the SUNYAC Commissioner this semester and she has interned with the SUNY Oneonta Women's Basketball Team. She has also served as a Volunteer Basketball Coach at a local summer camp for several summers. Searra is completing an independent study project communicating with Sport and Exercise Sciences alumni and planning and coordinating events to increase alumni engagement. She is a member of the Alpha Alpha Alpha and Omicron Delta Kappa honor societies.
Emily has been involved in several community service projects, participating several times in CANstruction, One Love, and Kids in Sports. She is Team Captain for SUNY Oneonta's Field Hockey team and currently serves on the SUNYAC Student-Athlete Advisory Committee. She has been named a NFHAC Scholar of Distinction three times. Emily recently became a certified NASM Personal Trainer and Nutrition Coach and currently works at Table Rock Fitness, where she plans to continue working after graduation and hopes to advance to an assistant managerial position.
Brandon is an Order of Omega Honor Society Member and has been active in both the Sports Management Club and the Marketing Club. He is President of Beta Chi Fraternity and has served as their Event Management Chair. Brandon presented his group's poster on preventing racism from plaguing sporting events at the Oneonta Diversity and Inclusion Poster Event and has completed an Event Management Internship with SUNY Oneonta Athletics. He is currently working as a Sport Management Marketing Intern helping to coordinate and supervise the upcoming Special Olympics track meet to be held on campus.
School of Sciences
Graduate Student Awards, followed by Undergraduate Student Awards
Lucas is an outstanding member of the MS Lake Management program, demonstrated through his coursework, research, and teaching assistant activities. Lucas completed all course requirements for the program in 3 semesters, while maintaining status as a graduate teaching assistant for two academic years for classes ranging in topics from microbiology to ecology. With multiple summer job offers that would have satisfied requirements of the PSM track, he opted to pursue a thesis for deeper immersion in his research responsibilities. In fall 2021, Lucas submitted the first full draft of his thesis, nearly a full semester ahead of the "normal" schedule for thesis students despite changing tracks about halfway through his planned program. He is now on schedule to defend before the end of the spring 2022 semester.
David is a remarkable connector of people and a wonderful student, classmate, and colleague. Endlessly curious and enthusiastic, he brought tremendous energy and goodwill to every project at the Cooperstown Graduate Program and has been particularly dedicated to community-engaged work. David is the type of collaborative, empathetic, and culturally responsive museum professional our field needs if it is to flourish in the future. He models inclusivity and compassion and displays remarkable listening skills. Whether conducting oral history interviews, organizing and leading educational programs, or coordinating community-based research, they are unfailingly committed to the idea that museums are service organizations that can, and should, advance equity, justice, and the public good.
Jacob is an outstanding student with a true passion for learning. During his undergraduate career, he was the recipient of multiple scholarships and received the Susan Sutton Smith Award in 2020 and 2021. He has presented at several conferences, including the Binghamton LACAS conference, the Oneonta History conference and the SRCA show case. Jacob has also been very active on campus and served in leadership positions as the Vice President of the Anthropology Club, Treasurer of the Fencing Club and as a representative on the VP of Student Affairs search committee. Jacob plans on participating in two archaeological field schools this summer, one in New York and one in Ireland. Following that he is taking a gap year and then will be attending graduate school to study European Archaeology.
Kari has excelled well above expectations, participating in Pearly Mussels research and zebra and quagga mussel and lake de-icer projects. She is an active learner, always engaged, and a true collaborator and team player. Kari conducted research related to analysis of Northwestern Montana lakes based on transparency and temperature, which she presented at the 2022 Student Research & Creative Activity showcase.
Sarah is an outstanding student researcher who was awarded a competitive Student Research & Creative Activity Program grant, as well as a 2021 Summer Research Fellowship and Biological Field Station internship, for her work on the genetic diversity of the Hemlock Varnish Shelf Mushroom (Ganoderma tsugae [Murrill]) in Otsego County, NY. She also ably served as the Biology Club President through the pandemic.
Lauren has a sincere interest in genetics and molecular biology. She participated in research on the Tyl transposon in yeast, presented at the 2022 Student Research & Creative Activity Showcase, and serves as Beta, Beta, Beta President.
Ryan is an Oneonta, NY native who came to SUNY Oneonta as a Criminal Justice major interested in forensics. It is this interest that led him to the Chemistry Department, where he became fascinated by the subject and decided to do a double major. Ryan enthusiastically engages with coursework and actively sought opportunities to conduct experimental research. He has brought his local knowledge to his current research project in Environmental Chemistry. Ryan's academic accomplishments are that much more impressive since he has worked close to a full-time schedule at a local restaurant throughout his time at SUNY Oneonta.
Zully was a RESESS (Research Experiences in Solid Earth Science for Students) intern in Summer 2022 and 2021. She presented her internship research at the American Geophysical Union meeting in 2020 and 2021. Zully participated in the SACNAS Geo-Futures Program in 2020. Zully received a Geoscience IDEA (Inclusion, Diversity, Equality, and Accessibility) Scholarship from the Association of Women Geoscientists. Zully had two EAS teaching assistantships. She attended the California course field trip. She serves as president of the Zeta Rho Chapter of SGE (national honor society for the earth sciences) and on the e-board of the Geology Club.
Zoe is an outstanding student in our Geography major, who is also earning a minor in Anthropology. She has been actively involved in research and creative activity, as well as in student club activities. Zoe also conducted student research and was able to co-publish the results of their research. Her passion for geography and engaged learning is genuine and impressive.
Chloe is an excellent student in our Environmental Sustainability major, who is also earning a minor in Geographic Information Systems. She is an active member of various student clubs, and has engaged in two independent studies while at SUNY Oneonta. Chloe has also been actively involved in research and creative activity. She consistently engages in class activities and discussions, while also asking important questions.
Kevin is a dual major in mathematics and psychology who has been actively involved in research for his four years at SUNY Oneonta, investigating topics as diverse as: the cultural function of storytelling, student burnout, neighborhood characteristics, and modeling of traffic systems. These last two topics culminated in research posters presented at the 2022 Student Research & Creative Activity showcase. Kevin belongs to Psi Chi, the psychology honors society, and Pi Mu Epsilon, the mathematics honors society. While balancing research and his courses, Kevin worked as a resident assistant for two years, and currently maintains a part-time job off campus. After graduating, Kevin will pursue a Systems Science degree at Binghamton University.
Before transferring to SUNY Oneonta, Joseph spent three years in the work force as a distinguished youth educator. Because of his community contributions, he has repeatedly been awarded the Clark and Potter Foundation scholarships. For his tenure at Oneonta, Joseph has maintained a very high standing for all his courses. Post-graduation, he looks forward to travelling the country pursuing a career related to Computer Science.
Ryan's passion for and his contribution to the world of software extends beyond academics. He has created much more software outside of school than within school and has developed software systems for a few local businesses. Ryan is committed to his continual advancement within the field and aims to never stop expanding his knowledge base, his code base, and his fervor for computer science. He has also truly cared about the progression of his colleagues and was always willing to lend a helping hand when requested.
Shubham Bhavsar is a very active Physics major with a minor in Astronomy. He has held offices in several student clubs. While President of the Physics and Astronomy Club, he revitalized the club as it emerged from the pandemic. Shubham has also tutored introductory physics and astronomy students on their coursework, and he has helped perform outreach through Lego Robotics workshops. A member of the Sigma Pi Sigma honors society, he is the recipient of multiple scholarships. For research, he is building a CFD model of Saturn's Rings, and he plans to pursue graduate school for a career in Astrophysics.
Jennifer Le is an impressive and well-rounded student double-majoring in Psychology and Criminal Justice. During her years at SUNY Oneonta, she has been continuously involved in research since her sophomore year, supported first by the SRCA shadowing grant and followed by receiving an SRCA research grant for her independent project, Factors Underlying Non-Aggressive Antisocial Behaviors. Jennifer has represented the psychology department and SUNY Oneonta at multiple regional and national conferences for the past three years, including, but not limited to the Association for Psychological Science, American Psychology and Law Society, and Society for Personality and Social Psychology. Jennifer has even won the Psi Chi International Honor's Society award for best undergraduate research at the Eastern Psychological Association's annual convention in her junior year. Jennifer has also been actively involved in various eBoard positions of our local Psi Chi International Honor's Society, the National Alliance on Mental Illness, and the SUNY Oneonta Academic Research Journal, and she has served as a mentor for her fellow undergraduates as a teaching assistant, peer tutor, and research coordinator. In continuing her path towards becoming a scientist-practitioner with foundations in evidence-based practices, Jennifer has already been accepted into the Clinical Forensic Psychology PhD program at the University of Nevada Las Vegas.
Katherine is a Psychology major with a passion for creating a sense of community and helping others. She serves as the president of the Sigma Delta Tau Gamma Epsilon chapter at SUNY Oneonta and is a member of the Psychology Honor Society, Psi Chi. In her role as president, she organizes local and national events to promote women leadership and empowerment. Katherine has helped her fellow students by serving as teaching assistant in the psychology department and she has helped prospective students serving as a tour guide for SUNY Oneonta. She is also a very active researcher and scholar. She has worked on various projects related to motor control and visual perception, which have been presented at SUNY Oneonta's Life of the Mind research showcase. Katherine is an exceptional student who excels in all her classes while staying very active in the SUNY Oneonta community.
Logan has an almost perfect GPA and has been involved in both Psychology Club and the Psi Chi Honor Society. During this past year he served as Treasurer of Psi Chi. He has also been a Teaching Assistant for several courses in Psychology including Child Development and Research Methods II. He is a student researcher focusing on issues affecting youth related to moral dilemmas encountered during the pandemic. As one of leading undergraduate student authors he presented a research poster at the Association of Psychological Science conference (APS) in 2021 and presented in the 2022 Student Research & Creative Activity showcase. In a similar vein he served as a research manager for funded research and conducted a mini longitudinal interview study in 2021. As one of undergraduate student authors, he presented the research at Eastern Psychological Association Annual Meeting in March 2022. Since 2014, he has actively engaged in community service (e.g., St. Mary's Episcopal Church in Mohegan Lake, NY) to help with community food drives and other outreach charity work. This past summer he interned with a neuropsychologist in Bedford, NY who provided him the opportunity to get real in-field experience, specifically with report writing and assessment. Logan hopes to attend a clinical graduate program and work toward a doctorate degree in Clinical Psychology.
Grant is the recipient of the Susan Sutton Smith Award and a scholarship for academic excellence. As a member of the Greek life organization ZBT, Grant has participated in numerous activities; for example, in fundraisers, as ZBT's inner Greek council delegate, and on the ZBT executive board as the Risk Prevention and Wellness director. He also has completed the Red Dragon Flight School training program, and he currently works as a Phonathon caller. Grant is interested in possibly pursuing law school in the future, but he plans to stay in Oneonta to find work related to his major following graduation.
Delia is a member of Alpha Kappa Delta International Sociology Honor Society and Omicron Delta Kappa National Leadership Honor Society. She is a peer tutor for the Student Learning Center. She has been a long-time participant of the Long Island Cares food drives, and provided companionship and care to elderly members of her community through visiting nursing homes as a member of the Glamour Gals Foundation. Delia hopes to go to graduate school in the future, to be able to provide advocacy for elderly adults against elder exploitation, abuse, and neglect, which she plans to do both personally and professionally.
Aleksander is the recipient of the Richard Siegfried and Susan Sutton Smith Awards. He is serving in his second year as the Managing Editor of SOAR (SUNY Oneonta Academic Research), a peer-reviewed, undergraduate social science journal. This work got him spotlighted by the International Open Access Week at Milne Library, where he participated as a panelist for an organized panel discussion. He was also an invited speaker for the Sociology Department's information meeting in the fall of 2021. Aleksander plans to attend graduate school in the near future, and is considering employment in the field of aging directly after graduation.
Watch the 2021 Academic Achievement Awards Recognition Event