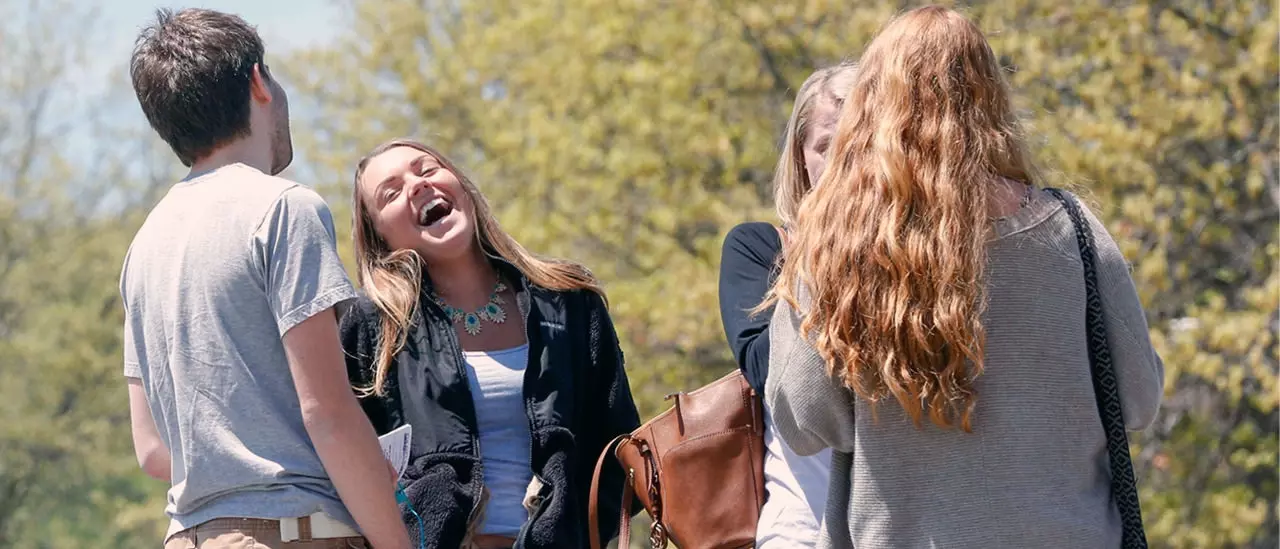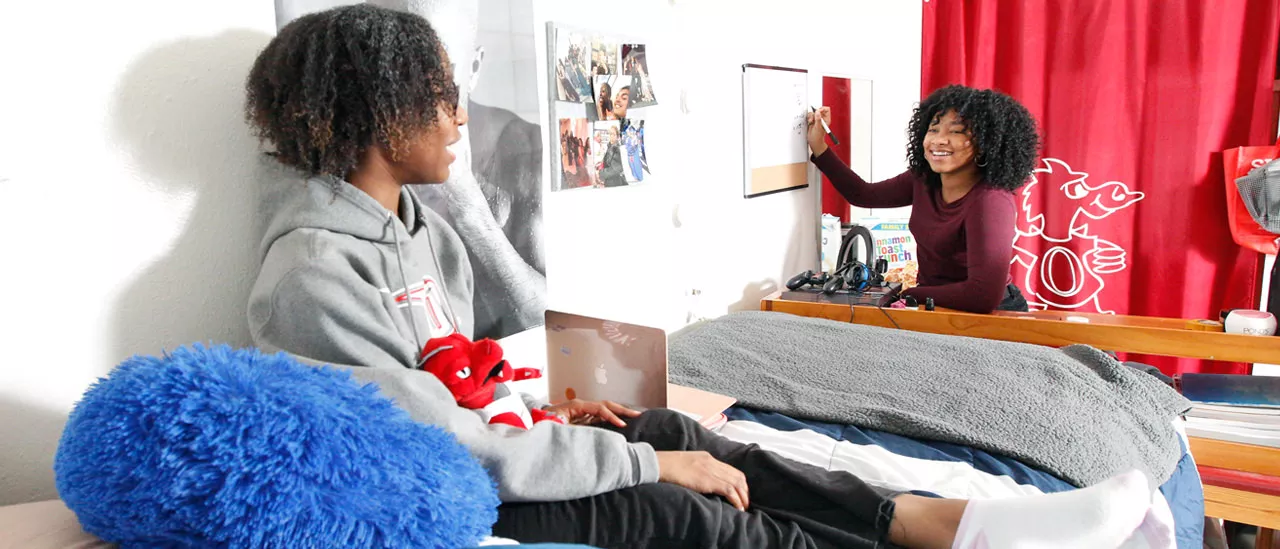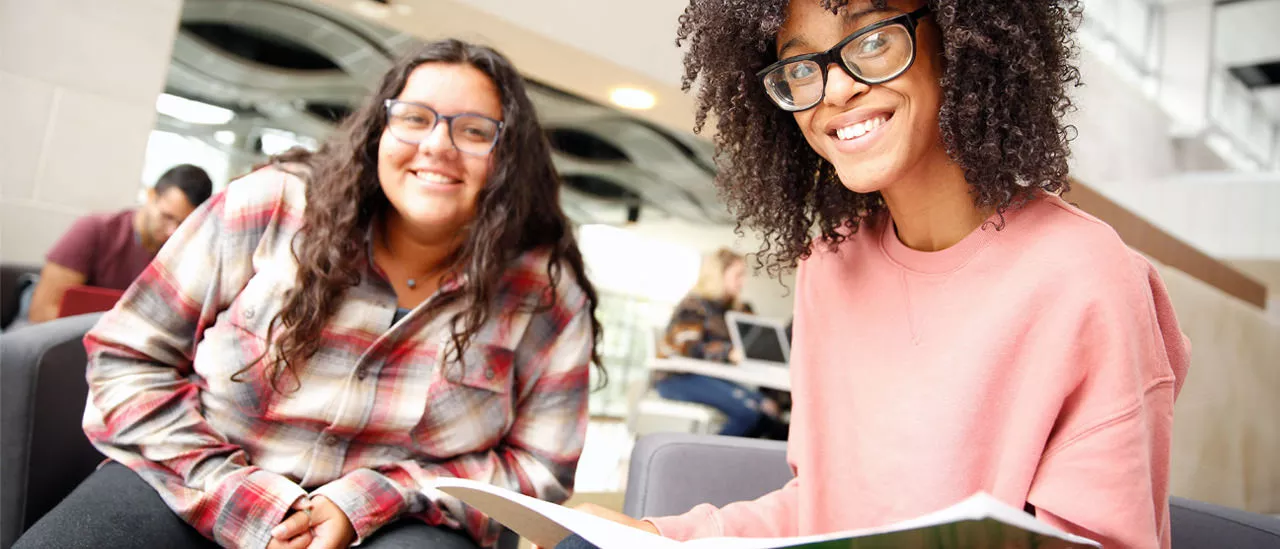 We're here to help you finish strong! If you choose to complete your degree at Oneonta, know that you will be welcomed and supported from the day you arrive. Nearly 20% of our students are transfers, and we value the diversity and experience they bring to our campus community.
Seamless Transition to Oneonta
As a Cazenovia College teach-out partner, SUNY Oneonta will make your transition to Oneonta completely seamless. If you apply to transfer to Oneonta, we will:
connect you with academic programs that correspond with your current major/minors (see full list of approved programs below);
accept full credit for courses taken at Cazenovia;
work to match or exceed your current financial aid package; and
provide options for affordable on-campus residence and dining services;
We are committed to working with you throughout the transfer process, and we will develop an individualized plan for your transfer to SUNY Oneonta for Fall 2023.
Keep Your Caz Roommate!
We will accommodate roommate requests from all Cazenovia transfer students. Transfer students who do not request a roommate will be paired with another sophomore, junior or senior student.
Support For Your Success
We offer several special programs and opportunities for transfer students, including:
Transfer Living Community – Meet other transfer students who share your experience and make friends right away
Tau Sigma – an honor society exclusively for transfer students
Student Success Series – regular programs and sessions designed for transfer students, to help you adjust to life at Oneonta
Majors that Matter
With nearly 100 majors and minors, Oneonta offers the chance to tailor your degree to your specific interests and career goals. We'll work with you to create an individualized transfer path that builds on the credits you've earned at Cazenovia. A total of 21 Cazenovia majors have been approved for seamless transfer to the corresponding SUNY Oneonta majors:
Cazenovia College Program & SUNY Oneonta Equivalent Program

| Cazenovia College Program Title | Program Award | SUNY Oneonta Equivalent Program |
| --- | --- | --- |
| Accounting Management | BPS | |
| Biology | BA | |
| Business | BS | |
| Business Management | BPS | |
| Communication Studies | BA | |
| Criminal Justice & Homeland Security | BS | |
| Criminal Justice Psychology Dual | BS | |
| English | BA | |
| English Communication Studies Dual | BA | |
| Fashion Design | BFA | |
| Finance | BS |  Business Administration, BS (Finance concentration) |
| Finance | BPS |  Business Administration, BS (Finance concentration) |
| History | BA | |
| History Social Science Dual | BA | |
| International Studies | BA | |
| Psychology | BS | |
| Social Science | BA | |
| Sport Management | BPS | |
| Studio Art | BFA | |
| Visual Comm, Graphic Design | BFA | |
| Visual Comm, Illustration | BFA | |
Financial Aid
We're committed to offering you an excellent academic experience at an affordable price. That's why Money.com ranked SUNY Oneonta #114 on its "Money Best Colleges in America 2022" list, which recognizes colleges and universities across the country that have a record of helping students graduate and launching graduates into jobs with above average wages.
Should you choose to study at Oneonta, you will be supported academically and financially to ensure a smooth transition, including retaining the same net cost of tuition and fees you have at Cazenovia. This cost will remain constant for the remainder of your attendance at Oneonta as long as you remain a student in good standing and graduate on time. 
Every Cazenovia student seeking a consistent cost of attendance will be required to submit a Free Application for Federal Student Aid (FAFSA). If our Office of Financial Aid and Scholarships determines that you are eligible for additional scholarships, grants, loans or work-study, the additional awards will be automatically offered.  
Start your transfer journey
We want to make your transfer experience as simple as possible. Here's how to get started:
The First Step is to Apply
Submit your application to SUNY Oneonta using either the Common Application or the SUNY Application and we will take it from there! All Cazenovia students can apply for FREE. If you use the Common Application, select "free application" in the fee waiver section. If you use the SUNY application, the application fee will be automatically waived.
Come for a Visit
Visiting is the best way to picture yourself at Oneonta! Several types of visits are available, including virtual appointments with a transfer admissions counselor, campus tours, information sessions or one of our special Transfer Days open house events. Find the one that's right for you at suny.oneonta.edu/visit
We're here to help! Please reach out by phone or email with questions about the admissions process, transferring your credits, creating your fall course schedule, financial aid, or whatever's on your mind.
Office of Admissions
Contact
800-SUNY-123
admissions@oneonta.edu