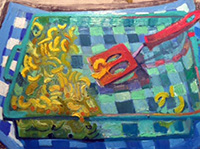 Ashley Cooper
Adjunct Instructor
Design
Fine Arts Ctr 316
Tel: (607) 436-3907
Email Ashley Cooper
Ashley Norwood Cooper received her MFA in Painting from Indiana University in 2000. She received a B.A. From the University of Georgia in 1995.
Ms. Cooper's paintings explore contemporary middle-class life. She is interested in the materiality of paint and the domestic narrative. She has exhibited in group and solo shows in NYC and around the country. She lives and has her painting studio in Cooperstown, NY.
---
Luke Dougherty
Adjunct Instructor
Drawing
Fine Arts Ctr 316
Tel: (607) 436-3907
Email Luke Dougherty
Luke Dougherty received his MFA from Buffalo State University. He teaches Drawing I and Drawing II.
---
David Kenny
Adjunct Instructor
Serigraphy
Fine Arts Ctr 223A
Tel: (607) 436-3515
Email David Kenny
David Kenny is a digital artist with extensive experience in cinematography, and in the community teaching all aspects of digital art. He has particular expertise in 3D Printing, Vector Graphics, Design, Photography, and Videography. He received his BA from SUNY Oneonta.
---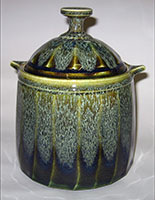 Chris Pettingill
Adjunct Instructor
Ceramics
Fine Arts Ctr 236C
Tel: (607) 436-3735
Email Chris Pettingill
Chris Pettingill received his MFA in Ceramic Art from Indiana University in Bloomington, Indiana in 1992, and his BFA degree with honors at the New York State College of Ceramics at Alfred University. His introduction to clay began in 1981 while attending Harford Community College in Bel Air, Maryland, and also studied at the University of The Arts, in Philadelphia.
He now lives and works as a potter and ceramic sculptor along the banks of the Susquehanna River in Afton, NY. His work is in use and in private collections across the United States and around the world.
---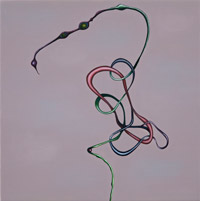 Madeline Silber
Adjunct Instructor
Drawing
Fine Arts Ctr 223A
Tel: (607) 436-3515
Email Madeline Silber
Madeline Silber received her MFA from the Maryland Institute College of Art, Mount Royal School of Art, and her BA in Painting and Literature from Sarah Lawrence College.
She has exhibited her paintings nationally and internationally. In her work, she attempts to depict the complex subtleties of connection and separation in our contemporary relationships.
She lives in Oneonta since moving upstate from Greenpoint, Brooklyn. She teaches Drawing I and II at SUNY Oneonta, as well as designing brand identities for regional small businesses.
---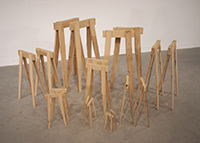 Carrie Mae Smith
Adjunct Instructor, 3D Design
Fine Arts Ctr 316
Tel: (607) 436-3907
Email Carrie Mae Smith • Carrie Mae Smith's portfolio
Carrie Mae Smith completed an MFA in Sculpture at the University of Delaware and a Four Year Certificate from the Pennsylvania Academy of the Fine Arts in 2005.
Her work investigates marginalized histories, utilitarian forms, and concerns of equity and sustainability. She is interested in traditional construction techniques and fine craftsmanship whether working with wood, steel, panty hose, cheese-puffs or oil paint.
Smith has exhibited her work nationally and internationally, is a recipient of artist grants from the Barbara Deming Memorial Fund and the Ruth and Harold Chenven Foundation. She has been awarded Artist Residencies at Winterthur Museum and Gardens, RAIR in North East Philadelphia and the Vermont Studio Center.
---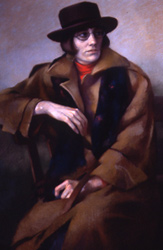 Janet Wentworth
Adjunct Instructor, Drawing & Figure Drawing
Fine Arts Ctr 316
Tel: (607) 436-3907
Email Janet Wentworth • Janet Wentworth's portfolio
Janet Wentworth received her MFA in painting from Brooklyn College and BFA in illustration from Parsons School of Design. She completed postgraduate study at the National Academy School of Fine Art and the Art Student's League of New York, and studied art in France and Italy supported by foundation grants.
Her intention in art has always rested upon engagement with the human figure, it's psychological and emotional resonance, and formal concerns emphasizing the interplay of light and shadow on form.
Her early art career included book illustration for HarperCollins, McGraw-Hill, and Houghton Mifflin Co. among others. Her figure paintings and drawings have been exhibited nationally, including the First Street Gallery and the National Academy Museum in New York City, The Butler Institute of American Art in Ohio, and the Copley Society in Boston. Her artwork has received numerous awards, including those from the National Academy of Art, Academic Artists Association, Pastel Society of America, and Society of Illustrators.
---