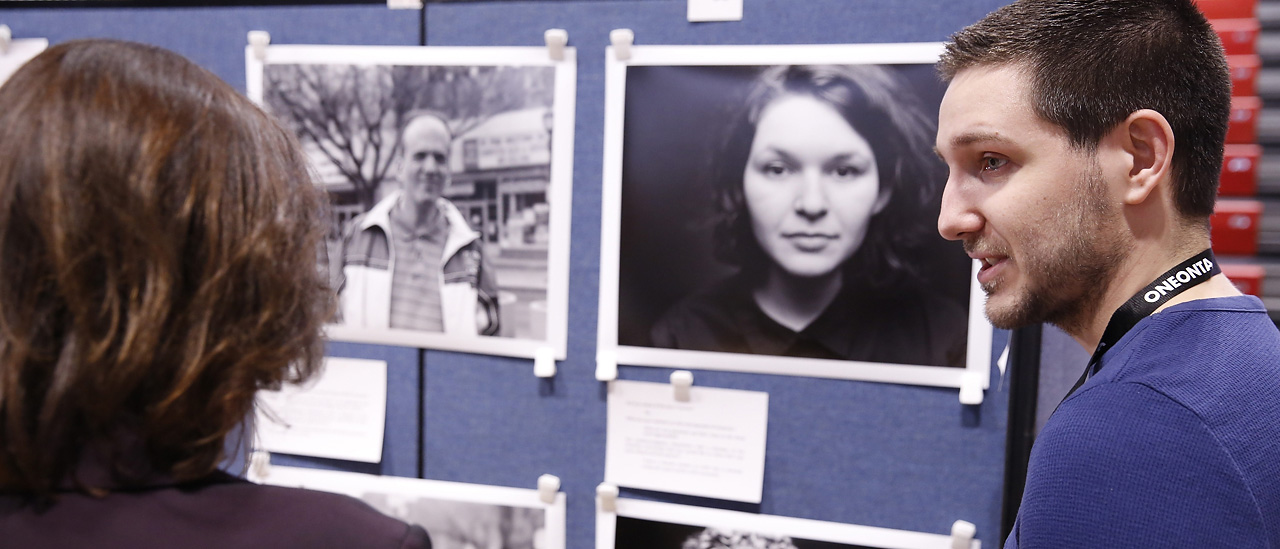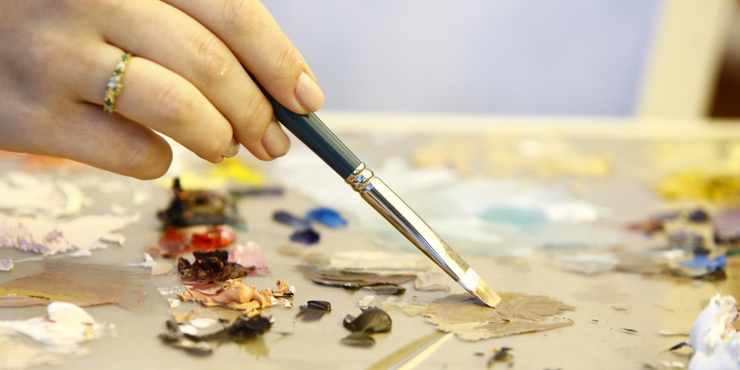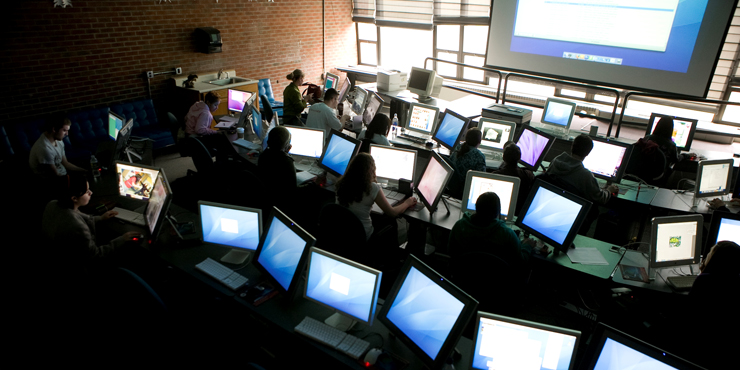 SUNY Oneonta's Bachelor of Fine Arts (BFA) program in Art and Design is a professional degree for students who plan to pursue a career as fine artists or in established or emerging industries such as graphic design, web media, illustration, animation and photography. With a focus on immersive professional work and portfolio development, this program will prepare you for a career in the arts and/or admission to a Master of Fine Arts (MFA) program.
You can choose from five tracks:
•    Digital and Studio Art
•    Animation and Illustration
•    Graphic and Web Design
•    Photography
•    Visual Culture
Portfolio Requirements
A portfolio review will be required for new students' (both freshman and transfer) acceptance into the BFA program. Upon applying to SUNY Oneonta, you will submit a portfolio for review by the Art Department faculty. Students not chosen, or those without an art portfolio, may enter our Digital and Studio Art BS program. BS students may apply for the BFA at any time after completing their first year.
Applied Learning Opportunities
Two professional art galleries on campus, the Martin- Mullen Art Gallery and the Project Space Gallery, host a variety of exhibitions. Students may submit work in the Annual Juried Student Art Exhibition and may also apply for solo or group shows in the Project Space Gallery and Annex Gallery throughout the year. The college's student-run literary magazine, Art and Scope, also offers opportunities for students to publish their artwork.
Major Requirements
Foundation Requirements for all five tracks:
ARTH 109 Survey of the Visual Arts I
ARTH 110 Survey of the Visual Arts II
ARTS 130 Three‐Dimensional Design
ARTS 140 Two‐Dimensional Design
ARTS 141 Drawing I
CART 101 Introduction to Computer Art
Plus additional requirements listed by track:
Core Track Requirements
Select four from the following courses:
ARTS 220 Traditional Studio Illustration
ARTS 230 Sculpture I
ARTS 241 Drawing II
ARTS 252 Painting I
ARTS 354 Figure Painting
ARTS 260 Printmaking I
CART 205 Digital Video I
CART 210 Digital Photography
CART 220 Digital Illustration
CART 252 Digital Paint
Track Selections
Select six ARTS/CART 200‐399 courses, excluding ARTS/CART 299, 399 and unspecified elective courses (20E, 30E). Appeals for course substitutions may be made to the department chair.
Electives
Select any five ARTS/ARTH/CART 200‐399 courses
Capstone
Select four from the following: any ARTS 203, and/or ARTS/CART/ARTH 300‐399, excluding 30E
Core Track Requirements
ARTS 220 Traditional Studio Illustration
CART 204 3D Animation I
CART 209 3D Modeling
CART 220 Digital Illustration I
Track Selections
Select seven ARTS/CART 200‐399 courses from this list:
ARTS 241 Drawing II
ARTS 242 Figure Drawing I
ARTS 320 Advanced Studio Illustration
CART 205 Digital Video I
CART 212 Intro to 2D Animation
CART 304 Advanced 3D Animation & Game Design
CART 305 Advanced Digital Video
CART 309 Advanced 3D Modeling
CART 320 Advanced Digital Illustration
Electives
Select any five ARTS/ARTH/CART 200‐399
Capstone
Select three from the following: any ARTS 203, and/or ARTS/CART/ARTH, 300‐399, excluding 30E
Core Track Requirements
CART 206 Web Design I
CART 208 Graphic Design
CART 218 Typography
Track Selections
Select six ARTS/CART 200‐399 courses from this list:
CART 202 Computer Art II
CART 205 Digital Video
CART 207 Digital Print
CART 220 Digital Illustration I
CART 306 Advanced Web Design
CART 308 Advanced Graphic Design
CART 320 Advanced Digital Illustration
ARTS 220 Traditional Studio Illustration
ARTS 240 Design II
ARTS 280 Artists Books I
ARTS 320 Advanced Studio Illustration
ARTS 203I Advanced Studio I: Design
ARTS 303I Advanced Studio II: Design
Electives
Select any six ARTS/ARTH/CART 200‐399
Capstone
Select four from the following: any ARTS 203, and/or ARTS/CART/ARTH 300‐399, excluding 30E
Core Track Requirements
ARTS 210 Basic Photography I
CART 210 Digital Photography
ARTH 221 History of Photography
Track Selections
Select seven ARTS/CART 200‐399 courses from this list:
ARTS 240 Design II
ARTS 262 Serigraphy I
ARTS 280 Artists Books I
ARTS 310 Basic Photography II
ARTS 203P Adv. Studio I: Photography
ARTS 303P Adv. Studio II: Photography
CART 202 Computer Art II
CART 205 Digital Video I
CART 206 Web Design I
CART 207 The Digital Print
CART 211 Digital Landscape Photography
CART 220 Digital Illustration I
CART 252 Digital Paint
CART 305 Adv. Digital Video
CART 310 Adv. Digital Photography
Electives
Select any six ARTS/ARTH/CART 200‐399
Capstone
Select four from the following: ARTS 203, and any ARTS/CART/ARTH 300‐399, excluding 30E
Core Track Requirements
ARTH 200 Language of the Visual Arts
ARTH 218 Art of the 20th Century
ARTH 219 Contemporary Art Since 1945
Track Selections
Select seven ARTS/CART 200‐399 courses from this list:
ARTH 200-299 (excluding 299 and 20E)
ARTS 203Y ADV. STUDIO I: Exhibition Design
ARTS 303Y ADV. STUDIO II: Exhibition Design
ARTS 370 Collaborative Art Projects
Electives
Select any five ARTH/ARTS/CART 200‐399
Capstone
Select three from the following: any ARTS 203, and/or ARTS/CART/ARTH 300‐ 399, excluding 30E