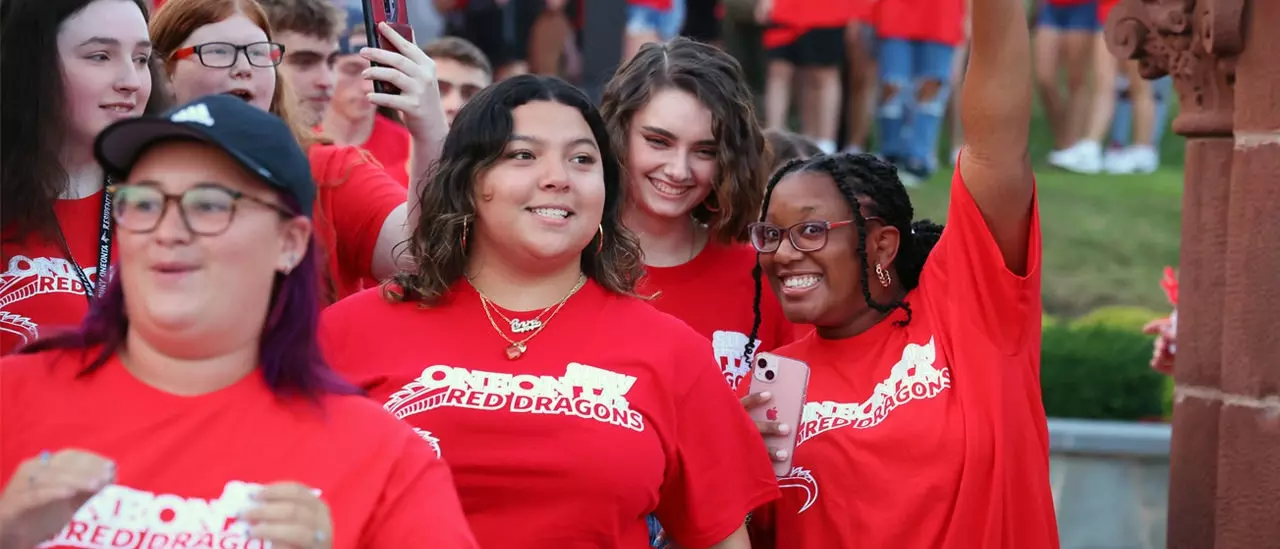 The Loyal Red Dragon program celebrates the university's most devoted champions. A vital component of this program is consecutive-year giving.
Consecutive gifts—no matter the size—are crucial to the success of SUNY Oneonta students. Donors who make gifts year after year provide a powerful foundation from which Oneonta can support critical aspects of the student experience.
Donors who make gifts of any size in two or more consecutive fiscal years (SUNY Oneonta's fiscal year runs from July 1 to June 30) to the SUNY Oneonta Foundation are recognized as Oneonta Loyal. When you become Oneonta Loyal, you fuel the success of our current students by providing scholarship assistance, enabling student/faculty innovative research, and supporting efforts to continue providing an accessible, inclusive, and affordable education.
With your help, we will ensure that SUNY Oneonta's traditions of scholarship, leadership, collaboration, and service continue to thrive for generations to come. This year's Loyal Red Dragons are recognized below:
Mary-Louise Cartledge '60 and Gerald Cartledge (42)
Dorothy Hoffman '65 and Raymond Hoffman (42)
Johanne Kurz '61 and Kenneth Kurz (42)
Barrie Simpson '63 (42)
Richard Burr '62 and Barbara Burr '66 (41)
Jay Davidson '69 and Kevin O'Neill (41)
Eleanor Donohue-Blanchard '78 and Robert Blanchard (41)
Diane Geiger '72 and Anton Geiger (41)
Eleanore Gibson '62 (41)
Michael Holupko '68 (41)
Janet Klimasz Stadulis '68 and Robert Stadulis (41)
Rona Selsky '69 (41)
Gertrude Sturdevant '52 (41)
Nancy Sturm '69 (41)
Maureen Wood '71 and Robert Wood (41)
Daniel Zaglaniczny '77 (41)
Meryl Hormann '76 and Mathew Hormann (40)
Constance Spohn PhD '74, '77 and Robert Spohn (40)
Paul Adamo '81 and Ann Adamo '82 (39)
Merrie Edelston '82 (39)
Janet Elman '82 and Jerry Elman (39)
William Goertemoeller '65, '69 and Cynthia Goertemoeller '66 (39)
John Neuburger '83 and Lynn Neuburger (39)
Anna Schuhart '74 and John Schuhart (39)
Linda Cirillo '69 (38)
James Doig '75 and Rita DeMarko (38)
Linda Drahushuk '67 (38)
Judith Gebe '63 (38)
Marty Hansen '75 and Donna Hansen (38)
Katherine Monthie '68 and Edward Monthie (38)
Janet Narayan '63 (38)
Janice Ostrom '63, '66 (38)
Judith Palais '81 and Martin Palais (38)
Martha Rask '55 and Norman Rask (38)
Carol Reeder '69 and John Reeder (38)
Vaughn Sayles Jr. '68 (38)
Susan Seyffarth '65 and Robert Seyffarth (38)
Philip Steinberg '64 and Barbara Steinberg (38)
Suzanne Taylor '65 and David Taylor (38)
Kermit Weaver '71 and Vivian Weaver (38)
James Adair '83 (37)
Lorraine Brown-Federico '76 and Kenneth Federico (37)
Barbara Cortez '78, '81 and Andrew Faber (37)
Karin DeVito '73 and Thomas DeVito (37)
Arthur Nimmo '75 and Susan Nimmo (37)
Carl Wright '63 and Carolyn Wright (37)
Harriet Berard '57, '67 (36)
Grace Black '63 and Kenneth Black (36)
Gail Denisoff '72, '73 (36)
Ulrike DiCola '76 and Charles DiCola (36)
Francis Fitzpatrick '64 and Janet Fitzpatrick (36)
Melissa Hochberg '84 and Steven Hochberg (36)
Mitchell Marder '77 and Geri Marder (36)
Margaret McGough '59 and Patrick McGough (36)
Edward McSweeney '71 and Rosemary McSweeney (36)
Barbara Nosaka '70 and Rick Nosaka (36)
Toby O'Brien '75 (36)
Larry Stockwell '73, '77 (36)
Lois Terry '74 and Joseph Terry (36)
Richard Donahue '72 (35)
Laranell Jarosz '70 and Raymond Jarosz (35)
Anne Lennebacker '61 (35)
Donald Smith '79 (35)
Victoria Andritz '65 (34)
Patricia Boily '70 and Ronald Boily (34)
Robert Constantine '75 (34)
Donna Einhorn '71, '72 and David Einhorn (34)
Barbara Hall '66 and Harry Hall (34)
Susan Klim '76 and Brian Klim (34)
Nancy Knaggs '68 (34)
Frances Luzinas '62 (34)
Kathryn Martin '75 (34)
Patricia Ruppel '73 (34)
Amelia Sosler '69 (34)
Jean Tuccillo '67 and Francis Tuccillo (34)
Debra Wasserman '78 (34)
Barbara Barton '59 (33)
Robert Biviano '63 and Janet Biviano (33)
Minnie Ellmauer '57 (33)
Carol Fell '71 and Thomas Fell (33)
Lynne Flaxman '70 and Howard Flaxman (33)
James Hahn '72 and Sidney Williams (33)
Patricia Harpell '52 (33)
Mary Huntington '46 (33)
Kathleen Lederach '75 and Timothy Lederach (33)
Joan Mantle '74 and James Mantle (33)
Virginia McLaughlin '73 and Gerard Avolio (33)
Stuart Palonsky PhD '72 (33)
Paul Perlman '76 and Beth Mattimore (33)
Thomas Pflugbeil '69 (33)
JoAnn Vierthaler '57 (33)
Dorothy Auerbach '81 (32)
Mary Bonderoff '88, '99 and Scott Bonderoff '87 (32)
John Carey '78 (32)
Mark Delligatti '75 (32)
Mary Rose Gaul '51 and Milton Gaul (32)
Nancy Harmon '59 and Peter Harmon (32)
Frances Kimer '53 and Anthony Kimer (32)
Ira Kocivar '71 and Terry Kocivar (32)
Nancy Krager '59 (32)
Dorothy Lawson '57 (32)
Karen Porpeglia '90 and James Porpeglia (32)
Ruth Reiser '78 (32)
Jeffrey Strauss '71 and Janis Strauss (32)
Bonnie Valachovic '79 (32)
Robert Allen '82 and Donna Allen (31)
Audria Bock '69 and Peter Bock (31)
Priscilla Cronk '58 and Douglas Cronk (31)
Laura Iodice '84 and Michael Iodice (31)
Susan Kowalski '85 and William Kowalski III (31)
Armand LaPotin and Carolyn LaPotin (31)
Jeanette Matthews '77 and Robert Matthews (31)
Sanford Nagrotsky '77 and Andrea Slobodow Nagrotsky (31)
James Napier '75 and Mary Napier '75 (31)
Siobhan Sperin '79 (31)
Karen Brown '88 and Richard Brown '87 (30)
Elizabeth Condon '74 (30)
Yvonne Cummings '72 (30)
John Doherty '87 (30)
Amorette Fichtel '65 (30)
Douglas Geertgens '64 and Chris Geertgens '91 (30)
Constance Moseman '73 and Donald Moseman (30)
William Pietraface and Marjorie Pietraface (30)
Steven Smith '80 and Paula Smith (30)
Stuart Stein '64 (30)
Diane Williams '84 (30)
Marion Axhoj '60 and Peter Axhoj (29)
Cathie Ayres '74, '75 and J.Marshall Ayres (29)
Christopher Burr '83 (29)
Mary Cervenka '69 (29)
Linda Deasy '69 (29)
Karen Elting '84 (29)
Judith Gerthoffer '62 and Bernard Gerthoffer (29)
Leslie Greenbaum '68 and Judith Kerr (29)
Margaret Jones '70 and David Jones (29)
Robert Lawless '74 and Debra Lawless (29)
Betty MacLachlan '50 (29)
Kenneth Ricken '82 and Audrey Ricken (29)
Vivian Van Dyke '52 (29)
Eric Weinstock '78 and Ellen Weinstock (29)
A. Calvin Bush '73 and Sheila Bush (28)
Dale Capristo '76 (28)
MaryAnn Dowdell (28)
Frances Gailey Read (28)
Theresa Haner '71 and Thomas Haner (28)
Joann La Perla-Morales '68 and Rubil Morales (28)
Cathy McFadden '90, '93 and Joseph McFadden (28)
Lorraine Odenthal '77 and Mark Odenthal (28)
Beatrice Rohrmeier '54 and Anton Rohrmeier (28)
Gretchen Sorin '75 and Martin Sorin (28)
Ellen Blaisdell and Peter Exton (27)
Brenda Chapin-Strain (27)
Claire Chastaine '72 and Lyle Chastaine (27)
Eggleston Foundation (27)
Paul French (27)
Monica Grau '88 and F. William Grau Jr. '89 (27)
William Howell Jr. '75, '81 (27)
Michael Juzwak '80 (27)
Donna Lennane '74 and Thomas Lennane (27)
Alan Lewis '74 and Barbara Lewis '74, '77 (27)
Cynthia Magee (27)
Marjorie McMorris '62 (27)
Deborah O'Hare '78 and Jim O'Hare (27)
Catherine Raddatz and Donald Raddatz (27)
Norma Slawson '61 and William Slawson (27)
Denise Straut '90, '11 and Greg Straut (27)
Barry Warren and Kristine Warren (27)
Susan Zawyrucha '70 and Thomas Zawyrucha (27)
James Andrews '75 (26)
Andrew Bezek '77 (26)
Patricia Clemons '59 and Robert Clemons (26)
Arthur Dauria and Barbara Dauria (26)
Esther Fowlston '54, '68 and Richard Fowlston (26)
Rosalind Hewsenian '75 and Robert DiMarino (26)
Maureen Johnson '72, '76 and A. Ronald Johnson (26)
Mary Ann Komst '60 and John Komst (26)
Bernadette Langenstein '60 and William Langenstein (26)
Leona McKenzie '62 (26)
Arthur Merrill '72 and Patricia Merrill (26)
Patricia Murphy '71, '75 and Richard Murphy (26)
Keith Ruede '79 and Linda Ruede (26)
Esther Thomsen '66 and Edward Thomsen (26)
Carol Van Schaick '63 and Robert Van Schaick (26)
Jack Wells '75 and Louise Niemer (26)
Thomas Whittaker '72 and Victoria Whittaker '71 (26)
A. Lindsay & Olive B. O'Connor Foundation, Inc. (25)
Ann Anonymous (25)
Clifford Boucher '78 and Susan Boucher (25)
Nellie Bush '66 and Leonard Bush (25)
JoAnne Durnin '67 (25)
Arnold English '70 and Margret English '75 (25)
Robert Gaffney '60 and Patricia Gaffney (25)
Heather Gilkey '64 and Joseph Gilkey (25)
Timothy Koch '68 and Karen Koch (25)
Susan Obergefell '80 and Danny Obergefell (25)
Darwin Roosa '72, '78 (25)
Walter Ruehle '76 and Margaret Ruehle (25)
Daren Rylewicz '93 and Julie Rylewicz (25)
Laurie Trelease '76 and Tom Trelease (25)
Leif Birkeland Jr. '71 and Patricia Birkeland '71 (24)
Jennifer Bueche '83 (24)
John Carbonara '88 and Julie Carbonara (24)
Joseph Ciccone '69 (24)
Allison Flannery '71 and Michael Flannery (24)
Phyllis Macbeth '66 and Douglas Macbeth (24)
Dale Marsilio '82 and Frank Marsilio (24)
Ann McCarthy '56 (24)
Rita Pressman '75 and Edward Pressman (24)
Thomas Rathbone and Lola Rathbone (24)
George Scavella Jr. '82 and Jean Scavella (24)
Renee Shapiro '68 and Martin Shapiro (24)
Ellen Tarello '77 and Richard Tarello (24)
Maureen Artale '98 and Thomas Artale '95 (23)
Leah Broomhead '72 and John Broomhead (23)
Charlene Bulson '85 and James Spence (23)
Lee Christensen '78 and Bonnie Scott Christensen (23)
Katherine Delaney '63 (23)
Laurel Griffin '75 and Ronald Griffin (23)
Grace Markovits '65 (23)
Allison Myers '91 and James D. Myers (23)
Matthew Oveis '76 (23)
Ann Parks '71 (23)
Louise Plumb '68 and Bob Plumb (23)
Anthony Rella '73 (23)
Barbara Schoonmaker '62 (23)
Carolina Signorino '72, '77 and Michael Dziekan (23)
Nathan Trost '83 and Michelle Bogue-Trost (23)
Susan Allioux '74 and JeanClaude Allioux (22)
Daniel Bartholf '74 and Amy Bartholf (22)
Craig Becker '74 and Jill Becker (22)
Douglas Blake '91 and Karen Blake (22)
Thomas Brinthaupt '80 (22)
Deborah Burke '70 and Joseph Burke (22)
John Burkhart '68, '74 and Carol Burkhart '68, '73 (22)
Nora Clark '85 and Thomas Clark (22)
Susan Decker '69 and Edward Decker (22)
John Delehanty Jr. '75 and Wendy Delehanty '74 (22)
Richard Engelmann DPT '90 and Debra Engelmann '90 (22)
Gale Gilmartin '73 (22)
Jane Grastorf (22)
Gary Haddock '74 and Robin Haddock (22)
Wendy Heffer '72 (22)
Steven Maniscalco '96 and Patricia Maniscalco '95, '96 (22)
Catherine Nitschke '87 and Eric Nitschke Jr. (22)
Oneonta Auxiliary Services (22)
Alice Payton DVM (22)
Robert Place '75, '76 and Jean Place (22)
Kenneth Soeder '79 (22)
Elaine Stewart '69 (22)
The Clark Foundation (22)
Joseph Urell '66 (22)
Beverly Walker '61 (22)
Sven Anderson and Karen Anderson (21)
Jeramie Barber '00 (21)
Alan Bartunek '73 and Susan Bartunek (21)
Thomas Beal (21)
Karen Beam '91 and Steven Beam (21)
Mary Lynn Bensen '87 and Robert Bensen (21)
Cindy Bergman '82 and Alan Bergman (21)
John Blasch '88 and Kerry Blasch (21)
Frances Bliven '54, '61 (21)
Robert Burlison '64 (21)
Colleen Cashman (21)
Barbara Ciconte '71 and Tony Ciconte (21)
Robert Cohen '90 (21)
Robert Compton (21)
Robert Cook '72 and Katherine Cook (21)
Julie Freeman (21)
Susan Heiligman '76 (21)
Sharyn Helms '66 and Peter Helms (21)
Leslie Keers '75 (21)
Deborah Kilpatrick '01 (21)
Paula Leibovitz '77 and Peter Leibovitz (21)
A. Marie Loder '74 and Harold Loder (21)
Roberta McCormick '73 and James McCormick (21)
Daniel Moretti '81 and Mary Beth Moretti (21)
Gregory Neyhart '80 and Clara Neyhart (21)
Theresa Nicholson '84 and Jeff Nicholson (21)
Jill Schubert '90 and Jonathan Schubert (21)
Therese Shady '76 (21)
Paul Sieloff '79 and Kitty Sieloff (21)
Barbara Soldani '66 (21)
Jeanne Stalker '73 and Richard Stalker (21)
Nancy Thiel '77 (21)
John Topolewski '67 and Nancy Topolewski (21)
William Vining '81 and Kathy Tobiassen (21)
Robert Vitale '76 (21)
Timothy Brock Esq. '80 (20)
Janet Burrowes '76 (20)
Alan Chaskin '70 and Susan Chaskin (20)
Genevieve Chenette '73 and Stephen Chenette (20)
Kathryn Elcox '75 (20)
Cynthia Falk and Glenn Falk (20)
Roberta Fox '74 (20)
Betty Haas (20)
Roland Holstead '67 and Sharyn Holstead '67 (20)
Mark Kneifel '76 and Nancy Kneifel (20)
Henry Lubeck '72 and Dorothy Lubeck (20)
Ronald Millet '85 and Linda Millet (20)
Diana Moseman '96 (20)
Richard Myers '67 and Rebecca Myers (20)
Johna Peachin CPA '84 and Ron Peters (20)
Marian Pell '55 and William Pell III (20)
Theresa Russo (20)
Thomas Ryder and Linda Ryder (20)
Ralph Scalise '85 and Carol Scalise (20)
Deborah Sperano '95 and Jason Sperano (20)
Colleen Stone '93 and William Stone (20)
Margaret Crounse '57 and Peter Crounse (19)
Michael Dudish '94 and Donna Dudish (19)
Gail Fitzpatrick '65 and Michael Fitzpatrick (19)
Beth Godlin '80 (19)
Thomas Gray '92 and Laura Gray (19)
Debra Heidt-Dunwell '74, '79 (19)
Michelle Hendley and Matthew Hendley (19)
Christopher Long '72 and Mary Long '74 (19)
Mary Anne Lorenz '75, '80 and Stephen Lorenz (19)
Kathleen Meeker '78 (19)
Mark Morowitz CPA '75 and Janet Morowitz (19)
Maureen Pio '01 and David Pio '02 (19)
Matthew Reiss (19)
Beth Ruland '74 and Robin Ruland (19)
Joan Smith '72 (19)
Elaine Wier '70 and Larry Wier (19)
Jeffrey Andersen '76 and Maureen McCabe (18)
Scott Barton and Cynthia Barton (18)
Peter Carofano '05 and Ashley Marion-Carofano (18)
Susan Clemons '78 (18)
Amy Crouse-Powers and Jonathan Powers '01, '06 (18)
Dewar Foundation Inc. (18)
Richard Ellman '80 and Stephanie Ellman (18)
Timothy Hayes and Lindsay Hayes '01 (18)
Debra Heim '05 (18)
Michael Infurna '85 and Linda Pace Infurna (18)
Andrea LaMantia '75 (18)
Carolyn Patierno '82 (18)
Margaret Quinn '63 and Thomas Quinn (18)
Louis Shields '74 and Joanne Shields (18)
Alexander Thomas (18)
Mari Beth Turner '69 and Gregory W. Frank (18)
William Wilkerson (18)
Maxine Alberici '61 and Gino Alberici (17)
Gail Alcott '66 '73 and James Alcott (17)
John Barone RPA-C '79 and Rochelle Barone (17)
Carol Beaven '65 and Warren Beaven (17)
Nancy Bossong '73 and Kenneth Bossong (17)
Robert Brown '00, '02 (17)
Victor Conte '81 (17)
Alice Dolan '61 (17)
James Ebert and Nancy Elliott '95, '00 (17)
Kathryn Finin '85 (17)
James Graff '77 and Margaret Graff (17)
Carol Grzywinski Ph.D. '68 (17)
Theron Gunderman '64 and Lisa Gunderman (17)
Raymond Haimes '79 (17)
Mary Ann Hildebrandt '75 and Mark Hildebrandt (17)
Colleen Jansen '83 and Joseph Jansen (17)
Victor Klein '64 and Ann Klein (17)
Paul Leonard '78 and Susan Leonard (17)
Lorraine Malphurs '73 (17)
Girard Matthews '75 and Linda Matthews (17)
Carol Messick '69 and Carl Messick (17)
Ann Moran '64 and Matthew Moran (17)
JoAnne Murphy '86 (17)
Richard Okrasinski '71 and Linda Okrasinski (17)
Kristin Oppedisano '04 and Dominic Oppedisano '03 (17)
Nancy Rabolt '69 (17)
Ellen Root '77, '81 and William Root (17)
Sibyl Telfian '58 (17)
Judy Volkert '72 and Bradford Volkert (17)
Christine Warnquist '71 (17)
Mary Westermann '74 (17)
James Winters '75 (17)
Debra Ballentine (16)
Merilyn D'Errico '57 (16)
David Fisher '75 and Linda Fisher (16)
Steven Ginter '79 and Joann Ginter (16)
Grant Grastorf '83 (16)
Matthew Hendley and Michelle Hendley (16)
Janet Hofgren '62 (16)
Nancy Kidd '65 (16)
Richard Lee '80, '90 and Virginia Lee (16)
Barry Lenoble '86 and Lauren Lenoble (16)
James Mercante '88 and Kerri Obrien (16)
Eileen Morgan-Zayachek (16)
William O'Shea (16)
Helen Pearl '53 (16)
Anthony Randi DDS '78 and Ruth Randi DDS (16)
Tracey Ranieri and David Ranieri '82 (16)
Stephen Rice '67 and Marylisa Rice (16)
Joan Rolf '76 and Kurt Rolf DDS (16)
Sarah Schmitt (16)
Janet Sullivan '73 (16)
Thomas Tranfaglia Jr. '82 and Barbara Tranfaglia (16)
Diane Webster '72 (16)
Patricia Weyland '73 (16)
Terri Barbuti '74 and Charles Barbuti III (15)
Alice Carpenter '72 (15)
Richard Cleary '78 (15)
Elaine Downing (15)
Amanda Faulkner '97 (15)
Malcolm Field '81 (15)
Richard Golden '75 and Barbara Golden (15)
F. William Grau Jr. '89 and Monica Grau '88 (15)
Dorothy Johnson '56 and John Johnson (15)
Cheryl Jones-Holaday '77 and William Holaday (15)
Brigid Kinney '70 and Edmund Kinney (15)
Karen LaPlante '74 (15)
Anthony Marchese '72 and Enedelia Marchese (15)
Stan Nosek Jr. '69 and Julie Smith (15)
Roberta Perrone '84 (15)
David Petercsak '81 and Peggy Petercsak (15)
Joseph Smith '81 and Karen Smith (15)
Judith Sullivan '62 and Thomas Sullivan (15)
Michael Sullivan '00 and Rebecca Sullivan (15)
Steven Bailey USN(Ret.) '72 and Jane Bailey '72 (14)
Patricia Breslauer '70 (14)
Tina Dell '91 and Alex Dell (14)
James Gold '68 (14)
J Lentner (14)
Laura Lincoln and David Lincoln Jr. '95 (14)
Jean Lown '72 and William Dixon (14)
Alison Mazzie '74 and John Mazzie (14)
Karen Munson and Matthew Munson '04 (14)
Thomas Nabozny '76 and Roxanne Nabozny (14)
Charles Pilch Jr. '82 (14)
Thomas Pizza '72 (14)
Michael Rhodes-Devey '80 (14)
Gayle Rubenstein '70 (14)
Beatrice Schildt '55 and Henry Schildt (14)
E. Christine Schuler-Ghiorse (14)
The Perna-Rose Foundation for Hope (14)
Robert Wallace '84 and Joan Wallace (14)
Judith Albright '60 and Jerry Albright (13)
Carol Britt '60 and Robert Britt (13)
Carolyn Cacciato '79 (13)
Andrea Casper '75 (13)
David Cohen '70 (13)
Cooperstown Graduate Association (13)
Catherine Ellsworth (13)
Mark English '08 and Robin English (13)
Donald Fangboner '83 (13)
Fidelity Charitable Gift Fund (13)
Diane Georgeson MD (13)
Dawn Hamlin (13)
Sallie Han (13)
Richard Hummel Sr. '74 and Kathy Hummel (13)
Brian Jester (13)
Loralee Kinsel '67 and John Kinsel (13)
Michael Koch (13)
Marlene Lentz '79 (13)
Robert Locastro '78 and Joan Locastro '79 (13)
Brian Lowe and Elaine Lowe (13)
Arlene Lynch '62 (13)
Mark Marotta '80 and Diane Marotta (13)
Jacquelyn McGuire '82, '91, '92 and Terence McGuire (13)
James Mills and Susan Ryder (13)
Oscar Oberkircher and Janet Oberkircher (13)
Glenn Pichardo '02 (13)
Karen Rowe '78 and Tom Rowe (13)
Claire Sullivan '64 (13)
Jan Waterbury '73, '76 (13)
Doris Wiebel Moore '65 (13)
James Berger '91 (12)
Jerrold Bermingham '83 and Mary Bermingham (12)
Elisabeth Caldwell '09 (12)
Charlene Christie and Diana Moller '12 (12)
Joel Coulson (12)
Julia Galusha '71, '75G (12)
Harvey Goldstein '77 and Lori Goldstein '78 (12)
Barbara Haynes '70 and John Haynes (12)
John Henaghan '80 and Sharon Henaghan '80 (12)
Ellen Jennings '68 and William Jennings (12)
Robert Martin '74 and Norma Martin (12)
Fay McDonald '61 and Richard McDonald (12)
Kathleen O'Shea '83 (12)
Emanuel Pelligra '73 and Patricia Carey-Pelligra '71 (12)
Amy Posner '76 (12)
Barbara Redmond '68 and Douglas Redmond (12)
Elaine Rosenthal '73 (12)
Michael Stanley USAF (Ret.) '75 (12)
Harry Stenzhorn '69 and Catherine Stenzhorn (12)
Steven Tyrrell '80 and Connie Tyrrell (12)
Stephanie Zaczek '02 (12)
Margaret Anderson '63 and Donald Anderson (11)
Nancy Behrns '75 and Gary Behrns (11)
Carol Burkhart '68, '73 and John Burkhart '68, '74 (11)
Mitchell Cagner '86 and Lynn Horn (11)
Teri Cohen and Douglas Cohen (11)
Marsha Cowan '70 and Timothy Cowan (11)
James Eberhardt '76 and Mary Eberhardt (11)
Lisa Flynn (11)
William Forlani '68 (11)
Kathleen Haddad '75 (11)
Kenneth Haymes PhD '88 and Snezana Haymes (11)
Michael Holober '79 and Melissa Hall (11)
Elisabeth Kfoury CPA '85 and Robert Kfoury (11)
Deborah Kimaid '73 and Paul Kimaid (11)
Mary MacNaught '80, '85 (11)
Richard Marchant '54 (11)
Virginia Matthews '65 (11)
Carol McHugh '76 (11)
Margo McKenna '72 and Art McKenna (11)
Christine Mottl '71 and Paul Mottl (11)
Network for Good (11)
Peter Radloff '98 (11)
James Sanders '78 and Holly Bussey (11)
Jeanmarie Silsbe '82 and Robert Silsbe (11)
Flora Tefoe '66 and Daniel Tefoe (11)
The Harry Zaifert Rose Zaifert Foundation (11)
Tracy Toepfer '82 (11)
Jonathan Treible '70 and Ann Loretan (11)
Michael Tronolone Sr. '69 (11)
Benjamin Wendrow '08 and Karyn Wendrow '09 (11)
Gregory Aidala '72 and Judith Aidala '73 (10)
Ashley Family Foundation (10)
Kathleen Beck '75 (10)
George Boziwick '76 and Stephanie Doba (10)
Richard Cardone '83 and Donna Cardone (10)
Andrew Carrozza '85 (10)
James Chastek '74 and Marilyn Chastek (10)
Michael Chechanover '79 and Merri Chechanover (10)
Neil Chippendale '70 and Julie Chippendale (10)
Anne Collins '75 and Daniel Collins (10)
Corning Incorporated Foundation (10)
Bonnie Crystall '82 (10)
Laura Dietrich '71 (10)
Mary Donovan '65 (10)
Victoria DuBois (10)
Christine Ferris '74 and Thomas Ferris (10)
P. Jay Fleisher (10)
Bernard Gallagher '07 (10)
Barbara Godleski '60 and Vincent Godleski (10)
Nancy Hawes '90 (10)
Mark Herzberg '67 and Gay Herzberg (10)
John Iannotti '76 (10)
Grace Iannuccilli '75 and Patrick Iannuccilli (10)
Diana Kasper '78 and Richard Kasper (10)
Robert Klein '72 and Anne Hutter (10)
Karen Knauf '81 and Thomas Knauf (10)
Jennifer Leonard '96 (10)
Kenneth Lindenbaum '84 (10)
Christine Logar '84, '86 (10)
Gwen Lubey '79 (10)
Virginia Maddock '73 and Philip Kann (10)
Kathleen Maizel '73 and Scott Maizel M.D. (10)
Helene Manning '60 and Donald Manning (10)
Ron Marino '85 and Laura Marino (10)
Shannon Marlow-McCowin '13, '20 and Jarvis Marlow-McCowin (10)
Nancy Matta '77 (10)
Patrick McCann '75 and Linda McCann '76 (10)
Laurie Mituniewicz '78 and Robert Mituniewicz (10)
Richard Morrison '79 and Donna Morrison (10)
Linda Murphy '79 and Paul Prostowich (10)
Kim Nostrom (10)
Brad Osness '80 (10)
Katharine Paranya and Spike Paranya (10)
Debra Parisian '82 and Sid Parisian (10)
Kathleen Race '73 (10)
Christine Reynolds '91 and William Reynolds (10)
Marcia Snyder '55 (10)
Carol Stafford '72 (10)
Gail Sunray '65 (10)
Diane Terry '84 and Walter Terry III (10)
The New York Community Trust (10)
Paula Trask (10)
Judith Wilcox '69 (10)
Michael Williams CPA '88 and Amy Williams (10)
Chester Zygmunt '74 and Patty Christiansen (10)
Kyle Abourizk '08 and Michael Abourizk (9)
Stewart Abowitz '77 and Nadine Abowitz (9)
Kathryn Allen (9)
Barbara Anderson Holzkamp '63 and William Holzkamp (9)
Benevity Community Impact Fund (9)
Holly Bisselle '58 (9)
David Childs Jr. '65 (9)
Joan Cioffi '64 (9)
Eric Cohen '93 (9)
Janice Daum '78 and David Daum (9)
Bobbye Dickerson '69 (9)
Ruth Ehrets '93 (9)
Lori Gaziano '85 (9)
Leonard Gereau '59 and Betty Gereau (9)
Jeffrey Glass '75 and Kathleen Glass '75 (9)
Judith Heylmun '76 (9)
Virginia Hillman '86 (9)
Jane Hoffman '82 and Thom Hoffman (9)
Susan Jennings and Harley Clark II (9)
Nels Kauppila '79 and Pamela Kauppila (9)
Susanne Kleeman '63 (9)
Grace Larkin '67 (9)
Peter Lund, Jr. '73 and Donna Nidds '73 (9)
Darrin Lyons '90 and Lynette Lyons '90 (9)
Jean Madsen '74 and Roy Madsen (9)
Gary Malone '74 and Kathleen Malone (9)
Karen Maxim '78 and Stephen Maxim (9)
Neil Mazzella '73 (9)
Kathleen McCarthy '73 and Thomas Burns (9)
Irene Parish '75 and John Parish (9)
Lynda Pisano '75 and Ronald Pisano '76 (9)
Jason Pomeroy '09 and Lisa Pomeroy '08, '12 (9)
Brenda Reigle '83 (9)
Esther Reynolds '73 (9)
Richard Reynolds '72 and Joanne Reynolds (9)
Mary Ricciuti '73 and Edward Ricciuti (9)
Duane Ritter (9)
Jennifer Scanlon '80 and Michael Arthur (9)
Paul Schrot '94 and Mary Schrot '92 (9)
Schwab Charitable Fund (9)
John Scialdone '82 and Migdalia Scialdone (9)
Edward Stack and Christina Stack (9)
Ruth Stall '66 and Max Stall (9)
Bette Stark Harrold '77 (9)
Keith Stewart '73 and Andrea Stewart (9)
Joseph Stilwell '74 and Carolyn Stilwell (9)
Bruce Stuart '79 (9)
Rita Tomkins '80 and Lee Tomkins (9)
Colleen Tuomey '78 and T. Douglas Tuomey (9)
Andrew Turner '11 (9)
Karyn Wendrow '09 and Benjamin Wendrow '08 (9)
Peter Weppler '89 and Rosemary Weppler (9)
Sandra Williamson '73 and Ervin Williamson (9)
Lara Woods (9)
Alan Zimmerman '95 (9)
Stephanie Bauer '13 (8)
Elizabeth Boults '81 and Charles Sullivan (8)
Andrew Brandt '97 (8)
James Bridger '69 and Janice Bridger (8)
Meryl Brodsky '86 and David Sing PhD (8)
James Brown '71 (8)
Claudia Carman '61 (8)
Casella Waste Systems, Inc. (8)
Robert Crandall '74 (8)
Caroline D'Antonio '67 (8)
Dean Davis '84 and John Argueso (8)
Kevin Denning '76 (8)
Carol Denson '64 (8)
Kathryn Doyle '75 and David Doyle (8)
Remi Farnan '15 (8)
Eileen Fedele '73 and Thomas Fedele (8)
David Feinblatt '85 and Debora Feinblatt (8)
Feldman Designs, LLC (8)
Charles Gaynor II '72 and Faith Gaynor (8)
Susan Giardina '63 and Ralph Giardina (8)
Rosalie Gibbon '62 and Gary Gibbon (8)
Victoria Graffeo '74 (8)
Debra Hall '74 (8)
Paul Hochuli '78 and Rebecca Hochuli '76 (8)
Helen Hoering '68 and Rudolf Hoering (8)
Alison James and David James (8)
Donna Kardon '66 (8)
Janet Kay '72 and Bruce Kay (8)
Monica Keith (8)
John Krakowski '76 (8)
Paul Lanspery '69 and Karen Lanspery (8)
Joseph Laurenzo '74 and Constance Laurenzo (8)
Beverly Lemmon '03 and Daniel Lemmon (8)
Carol Lichtenbaum '79 and Bob Portner (8)
Joanne Magowan '73 (8)
Susan Mallette '79 (8)
Joseph Martin '81 (8)
Sheila McGinn '87 and Jeffrey Johnston (8)
Joel Mercer '85 and Beth Waters Mercer (8)
Vicki Noble '87 and Alan Noble (8)
Kristine Pace '87 and Richard Pace (8)
Rory Parness '86 and Marcia Parness (8)
Janet Perna '70 and Melanie Rose (8)
Audrey Porsche and Brian Alexander (8)
Margaret Prater '74 (8)
Catherine Pulvermiller '76 and James Pulvermiller (8)
Marsha Ras '69 (8)
Naomi Rose '52 (8)
Susan Schoenberg '77 (8)
Deanna Side '66 (8)
Michael Sodomora '08 (8)
Joanne Soued '71 and Frederick Soued (8)
Sally Stapley '76 (8)
Paula Stawarz '72 (8)
Stewart's/Dake Family (8)
Sally Tanzer (8)
Joan Thalasinos '75 (8)
Michelle Thibault and Robb Thibault (8)
Alice Tucker '85 and Stephen Tucker (8)
U.S. Charitable Gift Trust (8)
John Vazquez and Cathy Vazquez '93 (8)
Mary Williams '57 and Robert Williams (8)
Carol Wuebker '79 (8)
William Adam II '71, '73 (7)
Kathleen Armstrong '85 (7)
Lois Baldwin '80 (7)
Erica Beams '07 and Joshua Beams '05 (7)
Christopher Bell '81 (7)
Christine Bellinger (7)
Ronald Bishop (7)
Mary Bonen Perrygo '65 and Robert Perrygo (7)
Francine Bosch '73 and William Bosch (7)
Ashley Bowden '13 (7)
Frederick Bubeck and Lynette Bubeck (7)
K. Wayne Bunn (7)
Richard Candee '65 (7)
Verna Marie Chiarello '71 (7)
Dan Christman '98 and Kymberly Christman (7)
Carol Civitella '64 and Thomas Civitella (7)
Christine Clist '72 and W Mark Clist (7)
Dennis Coon '72 (7)
David Cooper '66 and Donna Cooper (7)
Jesse Cosser '11 and Darah Wright MD (7)
Gordon Costa '70 (7)
Connie Cox (7)
Adrienne De Feis '59 and Robert DeFeis (7)
Robert Dervay '77 and Karen Dervay (7)
Carol Dingman '83 (7)
Eleanor Faye '65 (7)
Dorothy Fiedler '77 and Daniel Creighton (7)
Sandra Foley '70 and James Foley (7)
John Friedman '75 and Mary Friedman (7)
Gregory Fulkerson (7)
Rana Gerson '70 (7)
Elizabeth Gifford '74 (7)
Nancy Harris '75 (7)
Suzanne Holwitt '67 (7)
Donna Johnson '86 and Dennis Johnson '78 (7)
Richard Keitel '83 and Dr. Beth Roark (7)
Shannon Kendrick '83 and Kevin Kendrick '87 (7)
Cecelia Leary '63 (7)
Elizabeth Leckie '83 and J.Geoffrey Leckie (7)
Florence Loomis '69 (7)
Andrew Lubash '84 and Sharon Lederman Lubash (7)
Amy Malagamba '86 and Neal Malagamba (7)
Geraldine McFarland '52 (7)
Patricia Montague '84 (7)
Joanne Murray '83 (7)
William Neubeck '76 (7)
Patricia M. and H. William Smith, Jr. Foundation (7)
Stephanie Peguillan '15 (7)
George Raneri '62 (7)
Joseph Ranieri '60 and Pearl Ranieri (7)
Florence Rebovich '56 and Joseph Rebovich (7)
David Robinson '83 (7)
Donna Rocks '81 and Timothy Rocks (7)
Amy Rubinger '83 and David Lynd (7)
Sharon Statter '79 (7)
John Storer '60 and Joan Storer (7)
Andrew Stupperich (7)
Molly Swain '74 (7)
Barbara Sweeney '69 and Walter Sweeney (7)
Christina Tardy '75 and Charles Tardy (7)
Ellen Teller '78 and Martin Kanovsky (7)
The Chance Imperato Foundation, Inc. (7)
Robert Waite '72 and Katrin Waite (7)
Gloria Waro '95 and Mark Waro (7)
Willies Family Foundation (7)
Wayne Wright '69, '73 (7)
Vincent Young Jr. '80 and Ellen Young (7)
Taylor Zelka '15 (7)
James Zians (7)
Tracy Allen and Melissa Allen (6)
Sandra Andrews '74 and Mark Andrews (6)
Dodie Antal '81 and Mark Antal (6)
Gretel Bachler '65 and Frank Bachler (6)
Earl Barker '84 (6)
Jeffrey Barnett '79 and Stephanie Barnett (6)
Robert Baroni Jr. '74 and Barbara Baroni '74 (6)
Wendy Bennett '92 and Christopher Bennett (6)
Joyce Bohl '80 and Ric Bohl (6)
Mary Bonner '69 and Richard Bonner (6)
Monica Brock '81 (6)
James Broe and Joyce Broe (6)
Gail Bucolo '76 (6)
Sylvia Carey-Butler '80 and Paul Butler (6)
Jo-Ann Carhart '75 (6)
Frank Carione '67 (6)
Jennifer Cohen '84 (6)
Jared Cooper '57 (6)
William Davis (6)
Craig Dingler '78 and Mary Dingler (6)
Gregory DiSanto '80 and Carol DiSanto '80 (6)
Robert Engel '73 (6)
Douglas Feffer '84 and Dotti Feffer (6)
Maryann Foley '75 (6)
Diana Friedell '78 and Benjamin Friedell (6)
Mary Furman '72 (6)
John Fusco '72 (6)
James Gallagher '84 and Marie Gallagher (6)
Rose Garti-Kerr '69 and William Kerr (6)
Bruce Goldhirsch '74 and Cheryl Goldhirsch (6)
Susan Goodier (6)
Victoria Graham '76 (6)
Jo Ann Gray '62 (6)
Mary Griffin '92 and James Griffin '91, '95 (6)
Arthur Groves '65 and M. Jane Groves '69 (6)
Jonathan Hahn '90 (6)
Kevin Hannigan '83 (6)
Jessica Harney '03 and David Harney (6)
AnneMarie Haumesser '12 and Luke Haumesser (6)
Hilarie Hicks '89, '90 (6)
Ruth Hurd '74, '78 (6)
Linda Jenkins '71 and Timothy Jenkins (6)
Joel Kabakoff '76 and Alise Kabakoff (6)
John Kaplan '83 (6)
Lisa Keaney and Kenneth Keaney (6)
Carol Kilgallin '76 and Kevin Kilgallin (6)
Kathleen Kinslow '77 (6)
Charlotte Klages '51 (6)
Priscilla Kremer '76 and William Kremer '78 (6)
Carol Lacy '75 and Thomas Lacy (6)
Margaret LaFarr '89 (6)
Susan Lang '73 and Kenneth Lang '73 (6)
Steven Lanza '73 and Eileen Lanza '73 (6)
Michele LaRusso '14 (6)
Wendy Lascell '97 and Ian Lascell (6)
Elizabeth Lewis '88, '93 (6)
Amanda Lowe '12 and Paul Eyring (6)
Richard Lumia '72 and Deborah Lumia (6)
Richard Marini '77 (6)
Harry Matthews '74 (6)
Audra McCormack '02 and Brian McCormack '03 (6)
Drew McKay '05 and Erin McKay (6)
Marie Militano '14 (6)
Jill Mirabito and James Mirabito (6)
Robert Miraldi '72 and Mary Miraldi (6)
Diana Moller '12 and Charlene Christie (6)
Maria Montoya (6)
Kevin Murray '75 and Dawn Murray '77 (6)
Anthony Nichols '15 (6)
David North '74 (6)
Judith A. Pachter (6)
Cheryl Peeters (6)
Sara Pickett '79 and Steven Pickett (6)
Nancy Pierce '77 and Joseph Igoe (6)
Edward Pixley (6)
Patricia Randall '79 and Mark Randall (6)
Beverly Reed '54, '67G (6)
Diana Regan '73 and Richard Yancey (6)
William Riecker '72 and Barbara Riecker '73 (6)
Stacy Robinson (6)
Richard Rode '82 (6)
David Rowley '78 and Gail Rowley (6)
Doris Roy '63 and George Roy (6)
Glenn Schafer '78 and Mary Schafer (6)
Elizabeth Schultz '07 (6)
Howard Schwartz '78 and Paulette Schwartz (6)
Todd Scott '74 (6)
Adam Shapiro '12 and Emma Shapiro (6)
Tracy Sioussat and Mark Cardono (6)
Leonard Sisti '81 and Genie Sisti (6)
Kerin Stagnitta '85 (6)
Sheila Striffler '72 and Robert Striffler '72 (6)
Loraine Tyler '69 and Richard Tyler '74 (6)
Margot Vagliardo '74 and James Vagliardo '75 (6)
Mark Ventrone Esq. '79 and Karen Phillips (6)
Sydney Waller (6)
Stephen Walsh '79 and Marianne Robb (6)
Eileen Whalen '79 (6)
Peter Yetman '80 and Barbara Yetman (6)
Lorraine Zimniewicz '69, '74 (6)
Nicole Albanese '00 and Paul Albanese '00 (5)
Jacqueline Allen '76 (5)
Frances Althiser and Mark Althiser (5)
Edward Aluck '95 and Sarah Aluck (5)
Anonymous (5)
Brendan Aucoin (5)
Dan Baldo '62 and Gwendolyn Baldo '63 (5)
Michaela Bargher '15 and Patrick Bargher (5)
Christopher Bartkowski '76 and Mary Bartkowski (5)
Samuel Beaulac '18 (5)
Janice Berntson '73 (5)
Carol Bettiol '57 (5)
James Bishopp '77 and Anne Marie Bishopp (5)
Jean Bolen '68, '74 and Roger Bolen (5)
Stanley Braja Jr. '74 (5)
Paula Braun '71 and James Braun Jr. (5)
Jacinta Brennan (5)
Elizabeth Brower '68 and George Brower '73 (5)
Colleen Burch Johnson '77 and Reid Johnson (5)
Lynn Burke '75 and Terrence Burke (5)
Maryellen Canuel '82 and Anthony Canuel (5)
Eva Caruso '65 and Andrew Caruso (5)
Thomas Cesare '76 and Sharon Cesare (5)
Lauren Cherchia '83 and Michael Cherchia '82 (5)
Noel Chernosky '70 and Iris Chernosky (5)
Benjamin Cherry (5)
Laura Child '77 and Steven Child '77 (5)
Joseph Ciccone '78 and Angela Ciccone (5)
Linda Ciota '87 and Robert Ciota (5)
Rocco Cirigliano '75 and Susan Cirigliano '75 (5)
Peter Clark '69 and Vivienne Clark (5)
Nancy Clickman and Charles Clickman (5)
Jeffrey Cohen '85 and Betsy Cohen (5)
Joel Cohen '79 (5)
Community Bank, N.A. (5)
Susan Crews '78 and William Crews (5)
Sara Curran-Headley (5)
David Daly '72 (5)
Sean Daly '11 (5)
Elaine Dashew '72 and Jeffrey Dashew '71 (5)
Gary Davis '70 and Gail Davis (5)
Christy Deitchman '91 and Jay Deitchman '89, '93 (5)
Stephen DiNovis '75 and Ann DiNovis (5)
Cathryn Dupuree '07 and Rich Eyring '07 (5)
Joanne Dwyer '75 (5)
Ruth Ehlers '62 (5)
Lee Ferrara '00 and Melanie Ferrara '01, '03 (5)
Kathleen Finch '70 and Robert Finch (5)
James Garlock '72 (5)
Marc Gelbman '83 and Ellen Gelbman (5)
Russell Green '73 and Diane Green (5)
Florence Grill '57 (5)
John Haley '77 and Lynn Haley (5)
Virginia Hassel '78 and James Hassel '78 (5)
Ira Hilf '79 and Katharine Hilf (5)
Placido Impollonia '72 and Victoria Impollonia (5)
N. Mary Jane Jones '62 (5)
Sally Jozwiak '82 and Mark Jozwiak (5)
Christina Karaim '71 and Eugene Karaim (5)
Lynne Kelly '76 and Kurt Suydam (5)
Barbara Kilburn '78 and Lance Kilburn '78 (5)
Jennifer Kilpatrick '07 (5)
Mary Ann King USN(Ret.) '73 and Jack King (5)
Kpoti Kitissou (5)
Catherine Krylowicz '71 (5)
John Laffin '76 (5)
Nicole LaRusso '14 (5)
Christine Lawson (5)
Carole Leahy '83 (5)
Katherine Leonard '72 (5)
Anthony LePore '85 and Linda LePore (5)
Louis Lipnickey (5)
Lisa LoCurto '83 (5)
Kathleen Loizides '69 and George Loizides '69 (5)
Sharon Maggiore '75, '77 (5)
Barbara Mann (5)
Martha Mayer (5)
Amy McCarthy '93 and John McCarthy '88, '91 (5)
Eileen McGill '73 (5)
Michael McGinniss '84 and Deborah McGinniss (5)
Dean McGowan '09 (5)
Eileen McQueeney '95 (5)
Laura Milewczik '88 (5)
Joan Monser Williams '69 (5)
Kermit Mott Jr. '71 and Linda Mott (5)
James Mullen (5)
David Nemiroff '92 (5)
Erin Nicolai '17 (5)
Jean Norris '84, '88 and Gregg Norris (5)
Arlene O'Brien '63 (5)
Bonnie Persico '74 and Salvatore Persico (5)
Frances Phillips '70 (5)
Kelly Pinter (5)
Julianne Piscitello and Joe Piscitello (5)
Patricia Quilliam '79 and Gary Quilliam (5)
Alice Quinn '83 and Colin Quinn (5)
Robert Rau '70 and Susan Rau (5)
Debra Reid '87 (5)
Susan Roberts '68 and Chris Roberts (5)
Ruby Rogers '72 (5)
James Rowland '00 and Jennifer Rowland (5)
Andrew Ruffino '03, '07 and Lorraine Ruffino (5)
Patricia Ryan '86 and Bill Ryan (5)
William Sacco '11 (5)
Sallye Sadlocha '94 and Christopher Sadlocha '82 (5)
Barbara Schue '64 and Howard Schue (5)
Joyce Shafer '60 and David Shafer '59 (5)
Sean Shannon '89 (5)
Colleen Shea '81 (5)
Kathleen Sherry (5)
Donald Slick '77 (5)
Charles Smith '75 (5)
Margaret Smith '72 and Ralph Smith (5)
Sharon Sobel '13 (5)
Elaine Sperbeck '71 (5)
Andrew Stammel (5)
Philip Steinbach '79 (5)
Ruth Stokes '73 and W. Stokes (5)
Sarah Summers '11 (5)
Robert Sutherland '77 and Donna Sutherland '76 (5)
Kevin Sutton '16 (5)
Andrew Tallis Esq. '81 and David Rosenberg (5)
Ellen Tasovac '74, '97 (5)
Julia Thurm '81 and Thomas Hatcher (5)
Steven Touger '72 and Gloria Touger (5)
Diane Truesdell '95, '00 and Mark Truesdell (5)
Vanguard Charitable (5)
Albert Virgo '84 and Patricia Virgo '86 (5)
William Walker and Kristin Walker (5)
Kathleen Walsh '80 (5)
Betty Wambui (5)
Edward Weiner '78 and Susan Weiner '81 (5)
Kevin Weldon '83 (5)
Christopher Whiteman '72 (5)
Gary Wickham (5)
Margherita Wischerth '83 and Jeffrey Wischerth (5)
Catherine Zusy '85 and Samuel Kendall (5)
Kimberly Adler '04 (4)
James Alexander '95, '98 and Kristin Alexander (4)
Sharon Almstead '71 (4)
Steven Altabef '79 (4)
Nancy Altman '69 and Browne Altman (4)
AmazonSmile Foundation (4)
Anonymous (4)
Anonymous (4)
Frances Aptakin '63 (4)
JoAnne Bachor '75 and Thomas Bachor (4)
Cheryl Baggetta '71 and Dominick Baggetta (4)
Brenda Balcom '04 (4)
Carol Barnes '73, '93 and Jeffrey Barnes (4)
Sandra Baron '68 and Kenneth Baron (4)
Jeffrey Battistoni (4)
Linda Bertrand '71 and Ray Bertrand (4)
Geraldine Biederman '69 and Vern Biederman (4)
Jeffrey Bienstock '93 and Wendy Bienstock '93 (4)
Ruth Blue '70 (4)
Peter Boccagna '76 (4)
Charles Bollinger III '01 and Amanda Bollinger (4)
Helen Bollwerk '72 and George Bollwerk III (4)
Bonnie Boylan '80 and Brian Boylan (4)
John Braunlein '81 (4)
Brenda Brooks (4)
Maria Burgio '73 and Dmitri Wolkoff (4)
Barbara Byam (4)
Lorraine Bythewood '57 (4)
Susan Carleton '73 and Richard Carleton '72 (4)
Vincenza Cartner '79 and Kevin Cartner '79 (4)
George Casey '85 and Dorothea Casey (4)
Maureen Cashman (4)
Richard Choppa '83 and Caroline Choppa (4)
Lynne Clough '69 and Paul Clough (4)
Robin Collins '79 (4)
Owen Conklin (4)
James Constantine '64 and Carol Constantine (4)
Angela Covert (4)
Mary Curtis '87 and David Curtis (4)
Ronald Danforth '70 (4)
Rise Daniels '71 (4)
Marie Davide '62 and Jerry Davide (4)
Claudia Dean '82 and Mark Haskins (4)
Ellen DeSimone '58 (4)
Linda DeWitt '68 and Gerald DeWitt (4)
Rob Diedrich '79 and Mary Ann Dyka (4)
Dorothy Dienst '68 (4)
William Doherty '91 (4)
Nancy Donato '80 and Brian Simcox (4)
Catherine Donohue '85 and Gerard Donohue (4)
Judith Dourney '64 (4)
Debra Dutcher '84 and Douglas Dutcher '75 (4)
Greg Eaton '17 (4)
Timothy Egan '88 and Joyce Egan '87 (4)
Susan Eleuterio '83 (4)
Karen Engels '76 and Roy Engels '75 (4)
Hertha Essman '66 (4)
Mary Fahey '79 and Robert Washenko '79 (4)
Linda Fear '72 and Don Fear (4)
Karen Feess '69 and Marty Feess (4)
Kathryn Fisher '70 and Melbourne Fisher (4)
Kathleen Forbes '96 and David Forbes '67, '96 (4)
Clare Forseth '71 and Kenneth Forseth (4)
Kathryn Franco '67, '82 (4)
Douglas Frank '72 (4)
W. Lance Frisinger '72 and Janet Frisinger (4)
Beatrice Furner '60 (4)
Kevin Gallagher '71 and Linda Gallagher (4)
Carla Gantner (4)
Donna Giannetti '79 and Fred Giannetti (4)
Henry Goetze '75 and Nancy Goetze (4)
Mary Grasso '86 and Joseph Grasso (4)
Warren Gray '58 and Bonnie Gray (4)
Jaime Green '98 and Lonnie Green '99 (4)
David Gregory '78 (4)
Kathleen Grill '82 and John Grill '82 (4)
Robert Gulotty Jr. '79 (4)
Mary Hackett Bailey '67 (4)
Marian Hamlin '54 (4)
Michelle Hansen (4)
Matthew Harrington '08 (4)
Valerie Harris and Blair Harris (4)
Norma Lee Havens '73 and John Havens (4)
Susan Healey '70 and John Healey (4)
Tanya Henderson '10 (4)
Nellie Hernigle '55 and John Hernigle (4)
Carolyn Hoag '63 and David Hoag (4)
Christopher Hoffmann '78 and Michelle Hoffmann '74 (4)
William Holland '65 and Joyce Holland (4)
Susan Holley '63 and James Holley (4)
Linda Horn '71 and Ronald Horn (4)
George Hovis (4)
David Hunt '87 (4)
Phyllis Huntley '53 (4)
Andrea Hyary '79 and Rami Hyary (4)
Patricia Iannuzzi '83 and Joel Iannuzzi (4)
Linda Iwanow '70 (4)
Kathleen Janssen '88 (4)
John Jarvis '67 and Pamela Kostbar-Jarvis '78, '82 (4)
Noele Jencarelli (4)
Jillco-Zander Charitable Lead Trust (4)
Christopher Johnson '09 (4)
Shahin Kachwala (4)
Lori Kanowitz '80 and Robert Kanowitz (4)
Lucy Kelly '69 and David Kelly (4)
Joan Kernan '75 and David Kernan (4)
Achim Koeddermann (4)
Gerda Krogslund '73 and Charles Krogslund (4)
Patricia Kunkel '68 (4)
Jean Kunzelman '77 (4)
Michael Lambiaso '67, '71 and Joan Lambiaso '77, '78 (4)
Pathy Leiva '18 (4)
Kristin Lenihan '10 (4)
Patricia Leo '75 (4)
Harry Levine and Ellen Levine (4)
Marion Levins '67 (4)
Charlotte Lichtenberg '60 (4)
Britney Liddell '08 (4)
Linda Longe '86, '91 (4)
Marilyn Lopez '71 and Glenn Lopez (4)
Jeffrey Love '10 (4)
Michael Lowenski '09 (4)
Vincent Luisi '76 (4)
James Macumber '71 and Patricia Macumber (4)
Alice Maggiore '10 (4)
Emily Maggiore '14 (4)
Beverly Maine '50 (4)
Jacqueline Maltzan '56 (4)
Andrew Marino '75 and June Marino '75 (4)
Marx Family Foundation (4)
Marla Mastin '63 and George Mastin (4)
Lawrence Masullo '85 and Diane Masullo (4)
Raymond Matusiak '71 (4)
Trisha Matz and Christopher Matz (4)
Joseph McBride '80 and Lou Ann McBride (4)
Genevieve McKee '60 (4)
Patricia Meli '75 and William Meli (4)
Elizabeth Meskill '74 (4)
Elizabeth Miller (4)
Elizabeth Miller (4)
Kevin Miller (4)
Robert Miller '88, '96 (4)
Karen Moculeski '75 and Stanley Moculeski (4)
John Mryglot '11 (4)
Leland Muller '16 (4)
Anna Murrell '46 (4)
Peter Muth '88 (4)
Melissa Ng '11 (4)
Cynthia Northrop '11 and Russell Northrop (4)
Patricia O'Dell (4)
Frank Oliva '70 and Lucy Oliva (4)
Michael Orlando and Amber Orlando (4)
Carole Ostrander '93, '06 (4)
James O'Toole '66 and Lana O'Toole '66 (4)
John Ott '75 and Lilian Ott '75 (4)
Mary Ellen Pantaleo '71 and Joseph Pantaleo '70 (4)
Judith Parker '61 (4)
Raybert Patterson '70 and Barbara Patterson (4)
Sarah Patterson '74 and Paul Patterson '72 (4)
David Paul '74 (4)
James Pear '77 and Kathleen Pear (4)
Mary Jo Peters '61 (4)
Laurie Priest '67 and David Priest (4)
Sharon Priester '63 and David Priester (4)
Douglas Propfe '70 and Sylvia Propfe '70 (4)
Vincent Racaniello '82 and Lori Racaniello '83 (4)
Catherine Reinertsen '79 and Richard Reinertsen (4)
Markella Roma and Mauricio Roma-Hernandez (4)
Andrea Ronovech '89, '93 and Victor Ronovech (4)
Ariel Rosero '14 (4)
Robert Russell '62 and Sandra Russell '63 (4)
Andrea Salazar '15 (4)
Russell Sanaeko '73 and Judy Sanaeko (4)
Richard Sano '61 (4)
Lutfus Sayeed Ph.D. '82 (4)
Linda Scarantino '77 and Charles Scarantino (4)
Edward Schlissel '64 and Patricia Schlissel '66 (4)
William Schneider '72 and Kathryn Schneider (4)
Geraldine Schwartzer '72 and Lenny Schwartzer (4)
Mary Jane Schwebel '64 (4)
John Seaton '67 and Mary Seaton (4)
Laurence Shaffer '75 (4)
James Sheehan '61 and Joan Sheehan '61 (4)
Barbara Sherman '61 (4)
Therese Silva '68 (4)
Steven Silverman '89 and Barbara Silverman (4)
George Silvernell Esq. (4)
Deborah Skivington '72 and Kevin Skivington '70 (4)
Judith Smith '66 and Douglas Smith (4)
Clifford Snyder '65, '73 and Kay Snyder (4)
Frederick Soued and Joanne Soued '71 (4)
Lachlan Squair (4)
Bonnie Stalzer '68 and Henry Stalzer Jr. (4)
James Stone '67 (4)
Marcella Story '64 (4)
Eugene Supparits '68 (4)
The Walter J. and Anna H. Burchan Charitable Trust (4)
Granville Thompson '68 and Judy Thompson (4)
Thomas Thornton '70 and Max Thornton (4)
Robert Tinker '68 and Stephanie Tinker '92 (4)
Andrew Toczydlowski '06 (4)
Stephanie Torkilson-Bambina '69 and Steven Bambina (4)
Arthur Torrey Jr. '68 and Barbara Torrey (4)
Marie Vara '70 and Hector Vara (4)
Ann Waeger '74 and Peter Waeger (4)
Patricia Walsh '83 and Neil Pierce '83 (4)
Robin Walsh '77 and Kevin Walsh '77 (4)
Youn Yi Wang (4)
Edward Westbrook '71 and Vickie Westbrook (4)
Ellen Whipple '72, '76 and David Whipple '66 '70 (4)
Linda White '69 and David White (4)
Thomas White '72 (4)
Joyce Whittaker '66 and George Whittaker (4)
Marlene Wilklow '71 and Ted Wilklow (4)
Christopher Williams '93 and Tracy Williams (4)
Crystal Williams '77 (4)
Russel Windler '75 and Lynne Windler '77 (4)
Mark Winne '76 (4)
Conner Wolfe '18 (4)
Fabrice Wong '62 and Gene Wong (4)
Valery Worden (4)
Amy Wright (4)
Amanda Zdanowicz '14 (4)
Henry Zuccaro '58 and Leslie Zuccaro (4)
Allstadt Hardin Foundation (3)
Anonymous (3)
Anonymous (3)
Anonymous (3)
Anonymous (3)
Anonymous (3)
Jeffrey Aron '88 (3)
Gerard Baccaglini '82 and Kathryn Baccaglini '82 (3)
Carol Baker '66, '71 and James Baker (3)
Matthew Berger (3)
Annie Bischoff '11 (3)
Irene Bock '62 (3)
Margaret Bogdanski '69 (3)
Troy Boyd Jr. '80 and Alicia Boyd (3)
Glenda Bradshaw '81 and Stan Bradshaw (3)
Myrna Brickman '61 (3)
Elinor Brocklehurst '55 (3)
Jeffrey Buch '74 (3)
Jan Bushey '76 (3)
Christopher Byrne '82 and Ellen Byrne (3)
Andrew Capaccio '89, '91 (3)
Carl Carbonaro '68 (3)
Nils Carlson Jr. '64 and Margaret Carlson (3)
Sharon Carpenter '67 and Edward Carpenter Jr. (3)
Debra Chase '73 and John Chase (3)
Jack Chesebro III '15 (3)
Bernard Cleveland '58 and Kathleen Cleveland (3)
Marnie Cohen '93 (3)
Sharon Colabello '78 and Pat Colabello (3)
Constance Colonnese '70 (3)
Paul Conway (3)
G. Jean Cronk '73 (3)
Joanne Curry '79 and William Curry (3)
Mary Dacquino '80 and David Dacquino (3)
Cecelia Daher (3)
Catherine Danowski '80 and Robert Danowski (3)
Carl Dapp Jr. '69 (3)
Dean M. Graham Foundation (3)
Louise DeCandia '86 (3)
Sonnia DeFrances (3)
Laura DePace '77 and Ronald DePace '76 (3)
Michele Devereaux '70 and Thomas Burkstrand (3)
Diane DeVestern '70 (3)
David Dix '91 (3)
Hal Dodt '77 and Shelley Dodt (3)
Nancy Engel '97 (3)
Robin Epstein '75 and Martin Epstein (3)
Patrick Featherston '76 and Elizabeth Featherston (3)
Ronald Feldstein and Joanne Feldstein '88 (3)
Elenita Feria-Ortiz '19 (3)
Dorothy Fielder (3)
Clifford Fields '81 and Angela Simpson (3)
Robert Filkins '84 and Kathleen Filkins '82 (3)
Myra Fincher '63 (3)
William Fincke Jr. '70 and Deborah Fincke (3)
Cassandra Finnis-Palen '72 and Gilbert Palen Jr. '85 (3)
Shirley Fioravanti (3)
John Fitzgerald '77 (3)
Elizabeth Foo '75 and Arthur Foo (3)
Edward Forman and Carol Forman (3)
Vincent Foti '57, '60 and Gail Foti '57 (3)
Richard Frankhouser Esq. '00 and Shavon Frankhouser (3)
Eileen Freedman '72 and Bruce Freedman (3)
Shawna Gallagher '13 and Will Gallagher (3)
Caroly Gibson '64 and Bruce Gibson (3)
Kathleen Griffin '70 (3)
Diane Hahn '64 and John Hahn (3)
Susan Harr '70 (3)
George Harris '82 and Juana Harris (3)
Marie Jeanne Hawes '49 (3)
Angela Heinimann '72 (3)
Lawrence Heller '15 (3)
Emma Herbison '57, '70 (3)
Wayne Hermanson '71 and Kate Bennett (3)
Philip Hertik '73 and Amber Hertik (3)
Patrick Hillis (3)
Kathleen Hogan '82 and Christopher Hogan '80 (3)
Marie Holt '69 and Laurence Holt (3)
John Holtzapple '82 (3)
Johnathon Horton '07 (3)
Gregory Hummel (3)
Judith Ives '66, '89 and Albert Ives (3)
Robert Jaeger '89 and Laura Jaeger (3)
Joan Lojpersberger Revocable Trust (3)
Kathleen Jordan '78 and Ronald Jordan M.D. (3)
Kathleen Kaiser '64 and Robert Kaiser (3)
Martha Katz-Hyman '74 and Tsvi Katz-Hyman (3)
Robert Keever '82 and Lori Lynn Keever (3)
Keith Kelly '76 and Patricia Kelly (3)
Paul Kerlinger '76 and Jane Kashlak (3)
Krista Kester '91 and Brian Kester (3)
Deborah Kiser '76 (3)
John Kistner '70 and Marsha Kistner (3)
Sandra Kochendorfer '79 (3)
Verna Labrador '67 (3)
Louise Ladd '70 (3)
Carol Lamb '68 (3)
David Larsen '90, '91 and Danielle Larsen '89 (3)
Catherine Latham '61 (3)
Joyce Lawson '84 and Craig Lawson (3)
Timothy Lewis '71 and Donna Lewis '72 (3)
Richard Loveless and Kathy Loveless (3)
Diane Lynch '92 (3)
James Lyons '78 (3)
Mary Malfa '89 and Joseph Malfa (3)
Valerie Malkus '68, '84 (3)
Hailey Mancini '16 (3)
Cort Martin '70 and Janet Martin (3)
Joseph Mascaro '80 and Kathleen Mascaro '80 (3)
John McAlary '86 and Maureen McAlary (3)
Lillian McElhinney '71 and Michael McElhinney (3)
Doris McWenie '59 (3)
Stephanie Mercurio '07 (3)
Maureen Meyer '71 and Bill Meyer (3)
Joanne Mickle '55 (3)
Christine Monfett '74 and Roger Monfett (3)
Christopher Monroe '96 (3)
June Monroe '62 (3)
Kelly Morris and William Morris (3)
Harriet Morrison '54 and Lee Morrison (3)
Nancy Morse '71 and Stephen Morse (3)
Ellen Murphy '82 and James Murphy (3)
James Muschett '71 and Margaret Muschett '71 (3)
National Philanthropic Trust (3)
Roslyn Oberson '62 (3)
Thomas O'Brien CPA '87 and Joan O'Brien (3)
David Olli '81 (3)
Melanie Olson '82 and Arthur Olson '73, '77 (3)
Lisa Oslacky '94 (3)
Cheryn Payne '85, '90 and James Payne (3)
Harry Pence and Virginia Pence (3)
Margaret Pitcher '72 and James Pitcher (3)
Paul Pugliani '71 and Joanne Pugliani '72 (3)
Phyllis Quirino '75 and Thomas Quirino (3)
Edward Quirk '68 (3)
Farrukh Quraishi '76 and Lisa Brock (3)
Margaret Rago '83 and John Rago (3)
Robert Raymond '74 (3)
Jill Reuss '61 (3)
James Reuther '73 (3)
Janet Richmond '65 and Richard Richmond (3)
Peggy Richter '76 and Alan Ogden (3)
Julia Robbins '74 and Gary Robbins (3)
Jean Robertson and David Stephens (3)
Marvin Rodriguez '15 (3)
Claire Roemer '68 and Kenneth Roemer PhD (3)
Kim Rosenbaum '80 and Steven Rosenbaum (3)
Donna Ross '71 and Joseph Ross (3)
Brian Rudolph (3)
Scott Salmirs '84 and Marcy Salmirs '83 (3)
Linda Scarfe '73 and Stephen Scarfe (3)
John Scherer '68 and Martha Scherer (3)
Gwen Schuster '68, '73 and Rudolph Schuster (3)
Adam Schwartz '81 (3)
David Selover '75 (3)
Rita Sharples '73 (3)
Anita Shrederis '65 (3)
Jeanne Siemion '79 (3)
Jennifer Smith '05 (3)
Susan Smith '71 (3)
Jean Soule '67 and Kenneth Soule (3)
SUNY Impact Foundation Inc. (3)
Lori Sutherland '83 (3)
Cynthia Taber '73 and Thomas Taber (3)
Ingeborg Tripp '65 and Jack Tripp (3)
Ronald Tulloch '62 and Eileen Tulloch '62 (3)
Patricia Turken '80 and Alan Turken (3)
Gary Tutty '71, '78 and Pamela Tutty '73 (3)
Margit Umezaki '77 (3)
Michael Uzzi '78 (3)
Susan Vairo '83 (3)
Jean Vallianos '84 (3)
Josuette Vasquez '15 (3)
Katharine Waesche (3)
Dale Walton '73 and Charles Lasky M.D. (3)
Estella Watkins '66 and Richard Watkins (3)
Nancy Watroba and Raymond Watroba (3)
Marilyn Watson '65 and Cary Watson (3)
Roger Weaver '76 (3)
Robert Weinstein '96 and Sara Weinstein '97 (3)
Philip Weitzel and Deborah Weitzel (3)
Sandra Wheeler '62 (3)
David Whipple '66 '70 and Ellen Whipple '72, '76 (3)
Scott Wiley '91, '93 and Darlea Wiley (3)
Matthew Wilson '88 (3)
Jill Wisner '84 and Leonard Wisner '84 (3)
Marc Wolf '90 and Ronna Wolf (3)
Deborah Wolfanger '79 and William Wolfanger '87 (3)
Kathryn Wood '15 (3)
Elizabeth Wright '75 (3)
Jing Yang (3)
Dawn Zerillo Israel '94 and David Israel (3)
Patricia Zurowski '74 (3)
George Ackerson '72 (2)
Andrew Albertson '05 (2)
Brooks Alexander '96 and Devon Alexander '92 (2)
Kevin Allen '73 and Diane Allen (2)
Duane Anderson '70 and Gail Anderson (2)
Karl Anderson '85 and Margaret Anderson '85 (2)
Anonymous (2)
Anonymous (2)
Anonymous (2)
Anonymous (2)
Anonymous (2)
Anonymous (2)
Anonymous (2)
Apurva Apurva (2)
Gustavo Arango (2)
Evan Ashford (2)
Walter Balfour '50 (2)
Susan Balinsky '74 (2)
Ashley Bannon '12 and Matthew Bannon (2)
Grace Barber '62 (2)
Luz Bautista '22 (2)
David Beams '75 and Wendy Beams (2)
Dalene Behrens '71 and Otto Behrens Ph.D. (2)
Frances Bergstrom '77 and Gary Bergstrom (2)
James Bethel '19 (2)
Judith Bird '67 (2)
Todd Bitterman M.D. and Anya Bitterman (2)
Judith Black (2)
Jack Bleier '76 and Rosann Bleier (2)
Kathryn Boardman '82 and Carol Beechy (2)
Thomas Bodden Jr. '74 and Christine Bodden '71 (2)
Andrea Bohr '74 and Ronald Bohr (2)
Edward Bossong '19 (2)
Joyce Bowersox '62 and Timothy Bowersox '62, '70 (2)
Daniel Boyle '09 (2)
Kent Bradt '71 (2)
Scott Brecher '07 (2)
Barbara Brockardt '78 and James Brockardt (2)
Kim Broe '79, '90 and Patrick Broe '95 (2)
Michael Brown (2)
Kathleen Browne '71 (2)
Heather Brunell (2)
Mark Brunette '10 and Sara Brunette '11 (2)
Elizabeth Brush and Dana Robbins (2)
David Bryan '75 and Mary Bryan '75 (2)
Catherine Budmen '80 and Donald Budmen '77, '83 (2)
Keith Bundy '62, '66 (2)
Roger Caiazza '74 and Susan Caiazza '72 (2)
Sierra Campbell '18 (2)
Sharon Campo '06 (2)
Nancy Cannizzaro '77 and John Cannizzaro '76 (2)
Capek Family Foundation, Inc. (2)
John Carnahan '80 and Florence Carnahan (2)
Judith Castelluccio '75 and Joseph Castelluccio (2)
Stuart Chalin '86 and Keri Briggink (2)
Daniel Chambers (2)
Charles Schwab and Company, Inc. (2)
Michael Chatkin '76 (2)
Rebecca Cherry (2)
Luke Christie '16 (2)
William Christopher DA '67 and Margaret Christopher '67 (2)
Mary Church '68 and Richard Church (2)
Sanford Clemans '74 (2)
Thomas Clementi '90 (2)
Richard Cluxton (2)
Tara Coleman '95 (2)
Henry Collins '75 and Madelyn Collins (2)
Jennifer Connors '78 and Thomas Connors Jr. (2)
Jeffrey Coomber '87 (2)
Patricia Corey '74 (2)
Alfred Covino '67 and Margaret Covino (2)
Theresa Crowley '68 (2)
Marianne Curling '84 (2)
Kevin Czajkowski '89 and Kathleen Czajkowski (2)
Daniel Damboise '70 (2)
Debra Davidson '78 and Dennis Davidson (2)
Roger Davidson '02 (2)
Mark Davies (2)
John Davis (2)
Thomas Delaney (2)
Ana Delgado '19 (2)
Taylor DeMarco '18, '22 and Kody Sargent '18 (2)
William Derrenbacher '66 (2)
James Dever '74 and Suzanne Dever '71, '74 (2)
Keith Devoe '84 and Christine Devoe (2)
Charlotte Diffendale '64 (2)
Marilyn DiGasper '81 and Joseph DiGasper (2)
Salvatore Diliberto '82 (2)
Eleanore Dorn '68 and James Dorn '68 (2)
Robert Dorn '74 and Debra Dorn '72 (2)
Stacy Draper '81 (2)
Tracey Drayer '86 and Keith Drayer '87 (2)
Nelson DuBois and Gail DuBois (2)
Ann Dudley '75 and Phillip Dudley (2)
Eileen Duffy '62 and Patrick Duffy (2)
Margaret Duffy '91, '95 (2)
Kristen Dushko (2)
Timothy Dwyer '16 (2)
Samantha Edgar '20, '21 (2)
Evan Englander '12 (2)
Kenneth Ettinger '73 (2)
Kyle Fanelli '16 (2)
Suzanne Fine '81 (2)
Robert Finnegan '76 and Joan Finnegan (2)
Robert Fischman and Rhonda Fischman '71 (2)
Carol Fitzgerald (2)
Ellen Fladger '82 (2)
Joseph Flanagan '77 and Mary Flanagan (2)
Mariaelena Flynn '12 (2)
Mark Fragner '79 and Nancy Fragner (2)
Joseph Fratello '78 and Laura Fricchione (2)
Lynne Friedlander '87 and Michael Jenco (2)
Wayne Frink and Ann Marie Frink '75 (2)
Ralph Fuschillo Jr. '92 and Barbara Fuschillo (2)
Gregg Galvin '89 and Katherine Galvin (2)
Russ Gambin '68 and Deborah Gambin (2)
Jeffrey Gardiner '84 (2)
George Garner '05 (2)
J. Ritchie Garrison '74 and Carla Garrison (2)
Clare Gennario '65 (2)
Kayla Gottobed '08 (2)
Susan Gough (2)
Kelly Graham '16 (2)
Douglas Gray '76 (2)
Larry Greidinger '76 and Renee Greidinger (2)
William Griek '70 (2)
Leslie Grigsby '68, '73 (2)
Carl Grimm '62 (2)
Phyllis Gunther '67 and Norman Gunther '72 (2)
Joan Hale '70 (2)
Rachele Hall '06 (2)
Logan Haney '22 (2)
Patricia Hanley '73 (2)
Patricia Hanley and Thomas Hanley (2)
Willard Harman and Barbara Harman '80 (2)
Leslie Hartten '84 (2)
Selma Hattat (2)
Patricia Haustein '86 and Mark Haustein (2)
Margaret Healey '82 (2)
Jacquelyn Heinemann '61 (2)
Michael Hewitt '73 (2)
Holly Hoag '79 (2)
Robert Hoffman '80 and Patricia Hoffman (2)
Emily Holmes '07 (2)
Andrea Hoovler '78 and Michael Hoovler '77 (2)
Lynda Hotra '81 and Peter Hotra (2)
D. Roger Howlett '73 (2)
George Huggler '71 and Betty Huggler (2)
Susan Hughson (2)
Ronald Hund Jr. '90 and Debra Hund (2)
Joseph Hunt '80 and Claire Hunt (2)
Elaine Huntington '55 (2)
Darcy Lynn Izzo '89 (2)
Cynthia Jacobsen '84 and Rob Jacobsen '83 (2)
Pamela Jacques '81 (2)
Chris Jansen '70 and Arlene Jansen (2)
Bruce Johnson and Kathleen Johnson (2)
Lucia Johnson (2)
Patricia Johnson '74 and John R. Johnson (2)
David Joseph '83 and Marybeth Joseph (2)
Karen Kalins '73 and Jeffrey Kalins '73 (2)
Bruce Kallins '85 and Karen Kallins (2)
Lauren Kanan '12 (2)
Brian Katz '72 and Debra Katz (2)
Virginia Kendrick-Bowser '77 and Lanny Kendrick-Bowser (2)
Mary Katharine Kenney '19 (2)
Mark Kleffner (2)
Michael Klein (2)
Jeremy Klomberg '22 (2)
Stephen Kost '90 and Kimberly Kost (2)
Katherine Kotz and John Kotz (2)
Dana Kuznetzkoff '83 (2)
Lori Laird and Keith Laird (2)
Christy Lamagna '90 (2)
Georgia LaMair '19 (2)
John Lambrech '93 and Jenny Lambrech (2)
Kathleen Lauterbach '71 (2)
Carol Leehive '63 (2)
Laraine Leitch (2)
Susan Lerner '72 (2)
Adam Levine '94 (2)
Elana Levy '14 (2)
Bailey Linscott '19 (2)
Paul Lord USMC(Ret.) '74, '04 and Sheila Lord (2)
Greer Luce '17 (2)
Ashley Luttrell '21 (2)
John Lutz '80 and Holly Lutz (2)
Lisa Luzzi '85 and Thomas Luzzi '85 (2)
Michael Lynn '82 (2)
Patricia MacLeish '76 and Bruce MacLeish '74 (2)
Kathleen Maiorana '64 and Eugene Maiorana (2)
Alice Malone '74 and James Malone III (2)
Robert Manvell '74 (2)
Richard Marcellin (2)
Paul Martin '71 and Margaret Conroy-Martin (2)
James Martorano Jr. '06 (2)
Angelica Matoske '22 (2)
Stephen McCabe '84 (2)
Linda McCann '76 and Patrick McCann '75 (2)
Linda McGuire '70 (2)
Frank McKelvey Jr. '74 and Leona McKelvey (2)
Robert McLaughlin Jr. '70 (2)
Danielle McMullen (2)
Katherine McSweeney '65 and Dennis McSweeney (2)
Cara Meiselman '83 and Deborah Ashen (2)
Cheryl Mendelsohn '76 (2)
Yvette Mendes '92 (2)
Mary Jane Milner '84 and Richard Milner (2)
Frank Miosek '72 and Susan Miosek '71 (2)
Melissa Mish '95 (2)
John Miskewicz and Edith Miskewicz (2)
Cynthia Moller (2)
Lauralyn Moore '75, '81 (2)
Lee Moral '49 and Harvey Moral (2)
Morgan Stanley Global Impact Funding Trust (2)
Scott Moritz (2)
Michael Morris '95 and Danielle Morris (2)
Robert Muller Jr. '73 and Mary Muller '79 (2)
Kathleen Mulligan '83 and Brian Mulligan (2)
Helen Mulvihill '63 (2)
Sophia Mundy '82 (2)
Dawn Murray '77 and Kevin Murray '75 (2)
Nafis Family Trust (2)
Nantucket Settlement Services Inc (2)
David Nardini '72 (2)
NBT Bank (2)
Jared Nepa (2)
J. Dinno Nistico '82 and Kim Nistico (2)
Joanne Noonan '71 (2)
Northern Electric Inc (2)
Leslie Obermayer (2)
Bianca O'Brien '85 and Jim O'Brien (2)
William O'Dea and Jeane Bennett-O'Dea '73, '00 (2)
Otsego County Conservation Association (2)
Lilian Ott '75 and John Ott '75 (2)
Jerrad Pacatte '16 and Daniel Ruth (2)
Jeanne Paino '70 and Ron Paino (2)
Beth Palmer and Mark Palmer (2)
Rebecca Palmer '02 (2)
Judith Parker '73 (2)
Michele Passonno '07 (2)
Eleanor Patton and Bobby Patton (2)
Stacey Peltz '83 and Michael Peltz (2)
Susan Penny '68 (2)
Mary-Ellen Perry '65 (2)
Alan Pfeffer Esq. '70 and Lenora Pfeffer (2)
Marylu Phelan '75 (2)
Patricia Phillips '66 and Jack Phillips (2)
Rose Anne Pirone '70 (2)
Susan Plank '77 and David Plank (2)
Susan Pollock '69 and John Jay Pollock (2)
Deborah Poulin '88 (2)
Anita Ramp '63 and Warren Ramp '63 (2)
Arthur Ramsey (2)
Nancy Rapp '87 and Steven Rapp (2)
Sheila Reed '73 (2)
Kimberly Reger '79 and Paul Reger (2)
Burton Relethford '09 (2)
Renaissance Charitable Foundation/ SEI Giving Fund (2)
Timothy Renz '83 (2)
Michael Robinson '13 (2)
Toni Rogers '98 and Jason Rogers (2)
Marsha Rooney '77 and Edward Fix (2)
Eliezer Rosario II '06 and Sonia Rosario (2)
Samuel Rosenberry '75 and Charlene Rosenberry (2)
Kenneth Rouse '74 (2)
Paul Ruede '73 and Doreen Ruede (2)
Paul Ryan '62 and Sandra Ryan (2)
Ann Sail '73 and Michael Sail '73 (2)
Corrine Salbu '75 and Kenneth Salbu '75 (2)
Onenee Saloka Sr. '85 (2)
Margaret Schumacher '71 (2)
Barry Schwab '80 and Robin Schwab '80 (2)
Gretchen Schwalbach '11 (2)
Kimberly Schweigert '76 and Paul Schweigert (2)
Mildred Selby '75 (2)
Colleen Shannon '16 (2)
Miriam Sharick '88 (2)
Gerard Sheridan '78 and Susan Sheridan '78 (2)
Eileen Show '74 (2)
Elaine Shull '68 (2)
Richard Shultes '95 and Brynda Shultes '94 (2)
Jessica Sinopoli '20 (2)
Kyle Sitzman '12 (2)
Judith Siwiec (2)
Anna Slavinski '85 and Paul Slavinski (2)
Emily Smith (2)
Glenda Smith '70 and Alfred Smith '70 (2)
Joyce Smith (2)
Julie Smith and Stan Nosek Jr. '69 (2)
Douglas Smyth '87 (2)
Janet Snyder '73 (2)
Kelly Spettel and Louis Spettel (2)
Susan Spofford '71 and Paul Spofford '70 (2)
Robert Statts II '09 (2)
Kelly Stevens '04 and John Hanley (2)
Robin Stilwell '74 (2)
Cathy Subatch '79 (2)
Robin Suwijn '78 and Paul Suwijn (2)
Johanna Sweet '78, '81 and Donald Sweet (2)
Anthony Sylvester '12 (2)
Darleen Sylvester '64 and Willard Sylvester (2)
Glenn Tanzer '73 (2)
Joshua Thibado '17 (2)
Robert Thomas (2)
Keith Thompson '99 and Daphne Thompson (2)
Deborah Thomsen '73 and Gerald Thomsen (2)
Carolann Tipton '66 and Paul Bossert (2)
Lucy Townsend (2)
Gregory Traphagen '76 and Janet Traphagen (2)
Thomas Travis '69 and Barbara Travis (2)
Lorraine Tritschler '74 (2)
Patricia Turner '77 and Kevin Smith (2)
Bradley Ughetta '81 and Laura Ughetta (2)
James Utter '64 and Janice Utter (2)
Susan Van Gelder '76 and Mark Kerrigan (2)
Lawrence Vestigo '73 and Maureen Vestigo '73 (2)
David Viall '93 (2)
Wayne Wakefield '83 (2)
Ronald Webb '84 (2)
Janel Weber (2)
Dana Wegner '80 and Patricia Wegner (2)
Christine Weigel '93 and Jeffrey Weigel (2)
Susie Wells '73 (2)
Wenda West '69 and George Lott (2)
Donald Wheeler '67 and Patricia Wheeler '72 (2)
Tara White '02 (2)
Bernadette Whittemore '91 and James Whittemore (2)
Barbara Williams '75 and Donald Korinek (2)
Carole Williams '66 and Julian Williams (2)
Barbara Wilsey '53 (2)
James Woodard '92 and Karen Woodard (2)
Mark Woytovich '79 (2)
Connie Wrba '73 and Peter Wrba (2)
Cheryl Wright (2)
Lauren Yedvab '92 and Josh Yedvab (2)
Dalton Yerton '22 (2)
Homer Yook and Gail Yook '62 (2)
Christian Young (2)
Todd Zimmer Esq. '90 and Susan Zimmer (2)
Jennifer Zinsley '92 and Sean Zinsley '92 (2)
Michael Zipko '15 and Hayley Zipko '14 (2)