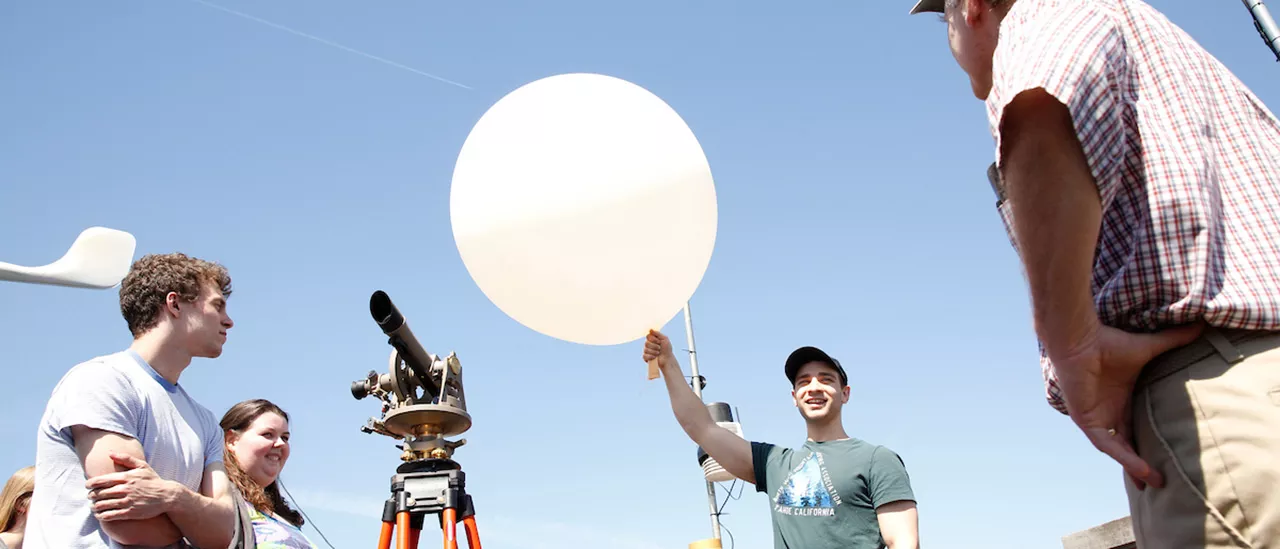 About the Program
At SUNY Oneonta, meteorology majors do a lot more than weather prediction! We have incredible undergraduate research opportunities, a variety of climate courses, and small class sizes, so students get to know each other. You'll get lots of one-on-one time with faculty and meet students who are at different stages in their degree and can show you the ropes.
You'll learn skills for working and competing in the atmospheric science field: understanding severe weather complexity, the math behind weather models, remote sensing, climate change, synoptic forecasting and more. Outside of class, you'll have the chance to collaborate with professors on individual or group projects that pique your interest. Examples of student research topics include unusual-tracking tornadoes, hurricane track changes related to global warming, building snowstorm climatologies for the Northeast, and even how weather impacts baseball game delays/cancellations.
All majors graduate with transcripts that meet the current American Meteorological Society (AMS) General Schedule Qualification standards for federal government positions in meteorology, for AMS and National Weather Association seals, and the coursework requirements for broadcast meteorology certification.
Facilities
Linux computing lab
student laptop lab with programming/GIS capabilities
weather balloon/radiosonde sounding system (students learn how to launch on the roof)
indoor sky and cloud observing room known as the Skylab
student-led daily online and TV forecasting opportunities
 large green screen wall with TV equipment
dedicated lab room for meteorology classes
 rooftop weather station with a rare dataset of daily observations dating back to 1981
Opportunities
While in school, Oneonta students get their research published in professional journals, receive national scholarships, land Research Experiences for Undergraduates (REU) opportunities, and travel to conferences across the country to present their findings. Our meteorology students get internships at National Weather Service (NWS) offices, the state Department of Environmental Conservation, private forecasting and consulting companies, and TV stations, among other professional venues.
After the B.S. degree, students go on to our nation's top graduate schools, get jobs in government agencies, or work with private forecasting companies and TV stations. Our students have forecasted for the Air Force and joined weather app computing companies. One of our alumni runs NCEP, the parent agency of the NWS!
We also have an active Meteorology Club through which students organize trips, invite speakers to campus and enjoy fun activities (think Sharknado movie night!)