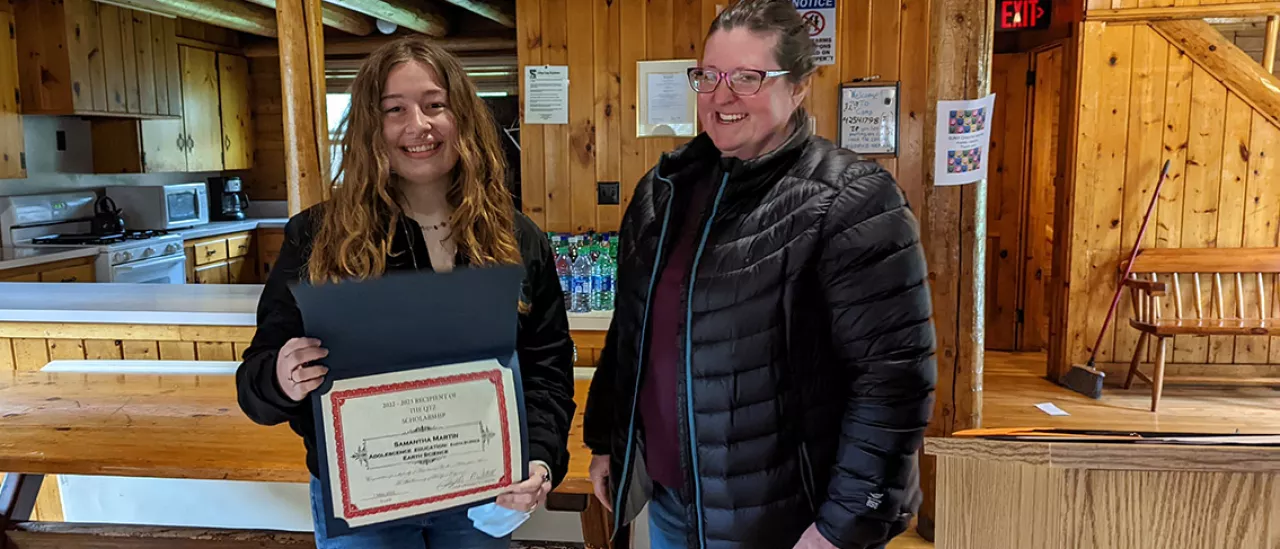 Spring 2023 Deadline – 5pm on Monday, March 21, 2023
Each spring, EAS majors can apply for department scholarships. Scholarship awards are distributed to a student's account in the following academic year. These scholarships are made possible by EAS alumni and emeritus faculty.
Peter W. Knightes, Class of 1967, founded and has been funding this Scholarship since its inception in 1999. This award will be given to students who are majoring in Earth Science Adolescent Education with the intention of teaching Earth Science in Grades 7 to 12 in the public schools of New York State.
This Scholarship was created in 1994 from the gifts of family and friends in memory of Robert W. Caputo, Class of 1984. This award will be given to students who are Junior or Senior Meteorology majors, and who have demonstrated superior academic achievement and/or service to the department.
This scholarship will be awarded to Meteorology majors who demonstrate academic achievement. 
Terry Quinn '82, Eric Tappa '81, and James Zachos '82 established this Scholarship to help preserve the academic setting they fondly recall from their undergraduate days here at SUNY Oneonta. Through their continuing and generous support, and that of others who share their sentiment, this scholarship will recruit and retain students with outstanding performance in Earth Science disciplines. Sophomores, Juniors, and Seniors who are studying Geology or Earth Sciences are eligible for this award.
This award will be given to undergraduate sophomores or juniors majoring in Geology or Earth Sciences (including Adolescence Education: Earth Science) who have earned an overall GPA of 2.8 or higher. This scholarship will be awarded for one year only to any given student, and the selections shall be made in April or May preceding the students' sophomore or junior year. 
This Scholarship is created to recognize and honor Dr. P. Jay Fleisher, Distinguished Teaching Professor, who throughout his 40-year teaching career in the Earth Sciences Department at SUNY Oneonta, instilled the value for high academic standards and the life-long benefits of diligent scholarly pursuit. Dr. Fleisher successfully mentored Geology and Water Resources students to their fullest capacity. It is established by gifts of alumni in 2010, who credit Dr. Fleisher with providing life-changing experiences during formal field trips and field-oriented research. This Scholarship is intended to engage and motivate full-time students who pursue a major in Geology. The award will provide support for students who, under the guidance of a faculty mentor, engage in field-oriented studies and/or research. The goal of this Scholarship is to foster significant involvement of the student with the subject and with the faculty.