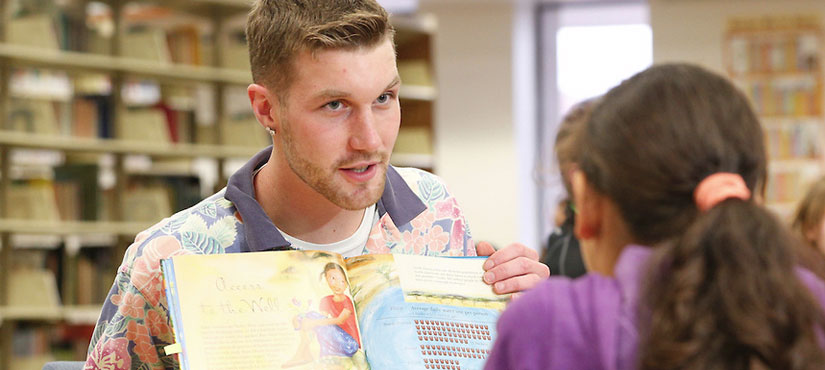 The Bilingual Education Advanced Certificate Program is offered completely online and consists of five graduate-level courses. Coursework is designed and taught by full-time professors with experience teaching in schools with diverse populations of bilingual students. Our faculty provides a high level of support for students to succeed while learning in an online format. Candidates who complete this program will have met the requirements to receive the Bilingual Education Certification Extension.
Submit a completed application and the $50 application fee.
Submit a copy of New York State initial teaching certification in a functionally related area.*
Submit an official transcript which shows evidence of completion of a Bachelor's degree from a regionally accredited college.
Submit proof of completion of the following NYS required workshops: DASA (Bullying), SAVE (Violence Prevention) and CAW (Child Abuse Recognition and Reporting).
Submit an essay describing the candidate's philosophy of bilingual education and how it fits with the candidate's commitment to participating in this program.
Demonstrate proficiency in a language other than English by submitting one of the following:

A college transcript which verifies successful completion of a minimum of 12 credit hours in a language other than English.
A letter from a supervisor attesting that the student is a native speaker. 
Passing scores from the CLEP (College Level Examination Program) exam in a foreign language.
Documentation of language proficiency through an alternate pathway such as the OPI (Oral Proficiency Interview) with a score of Advanced Low or by scoring Advanced Intermediate on the WPT (Writing Proficiency Test)
Passing scores from a New York State Bilingual Education Exam. Testing information can be found here: New York State Teacher Certification Examinations
*World Language certifications (i.e., Spanish or French teacher certificates) and English as a Second Language certifications are not valid base certificates for this extension.  Social workers, school counselors/psychologists, school nurses and school attendance personnel are also not eligible. (Pupil personnel should seek out a PPS Bilingual Extension certificate instead.)
For a limited time, tuition support is available to qualifying accepted candidates through a grant from the New York State Office of Bilingual Education and World Languages. Candidates must meet all criteria for acceptance into the program.
Tuition Support Requirements: Candidates must agree to conditions set in and sign the SUNY Oneonta Bilingual Education Tuition Assistance Agreement. These conditions include that candidates take and pass the New York State Bilingual Education Assessment in their language other than English by the deadline stated in the Tuition Assistance Agreement form, or they must pay full tuition to the college.
Candidates who do not qualify for the grant or do not want to be considered for it can still apply for the program and pay tuition. These candidates must enroll for at least 6 credits per semester to be eligible for financial aid.
Mentors approved by the college to work with accepted candidates will receive a $200 stipend for their work with the candidate through the program.
To be successful in an online learning environment, candidates' participation will require high-speed internet access to participate in discussion forums on a regular basis. Involvement in an online class requires basic knowledge of word processing skills. Instructors use various software and programs such as BlackBoard, Adobe Connect, PowerPoint, VoiceThread and Skype. Candidates may contact the college's IT Service Desk for support with technology at 607-436-4567 or helpme@oneonta.edu.
Program specific questions may be directed to program coordinator Dr. Leanne Avery at Leanne.Avery@oneonta.edu.
Admission and application specific questions may be directed to the Office of Graduate Admissions at gradstudies@oneonta.edu.