2019 Music Hall of Fame Inductee
Scott Harris Friedman '06 is an American multi-platinum, Grammy nominated (In My Blood, song of the year) songwriter, producer, and musician best known for his work with Shawn Mendes and co-writing Grammy winning song, "Don't Let Me Down" by The Chainsmokers featuring Daya, which reached #1 on the US Mainstream Top 40 chart in 2016. Harris has most recently written 13 songs on the self-titled third album Shawn Mendes, which debuted at #1 on the Billboard 200 chart in addition to 10 songs on Shawn Mendes' sophomore album Illuminate including the lead single "Treat You Better" which reached the top 3 at the US Mainstream Top 40 chart, "There's Nothing Holdin' Me Back which hit number 1 at the US Mainstream Top 40 chart and 10 songs on Shawn Mendes' debut album Handwritten which debuted at number 1 on the Billboard 200. Harris has also written songs for a number of artists, including Pink, Jessie J, Bebe Rexha, Khalid, X Ambassadors, Quinn XCII, Jon Bellion, Dermot Kennedy and The Head and The Heart; inclusive of his recent work with Noah Kahan on the single, "Hurt Somebody" which has gone 3X platinum in Australia.
2016 Music Hall of Fame Inductee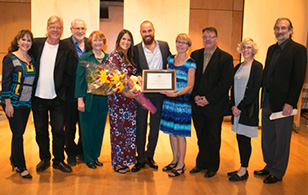 Noah Rakoski '07 is a Platinum Award winning music industry executive, member of the Recording Academy and technology entrepreneur. Rakoski has been working professionally in the industry since earning his bachelor's degree in Music Industry from SUNY Oneonta in 2007.
After landing a competitive position in the A&R department at Jive Records, Zomba Label Group he began to develop numerous pop and urban acts with a focus on innovative technology and marketing. A born entrepreneur, Rakoski found a passion for creating a start-up companies focused on new ideas and solutions within the music vertical.
In late 2012, Rakoski and his business partner set out on a new venture that focused on talent management and monetization for online artists, actors, comedians and content creators. Their firm quickly became one of the fastest rising multi-channel networks catching the attention of multiple major networks and resulting in numerous M&A offers. After careful consideration, Rakoski and his partner closed a merger and acquisition agreement with the leading Network Maker Studios where they became Executives and shareholders. In 2013 at over 9 billion views a month, Maker Studios success prompted multiple acquisition bids. On March 24, 2014, Maker Studios, Inc. agreed to sell itself to The Walt Disney Company for a $500 million, rising to $950 million if financial milestones were met.
Post Maker, Rakoski invested his time and effort working in music streaming, and other bleeding edge markets in music and technology. In 2014, Rakoski and his wife moved from New York City to Los Angeles California after he was brought on board by multi-Grammy Award Winning Producer Rodney "Darkchild" Jerkins to head the digital and technology efforts for his multiple companies in partnership with Capitol Records.
Rakoski currently is a partner with Jerkins in a management company and leads investment efforts and marketing as well as working on film and television, artist development and media. Rakoski lives in sunny Los Angeles CA with his wife Aubrey and his dog Hashbrown.
2013 Music Hall of Fame Inductee
Chris Manik '07 is an internationally acclaimed EDM DJ, producer, songwriter and remix artist.
Honorable Mentions
Our Honorable Mentions category pays tribute to those outside of the Music/Music Industry degree who have enriched, and contributed in a significant way to our campus's musical community.