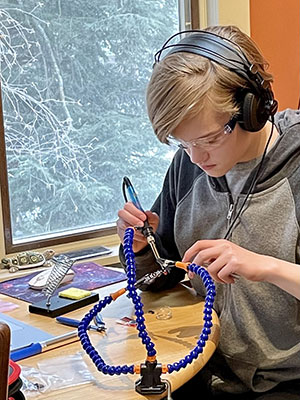 Nineteen area middle- and high-school students recently participated in SUNY Oneonta's Go STEM Institute, which was virtual this year. Students in grades 7-12 from Oneonta, Worcester, Davenport, Fly Creek, Cooperstown and New Berlin took part in the week-long science program, which took place in mid-February and focused on the physics of sound and electricity.
 
The Go STEM Institute is geared toward science-motivated young people who wish to gain experience with hands-on technology and concepts. This year's program was led by Gavin Vitale, instructional support technician and adjunct lecturer in SUNY Oneonta's Music Department. He teaches courses in music technology and audio recording. Vitale had assistance from Doug Reilly, director of the college's A.J. Read Science Discovery Center. 
"We knew that many children are burned out by online school, so we've designed the institute to be fun, with as much hands-on experience as possible," said Reilly. 
Mornings began with an online group session, an overview of the day, and short content activities, demos or speakers. After that, participants worked on group activities or transitioned to independent work with their kits, which was completed solo or with the live online guidance of a SUNY Oneonta student mentor.  
"There were challenges with the kits and with some basic skills that can be hard to teach remotely, like stripping wires," Reilly said. "But for the most part, the students did just fine and they seemed to really enjoy it."
Participants received a week's worth of project kits before attending, with each project aimed at teaching a core electronics skill: soldering, breadboard and programming using Arduino, a software language for an open-source, electronics platform. 
 
On the last day of the program, the group met with the owner/inventors at Monome.com, a local electronic music component company. Parents commented after the program that they were surprised their children got so excited about online programming after so much remote schooling. 
 
The Go STEM Institute is facilitated by the CDO-STEM Council, CORE, and the A.J. Read Science Discovery Center of SUNY Oneonta.