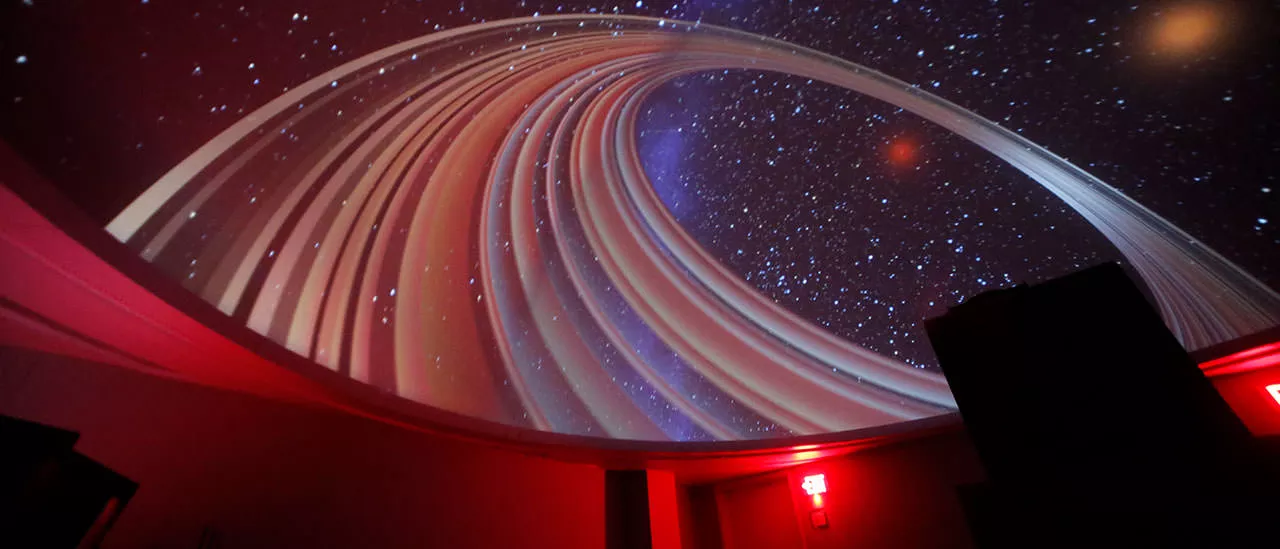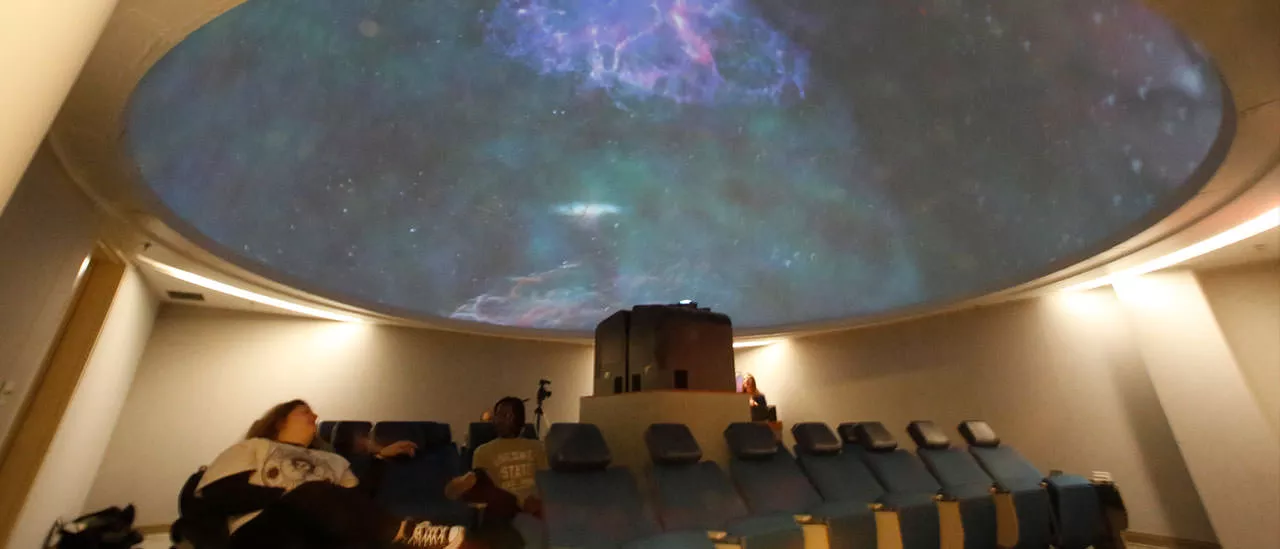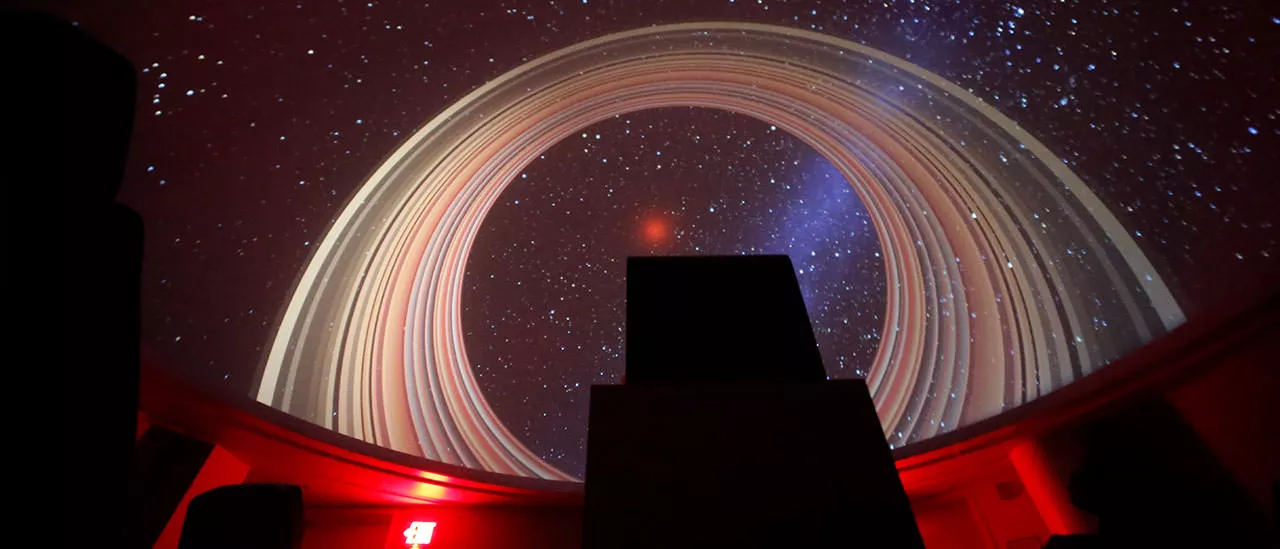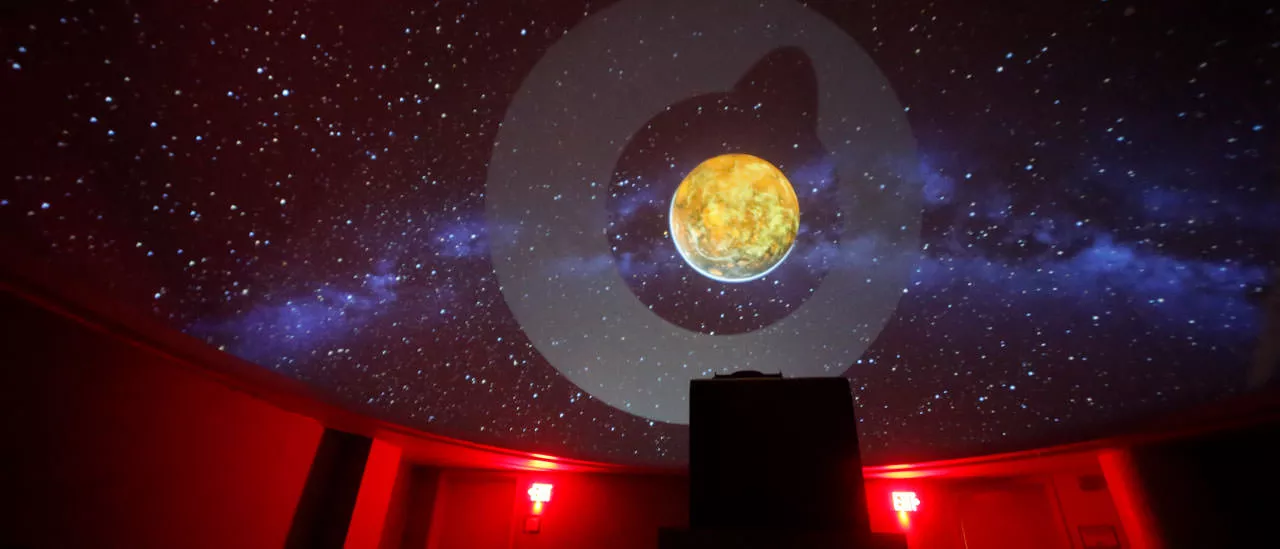 After two years of silence and darkness, SUNY Oneonta's planetarium will once again be filled with color and sound as it reopens to the general public the weekend of April 29 with an exciting lineup of shows.
For the special occasion, internationally touring scientific theatre company Matheatre will present six musical theatre shows on the Voyage spacecrafts inside the state-of-the-art, 28-seat planetarium, which is located in the basement of the Perna Science Building. Showtimes are Friday and Saturday at 6 p.m. and 8 p.m. and Sunday at 2 p.m. and 4 p.m.  All shows are free and open to the public but tickets should be reserved in advance.
The event is being coordinated by the college's A.J. Read Science Discovery Center, the campus' free, hands-on science museum, which is also reopening to the public this month.  The planetarium and Science Discovery Center have been closed to the public for two years after COVID-19 shut down in-person events and activities in April 2020. In a typical year, more than 4,500 people visit the planetarium during free public shows, elementary school field trips, and special events. 
Assistant Professors of Physics and Astronomy Valerie Rapson and Joshua Nollenberg, who manage the planetarium, said they are overjoyed to be able to invite the public back into the space. 
"It's going to be so wonderful to have people in these seats again," Rapson said. "Astronomy is a science that's relatable to anyone and everyone because it's easily observable in their backyard. People of all ages leave planetarium shows just amazed and in awe." 
SUNY Oneonta's planetarium is one of only a handful in the SUNY system. It was built in the 1960s and renovated in 2008, although the original dome remains. In 2009, its software was upgraded to the new, cutting-edge Digistar 4 system. Unlike older planetariums that simply project images of celestial objects onto a dome, the college's digital planetarium show features built-in animations powered by customizable software that can zoom in on constellations and planets, show you the life cycle of a star (a process that takes about 10 million years), and "fly" across the Milky Way Galaxy in seconds. 
In addition to its public outreach uses, the planetarium provides invaluable teaching, learning and research opportunities for SUNY Oneonta students. In a recent collaboration, astronomy students created the visuals for a planetarium show and music majors composed the accompanying musical score.
"When students are engaged in the teaching experience, it enriches their own understanding of the night sky," Nollenberg explained. "Students who graduate with experience running the planetarium are more likely to be hired by prestigious museums, which is the case for several of our alumni."
From May onward, the planetarium will be open for private bookings and field trips, and there will be public shows on Friday, May 13, and Friday, June 3, at 7 p.m. Tickets are free and available through Eventbrite. Learn more or book a show.