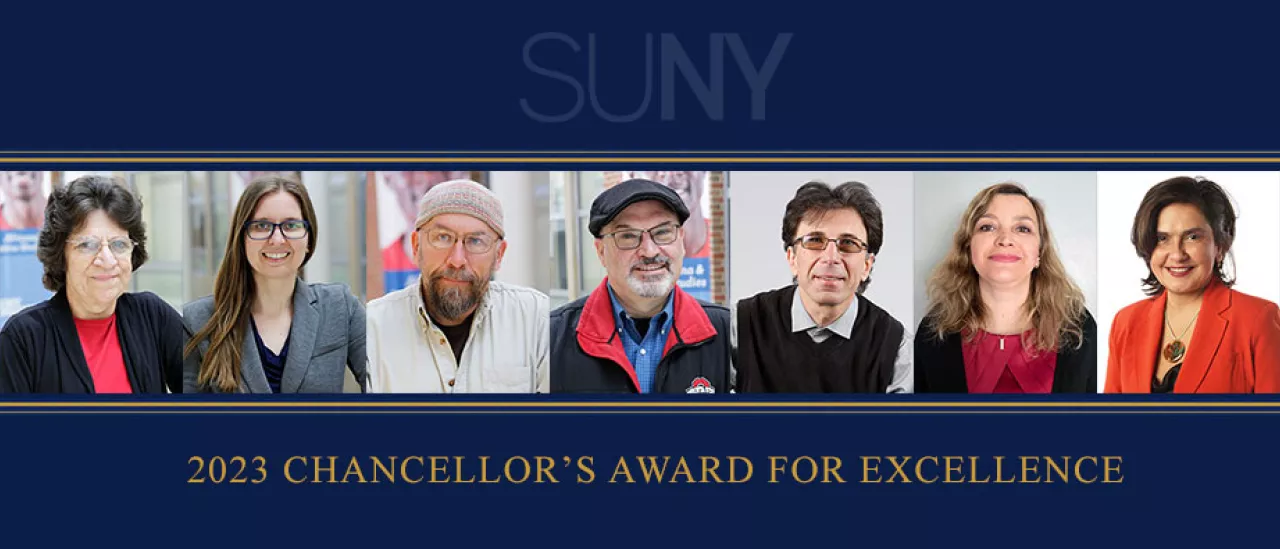 Seven SUNY Oneonta faculty and staff members are among a select group of State University of New York professionals being honored with the 2023 Chancellor's Award for Excellence.
Maintenance – Custodial employee Lynda Craft is receiving the SUNY Chancellor's Award for Excellence in Classified Service; Senior Assistant Librarian Sarah Rhodes is receiving the SUNY Chancellor's Award for Excellence in Librarianship; IT Specialist with the Office of Facilities, Safety and Physical Plant Phillip Bidwell and Director of Customer Support Mark English are receiving the SUNY Chancellor's Award for Excellence in Professional Service; Associate Professor of Mathematics Marius Munteanu is receiving the SUNY Chancellor's Award for Excellence in Scholarship and Creative Activities; and Professor of Management Mine Ozer and Associate Professor of Spanish Maria Montoya are recipients of the SUNY Chancellor's Award for Excellence in Teaching.
Oneonta's recipients will be honored during spring commencement ceremonies Saturday, May 20, in the Dewar Arena at the Alumni Field House. The three SUNY Oneonta students who received the SUNY Chancellor's Award for Student Excellence this year will also be recognized.
Learn more about our 2023 Chancellor's Award for Excellence employee recipients:
Excellence in Classified Service
For the past 17 years, Lynda Craft has served as a dedicated Maintenance – Custodial employee whose attention to detail, professionalism and positive attitude have improved the SUNY Oneonta community. She truly became a campus hero when, during the onslaught of COVID-19, she took on the enormous – and potentially hazardous – responsibility of cleaning the offices, residence hall rooms, and common areas of employees and/or students who had tested positive for COVID. Currently, Ms. Craft is assigned to the Morris Conference Center where, in addition to taking care of the entire building, she greets campus community members and visitors using the conference center and helps with event management, looking at schedules and lodging reservations weeks in advance to help things go smoothly. If Ms. Craft is aware of a shortage of custodial staff somewhere on campus, she will leave the Morris Conference Center to assist. She also frequently volunteers at large-scale events, such as Move-In Day and Commencement.
Excellence in Librarianship
As Milne Library's first Coordinator of Student Engagement, Senior Assistant Librarian Sarah Rhodes operationalized and expanded efforts to focus on academic engagement to deliver measurable outcomes for quality student experience and success. She has expanded course-integrated library instruction sessions; plans, develops and stages dynamic student-centered library programming; and creates and distributes online tutorials, guides and other learning objects that introduce and reinforce research skills and information literacy practices. She frequently serves the campus and beyond on committees, working groups and organizations, and she serves as the Co-Chair for the President's Advisory Council on Sustainability (PACS), participating in and leading sustainability-related events on campus. Ms. Rhodes actively keeps abreast of research in the fields of librarianship, information literacy instruction, sustainability and K-12 education, has published two book chapters and two articles in peer-reviewed journals, and has delivered more than 25 presentations and invited talks at the local, regional and national levels.
Excellence in Professional Service
After 14 years in various roles with Information Technology Services, Phil Bidwell joined the Office of Facilities, Safety and Physical Plant, where he manages and administers the Card Access Control System, supporting safety, security and convenient use for the campus community and its facilities. He developed and maintained the construction drawing and document archive system and led a 10-year project to create a Geographic Information System model of the campus to accurately map underground utilities and ground surface features for construction, emergency response and other purposes. He regularly serves on committees, advisory panels and at campus events, mentors students and advises clubs, and has collaborated with the City of Oneonta on a number of projects. Mr. Bidwell works closely with University Police, having led on many aspects of the new Emergency Services Building and implementing a new campus-wide security camera system in 2020. A recreational enthusiast and committed to sustainability, Mr. Bidwell developed several versions of the College Camp trail map and obtained a $900,000 grant for a project aimed at reducing the impact of storm water run-off on campus.
Mark English has served SUNY Oneonta faculty, staff and students for over 36 years. In his original role as Manager of Learning Space Technology, he was responsible for designing, installing, repairing and maintaining all aspects of educational technology hardware in over 250 classrooms, labs, studios and other learning spaces at the Oneonta, Cooperstown, and East Springfield campuses. In his expanded role as Director of IT Customer Support, he also oversees the Training and Service Desk operations. Mr. English also provides technical support in the form of PA, projection, videoconferencing, and video services for all special events such as Commencement, Open House and guest speakers. Mr. English has held a variety of leadership roles, from chair of the campus Senate Technology Committee to, at the state level, chair and vice-chair of the Educational Technology Officer's Association (EdTOA), for which he earned the Outstanding Service Award. Mr. English serves on the University Senate, the Educational Technology Committee (ETC), and the ITS/Facilities Planning Committee. He is known across the SUNY system as an expert who offers an innovative, collaborative approach to classroom design and management for campuses of all shapes and sizes.
Excellence in Scholarship and Creative Activities
Associate Professor of Mathematics Marius Munteanu joined SUNY Oneonta 20 years ago. His scholarly expertise includes geometric constructions, mathematical inequalities and Riemannian geometry. He has had a variety of peer-reviewed articles published in prestigious mathematics journals, has presented his research dozens of times at a vast array of local, national, and international conferences, and has served as referee for three mathematics journals. In addition to his own scholarly endeavors, Dr. Munteanu is passionate about reaching students and engaging them in mathematical research of their own. He has been a local co-organizer and problem author for the SUNYMathics competition and has helped prepare undergraduate students for the annual Putnam competition. He has served on several departmental and college-wide committees and has chaired the College Faculty Business Committee for the past five years.    
Excellence in Teaching
A prolific scholar who integrates her research into the classroom, Professor of Management Mine Ozer has published 11 articles in peer-reviewed journals, given 23 peer-reviewed conference presentations and presented her research at national and international conferences including the Academy of Management Conference. Dr. Ozer is generous with her time and goes above and beyond to serve the university, having chaired the Curriculum Committee and Strategic Planning Committee, served as a College Senator and as a member of the Dean's Advisory Committee and Student Progress Committee. She particularly enjoys being involved in Commencement and volunteers to represent her department during Open House events, recruiting new students, as well as during Academic Advisement Orientation to help new and transfer students with course selection and other advisement issues. 
With a research focus on Spanish in the United States from both social and linguistic perspectives, Associate Professor of Spanish Maria Cristina Montoya has published numerous articles and book chapters and has received nine grants to conduct research on a national and international level, most recently through the State Department for Fulbright Alumni. She has attended or presented at 26 conferences and workshops and is a member of seven professional organizations. As her pedagogy is focused on applied learning and service, she has implemented five faculty-led study abroad courses and is passionate about international diplomacy efforts via Collaborative Online International Learning (COIL) initiatives. Dr. Montoya has balanced her impressive scholarly achievements with relentless support of students through both academic and club advisement, as well as supervision of teaching assistantships, independent studies and special projects.