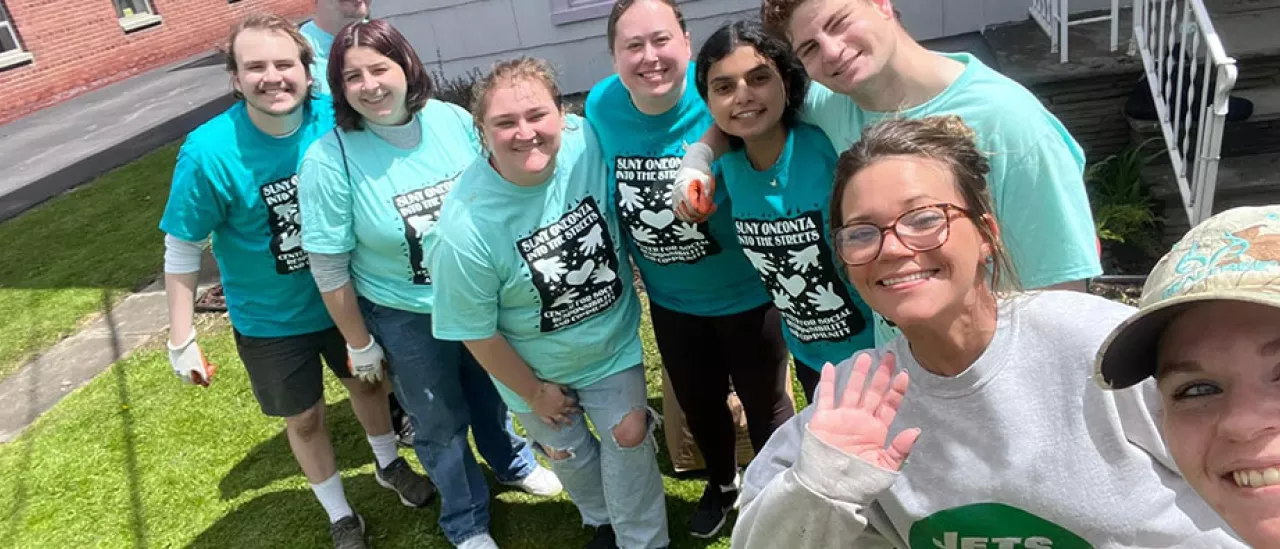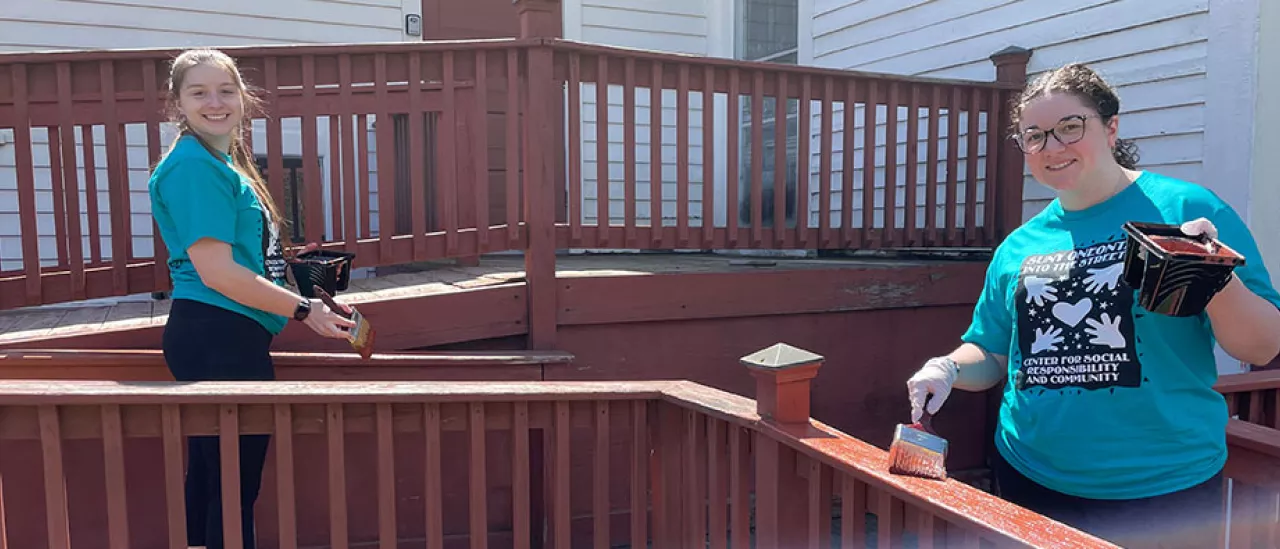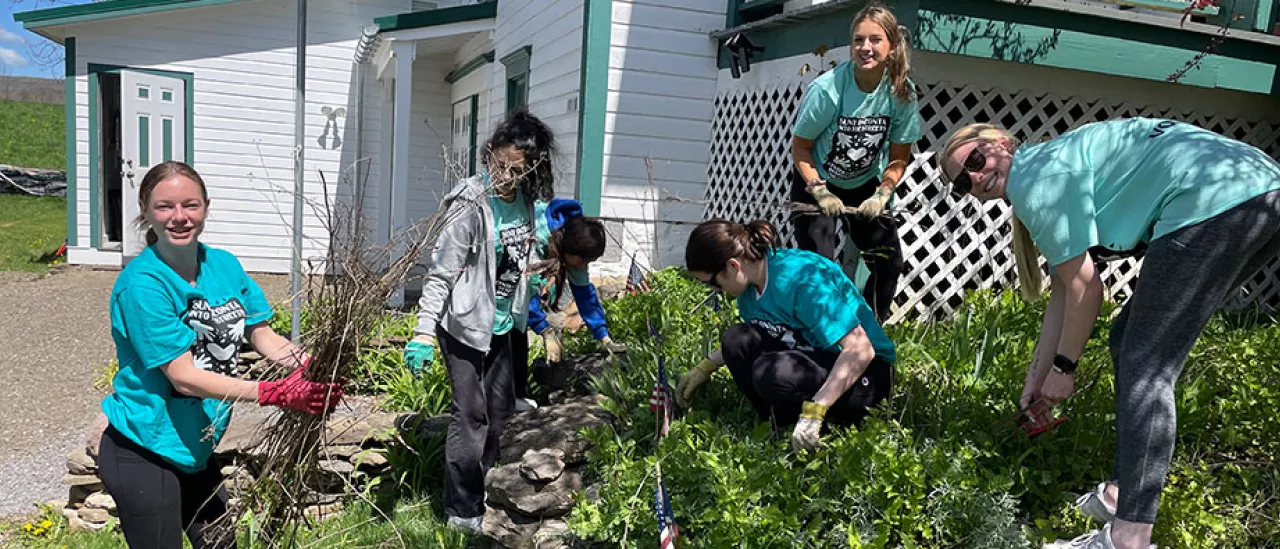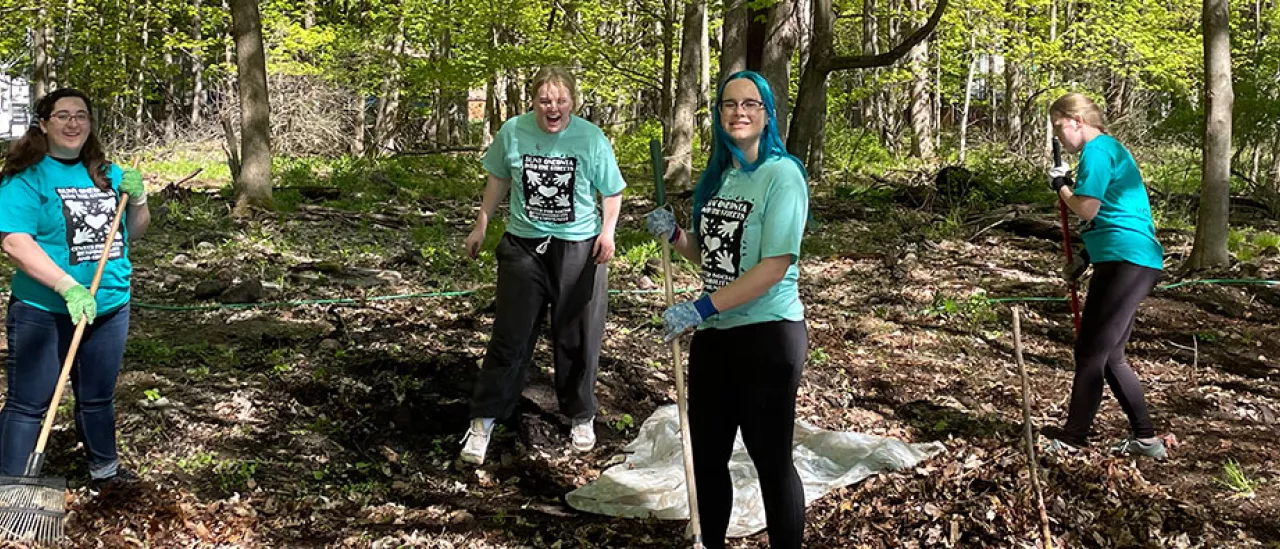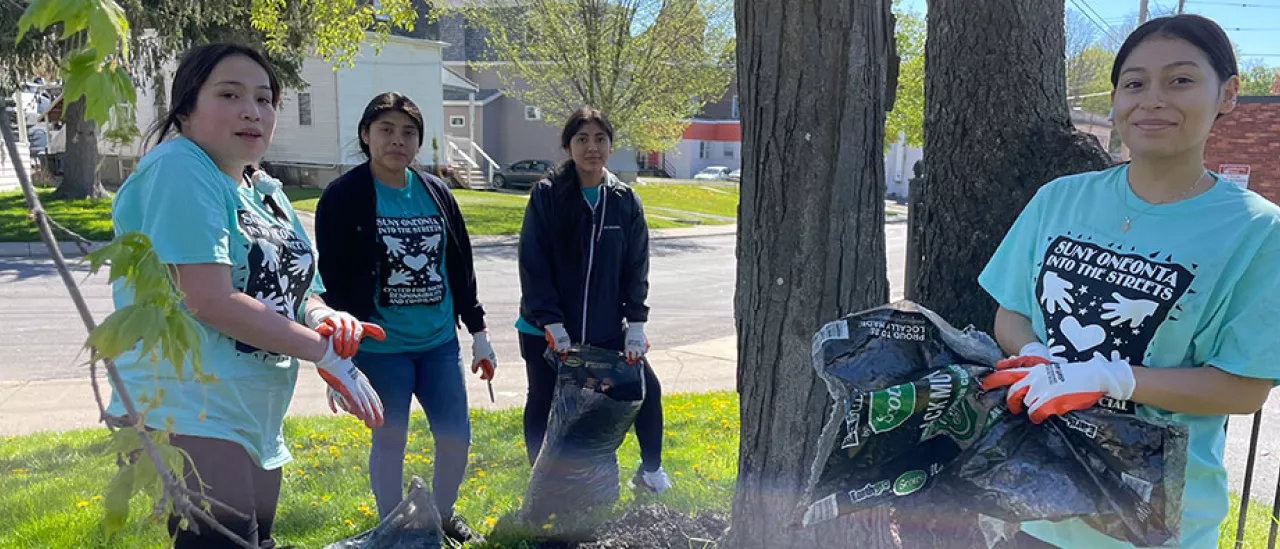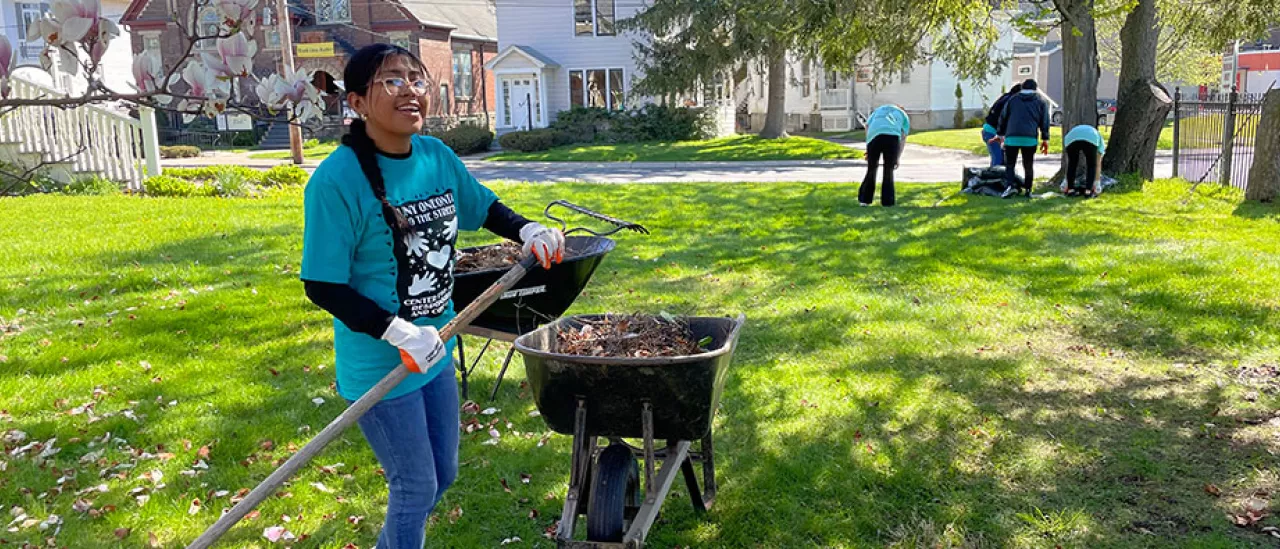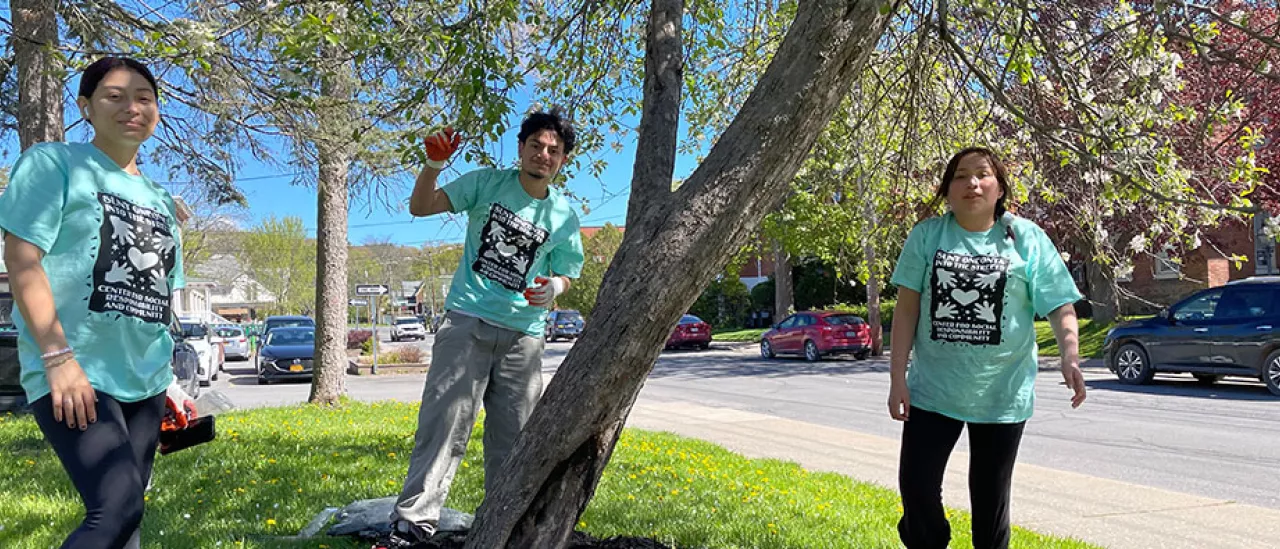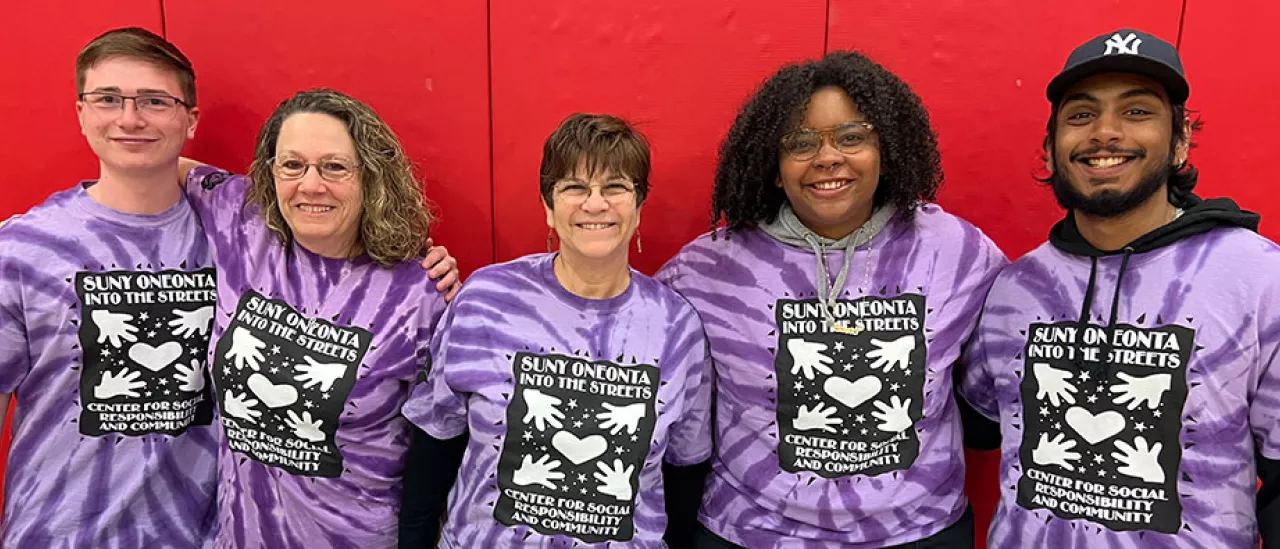 Nearly 300 SUNY Oneonta students spent Saturday, May 6, volunteering at local businesses, parks, nonprofits and schools during the university's annual community service day, Into The Streets.
Wearing colorful T-shirts identifying them as SUNY Oneonta volunteers, students were stationed at 23 different sites in Otsego and Delaware counties, according to Linda Drake, executive director of the college's Center for Social Responsibility and Community (CSRC), which coordinates the event.
"We had perfect weather," Drake said, "and our students put in 1,728 hours of work, providing $62,208 of free service for nonprofits that never would have been able to hire help to do these projects! As the CSRC team visited sites on Saturday, everyone told us how much our students are appreciated and how much help they were." 
Students raked leaves, planted flowers, painted, cleaned and more from approximately 10 a.m. until 4 p.m. Sites where students volunteered included Gilbert Lake State Park in Laurens, the Delaware County Historical Association in Delhi, the Farmers' Museum in Cooperstown, Hanford Mills Museum in East Meredith, Pathfinder Village in Edmeston, Otsego Christian Academy in Otego, College Camp, the Community Arts Network of Oneonta (CANO), the Susquehanna Greenway, the Swart-Wilcox House, Friends of Recovery and Salvation Army.
Behind Oneonta High School, a group of students in SUNY Oneonta's College Assistance Migrant Program worked hard to plant and clean up the Memorial Garden cared for by The Compassionate Friends of Oneonta. Michael Haehnel, a board member of The Compassionate Friends, Oneonta Region, said this year's group was "exceptional."
"Over the years the Memorial Garden has been a work site for many Into The Streets teams, and we have been grateful every time," Haehnel said. "The work they provide jumpstarts the care and keeping of the garden, and the work that we do over the summer is made much easier because of their efforts at the start of the season. ...We had great conversations while we were working. They not only worked hard, but they took initiative. Our deepest thanks and highest commendations." 
About the CSRC
SUNY Oneonta's Center for Social Responsibility and Community provides students with volunteer and service-learning opportunities throughout the year. Signature events include Into the Streets, the Oneonta Fights Cancer fund-raiser for a local cancer survivor, and the CANstruction competition, which has generated nearly 48,000 pounds of food for local food banks since its inception in 2011.