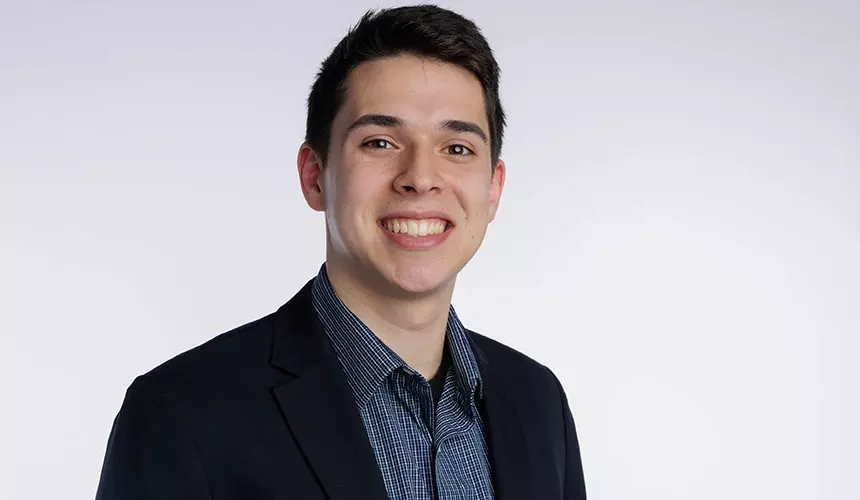 There isn't much on campus that senior Business Economics and Marketing major Bobby Lang isn't involved in. 
From serving on the Student Association and Oneonta Foundation Board of Directors, to conducting and presenting his research on personal spending habits, to volunteering as the university mascot, Red … Bobby has done it all. 
With tons of real-world, hands-on experiences under his belt, he's getting ready to tackle his biggest dream yet: becoming a marketer in the world of sports. 
Why SUNY Oneonta?
A couple of my family members including my older brother went to Oneonta, but I was initially torn between this school and Binghamton University. Ultimately, I decided that Oneonta was the perfect size school for me, and close to town so you could explore. It was also clear to me from the beginning that the faculty are student-focused and strive to give their students the best hands-on learning opportunities to bring with them into the real world. 
My Activities
I'm an active member of the Student Association and on the Oneonta Foundation Board of Directors, and I was part of the SA COVID Task Force, SA Finance Board and the SA Senate Development Committee. I'm also a member of the Political Science Club and Marketing Club (OnMark), Beta Gamma Sigma International Business Society, and I'm on three intramural athletic teams. I enjoy giving back to the campus community by participated in donor and alumni relations events as well as Admissions' Open House-style opportunities for prospective students, where I've served as a panelist, speaker, greeter and even dressed as the college mascot, Red. I also volunteer with the MakingCents campus financial wellness program.
Best Experiences
My best experiences at SUNY Oneonta have been the clubs and organizations, internships and other experiential learning opportunities that have helped me find my passions and discover what I can achieve after graduation. Being in the Student Association and then getting recruited to serve on the Oneonta Foundation Board of Directors was incredible. To be honest, I wasn't really sure what it entailed at the time, but I ended up falling in love with it. It's extremely rewarding to go to board meetings and hear about – and be able to give my input on – what the future holds for SUNY Oneonta. 
What do you like about your major? 
All the hands-on opportunities! I got to host and promote my own event, bringing in local sports professionals and having them talk to students. Last spring, I presented my research on the effects of brand role consumption on product promotion at Student Research and Creative Activity Showcase (SRCA). That whole experience helped me realize that I like the research and analytical side of marketing for sure, and I couldn't have figured that out if I didn't do that. It helped me discover what I want to do after graduation. 
I was also an Undergraduate Research Presenter at the American Marketing Association International Collegiate Conference two years in a row! In 2022, I completed a marketing and sales internship with a company near my hometown and, in 2023, I completed a second internship, this time with the Department of Sport Management on campus, which was really great. 
I also appreciate all the Business and Marketing societies and clubs you can get involved in, and the faculty are very friendly and knowledgeable. They know what they're talking about.  
Favorite Class 
Business Law with Sean Shannon was my favorite. He was a great teacher because he has been a practicing lawyer, and I think it's special when you get to learn from somebody who has been successful and has real-world knowledge. He also is an Oneonta alum, so he cares a lot about Oneonta students.
Plans, Goals, Dreams
My dream job is to be a marketer for a professional sports team.