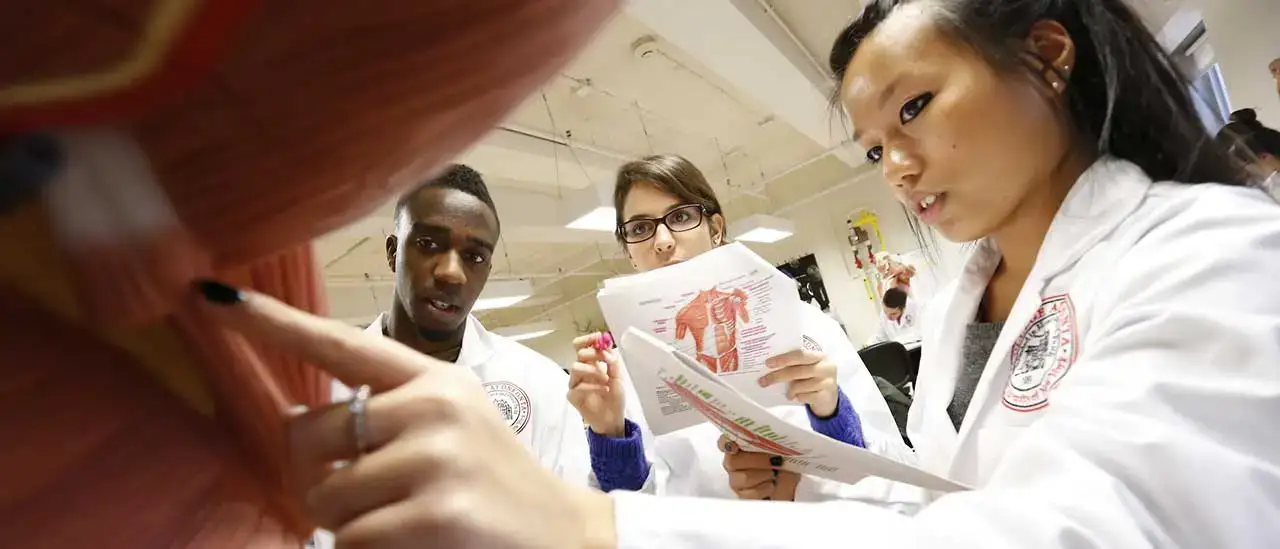 Pre-Physician Assistant Advisement Track
The Pre-Physician Assistant concentration satisfies the course requirements for admission at most physician assistant schools.
Additional elective courses are recommended but not required and can vary depending on the physician assistant program to which students intend to apply.
Students must consult SUNY Oneonta's current undergraduate catalog for descriptions of courses, course prerequisites, and time of year when courses are offered in order to plan properly in advance.
Students have the responsibility to check entrance requirements for schools to which they intend to apply.
Highly qualified SUNY Oneonta students have the opportunity in their junior year to apply for Early Assurance at Albany Medical College Center of Physician Assistant Studies via the SUNY Oneonta-Albany Medical College CPAS Early Assurance Program.
---
---
Pre-Physician Assistant Advising Meetings can be scheduled using the Bookings App
---
NOTE: four digit course numbers reflect the new course numbers, effective Fall 2022, as developed via the College-wide Course Renumbering Project.
BIOL 133 / 1001: Investigative Biology Laboratory
BIOL 130 / 1002: Cellular Perspectives in Biology
BIOL 131 / 1004: Organismal Perspectives in Biology
BIOL 201 / 2000: Cell & Molecular Biology
BIOL 205 / 2200 / 3202: Human Anatomy & Physiology I
BIOL 206 / 2202 / 3204: Human Anatomy & Physiology II
BIOL 362 / 3106: Microbiology (*BIOL 203 / 2010: Elementary Microbiology is for non-Biology Majors, however, see note below)
CHEM 111 / 1111: General Chemistry I
CHEM 112 / 1121: General Chemistry II
CHEM 221 / 2212: Organic Chemistry I or CHEM 226 / 2262: Essential Organic Chemistry
CHEM 330 / 3302: General Biochemistry
COMP 100 / 1000: Composition
PSYC 100 / 1000: Introductory Psychology
SOC 101 / 1001: Introduction to Sociology
STAT 101 / 1010: Introduction to Statistics
NOTE: Most Physician Assistant Programs require a 4-credit Microbiology, therefore it is recommended that even non-Biology Majors take BIOL 362 / 3106: Microbiology.
NOTE: Other courses required by some Physician Assistant Programs include Genetics and Medical Terminology.
NOTE: Physician Assistant education programs may change course prerequisites at any time and may have additional requirements, preferences, or policies that are not reflected in this advising track course list or on the AAPA General Prerequisite Course List. Programs may also allow applicants to substitute courses or choose different prerequisite tracks. Applicants should review the program-specific details and contact programs directly to determine whether a particular course will fulfill a prerequisite.
BIOL 180, 181, 201, 205-206, 362 (or 203 if a non-Biology Major)
CHEM 111-112, 226 or 221
COMP 100
STAT 101
PSYC 100
SOC 101 (SOCL 100)
The timeline for applying to physician assistant school varies among students and is dependent on a variety of factors, including successful completion of prerequisite coursework, competitive GRE examination scores, and appropriate healthcare experience.
Many Pre-Physician students are choosing to take at least one year after they graduate SUNY Oneonta to work in healthcare prior to applying to physician assistant programs.
In fact, across the United States most first-time applicants to physician assistant school apply after their senior year or later. Having a "Growth Year" between undergraduate studies and beginning physician assistant school is often beneficial for applicants and does not hurt your chances of admission as long as you continue to strengthen your application. It allows time to gain additional life experiences, continue volunteering or pursue non-academic interests.
If a student wishes to take a "growth year," or takes a different undergraduate path, students will need to adjust the course sequence plan accordingly, based on their personal planning needs. Individual student plans may vary depending on when the student hopes to enter dental school and what major is chosen, therefore each student should work with their Primary Major Advisor and their Pre-Health Concentration Advisor to establish their own personalized schedule
Application to Physician Assistant programs is made through the centralized application CASPA
The 2022-2023 CASPA (for PA school start dates in 2023) opens April 28, 2022
Applicants are encouraged to submit their CASPA as early in the cycle as possible (end of April/Very Early May) as it can take 4-6 weeks for your CASPA to be processed. Know that interview seats for prospective students at highly competitive programs are generally full before the end of August.
Additional Information is available at FAQs for CASPA
Most Physician Assistant Programs require the GRE General Test
GRE preparation options include free and paid test prep programs
ETS offers free and paid test prep options
Students generally request three to five letters of recommendation to be submitted on their behalf for physician assistant program applications.
Appropriate recommenders include science faculty, other course instructors, healthcare professionals, current or former employers, and professional references.
Master of Science in Physician Assistant Studies (MS PA Programs)
47% of SUNY Oneonta Pre-Physician Assistant students were accepted into PA programs (CASPA data, 2016-2021 Advisor Report).
SUNY Oneonta accepted students' average Overall GPA was 3.68 and Overall Science GPA was 3.59, consistent with CASPA GPA averages for All Accepted Students (2020 & 2021 Advisor Report).
Due to the variation in hours required for Health Care Experience, students should check the individual PA Programs for information regarding the average number of health care hours.
SUNY Oneonta alumni have been accepted into the following Physician Assistant programs: Albany Medical College, Bryant University, Clarkson University, CUNY - New York, D'Youville College, Daemen College, Drexel University, Duke University Medical Center, Eastern Virginia Medical School, Hofstra University, Lake Erie College, LeMoyne College, Long Island University, MCPHS University (Boston), Marist College, Mercy College, Marrywood University, Methodist University, Nova Southeastern University (Ft. Meyers), Pace University (Lenox Hill Hospital - NYC), Pace University (Pleasantville), Rutgers University, Salus University, Stony Brook University, SUNY Upstate Medical Center, SUNY Downstate Medical Center, Touro College (Bay Shore), Touro University (California), University of New England.
Pre-Physician Assistant questions should be directed to Tami LaPilusa, M.S., Program Coordinator, Pre-Health Professions