IMPACT Newsletter, Spring 2020

The vital roles of philanthropy grow each semester, especially for our students' experiential learning, such as internships, travel and research. And thanks to the College at Oneonta Foundation Board of Directors, the commitments to provide funding for these essential educational opportunities are also increasing. In this edition, one board member, Dean Davis '84, shares those types of insights.
As fiscal year 2019-20 unfolds further, we are heartened by the trust, generosity and confidence of our alumni and donors. So many good things happen for SUNY Oneonta students and faculty through charitable giving. We will keep sharing these outcomes with you. Thank you for your dedication and support of all amounts and the many ways that you strengthen our College.
Sincerely,
Paul J. Adamo '81
Vice President for College Advancement
Executive Director, College at Oneonta Foundation
Just one week before he became a five-time Grammy Award winner, musician and producer Finneas O'Connell spoke to 40 of our music industry students about what it was like recording a hit album with his sister, superstar Billie Eilish.
It was just one of the memorable moments our students experienced while attending the world's largest music products trade show, The National Association of Music Merchants (NAMM) Show, from January 16-19 in Anaheim, California. The trip was supported by charitable gifts from the Caroline ('67) and David D'Antonio Student Travel for Excellence Fund. Without this financial support, many of our students would be unable to participate in this life-changing professional development and learning opportunity.
The NAMM Show is an annual event bringing together leaders in the music industry for four days of product introductions, business opportunities, networking and inspiration. In addition to previewing and testing new products from more than 7,000 brands, students engaged in educational panels and discussions while networking with industry professionals in hopes of securing internships and job opportunities. 
Students also heard interviews with the music world's top innovators, artists and professionals, including O'Connell, who received Grammys for record of  the year, album of the year, song of the year, non-classical engineered album, and non-classical producer of the year at the 62nd Grammy Awards.
"Getting to hear from Finneas O'Connell who just won producer of the year, yet attended NAMM as a student for four years just a few years back, really helped to push me toward my own end goal, which is to become a label executive," said Temima Shames, a senior from Deer Park, NY. "The most memorable parts of this trip for me were being able to meet with producers, artists and executives who were once in my place. It was really inspiring to learn how they went from my spot to where they are now."
For junior Zanida Banks-Rollins, of South Bronx, NY, attending The NAMM Show helped reassure her that she is taking the right steps toward her end goal and that she has the potential to reach her aspirations if she keeps working hard. The event also helped her become more comfortable interacting and networking with top music business professionals.
The NAMM trip is a long-running SUNY Oneonta tradition. While in California, the students also visited Paradigm Talent Agency and volunteered at NAMM's She Rocks Awards show, which pays tribute to women in the music industry.
Harold Lichtenstein, a senior from Farmingdale, NY, said his favorite parts of the trip were watching 1970s R&B group Earth, Wind & Fire perform, and hearing artist, songwriter and producer  Jack Antonoff speak.
"My band is about to head into the studio to record an album," Lichtenstein said, "and the information from the dozens of seasoned engineers, mixers and mastering engineers I heard speak has inspired me to really go above and beyond."

WHAT DOES IT MEAN TO ME TO SERVE AS A MEMBER OF THE COLLEGE FOUNDATION BOARD OF DIRECTORS?
As a member of the Foundation Board of Directors and current Chair of the Advancement Committee, I personally see the impact that charitable giving is having at SUNY Oneonta. It gives me an insider's seat at the table where strategies are made for fund raising and donor recognition.  As a former faculty member at universities in New York and Florida, I know the difference that gifts can make to academic departments when student research and faculty development and travel are supported. 
In January I was honored to address a gathering of alumni in New York City at an 1889 Society reception. I find it gratifying to report on the accomplishments of our Foundation. The impact of scholarships, internships and the availability of emergency funds can be life altering for students.  As a former scholarship recipient, I remember the relief that scholarship funds provided.  
WITH MY HUSBAND I'VE ENDOWED THE DEAN A. DAVIS '84 & JOHN P. ARGUESO SCHOLARSHIP AT SUNY ONEONTA. WHY DID I CHOOSE TO SUPPORT OUR COLLEGE IN THIS WAY?
By attending a state school, I had access to higher education that my family could afford. Attending SUNY Oneonta changed my life by providing me with an excellent education, establishing skills that I took into corporate and academic careers, introducing me to forever friends and sparking my interest in lifetime learning. SUNY Oneonta is fully integrated into the person I am today. As a member of the 1889 Society and the Foundation Board of Directors, I recognize the importance of giving back to ease financial needs, support research and internship programs and foster possibilities for students and faculty.
WHAT EXCITES ME MOST ABOUT THE DIRECTION OUR COLLEGE IS HEADED?
As an enthusiastic alumnus, one of the major benefits of serving on the Foundation Board is that I get to visit campus four to six times each year after thirty years away. The campus has evolved in exceptional ways with new, remodeled, and modernized buildings. As a Liberal Arts institution in the best sense of the term, SUNY Oneonta is excelling academically in many different lanes. I believe that SUNY Oneonta is embodying its new mission statement: "We nurture a community where students grow intellectually, thrive socially, and live purposefully."

"During my time at Oneonta, donors and their philanthropy frankly made my higher education possible. Overall, I was lucky enough to be awarded two scholarships throughout my four years, but also a grant for travel assistance during my first summer at SiriusXM. Because of the experiences I had at Oneonta, and the funds that made it all possible, I was able to intern at SiriusXM during the summers of 2018 and 2019. Both sessions allowed me to grow my professional network and skill set while working in talk programming - all of which led me to, and primed me for, my first and current full-time job with Premiere Networks at iHeartMedia. I find myself applying knowledge from higher education on a daily basis at work, and I very honestly cannot imagine where I would be without the kindness and goodwill of Oneonta's passionate donor and alumni network."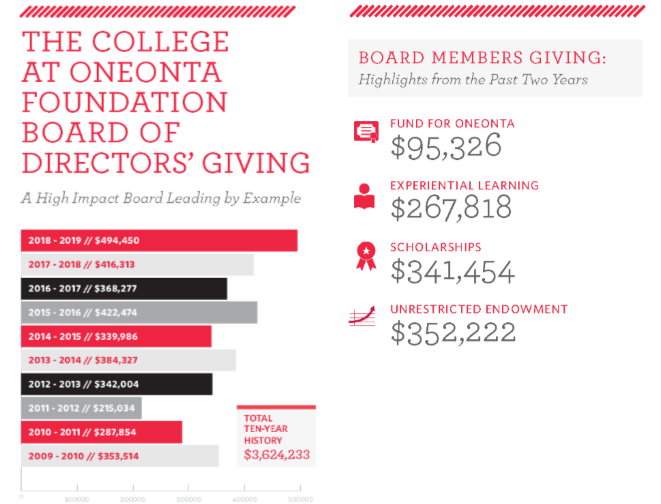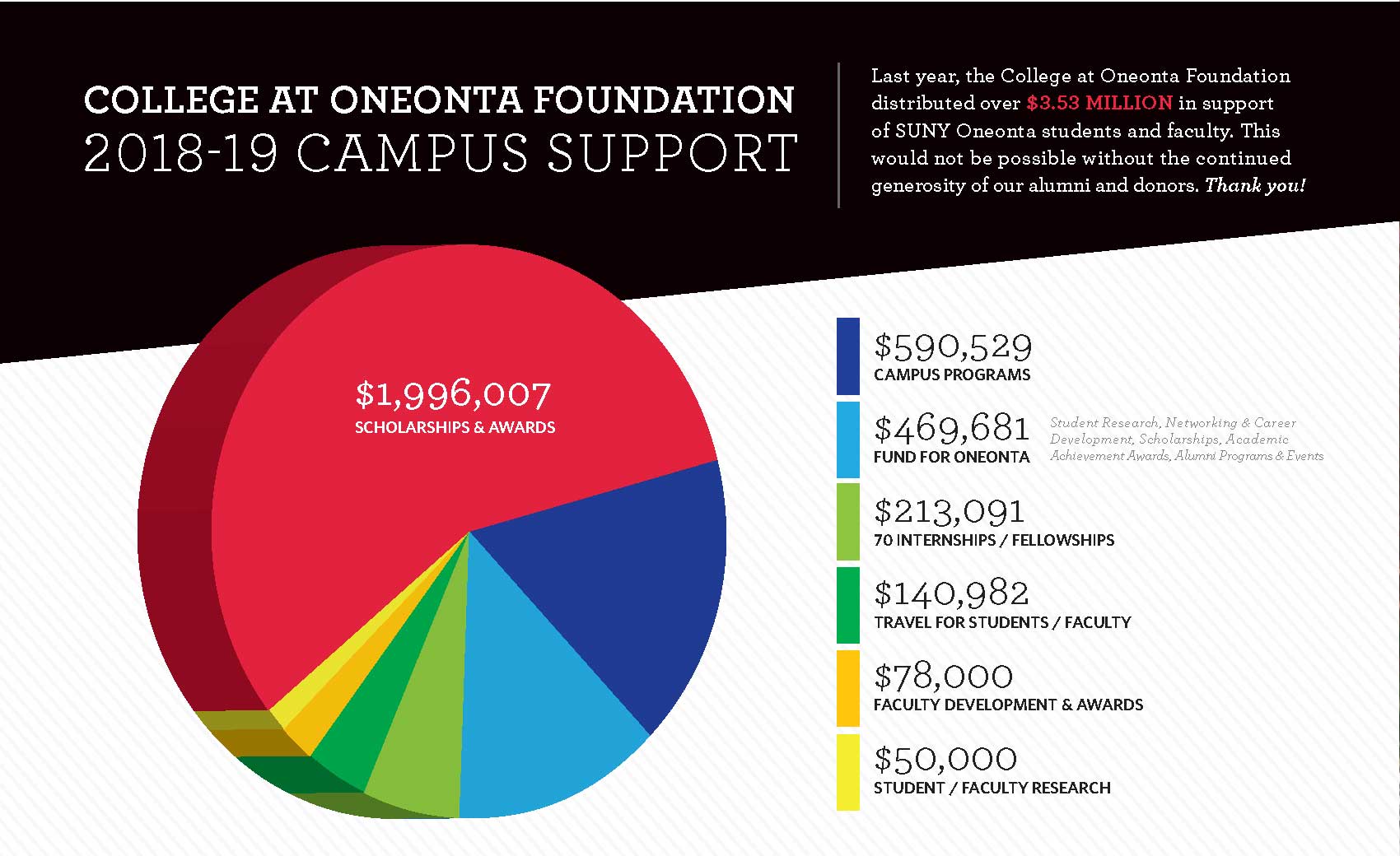 2020 Day of Giving - Thank You, Donors!

Every year, SUNY Oneonta's annual Day of Giving is a celebration of the college and our community. This year it was an opportunity and a necessity. With the effects of COVID-19 rapidly changing the way we live and work in the short-term, we asked for your help in assisting students in need during this time of uncertainty. The Red Dragon family once again answered the call with a tremendous outpouring of support. We would like to take this opportunity to thank each and every Day of Giving donor.
Paul and Ann Adamo
Wylance Adams
Gail and James Alcott
Frances Althiser
Edward and Sarah Aluck
Victoria Andritz and Robert Rightmire
Dodie and Mark Antal
Barbara Asheld and John Stupp
Janice and Stephen Ashley
Ashley Family Foundation
Steven and Jane Bailey
Jeffrey Barnett
Sandra and Paul Barone
Alan and Susan Bartunek
Jillian Basile
Julia Baxter
Kyle Beckley and Michael Abourizk
Jyesse T. Behling
Brian Beitzel
Christine and Brad Bellinger
Shelby Benjamin
Harriet Berard
Cindy and Alan Bergman
Jerrold and Mary Bermingham
Ellen Blaisdell and Peter Exton
Douglas and Karen Blake
Jean and Roger Bolen
Charles Bollinger
Michele and Mitchell Borger
William and Carol Brennan
Michael Brophy
Richard and Karen Brown
Robert Brown
Jennifer Bueche
Carol and John Burkhart
Carolyn Cacciato
Nancy and John Cannizzaro
La-Tarri Canty
Sylvia Carey-Butler and Paul Butler
Frank Carione
John and Dorothy Carline
Alice Carpenter
Sarah Cascone
Maureen Cashman
Andrea Casper
Michael and Merri Chechanover
Ben Cherry
Joseph and Angela Ciccone
Nicole C. Cioffi
Linda Cirillo
Kelly Clarke
Stephanie Cody
Mary Coles
Christopher Colton
Lorena Coscio
Susan and William Crews
Yvonne Cummings
Susan and Brian Curry
Sean Daly
Caroline D'Antonio
Jay Davidson and Kevin O'Neill
Gary and Gail Davis
Carol Dean
Katherine Delaney
John and Wendy Delehanty
Mark Delligatti
Gail Denisoff
Bobbye Dickerson
Jim Doig
Gabriela Donato
Nancy Donato and Brian Simcox
Barbara and John Donegan
Kathryn and David Doyle
Howard and Amy Duff
Susan Duffy
Alice and Colin Dunkak-Quinn
Elizabeth Dunn and Tom Murphy
Michelle and Rick Eastman
Gregg Eggleston
Richard Ellman and Stephanie Warelis-Ellman
Todd Evans
Rich Eyring and Cathryn Dupuree
Ronald and Joanne Feldstein
Gail and Steven Feuer
Dorothy Fiedler and Daniel Creighton
Kimberly Fierke
Francis and Janet Fitzpatrick
Lynne and Howard Flaxman
Lisa Flynn
Bryan Folkl
Todd and Danilyn Foreman
John and Mary Friedman
Odalis Galeano Umana
Kathleen and Robert Gallagher
Douglas and Chris Geertgens
Thomas Glennon
Jennifer Gnecco
Janice Goutell
Jane Grastorf
Monica and F. William Grau
Alexandra and Timothy Greeley
Russell and Diane Green
Susan Gricko
Mary and James Griffin
Carol Grzywinski
Stefan Gunther and Lisa Goldberg
David and Sandra Guzewich
Paul Habernig
Allyson Haff
Michelle Hansen
Stanley and Queenie Hansen
Jessica and David Harney
Ryan Harrington
AnneMarie Haumesser and Luke Haumesser
Carli Heming
Julie and John Henderson-Divi
Roz Hewsenian
Judith Heylmun
Patrick Hillis
Melissa and Steven Hochberg
Helen and Rudolf Hoering
Patricia Holmes
Roland and Sharyn Holstead
Melissa and George Hough
Gregory Hummel
Abigail Hurley
Jennifer Isidoro
Tyler Itzkowitz
Joanna Jackson
Alison and Dave James
Noele Jencarelli
Linda and Timothy Jenkins
Ellen and William Jennings
Andrea and Kenneth Johnson
Michele Jones
Christine and Philip Jordan
Sally and Mark Jozwiak
Shahin Kachwala
John Kaplan
Christina and Eugene Karaim
Gina Keel
Carol and Kevin Kilgallin
Debbie Kilpatrick
Ira and Terry Kocivar
Kelly Kraft-Meyer and Richard Meyer
John Krakowski
LeeAnn Kuhn
Christopher and Kaitlin Ladika
Andrea LaMantia
Andrew Leeb
Amy Leff Temple and Adam Temple
Anna Legname
Denise Leinonen
Marlene Lentz
Jennifer Leonard
Richard Levy
Britney Liddell
David and Laura Lincoln
Louise Little
Jean Lown and William Dixon
Helen and George Lug
Vincent Luisi
Phyllis and Douglas Macbeth
Alice Maggiore
Joanne Magowan
Ashley Mancino
Gabrielle Mastrantuono
Lawrence and Diane Masullo
Harry Matthews
Trisha and Christopher Matz
Ronald and Sally Maxson
Michael McAvoy
Patrick and Linda McCann
Eileen McClafferty
Elizabeth McGrail
Mary and Stephen McGuire
Drew and Erin McKay
Barbara and David M. McLaud
Edward and Rosemary McSweeney
Bill and Kathleen McVicar
Jill and James Mirabito
Robert and Joan Miron
Erikka and Jason Misrahi
Diana Moller and Charlene Christie
Katherine and Edward Monthie
Coleen and Geoff Moore
Laura and Emma Morcone
Barbara Morris
Adam Moulter
Peter Muller
JoAnne Murphy
Dawn and Kevin Murray
Allison and James D. Myers
Janet and S. Yegna Narayan
Grace Narins
Rosalind and John Needham
Katherine Nelligan
William and Susan Neubauer
Sandra Neverett and Pamela Cranston
Madelyn Nicolini
Thomas and Kathleen Nixon
Stanley Nosek and Julie Smith
Kim Nostrom
Jennifer Oates
Arlene O'Brien
Elizabeth O'Brien
Thomas and Joan O'Brien
Lisa and Scott Oslacky
Jade V. Osterwald
Judith and Martin Palais
Karen Pantaleon
Debra and Sid Parisian
Theresa Peck
Cheryl Peeters
Stephanie Peguillan
Emily Pentland
Russell Pergola
Paul Perlman and Beth Mattimore
Janet Perna and Melanie Rose
Agnes and David Peterson
Sara and Steven Pickett
Maureen and David Pio
Julianne and Joe Piscitello
Jason and Lisa Pomeroy
Audrey Porsche and Brian Alexander
Amy Posner
Anne Pryor and Steven Ackerman
Joseph and Jeanne Raia
David and Tracey Ranieri
Thomas and Lola Rathbone
Emily Rattanaphasouk
Robert Raymond
Mary and Edward Ricciuti
Jonah Roberts
Stacy Robinson
Thomas and Linda Ryder
Daren Rylewicz and Julie Rylewicz
Kacey Sach
Marcy and Scott Salmirs
Carly Salzman
Paul Scheele
Patricia Schiavone
Benjamin and Brenda Schoolsky
E. Christine Schuler-Ghiorse
Kathleen Schultz
Rhea Schultzberg and Robert Molinari
Howard and Polly Schwartz
Todd Scott
Shawna Scoville
Elizabeth Seale
Scott Segar and Adrienne Martini
Joyce and David Shafer
Adam Shapiro
Suzy Shepardson
Luke Sheridan
Sheila Sheridan Striffler and Robert J. Striffler
Pamela Shmuel
Raymond Siegrist
Robert and Margaret Sklarz
Charles Smith
Larry Smith
Sharon Sobel
Barbara Soldani
Joanne and Frederick Soued
Donald Spector
Maya Speelmans
Michael Stabach
John and Barbara Stahlberg
Andrew Stammel
Katherine and Jared Stanley
Susan Stetson
Keith and Andrea Stewart
Ruth and Sam Stokes
Michael and Rebecca Sullivan
Donna and Robert Sutherland
Kevin Sutton
Danielle Tamis
Vivian Tan
Alexis Tepper
Jacqueline Terry-Hughes and David Hughes
Craig Thaler
Nancy and Robert Thiel
Wade Thomas and Maggie Morrison
Robert and Danielle Tonner
Natalka Tsuvanyk
Alice and Stephen Tucker
Virginia Tucker
Michael Uzzi
Jean Vallianos
Susan Venditto Wallace
Mark Ventrone and Karen Phillips
Joseph and Alexandra Villecco
William Vining and Kathy Tobiassen
Deborah Viscogliosi
Stephen Walsh and Marianne Robb
Christine Warnquist
Diane Webster
Mary Anne and James Welsh
Benjamin and Karyn Wendrow
Mary Westermann
Lynn and Randall Westgren
Ellen and David Whipple
Jennifer and RP Withington
Conner Wolfe
Nancy Wolters
Kathryn Wood
Maureen and Robert Wood
Mary and Anthony Yarusso
Carole Yass
Kelly Yates
Robert Zack
Taylor Zelka
Remi Zellman
James Zians
Patricia Zurowski
---
---
Story Archive
---
Reducing the burden of student debt is one of SUNY Oneonta's top priorities. As tuition and other expenses continue to increase, financial and merit-based scholarships help bridge the gap for students and provide access to a quality education. Through your charitable giving, scholarships introduce students to a world of possibilities, as students below say it best...
"This scholarship is meaningful to me because I am not an individual who comes from a wealthy family. My family has struggled financially and have always tried their best to supply my brother and me with everything we need. You have a huge impact on students. There are many students who withdraw from college because they are not able to afford it. However, you make it possible for these individuals which is something I am very grateful for." 

---

DIANA GARCIA '19 Mathematics major

Recipient of the William A. Clement '69 Scholarship

"I am very grateful for receiving this scholarship because it will aid to further my current and future studies in biology. I feel more motivated to keep exploring the different career paths that a biology major has. I would like to say thank you for the opportunity that was given to me this academic year. Scholarships like this really help students accomplish their goals during their college experience." 

---

DIEGO MENDOZA ROMERO '21 Biology major Spanish minor

Recipient of the Dr. William J. & Majorie M. Pietraface Biology Scholarship

"I have been awarded this scholarship the past three years. By receiving this scholarship, it helps me achieve my goals more easily without considering tuition problems and it reminds me to work harder. Thank you again for allowing me the honor of receiving the Garth Stam Scholarship!"

---

XUEHUA LI '19 Mass Communications major

Recipient of the Garth Stam Scholarship
Sixty-four SUNY Oneonta students participated in faculty-led trips during the March 2019 spring break that took them across the world. Wherever the destination, trips broadened students' perspectives, increased student engagement, strengthened student-faculty research and creative activities, and promoted global connections. The following is a collection of their amazing experiences abroad.
---
South Africa
Four art students traveled to South Africa with Lecturer Pearlie Baluyut for a week of academic and cultural exchange with students at the University of the Witwatersrand in Johannesburg, where Nelson Mandela once studied. 
Working closely with Wits University students and a host faculty member, SUNY Oneonta students developed a greater understanding of identity politics, social justice and human rights through art and creative research through applied-service learning activities at the Witz University, Wits Art Museum, and Play Africa, a non-profit organization that serves families and children from disadvantaged backgrounds. 
Baluyut said the trip "provided the students with a critical and humbling view of a global landscape filled with lessons and opportunities."  

 "With first-hand knowledge and an unforgettable international experience, the American and South African students are in a better position to serve as advocates of mutual cooperation and catalysts of global exchange to ensure a kinder future for themselves and the generations to come," said Baluyut.
A standout moment was a trip to the Apartheid Museum, where students learned about the tragic and triumphant history of South Africa and its people through dynamic exhibitions featuring videos, photographs, paintings, and other objects. They also went on a behind-the-scene curatorial tour of Constitution Hill (the courts, prison cells, and art gallery).
---
Zimbabwe
In nearby Zimbabwe, two seniors, accompanied by Professor of Political Science Robert Compton, were busy learning the political development and political economy of the country and difficulties of non-governmental organizations operating under unstable socio-economic conditions. 
The students met with a large array of groups including Parliament staff and elected national legislators, the Southern African Parliamentary Support Trust, the Clerk of Parliament, the National Association of NGO's, the University of Zimbabwe and the U.S. Embassy. At the opposition Movement for Democratic Change offices, the students saw the after-effects of riots at the offices, which included shattered windows and the charred markings of a fire bomb. Despite experiencing electoral conflict, violence and a declining peacetime economy, the students found that Zimbabweans were hospitable, friendly, and hopeful for the future.
The small group also visited Heroes Acre and Domboshawa Park; toured Mbare high-density suburbs; saw Victoria Falls from the Zimbabwe and Zambia sides; and enjoyed a sunset on a Zambezi River cruise. They also saw the Mbizi Game Reserve and the famous Hwange National Wildlife Reserve, where zebras, bushbucks, hippos, baboons, giraffes, elands, and elephants roam.
---
South Korea
Five students traveled to Seoul, South Korea, for a cultural immersion program called "The Philosophies of Peace" that explored philosophical, cultural, social, religious and historical aspects of the notion of peace. 
Under the direction of philosophy Lecturer Dr. Danial Patrone, the students saw numerous museums, temples government offices, and markets. They developed
a deeper understanding of Korean history, culture, and philosophy through attending contemporary theatre productions, traditional Korean dance performances, musical performances, religious rituals, and philosophy classes. 
Highlights included studying Confucian temples; meeting with monks at a Buddhist temple; touring The Korean Demilitarized Zone; learning about the history and current political situation involving North and South Korea; and speaking with a North Korean defector about life in North Korea, her experiences defecting, and the prospects of a stable and lasting peace in the region. 
"My trip to South Korea was a once-in-a-lifetime opportunity," said Anna Korniak, Class of 2020. "I enjoyed fully immersing myself in the culture, which helped me learn a lot about the country and about myself. The beautiful city of Seoul was captivating, and the experiences I had exploring the city I will never forget."
Students also visited Sungkyunkwan University (SKKU) to meet with students and faculty, and attend philosophy classes with their Korean peers. In the evening, SKKU students hosted SUNY Oneonta students at a traditional Korean barbecue to learn more about each other and develop new friendships.
---
Columbia
Four education students traveled to Cali, Columbia with Assistant Professor Thor Gibbins. The students completed a field experience in bilingual schools- one an affluent foreign school and the other in a less-privileged area.
McKenzie Hyer, a Childhood Education major in the Class of 2019, said of the eye-opening trip, "We were able to compare education systems in the United States to those in Columbia. We saw how some schools are given more opportunities and resources than others, just as you can observe in the U.S. How that influences children in both societies is something I will continue to consider as I grow as an educator."
---
Puerto Rico
Eight students traveled to San Juan, Puerto Rico, to continue Hurricane Maria cleanup efforts through Jewish Response to Disaster or "Nechama," a volunteer-driven global nonprofit organization. The students cleaned, swept, hammered, painted, worked on roofs, and more to help the area recover.
They were accompanied by Associate Professor of Biology Sean Robinson and Center for Social Responsibility and Community Director Linda Drake. They stayed with other NECHAMA volunteers, saw the lush flora and fauna of the island, went on some very muddy hikes, and did some sightseeing in Old San Juan. 
Zachary Vaccaro '18 didn't let a battle with cancer keep him from achieving his goals. After completing his on-campus Mass Communications degree requirements, Zachary decided to put his education to work for a cause that hit close to home. During the fall 2018 semester, Zachary participated in a three-month internship at the American Cancer Society. He shared that, "As a cancer survivor, being able to be a part of this organization was overwhelming in a good way."
Completing a full-semester internship is a significant financial burden for any student. Fortunately, Zachary was able to receive funding through the Dewar Foundation Fund for Internship Support, a fund established to make internship experiences more accessible for SUNY Oneonta students. Simply put, Zachary shared that, "without this fund, I would not have been able to afford my internship at the American Cancer Society."
During his internship, Zachary worked in Philadelphia, New York City, and Atlanta on a variety of fundraising campaigns such as "Real Men Wear Pink" and "Making Strides Against Breast Cancer." Specifically, he gained experience working on video campaigns and social media outreach projects. Zachary was also fortunate enough to sit in on a video shoot for their "Society Talk" speaker series - all of which provided enhancements to his portfolio and resume. 
Zachary now works for FXAV, an audio and visual company in New York City, in addition to his freelance video and event photography work. "My internship at the American Cancer Society opened up new doors in my life. Thank you to everyone who continues to support SUNY Oneonta students!"
"My internship at the American Cancer Society opened up new doors in my life. Thank you to everyone who continues to support SUNY Oneonta students!"
Seven SUNY Oneonta students with Professor Alejandra Escudero, PhD-ABD, from the Department of Foreign Languages and Literatures, traveled to Barranquilla, Colombia over this past Spring Break with support from the Global Connectedness Fund.  They created a short video to thank their donors for their generosity and showcase all that occurred during their travels.
SUNY Oneonta's Science 1 building is now named the "Janet R. Perna Science Building" in recognition of distinguished alumna Janet Perna '70, who has made a gift commitment of $5 million to the State University College at Oneonta Foundation.
Half of Perna's gift will be allocated to our unrestricted endowment, providing funding that is flexible in nature and critical in supporting strategic initiatives designated by the College Foundation Board of Directors, including scholarships, student and faculty research, internship support, and faculty development. The other half will be restricted to the "Janet Perna '70 Women in Technology Scholarship."
The SUNY Board of Trustees made the naming of the Perna Science Building official in accordance with the State University of New York Naming Opportunities Policy and Procedure on March 22, 2018. SUNY Oneonta's College Council also approved the naming of this building at a special meeting. 
Like many students who attend SUNY Oneonta, I was the first in my family to graduate from college. This gift will make it possible for others to have the opportunity to realize their dreams and aspirations."
"This will be the largest charitable gift ever made by a graduate of SUNY Oneonta," said former college President Nancy Kleniewski. "Janet, who distinguished herself as IBM Software Group's highest ranking female executive before retiring in 2006, is a very generous person, having already given a half-million dollars for scholarships to women in STEM disciplines. We are immensely grateful to her for this impressive gift."
"I am making this significant gift because I believe in the importance of a quality education to improving the overall socio-economic climate within the United States and worldwide," Perna said. "Like many students who attend SUNY Oneonta, I was the first in my family to graduate from college. This gift will make it possible for others to have the opportunity to realize their dreams and aspirations.
"I chose SUNY Oneonta for the beautiful campus and the way it made me feel at home. I am so happy I chose SUNY Oneonta to be the next chapter in my life." 

Kassandra Erickson '19 - Business and Economics Major
College Foundation 25th Anniversary Scholarship for Academic Excellence Recipient
Much of the campus' landscaping can be attributed to the involvement and generosity of Clara Voss Netzer, wife of Dr. Royal Netzer, fourth president of the college from 1961-1970.
During her lifetime, Mrs. Netzer, an avid gardener, provided her advice and expertise in planting hundreds of trees on our campus, many of them oaks, which continue to adorn the grounds today.
Mrs. Netzer sought to continue her passion "to enhance and beautify the college grounds" through her estate plan. By naming the College at Oneonta Foundation in her will, her gift created the Netzer Campus Beautification Fund in memory of Dr. Royal Netzer. Her legacy gift improved our campus for the past 25 years. In acknowledging Mrs. Netzer's generous bequest and Dr. Netzer's leadership, the College Foundation Board of Directors named our Netzer Planned Giving Society in their memory and chose the oak leaf as its symbol.
Former College Foundation Board of Directors president, Dr. Thomas Hughson, reflected on the impact of this gift: "Mrs. Netzer's love of and interest in the college will now have an everlasting place in supporting the mission of the institution. It is gratifying to see that her affection for the college never waned, and the College Foundation Board will be forever grateful to Mrs. Netzer and the many people like her who support the college in many ways."
If you are interested in learning how you can create your lasting legacy through a gift in your will and estate plan, please contact:
Ellen M. Blaisdell
Director of Gift Planning
(607) 436-2781
Ellen.Blaisdell@oneonta.edu

"My name is Mercedes Serrano '20, a Biology major with a concentration in Medicine and a minor in Women's and Gender Studies. 
When I first visited campus, I noticed the Oneonta State Emergency Squad (OSES), the paramedic team on campus. OSES is the reason I decided to attend SUNY Oneonta. I felt my involvement in OSES could give me a closer look into the medical field and pave the way for my future. 
However, I knew paying for college would be challenging. I come from a very low-income household; my mother left her professional job in the Dominican Republic to give my brother and me a better life. Without the College at Oneonta Foundation 20th Anniversary Scholarship, the pursuit of furthering my education would not be possible! This is the first time I ever received a scholarship and I feel proud. My scholarship makes me feel like I can accomplish anything. 
I wouldn't have this opportunity without donors. Donor generosity makes an impact on students financially and personally, encouraging us to pursue our career goals. To all the donors who made my scholarship possible, thank you! I will not let your gift go in vain and will continue to work extremely hard toward my college degree."
For Dr. Tracey Allen, Interim Dean for the School of Sciences, exposing students to applicable field work and the wonders of science are priorities in the classroom. With funding made available through the Global Connectedness Fund, Dr. Allen and Dr. Devin Castednyk, Adjunct Associate Professor, Earth and Atmospheric Sciences, led students in a global field course to Guatemala. Titled "Water and the Environment of Guatemala," students tested the water quality of Lake Atitlan and obtained a baseline reading of the arsenic levels in the surrounding area.
"Thank you for your generosity, because without your donation, I would've never been able to afford an experience that has shaped my world view, and my scientific prowess towards the ecological and biochemical sciences." Constance Finnerty '19
Biology major Constance Finnerty '19, and Environmental Sustainability major Casey McCurty '20, were among the students that participated in the field course. Their travels were funded entirely through the Global Connectedness Fund, without which neither student would have had this experience. Through their extensive testing and research, it was discovered that water in some areas was so contaminated with arsenic, that it far exceeded safe drinking water standards. 
To ensure locals' awareness, the arsenic data was turned over to the affected Mayan Communities. Although the source of the arsenic had not been uncovered, the data and results obtained will allow for future research to take place and aid in addressing this health issue. 
Philanthropic support of student-faculty research enables our students to travel abroad and make an impact that will change lives. 
James Garzia '18, Math and Accounting major and recipient of the John J. Doherty '87 Scholarship, served as Vice President and Co-Founder of SUNY Oneonta's Entrepreneurship Club. Working with Club President, Timothy Distler '18, the two began to envision an on-campus Innovation Center to promote creativity, enhance problem-solving skills, and better prepare students for the real world. 
James' goal involves "collaboration across majors in an entrepreneurial atmosphere, creating new ways of thinking and communication, linking students with start-up businesses in the community and identifying existing business needs through internships and project-based opportunities, thus enhancing collaborative efforts between SUNY Oneonta, the Oneonta Community, and Mohawk Valley Region."
James and Timothy needed funding to make their vision a reality. "With the help of Mr. Alan Rubin '93 and the A&D Transport Services Entrepreneurial Fund he established, we started building in the spring of 2018. We were able to obtain space on campus in the Hunt Student Union." The funds above were used to purchase equipment such as touch-table technology and whiteboards. "We hope that all students will use the Innovation Center during the upcoming fall semester, James emphasized."
I am incredibly grateful for the opportunity that Mr. Rubin has given   us. Thank you!"
Excited that the Innovation Center is becoming a reality, James shared, "the opportunity for students and faculty to engage in entrepreneurism will directly add to the empowerment of students to identify and achieve ambitious goals!" Additional gifts for this purpose are welcomed and we would be delighted to endow the Innovation and Entrepreneurial Fund. 
"I am incredibly grateful for the opportunity that Mr. Rubin has given us. Thank you!"
James McAteer '08 participated in the campus to career program, Backpacks to Briefcases, when he attended SUNY Oneonta. Over the years, he has participated as an alum to give current students industry-specific advice. Watch as James recaps this year's event and discusses how the program affected him as a student as well as an alum. This program (and many others) is funded by generous gifts from alumni & friends to the Fund For Oneonta.
Thank you!
Thank you for your generosity to SUNY Oneonta. Your investment helps our College to provide students with resources they need to reach their full potential. Whether they pursue studies in art, literature, education, business, or science, students gain the knowledge and experience needed to succeed in an ever-changing world. Through classroom instruction, hands-on learning in laboratories and studios, internship opportunities, and extracurricular activities, SUNY Oneonta students become leaders and important contributors to our society.
The following articles and videos highlight the great things that your philanthropy makes possible today and in the future. SUNY Oneonta's successes would not be possible without your unwavering support and commitment. Thank you for your dedication to help our students become fully prepared to embark on their roads to success!