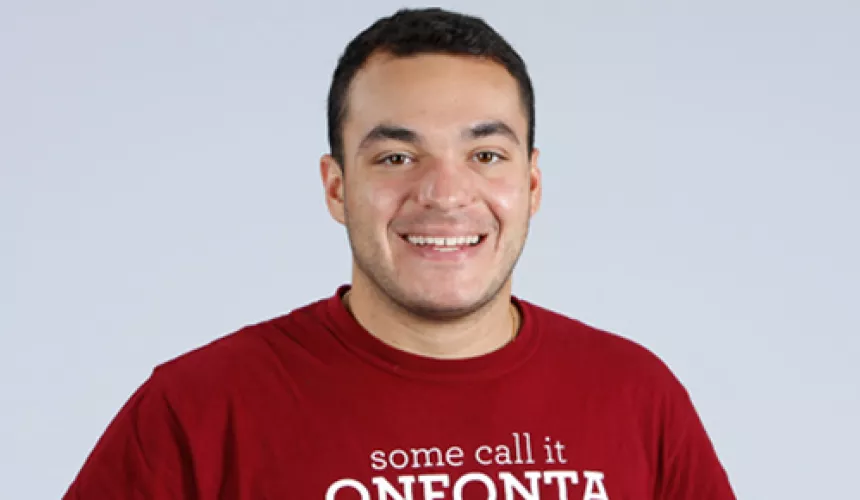 Hometown
East Northport, NY
After Oneonta
Kevin is an eighth-grade Spanish teacher at Saratoga Springs Middle School. He is also enrolled in SUNY Oneonta's online Masters of Science in Educational Technology program. 
---
Why SUNY Oneonta?
I was comparing Oneonta to a lot of schools, and then once I got here I just really liked the whole atmosphere. I liked that it was a small school but felt big. I'm also on the swim team, so that was something that brought me here, too.
My Activities
Men's swimming and diving team, Shark Conservation club, Oneonta Players Reaching Other Students (OPROS), Orientation Leader
Best Experiences
Swimming and orientation. Swimming has allowed me to make so many good friends, gain a lot of confidence and get physically and mentally stronger. Being an Orientation Leader really got me out of my comfort zone. I was able to lead a group, make freshmen feel welcome here and show them how much I love it here.
Plans, Goals, Dreams
I definitely want to teach, but one of my dream jobs would be to be a cruise director!
About My Major
I really like the Spanish major. I think it's so much fun. All the classes are very interesting. I took a class on food services for Spanish, medical Spanish, and Phonetics and Phrenology, which I thought was really cool.
Favorite Class I've Taken
My Phonetics and Phrenology class was so interesting to learn the science behind languages, how people speak and why. You learn the parts of the mouth and how you have to put your tongue to a certain spot to make a sound. My favorite education class is Methods because I get to work at Morris Central School teaching Spanish to 8th- through 12th-graders and that's a lot of fun.