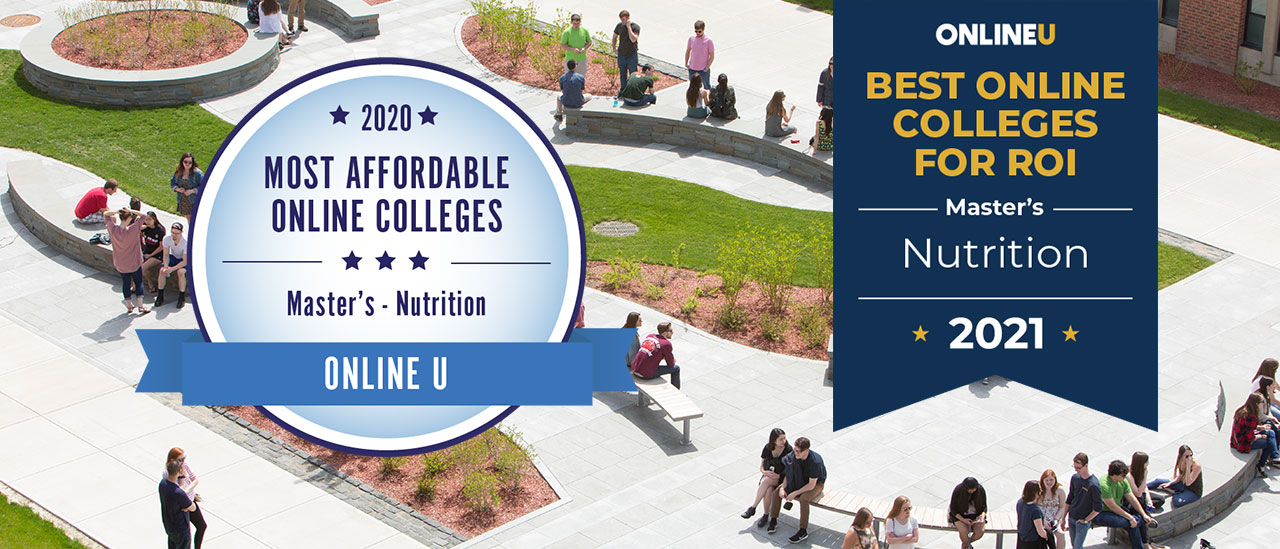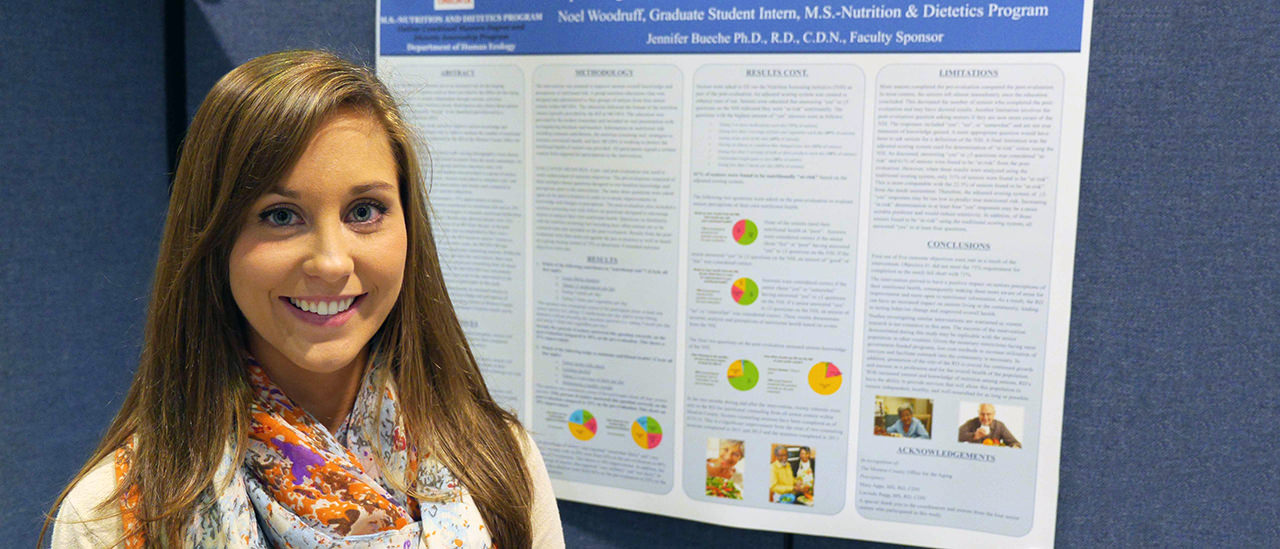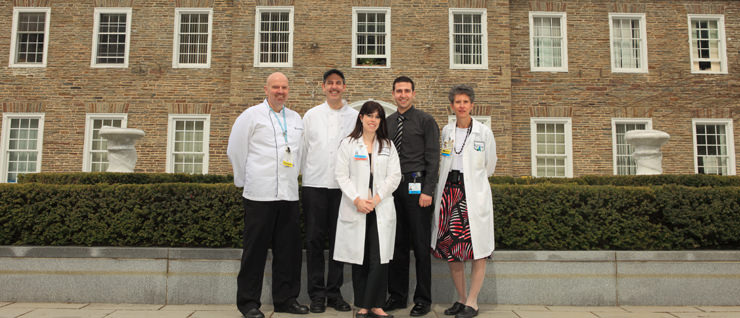 Are you interested in becoming an RD/RDN?
Students who successfully complete our online M.S.-Nutrition and Dietetics Program will earn a master's degree in Nutrition and Dietetics and be eligible to take the CDR RDN credentialing examination to become a Registered Dietitian Nutritionist (RDN).
Note to prospective students:  As of 2024, the Commission on Dietetic Registration has changed the requirement from a bachelor's degree to a master's degree in order to be eligible to take the CDR credentialing exam for registered dietitian nutritionists.
This is a full-time, three-semester, non-thesis Future Education Model Graduate Program that integrates supervised experiential learning with graduate coursework.
Are you an RD/RDN interested in earning a master's degree?
Our online M.S. Nutrition and Dietetics program offers Registered Dietitians/Registered Dietitian Nutritionists (RD/RDN) an affordable, high-quality "seamless approach" to becoming a master's-prepared RD/RDN.
This 36-credit, project-based M.S.-Nutrition and Dietetics Program is designed specifically for RDs/RDNs. You will receive 12 hours of prior learning credit for successful completion of an ACEND-accredited Dietetic Internship and passing the national registration examination for dietitians. You will then be able to complete the remaining eight courses (24 credits) online in one year or part-time (two to six years).
We are looking for highly motivated, self-directed RDs/RDNs who are interested in earning a master's degree and can thrive in our online environment. Criteria include:
minimum undergraduate GPA of 3.0
demonstrated evidence of ability to take responsibility for one's own learning in an online program
The GRE exam is not required.
Application deadline: May 1
All students applying for admission to the M.S.–Nutrition and Dietetics Program (RD/RDN) are required to:
Submit a completed graduate application with a non-refundable $50 fee (waived for SUNY Oneonta alumni);
Provide evidence of completion of a bachelor's degree by submitting all official undergraduate transcripts;
Provide a copy of RD/RDN registration card or CDR registration certificate;
Provide two letters of recommendation; and
Include a letter of application that addresses the following: 1) reason(s) for applying, 2) evidence of your personal and professional growth and achievement, 3) evidence of having developed the ability to assume considerable responsibility for your own learning, 4) career objectives, 5) previous experience with distance learning and/or independent learning, and 6) an analysis of your strengths and weaknesses that are relevant to completing this online M.S. – Nutrition and Dietetics Program.
NOTE: Recent changes in state authorization legislation have established significant application and fee requirements for colleges providing online courses or programs. At this time, SUNY Oneonta is not able to accept applicants residing in California.
Accepted graduate students are required to complete 9 credit hours of core courses, 9 credit hours of electives and a 6-credit-hour Service Learning Project.
RD/RDN's who meet admission requirements and are accepted into the M.S.-Nutrition and Dietetics Program will be awarded 12 credit hours of prior learning. Accepted graduate students would then be required to complete the remaining 24 credit hours of coursework, either part-time or full-time.
Part-Time Course Schedule:
SAMPLE SCHEDULE A (complete program part-time in two years)
Year 1 (Begins summer)
Summer semester (3 credits): NUTR 557- Nutrition Focused Physical Assessment
Fall Semester (6 credit hours): NUTR 555- Advanced Nutrition Therapy, NUTR 590- Current Issues in Dietetics
Spring Semester (3 credit hours): NUTR 591- Population Health
Year 2 (Begins summer)
Summer Semester (6 credit hours): NUTR 544- Applied Health Statistics, NUTR 548- Research Methods
Fall Semester (3 credit hours): NUTR 580- Service Learning Project Proposal
Spring Semester (3 credit hours): NUTR 581- Serving Learning Project
SAMPLE SCHEDULE B (complete program part-time in three years)
Year 1 (Begins fall)
Fall Semester (3 credit hours): NUTR 590- Current Issues in Dietetics
Spring Semester (3 credit hours): NUTR 591- Population Health
Year 2 (Begins summer)
Summer semester (3 credits): NUTR 557- Nutrition Focused Physical Assessment
Fall Semester (3 credit hours): NUTR 555- Advanced Nutrition Therapy
Year 3 (Begins summer)
Summer Semester (6 credit hours): NUTR 544- Applied Health Statistics, NUTR 548- Research Methods
Fall Semester (3 credit hours): NUTR 580- Service Learning Project Proposal
Spring Semester (3 credit hours): NUTR 581- Serving Learning Project
Full-Time Course Schedule (summer - spring)
Year 1 (Begins summer, complete program in 3 semesters or one year)
Summer Semester (9 credit hours): NUTR 544- Applied Health Statistics, NUTR 548- Research Methods, NUTR 557- Nutrition Focused Physical Assessment
Fall Semester (9 credit hours): NUTR 555- Advanced Nutrition Therapy, NUTR 590- Current Issues in Dietetics, NUTR 580- Service Learning Project Proposal
Spring Semester (6 credit hours): NUTR 591- Population Health, NUTR 581- Service Learning Project