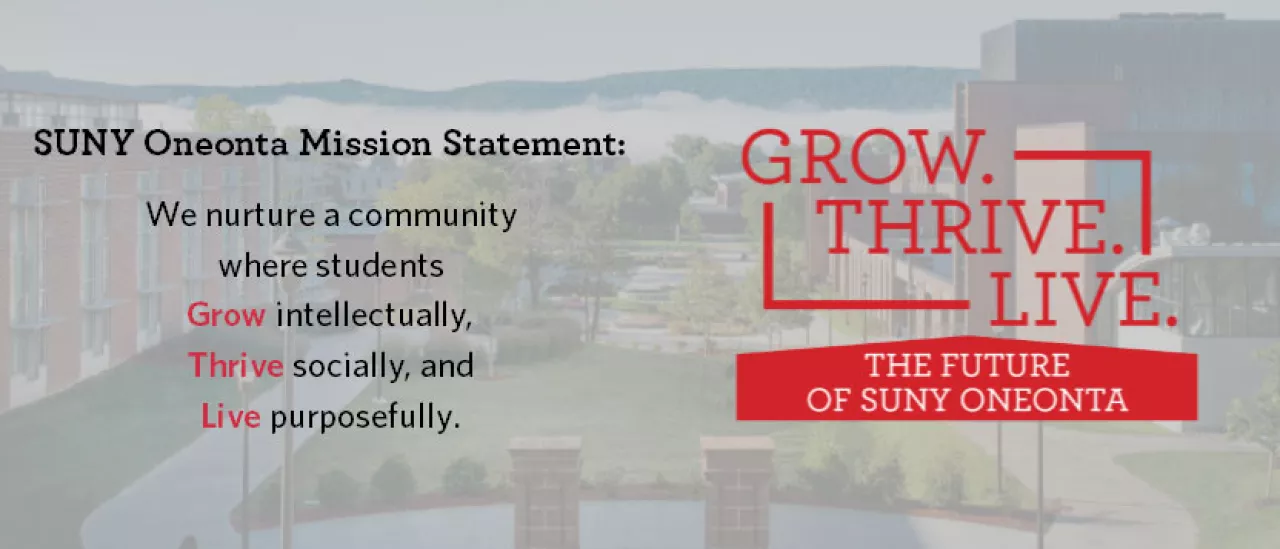 Now, more than ever, we need the Oneonta community to unite in support of these initiatives. Currently, we are in need of additional funding to assist every student facing unprecedented challenges. Your contribution will provide students with emergency financial support, help them overcome barriers to academic success, and keep them on track for graduation.
The Student Emergency Fund provides non-tuition grants for SUNY Oneonta students to help pay for urgent expenses triggered by unforeseen events that threaten their ability to stay in college. Unexpected emergencies can create a critical need for things such as rent, utilities, clothing, furniture, medical expenses, transportation, and replacement of stolen items needed for school. Students can apply for the necessary funding to pay for those emergency expenses above and beyond tuition so they are able to stay enrolled and focus on their studies.
"Dear Grant Funders,
Thank you so much for your generosity. I am immensely grateful for this fund. Not having to worry about rent, utilities, and groceries for a month was helpful. I was able to focus on my coursework this semester as well as participate in a few clubs and organizations. I completed my internship this semester and I would not have been able to devote time to it if I were working as a minimum wage employee. The stress of senior year, as well as the pandemic, was hard for me but I made it because of your help and funding. I hope that one day I can support other students through this fund. It was truly a blessing to be chosen as a recipient. Thank you again!"
- Anonymous Student Emergency Fund recipient
 
The SUNY Oneonta Student Success Scholarship provides tuition assistance to full- or part-time undergraduate students who demonstrate a need for funding due to emergency or extenuating circumstances, like family or personal illness, financial struggles, and debt. By supporting this scholarship, you enable students to focus on their studies and complete their degrees despite facing unexpected obstacles.
Each year, SUNY Oneonta students and the Alumni Association rely on the generosity of alumni, parents, faculty, staff, and friends to provide flexible and immediate annual support through contributions to the Fund for Oneonta.
Gifts to the Fund for Oneonta support student scholarships, student-faculty research, library acquisitions, professional development and networking opportunities for alumni and students, programs that enhance the cultural and intellectual climate on campus, and events that connect alumni throughout the United States.
Fund for Oneonta gifts come in all sizes, and even a small gift to the Fund can pay big dividends. Your enthusiasm, demonstrated through your giving, sends an important message to others. And, it provides tremendous advantages to SUNY Oneonta students – advantages that will last a lifetime. Learn more about Fund for Oneonta.
SUNY Oneonta's endowment, currently valued at over $73.6 million, is the largest endowment among peer SUNY institutions. The State University of New York at Oneonta Foundation is responsible for managing the endowment. Unrestricted funds account for about 20 percent of SUNY Oneonta's endowment, are more flexible in nature, and are critical in supporting strategic Board designated initiatives, including faculty development, student and faculty research, scholarships, and internship support. Each year, a portion of the endowment income is paid out, while any appreciation in excess of this annual distribution is retained in the endowment so it can grow and support future generations. Last year, over $146,000 was distributed from the unrestricted endowment in support of the aforementioned initiatives.
If you are interested in establishing an endowed fund, please feel free to contact Ben Wendrow '08, Director of Development, at benjamin.wendrow@oneonta.edu for more information.
Education is the path to a better life, but too often cost blocks the way. Today, over 80% of Oneonta students have financial need and our students graduate with an average of $26,196 in loan debt. Gifts to increase scholarship funding help keep SUNY Oneonta affordable, accessible and inclusive.