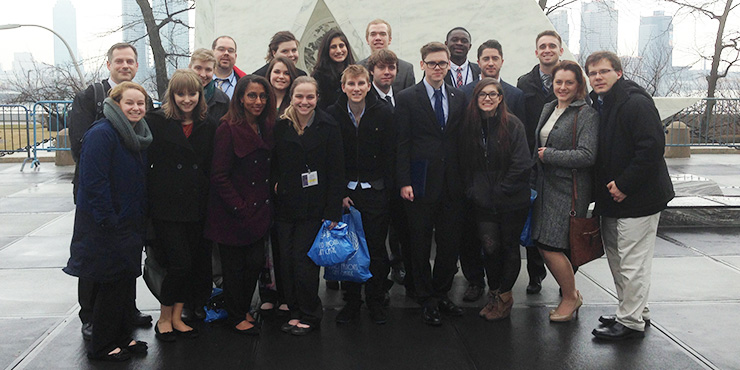 About the Department
The Political Science Department focuses upon the instruction of undergraduate students. Its resources are entirely committed to teaching undergraduates, and professional development of faculty. The department does not offer graduate degrees. Classes are not taught by graduate teaching assistants. Our objectives are:
To provide both introductory and advanced levels of undergraduate instruction in government and politics by employing the comparative, behavioral, philosophical, and institutional approaches to the discipline.
To encourage undergraduate interest in the analysis of political phenomena from both the scientific and philosophical viewpoints.
To foster the idea that "analytical thinking" based on factual information and disciplined analysis is desirable.
To prepare students in all academic majors for active, effective democratic citizenship.
What Can I Do With a Degree in Political Science?
SUNY Oneonta's Political Science majors are encouraged to analyze political phenomena from both the scientific and philosophical standpoints. Dual majors combine Political Science with a variety of other disciplines, including closely related majors in International Studies or International Development Studies.
We have also partnered with SUNY Albany's Rockefeller College of Public Affairs to create a joint 4+1 Masters of Public Administration program. The MPA program prepares graduates for careers in nonprofit organizations, federal, state, and local governments, and for-profit organizations that coordinate with the public sector. 
Career opportunities include:
Advocate, Analyst, Archivist, Attorney, Campaign Manager/Worker, City Manager, City Project Coordinator, City/County Council Member, Community Relations Director, Congressional Aide, Corporate Economist, Diplomat, Editor, Entrepreneur, FBI/CIA Agent, Humanitarian Aid Worker, Journalist, Judge, Labor Relations Specialist, Management Analyst, Market Research, Mayor, Media Analyst, Paralegal, Peace Corps Volunteer, Politician, Pollster, Public Administrator, Public Relations Specialist, Publisher, Sales Manager, Social Services Administrator, Social Worker, Systems Analyst, Teacher, Urban/Regional Planner and Writer/Author.