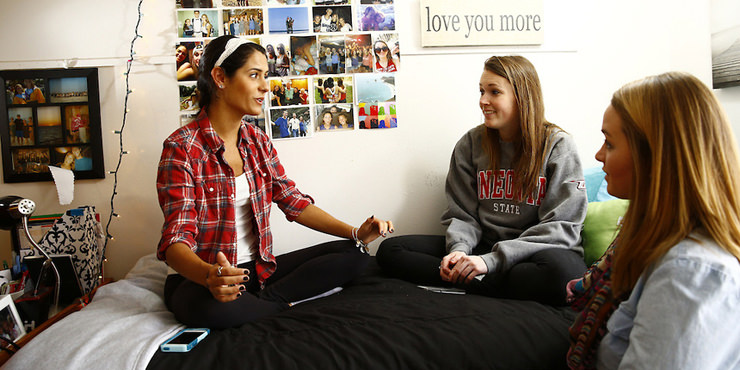 Planning for Fall 2020
Given the announcements on July 1, 2020 by the campus, we are starting the process of preparing to assign rooms and move students in.  Please be patient as we work out the details and communicate how things will look.  
RETURNING RESIDENTS: 
We have completed Step 2 of the room selection process.  All students should be in their roommate groups.  Once the plan to reopen is approved for the Fall, we will be sending out emails with appointment times to select your rooms.  Group leaders will select the room for their roommate groups.  
INCOMING FIRST YEAR RESIDENTS (FRESHMAN AND TRANSFERS): 
We are expecting room assignments to be completed by August 3rd.  At that time, we anticipate students being able to sign up for a move in appointment during the week of August 17-22nd 
Welcome to the department of Residential and Community Life at SUNY Oneonta
The department of Residential Community Life is a community with diverse identities. Our team is comprised of individuals who function in various roles; our Professional Staff (Director, Associate and Assistant Directors, Community Directors, Residence Hall Directors, Resident Managers, Administrative support staff), Student Staff (Resident Advisors, Resident Community Advisors, Night Hosts, Office Assistants, Interns), Students (including student leaders within our Resident Student Organization, National Residence Halls Honorary, and Hall Governments), and campus and community partners. In support of the mission of SUNY Oneonta (We nurture a community where students grow intellectually, thrive socially, and live purposefully) we have worked to put together our mission, values, and metrics of success.
Departmental Mission
To create and develop an inclusive space that engages community, fosters growth, and helps people recognize their inherent value and reach their desired potential.
Our Core Values
These are the values we (the Residential Life Professional and Student staff) strive to live by and ask to be held accountable to. We hold these values for one another and for our students. These values define how we do our work, and the priorities in which decisions get made. Although sometimes these values may come into conflict with one another, they are the guiding principles in the decisions we are making daily. 
The humanity and authenticity of all members of our community

A Sense of Belonging

Open and Transparent Communication

Continual learning

Collaboration and partnerships

Creativity and Innovation
In addition, as a department, we recognize the unique role of the student staff positions that exist within our community. They are key members who are working to balance their role as both students and staff members. Above all else, these student staff members are here to get an education and graduate. Being successful students must be their priority.  Student Staff are students first, Resident Advisors (RAs), Resident Community Advisors (RCAs), Night Hosts, Office Assistants, Interns second.
Metrics of Success
These are the measures in which we will know whether we are meeting our goals for the department. These Metrics are intended to be wide in scope.  Each academic year we will develop departmental objectives and key results to achieve our desired results. 
Active & Intentional Community Engagement

Developing Agents of Change

Individual Academic Growth and Persistence

Holistic Safety (Physical, emotional, etc)

Student and Staff Satisfaction

Financial Responsibility
The six areas above are what we are striving towards. If you have questions on what this looks like, please do not hesitate to reach out to us via email or phone.  Our information is located at the top of this webpage.
Pricing
The price of living on campus is fixed for each entering class. Students can choose from three living arrangements (subject to availability), with housing rates guaranteed for their subsequent years at Oneonta as long as they remain in campus housing.