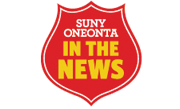 Kiplinger's Personal Finance magazine has named SUNY Oneonta to its list of the Top 300 Best College Values of 2016. The rankings, released Wednesday, Dec. 16, recognize four-year public schools, private universities and private liberal arts colleges that deliver academic quality and affordability.
In addition to being ranked No. 191 among the top 300 colleges and universities in the country, SUNY Oneonta was included on the magazine's 100 Best Values in Public Colleges list for the 10th consecutive year.
"We start with a universe of 1,200 schools, so each school on our rankings, from number 1 to number 300, is a best value," said Janet Bodnar, editor of Kiplinger's Personal Finance magazine. "Families can use the list as a starting point and then tailor it to each student¹s preference for such things as size, location, campus culture and major."
To assess quality, Kiplinger's uses a number of measurable standards, including the admissions rate, the percentage of students who return for sophomore year, the student-faculty ratio and the four-year graduation rate. Cost criteria include low tuition, abundant financial aid and low average debt at graduation.
Kiplinger's is the third magazine in recent months to recognize SUNY Oneonta for quality and value. In September, the college was ranked No. 9 for the second year in a row on U.S. News and World Report's 2016 list of the best public institutions in the North. In July, SUNY Oneonta earned a spot among the top 500 colleges in the country (and No. 175 in the Northeast) on Forbes magazine's 2015 list of "America's Top Colleges." Also this year, the higher education guide Colleges of Distinction recognized SUNY Oneonta for its academic excellence, focus on undergraduate teaching, innovative learning experiences, opportunities for personal development, and career and graduate school preparation. 
The complete Kiplinger's rankings are available online at Kiplinger.com/links/college and will appear in print in the magazine's February 2016 issue.