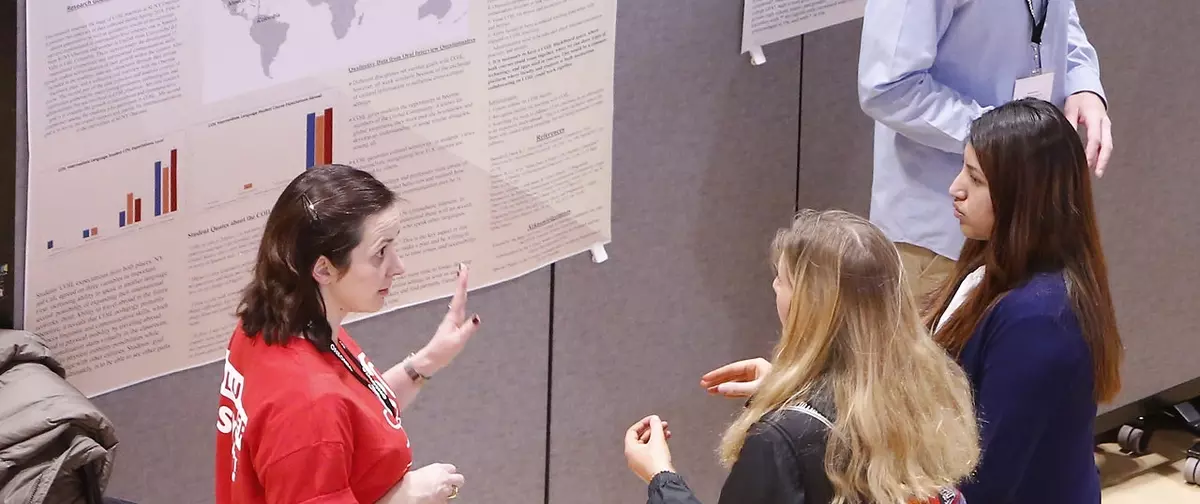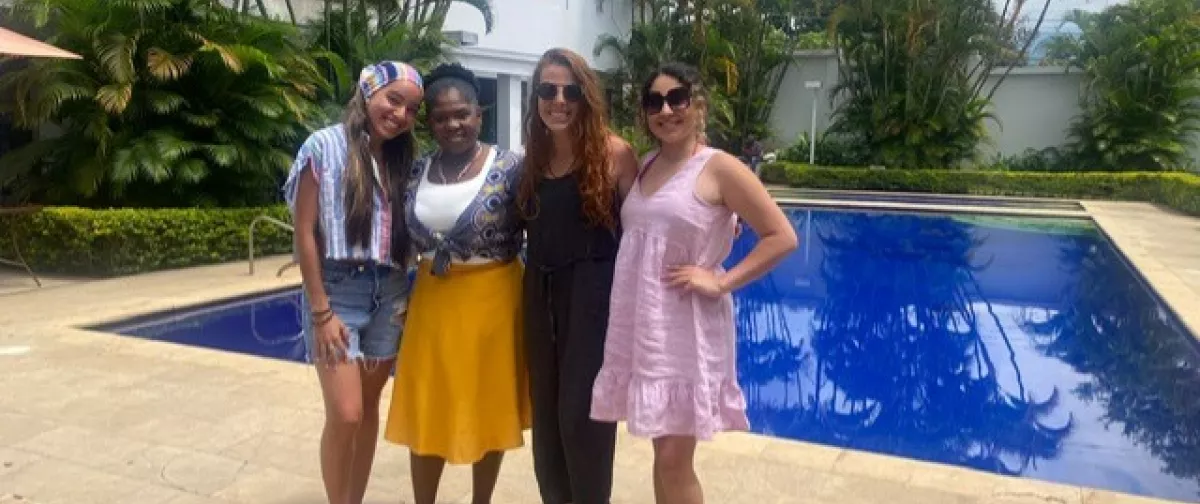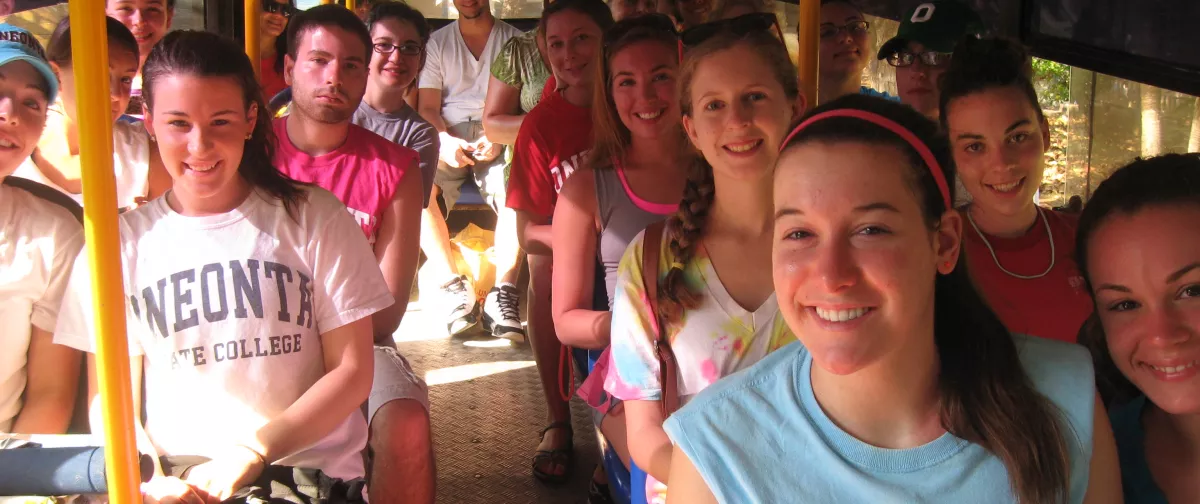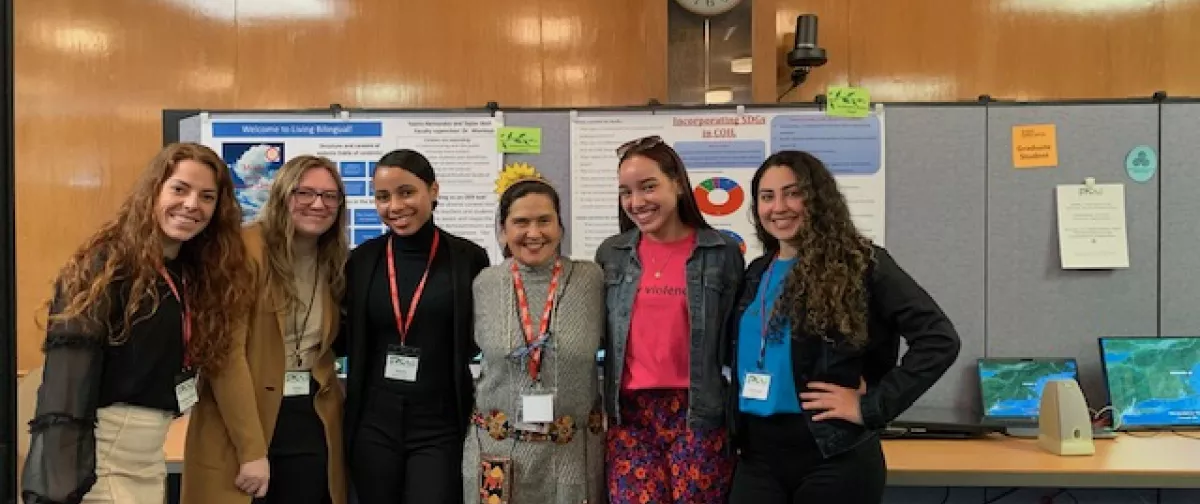 The Department of Foreign Languages and Literatures offers a variety of courses in language, culture, civilization and literature, a wide range of overseas programs, and a committed and engaging faculty.
We offer French and Spanish as both major and minor programs. Students may also choose a foreign language education major, with a concentration in French or Spanish, for secondary or elementary education. French or Spanish can be taken either as a primary major or as one of two majors.
---
Student Spotlight
The Foreign Language Program was an unexpected turn in my life that resulted into being the best decision I have ever made. I have always wanted to learn a language, but it was very intimidating. At first when I entered the Foreign Language department, I was a concentration in Spanish with little belief I would be able to speak another language. Nonetheless, the professors within the department supported me in any way they could while completing my concentration in Spanish; I had the opportunity to be a Teacher's Assistant in Spanish and an English tutor for Spanish Speaking students around the world as well as in the local community. In my last semester of completing Spanish requisites, I realized I wasn't ready to stop taking Spanish. The professors of the language department supported me to develop my language skills and I continue to learn, so I extended the concentration into a major in Spanish. This gave me the opportunity to study Spanish more in depth as well as offer new opportunities for my Spanish speaking peers under the guidance of my professors. I had the opportunity to co-write a Spanish Phonetics and Phonology Open Educational Resource (OER) for my peers, instruct a course on ESL to international students from around the world, created a Spanish speaking club on campus, and was even given the opportunity to do a funded research project on English Phonetics and Phonology in Cali, Colombia resulting in a OER in English Phonetics and Phonology. Without the support of the Foreign Language and Literatures Department at SUNY Oneonta, I would have never discovered my true passion for learning about other languages and cultures. I also would have never believed that I could be fluent in Spanish. When I graduate from SUNY Oneonta, I plan on using my newfound skills to reach as many students as I can as both a Spanish and ELL high school teacher. I also plan to keep learning and growing within my Spanish speaking skills, continuing to travel and teach abroad, as well as continuing to create OER materials to help provide equal, accessible, and free education to students around the world.
Deciding to major in a language proved to be the most judicious choice I could have made. As a heritage speaker, I had always felt inadequate in my Spanish-speaking and writing skills, lacking vocabulary and proper grammar. My decision to study Spanish as a major has significantly improved my proficiency in these areas. Furthermore, my pursuit of this academic discipline has afforded me the opportunity to explore diverse cultures through interactions with my professors and classmates. I have been fortunate to receive exceptional guidance and mentorship from the Spanish department's faculty members, who have supported my development as a student and a leader. Notably, I have served as an English and Spanish tutor, a tutoring coordinator for MCC, a teaching assistant for a Spanish conversation course, and a fully-funded research fellowship in Colombia. In the last semester, I studied abroad in Valencia, Spain, where I gained a unique cultural experience that enriched my language and cultural awareness. My passion for Spanish language and culture has been nurtured by these academic and personal experiences, and I aspire to teach Spanish at the middle or high school level while also exploring diverse Spanish-speaking countries. The language department holds a special place in my heart, and I am grateful for the invaluable opportunities it has provided me at SUNY Oneonta.
---
Program Objectives
The objective of the program is to develop language skills in the offered languages at all levels of competence and to lead students to a broad appreciation and deep understanding of diverse literary and cultural traditions of Spanish and French expression throughout the world. In upper-division classes, the aim is to develop analytical and writing skills along with oral proficiency through intensive critical study of literary texts, Francophone and Hispanic literature, cinema, culture, and history.
Upon graduation, majors should be able to demonstrate advanced competence in written and spoken language, and the ability to read critically, interpret analytically and write coherently about texts produced in French- or Spanish- speaking countries. They should be able to identify and evaluate the specific nature of a wide array of literary genres. Majors are encouraged to explore all periods and genres of literature in Spanish and French, as well as a wide variety of critical approaches.
Curriculum
Other languages, such as Italian, Latin, and German, are offered as lower division courses. Additionally, the Department offers a self-instructional program (SILP), an intensive language study in many critical languages for which it does not have regular classes, including Chinese, Japanese, Russian, and Korean. Following the format and the methods of the National Association of Self-Instructional Language Programs (NASILP), students study individually and meet with a native speaker two or three times per week for intensive verbal drilling.
Study Abroad
The Department offers two options for study abroad: the programs provided by the SUNY International Office as well as its own faculty led off campus courses. Students are encouraged to spend a semester or a year abroad, for which appropriate course credit is granted. Summer study abroad may also receive course credit. Additionally, the Department offers faculty led off campus courses in Spanish- and French-speaking countries, such as trips to San Andres, Colombia and Paris, France.
Student Clubs
On campus, foreign language students are encouraged to join our clubs, Hola and ADIÓS . Students participate in club activities, events and trips organized every year.
Why study a foreign language?
The ability to speak a foreign language and the knowledge of another culture are highly prized by employers and lead to a significant degree of satisfaction in the workplace and in one's personal life. A major in foreign language is only part of what makes you employable and does not necessarily dictate a career. Other helpful experiences include internships, hobbies, work experience, and involvement in campus activities. Excellent knowledge of a foreign language and a mature, informed appreciation of a foreign literature open doors to many professions. For this reason, an education in Spanish or French and Francophone Studies provides ideal preparation for careers not only in academics but also in a wide range of fields from law and diplomacy to journalism and the arts. Others work in primary and secondary education, business, government and a variety of nongovernmental agencies and international organizations. At the office of Career Development, you can learn more about what career paths you can pursue with your major. But overall, the most important is to choose a subject you enjoy and will succeed at over your four years.
Teaching Certification
For information on how to become certified to teach a foreign language in New York state, please consult the website of the New York State Education Department.
In order to satisfy the master's degree requirement for professional certification in New York state, our Foreign Language education major, with a concentration in French or Spanish, for secondary or elementary education, along with any of our PreK-12 Master's Degree programs will suffice. The Office of Teaching Initiatives of the NYS Education Department describes four possible routes to an acceptable master's degree for professional certification in New York state.