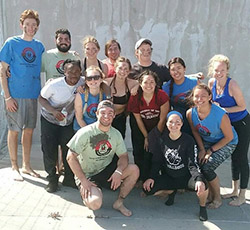 Thirteen SUNY Oneonta students spent a week in New Orleans for a wetlands restoration service-learning project in the Lower 9th Ward.
Accompanied by Wendy Lascell, associate professor of geography, and Linda Drake, director of the college's Center for Social Responsibility and Community, the students arrived in New Orleans on Feb. 25 returned March 5. They documented their trip on a Facebook page.
Working with a nonprofit organization called Common Ground Relief, the students planted grasses and cypress trees in coastal areas imperiled by hurricanes, development and engineering projects that have eroded land and endangered wildlife.
"We learned that New Orleans is losing a football field a day of land, so by planting trees we are slowing down that process," said Sunny Chung, an international studies major from Lynbrook, NY. "I got to take an airboat out to the work site and had to army crawl in the mud because it was hard to walk through. It was a full-body workout, but that was my favorite day because we made a difference in creating a buffer for residents if another storm hits. I'm excited to go back to that site in five or ten years to see if we made a difference!"
Now in its third year, the trip offers a valuable opportunity for students interested in working in wetlands restoration or disaster management to gain field experience.
"The trip was amazing, to say the least," said Kyle Dudgeon, an environmental science major from Warwick, NY. "My personal favorite part was spending an entire day planting cypress trees in the marshes of Jean Lafitte National Historical Park and Preserve. It was dirty, difficult, but also incredibly rewarding work. As a group, we planted well over 300 trees along one of the canals in the preserve."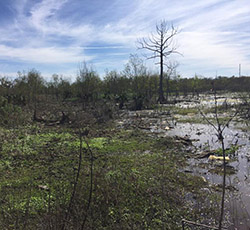 Cultural immersion is also a big part of the trip, and some of the most powerful experiences happen through the students' personal interactions with other volunteers and residents of the Lower 9th Ward.
"Common Ground Relief is an organization I will never forget," said Taylor Litwin, an environmental science major from Schenectady, NY. "Living and working alongside others who have the same desire to facilitate positive change is very powerful. New Orleans holds a place in my heart and I plan on returning to volunteer with Common Ground Relief in the near future." 
The project is supported by a Domestic Intercultural Immersion Grant offered through SUNY Oneonta's StAR (Strategic Allocation of Resources) program.